Read this blog for my list of top 10 holiday destinations in India. I am a New Delhi based travel blogger who's been travelling across India, full-time, since 2016.
If you are new to this blog, let me tell you that I quit my corporate career in England, moved to India and became a full-time travel blogger and Youtuber.
I started this blog in 2016 and since then I've only been travelling and writing about my journeys. Read the full story: Why I Quit My Job to Travel.
Where I sometimes travel abroad, most of my journeys remain in India. I have been to nearly 25 Indian states, all solo-travelled and self-planned.
Top Holiday Destinations In India To Travel
Every now and then, people contact me on Instagram or other social media channels and ask about my top holiday destinations in India. They ask if I have any top 5 or top 10 lists to suggest. While sometimes I recommended a new name, most of my suggested places to visit in India remain the same.
So, attempting the answer here today, in detail, I am giving you a list of my top 10 holiday destinations in India. If you're from Delhi, you may also want to read about places to visit near Delhi. If you are from Bangalore, you may want to read about places to visit near Bangalore within 250, 500 and 1000 km.
Most of my trips are conducted keeping a limited budget in mind. The suggestions given below will suit backpackers and solo travellers, keeping the idea of slow travel in mind.
Let's follow alphabetical order, and start with…
Places To Visit In India
Alleppey, Kerala
Alleppey is like a stereotype for travelling in Kerala. You visit a tour company or read a travel blog, on Kerala, and they will recommend Alleppey. So, Alleppey gets a place in our list of top 10 Holiday destinations in India too.
The experience of hiring a houseboat and sailing through a maze of interconnected lagoons, canals and lakes – while enjoying a dazzling assortment of flora and fauna, and the local life – is an experience of a lifetime. You cannot compare other places to visit in India with what Alleppey has to offer. There is no Goa or Thailand as wonderful as a houseboat experience in Alleppey backwaters.
Also, check this video I made during my recent all-India Delhi to Bangalore road trip (before I further continued to Kerala). This video is about my Kochi to Alleppey ride including many drone shots of Alleppey…
I have personally visited Alleppey twice and both times I stayed at least a week. There is some kind of gripping energy in Alleppey that makes you want to overstay. Other than taking a houseboat, it's fun staying at one of the backpacker hostels in Alleppey and meeting fellow travellers.
Watch duck-herding, fishing, and beautiful sunsets and enjoy Alleppey's slow pace of life as one of the top places to visit in India.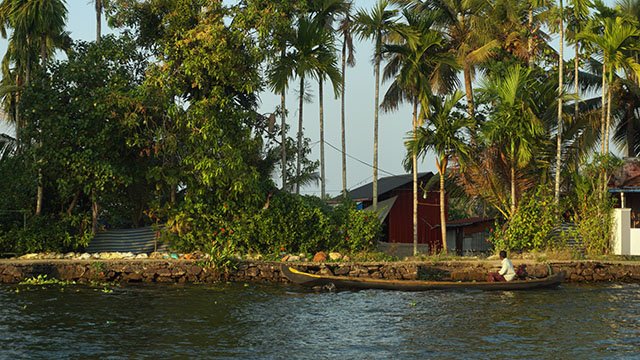 So yea, Alleppey gets a place on my list. And speaking of how to plan a trip to Alleppey, here are some useful Alleppey Travel Tips:
The best time to visit Alleppey is between January and March. The rest of the year remains too hot and humid.
If January to March feels a bit crowded, monsoon can be the second-best season to visit. In monsoon, you may find some western tourists, but very few Indians — keeping the crowd and prices comparatively low.
If you're coming to Kerala on a flight, the nearest airport to Alleppey will be Kochi. From Kochi, take a bus to Alleppey. Kochi to Alleppey is about one hour away.
If you're taking a train, the nearest big railway station will be in Kochi. From Kochi, take a local train to Alappuzha Railway Station.
Hiring a houseboat is expensive and costs about 5000 Rupees for 24 hours. Find a few people, if you're travelling solo, and share the cost. Sharing always helps in saving money while visiting some of the popular places to visit in India.
The best place to hire a houseboat in Alleppey is the Government Tourist Center near the Alleppey bus station.
The cheapest way to explore the backwaters in Alleppey is on a public ferry that costs about 10-20 Rupees for a trip.
Morning and evening (when there's no sun) is the best time to explore Alleppey. So be an early riser.
Bodoland, Assam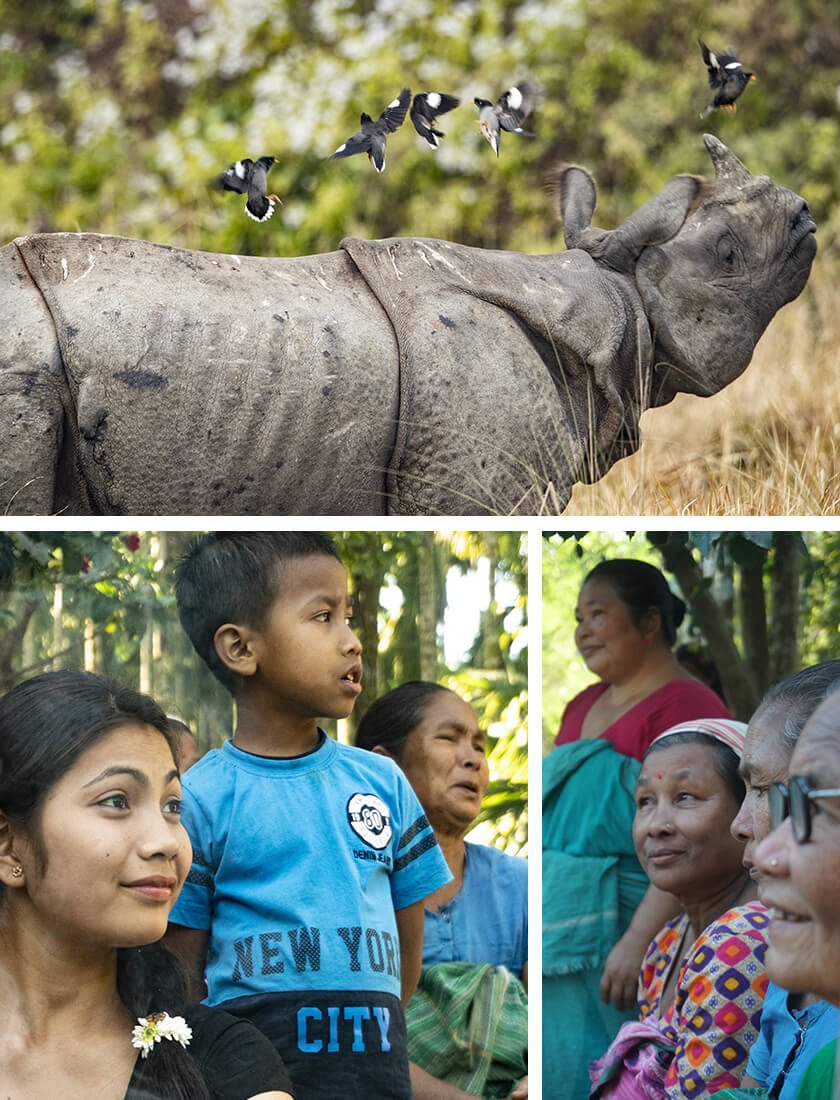 In January 2020, I was invited by Assam Tourism, as one of the 15 Bodoland Ambassadors, to explore a new destination in making — Bodoland. And boy, it instantly became my new favourite among the top 10 holiday destinations in India.
Until 2003, Bodoland was disputed land. Like many other places in Northeast India, people were fighting for their land. But in 2003, peace agreements were signed, and Bodoland became peaceful. Over the years, tourism started flourishing and Bodoland became a popular destination in Assam.
In 2020, Bodoland even organises one of the biggest annual fests in the country called the Dwijing Festival. Read more about it in my Dwijing Festival Bodoland blog.
If you are looking for emerging places to visit in India, Bodoland is what I will suggest. Watch this all-drone shots video of Bodoland I have made:
During my trip, I visited a few local villages and national parks too. You will be surprised to know that Bodoland's Manas National Park, which had no one-horned rhinos left by 2003 because of poaching, has one of the highest populations of Rhinos in India today. You can visit Manas National Park on a day trip from Guwahati. Bodoland makes for a great family trip destination in India.
Bodoland also shares its border with Bhutan, so you can do a day trip to Bhutan too (from Gelephu). The tribal Bodo people are some of the most welcoming and heart-warming people you can find in India. From natural vistas to local food, everything about Bodoland is worth exploring. There is enough to see and do around, and I can keep going.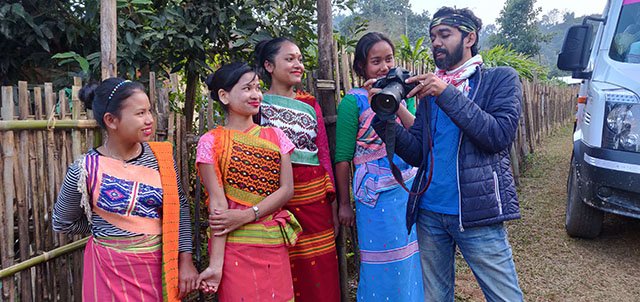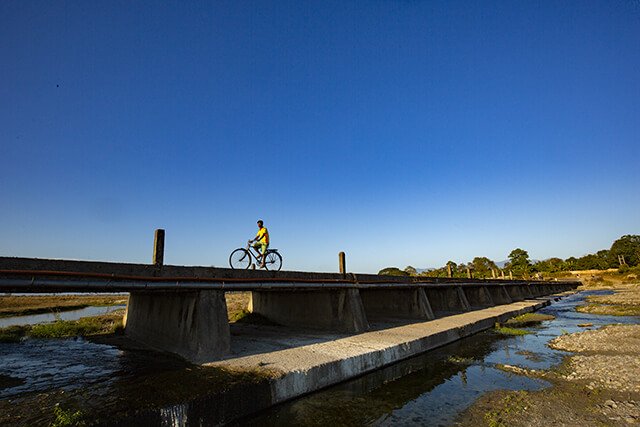 So, in order to keep the praises under control, I am leaving you with a link to a detailed travel guide that I've written earlier: Bodoland Assam. And speaking of tips on how to plan a trip to this top destination among my new favorite places to visit in India called Bodoland, here are some Bodoland Travel Tips:
To travel to Bodoland, you will first need to come to Guwahati unless you're self-driving of course. You can fly to Guwahati or can take a train.
From Guwahati, most tourist places in Bodoland are a few hours' drive away. The best way is to hire a car and drive around, as buses and taxis are rare to find in Bodoland.
The best time to visit Bodoland is during New Year when you can attend Dwijing Festival. The weather around New Year, or winter, is also most pleasant.
A minimum 3-day trip is recommended for Bodoland, where you can spend a day at Dwijing Festival and the other two days exploring some villages and national parks around.
Manas National Park is certainly a highlight. There are enough luxury and budget resorts to stay in Manas National Park. You can find more about how to plan a trip to Manas National Park in the article I shared above.
If you're worried about personal safety, let me tell you that Bodoland is safe to travel. People in Bodoland are extremely friendly and helpful. Insurgencies and land disputes are a thing of the past.
Also, see the Bodoland Pictures blog that I have recently published.
Kochi, Kerala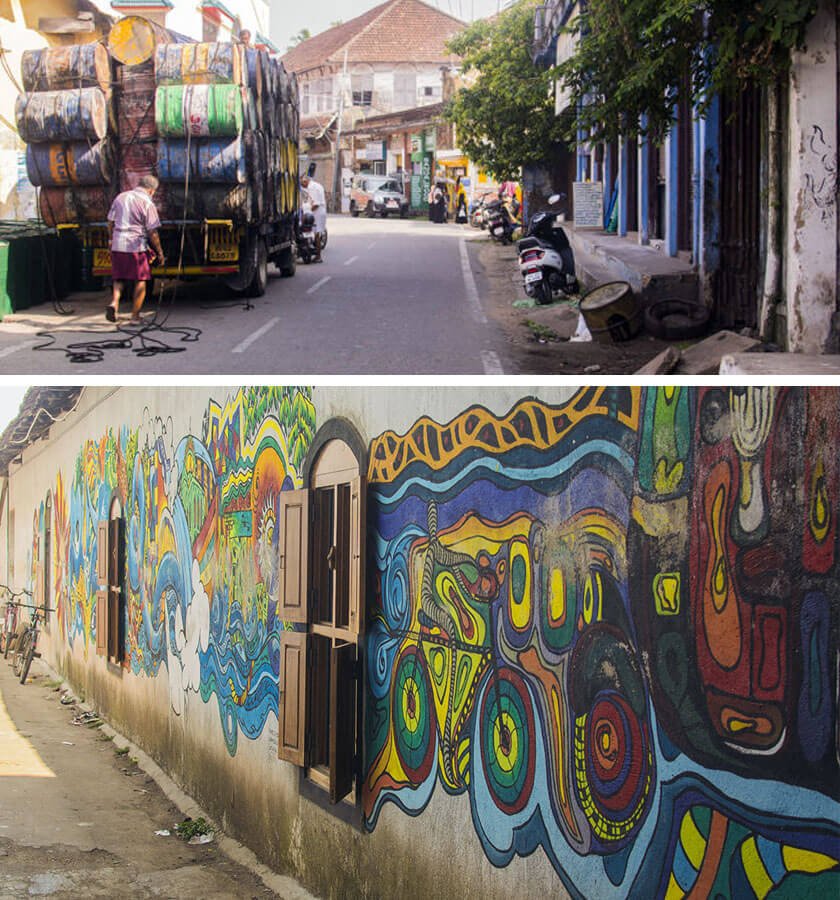 You write a guide on top tourist places in India and do not mention Kochi, not possible. Just like Alleppey, I have been to Kochi twice too. And the most recent trip was in February 2020 when I stayed in Fort Kochi for 4 days.
If you enjoy history and colonial architecture, Kochi will be one of the best holiday destinations in India for you. I would also recommend it for finding some amazing street photography. Other than history and architecture visit Kochi for great food and cafe culture.
From no backpacker hostels in 2015 (when I first visited) to over 10 hostels by 2020, Kochi has established itself as one of the top backpacking destinations in India. If you enjoy meeting travellers from across the world, you're going to love Kochi. Check The Hosteller located on the main street art in Kochi if you want to experience a backpacker hostel.
During my recent trip, the original plan was to spend just a night, as I was on a motorcycle trip from Delhi to Bangalore to Kerala, but I ended up staying there for 4 nights. Every day, I would find new friends in my hostel and I overstay for another night. And the story just kept going and going until I finally forced myself to leave.
And it's that gripping the town is for those who enjoy good company. No wonder, Kochi is one of the best places to visit in India.
An interesting way to explore the town and click some photos of Fort Kochi is a walking tour.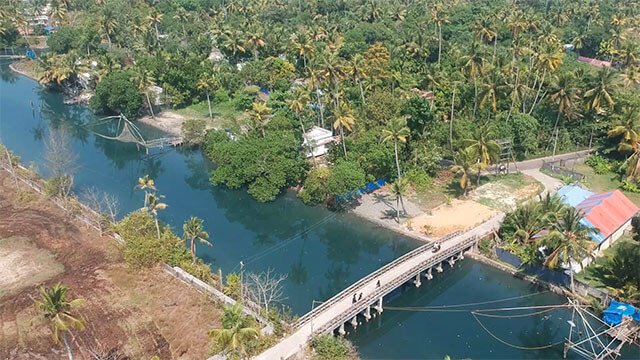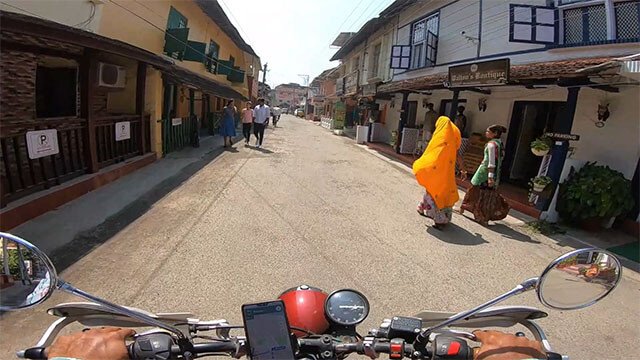 Anyway, here are some useful Kochi Travel Tips:
The best time to visit Kochi is between January and March. The rest of the year remains too hot and humid.
If January to March feels a bit crowded, which is the case with Kochi, monsoon can be the second-best season to visit. In monsoon, you may find some western tourists, but very few Indian tourists around — keeping the crowd and prices comparatively low.
Even in Winter and Monsoon, Kochi remains hot and humid. Make sure you are carrying a hat and things like sunscreen and sunglasses. There's nothing called winter in Kerala.
Don't mistake Ernakulum for Kochi. Ernakulum is a new town and has nothing for a tourist. It's the old town of Fort Kochi that's worth visiting. Ernakulum and Fort Kochi are linked with overbridges and fairies.
Flights to Kochi remain very fairly priced from prominent cities in India.
There are many backpacker hostels to choose from, in Kochi. You can find one, as I did, close to popular holiday destinations like Chines Fishing Nets for about 400 Rupees a night.
Other than backpacker hostels, you can find some of the most luxurious and architecturally beautiful boutique hotels. Check the Kerala tourism website for useful travel resources while planning a trip to Kochi.
Some of the popular places/neighbourhoods to visit in Fort Kochi are Princess Street, Dutch Cemetery, Chinese Fishing Nets, Draavidia Gallery, Mattancherry Palace, Church of Saint Francis, Paradesi Synagogue,  and Hill Palace Museum.
Here's a detailed Kerala Travel Guide if you want to know about more tourist destinations in Kerala.
Majuli Island, Assam
Though a fairly known destination in Assam, Majuli Island still remains fairly offbeat. And it is that's why it has always remained one of the best places to visit in India for me.
By definition, Majuli Island is the largest river island in the world with mentions in the Guinness Book of World Records (though there are claims that it may disappear because of constant soil erosion). It is located in the Brahmaputra River and has an area of 352 square kilometres — almost half the size of Bangalore. To reach Majuli Island, you take a bus/taxi/train to Jorhat followed by a half-an-hour ferry ride.
The first time I visited Majuli Island, was in 2015, before I even started blogging. And since then, I've been there thrice. People in Majuli are so friendly that I've made some lifelong friends there. Other than Assamese, you will find tribal Mishing people who are believed to have migrated from Southeast Asian countries like Laos and Cambodia.
Majuli Island is one of those top holiday destinations in India where you want to slow down, relax and unwind. Find a bamboo hut, hire a bicycle and let things happen on their own.
I have always solo-travelled to Majuli Island, stayed at a place called Ygdrasil Bamboo Cottage (because it belongs to a friend) and did nothing. Waking up early, enjoying a fresh morning, eating healthily, and spotting migratory birds were all on my agenda. If I felt a little motivated, I would padel the bicycle to the nearest Satra get some good vibes and return. There are over 50 Satras (a Hindu Monastery) on Majuli Island.
Of course, there aren't any usual highlights to cover, but even if there are, it's the kind of place where you don't want to do much. So yea, Majuli earns the well-deserved place in our top 10 holiday destinations in India list.
Here are some Majuli Island photos if you are interested to see how it feels to be there.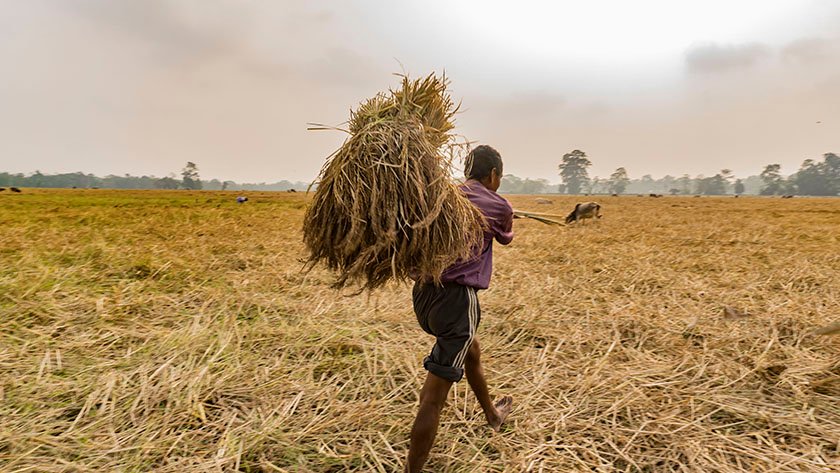 For planning a trip to Majuli Island, here are some useful travel tips:
If you're flying into Assam, the nearest airport with cheap flights will be Guwahati or Dibrugarh. From Guwahati, Majuli is about 8 hours on a bus and 1/2 hour on a ferry ride away. From Dibrugarh, Majuli is about 4 hours on a bus and 1/2 hour on a ferry ride away.
The best time to visit Majuli Island is in winter.
There aren't any tourist highlights in Majuli as such. It is meant for people who want to have a relaxing time.
If you're looking for budget accommodation, you can find a few backpacker hostels as well as stay in a Satra for about 200 Rupees a night.
The best way to enjoy Majuli Island is in a Bamboo Hut that costs about 600 Rupees a night for a hut in the offseason and over 1000 Rupees a night in peak season.
Majuli island is totally cut off from mainland Assam and takes a half-an-hour ferry ride to get to the mainland. Make sure you get all the fancy items you need — from toiletry to personal care — before you arrive in Majuli Island. Shops inside Majuli Island sell very basic things.
Just like most top places to visit in India, it is very safe to visit Majuli Island, even for solo female travellers.
Pabbar Valley, Himachal Pradesh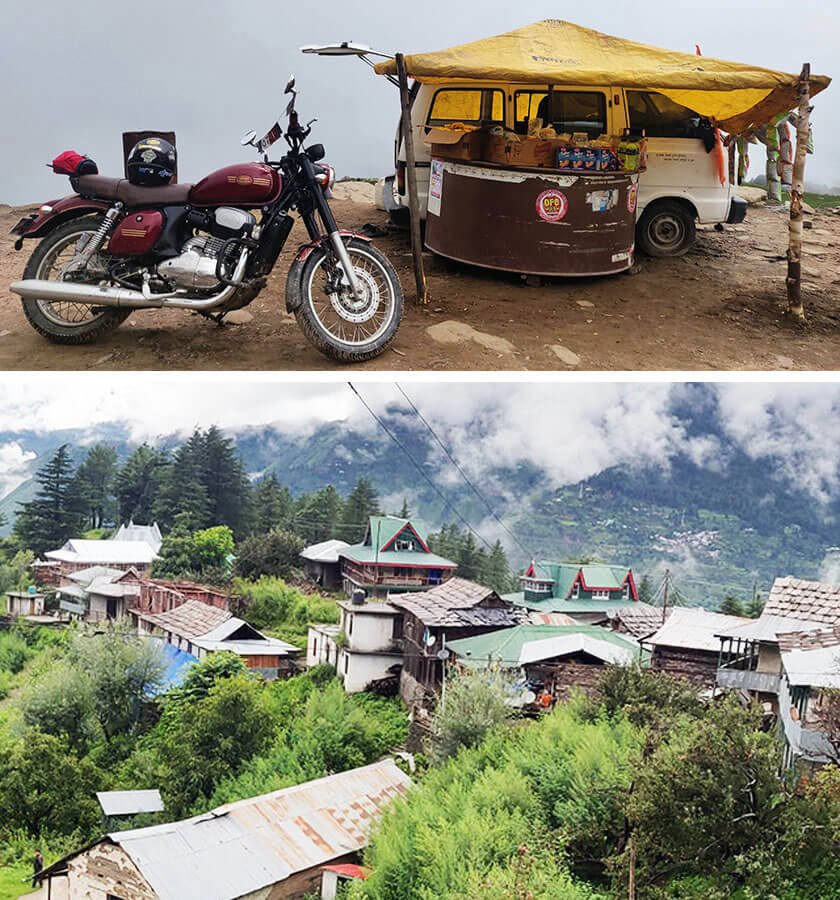 I happened to visit Pabbar Valley in 2019 during my 1-month motorcycle trip across Himachal Pradesh. I had never heard of Pabbar Valley before and got to know about it from someone I met near Shimla. And as soon as I visit it, it suddenly became an obvious suggestion every time someone asked me for the best places to visit in India.
I would love to visit Pabbar Valley with my family too, sometime.
Here's a video from my Youtube channel where I visited Chanshal Pass, explored a bit of Pabbar Valley and then did my Pabbar Valley to Delhi ride.
Pabbar Valley is home to Shimla District's highest motorable Pass (Chanshal Pass) that links Dodra Kwar and Rohru. If you don't know what's Dodra Kwar, you need to Google, you're certainly missing the most offbeat highlight in Himachal Pradesh.
So, when I got introduced to Pabbar Valley, I checked a few Google Photos and instantly fell in love with the place. By statistics, Pabbar Valley is Himachal Pradesh's least visited place.
During my trip, I figured that Chanshal Pass, in Pabbar Valley, is almost as high as Rohtang Pass,  gets almost as much snow, and is just as far from Delhi. Yet, it's hardly visited. Why? Because no one knows about it. And that's what makes it more beautiful. A visit to Chanshal Pass in Pabbar Valley, Himachal, takes you to a place just as beautiful as some of the most beautiful destinations, minus the crowd. Hence, it remains my new favourite in the list of top 10 Holiday Destinations in India.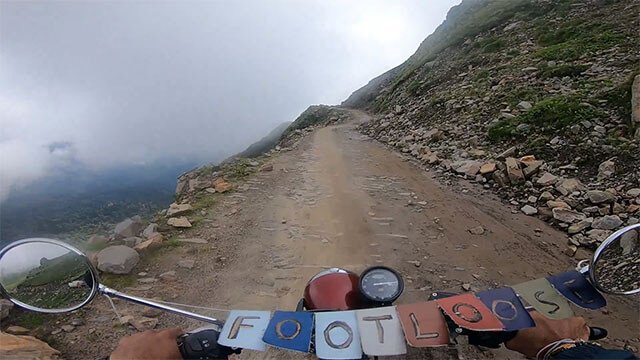 Now, speaking of how to plan a trip to Chanshal Pass and Pabbar Valley, here are some useful Pabbar Valley Travel Tips:
Thanks to regular buses, it's easy to travel to Pabbar Valley in a bus. All you will have to deal with is changing a few buses as there are no direct connections.
You can get a direct bus from Delhi to Rohru that starts from Delhi sometime in the evening and drops you in Rohru the following afternoon. From Rohru, you will have to break the journey and find a bus or a shared taxi to Chirgaon. From Chirgaon, get another bus to Larot. Larot is in Pabbar Valley, located 15 km from Chanshal Pass.
If you are self-driving, you can start from Delhi early morning and reach Pabbar Valley in the evening.
The weather in Pabbar Valley remains cold for most of the time of the year. Between December and March, there are fairly good chances to find snow in the valley.
You can find enough guesthouses as well as a hostel (called Thira Chanshal) in Larot. I stayed at Thira Hostel and they charged me 300 Rupees for a bed.
There are no ATMs in Larot. The last ATM you will find on this route is in Chirgaon, but it's always a good idea to get the cash out in Rohru.
Despite being one of my favorite and top places to visit in India, Chanshal and Pabbar Valley are quite offbeat. Visit them as you are visiting a village.
Shillong, Meghalaya
If you're a regular reader of my blog, you may know that it's rare for me to talk about an Indian capital city. But Shillong is an exception. And with that, Shillong always gets a place in my top 10 holiday destinations in India list.
Despite being crowded and confusing, Shillong has some kind of magic in its air. It's modern, hip and beautiful. In Shillong, food is great, people are affable, and the weather… oh boy, Shillong's weather is the best part.
Travelling to Shillong from across India is super-easy too. Just catch a flight to Guwahati followed by a connecting 2-hour drive and you're there.
Once you reach Shillong, you can drive anywhere in Meghalaya in just a few hours. You can make Shillong your base for a month and do day trips to anywhere across Meghalaya. And then, there is a lot to see and do in Shillong itself. In about 10 km from the Shillong2 Police Bazaar, you can reach the highest point in Shillong popular for panoramic views of surrounding lush green hills. You can even find one of the most popular waterfalls in Meghalaya less than 15km from Shillong. So yea, when in the Northeast, don't miss some of the popular things to see in Shillong. It is certainly among the best places to visit in India.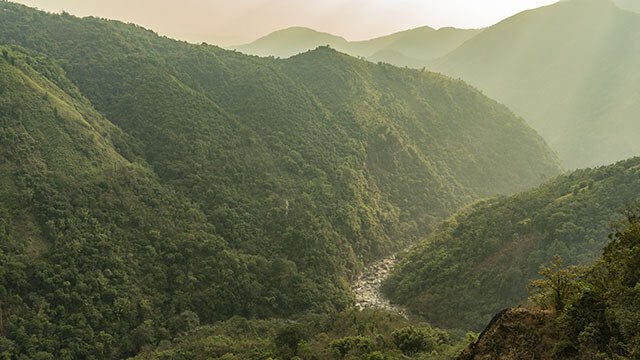 So yea, there's a lot to see and do around, and if there is one Indian capital where I don't mind staying (in fact, I'll love it) it is Shillong. And speaking of how to plan a trip to Shillong, here are my suggested Shillong Travel Tips:
To visit Shillong, take a flight or a train to Guwahati. From Guwahati, you can find regular buses or shared taxis to Shillong for as few as 200 Rupees.
From backpacker hostels to luxury hotels, in Shillong, you can find accommodation suiting any budget.
Any season is a good season for Shillong. However, if you want to see and do a lot, avoid the monsoon.
The best way to travel inside Shillong is in shared taxis (altos and Maruti 800s).
If you're planning to see a lot around Shillong, I suggest you hire a motorcycle or a car and plan road trips. Public transport in Meghalaya is not really great.
Unlike most states in Northeast India, you do not need an ILP to visit Shillong or Meghalaya.
Shillong is a very safe place to travel to. Local Khasi people are quite helpful too.
A few top holiday destinations near Shillong are Shillong Viewpoint, Smit Village, Iewduh (or Bara Bazaar), Elephant Falls and Ward's Lake.
The Golden Chariot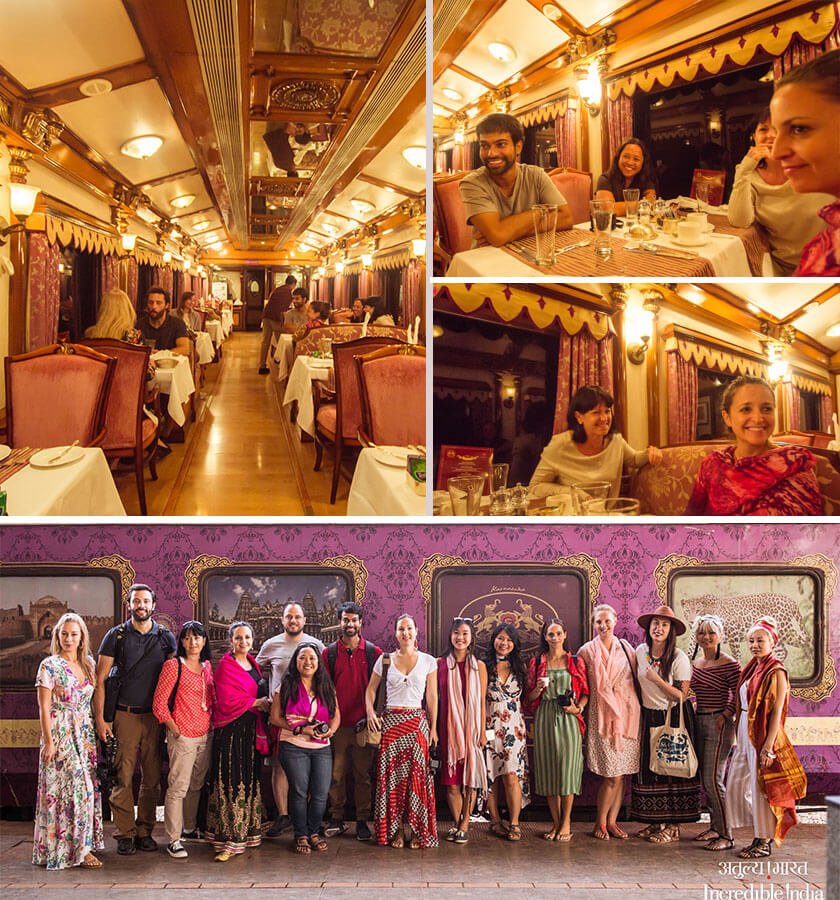 Adding a train to a list of destinations may sound a little bizarre, but let me tell you that Golden Chariot is no less a destination in itself. If nothing, it is at least a luxury hotel on a pair of wheels, and hence we are giving the Golden Chariot 7th spot in our list of top 10 holiday destinations in India.
I get to experience The Golden Chariot two years ago in 2018 when the Ministry of Tourism of India invited me as a part of their Blog Express Initiative. The idea was to invite 15 bloggers from across the world to write and promote luxury train travel in India.
The trip began from Bangalore, covering all major tourist highlights in the state of Karnataka and Goa – in other words, the best places to visit in India.
For a period of 7 days, the Golden Chariot took us places and gave us an experience that I could, at least, never afford. Speaking of it, let me tell you that a 7-day trip in Golden Chariot can cost a whopping 2.30 Lakh Rupees per person for Indians. But at that price, you get to not just luxury but 'royal luxury'. You get to experience a lifestyle that Maharajas and Kings might have lived back in the day.
Speaking of the route map, there are two different Golden Chariot itineraries. Both routes are followed alternatively. 'The Pride of South' which starts from Bangalore and concludes in Goa, covers destinations like Mysore, Bandipur and Chikmagalur, among others. The other itinerary called 'The Southern Splendor' covers three states – Karnataka, Tamil Nadu and Kerala – and takes you through Pondicherry, Madurai and Alleppey, among other top 10 holiday destinations in India.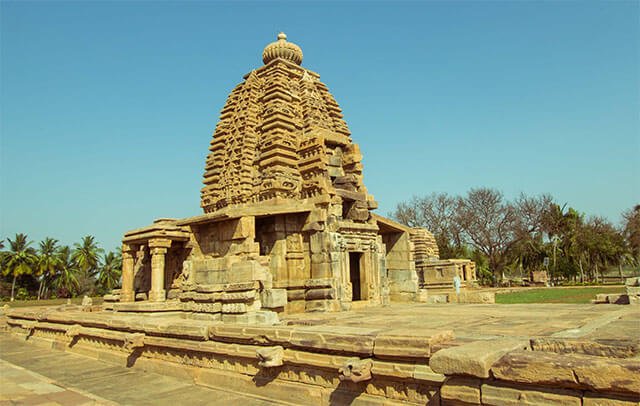 There are such 5 luxury trains across India. Each one covers a different state and charges differently. Speaking of the Golden Chariot, however, here are some tips:
The journey starts and ends in Banglore. Everything during the 7 days is included in the price tag.
The destinations and experiences covered are mostly traditional, with a keen focus on India's culture and heritage.
During the night, the train takes you from one destination to the other. During the day, it parks somewhere and you are taken to places on a luxury tour bus. This is how you cover top holiday destinations in India and travel on a luxury train, both at the same time.
You will enjoy a tour with the Golden Chariot if luxury travel is your thing.
The price for Indians and non-Indians remain different. For example, Golden Chariot's Pride of South Circuit in The Golden Chariot costs Rupees 3,85,000 (approx USD 6135 ) for single occupancy for non-Indians. For Indians, it costs Rupees 2,45,000.
Other than your private room and bathroom, you get amenities like a Gym, a spa, and a mini business centre inside the train.
The train also has a dining car where you are served a three-course freshly cooked meal (included in the price tag).
You can read more about Golden Chariot, and see some pictures in this detailed Golden Chariot Blog.
Udaipur, Rajasthan
I have visited a few highlights in Rajasthan, including Jodhpur and Jaipur. But among all, Udaipur gained a place in my top 10 holiday destinations in India list.
I loved Udaipur the most was of its relaxing and laid-back vibe. Even in the months of December, the city would go absolutely quiet after sunset.
For me, a night stroll around one of the lakes in Udaipur was all that was needed to fall in love with it. But if you're a bit demanding and you need a stronger reason, visit Lake Pichola or Taj Lake Palace, and you won't stop yourself from falling in love with its romances. They are some of the top-rated destinations and best places to visit in India.
Skip to minutes 2:00 to watch the Udaipur part in the following Youtube video.
In case it still doesn't suffice, book a romantic dinner at one of the lakeside restaurants. Choose a perfect ambience with a perfect candlelight setting and let your story take a modern turn while stepping back in time at the same time.
If the description above is making you feel that Udaipur is about luxury and expensive travel then let me tell you it's not. In Udaipur, you can find a boutique property charging you a whopping 20,000 Rupees a night, and then right next door, you can find a backpacker hostel offering you a 200 Rupees bed. From solo travellers to honeymooners to families to luxury travellers to budget backpackers, Udaipur has something for everyone. No wonder, it's one of the top places to visit in India.
And speaking of the tips, well, here are some:
If you want to fly to Udaipur, you can find an airport 22 km East of Udaipur called Dabok Airport. But since it's not very common though for people to fly to Udaipur, flights can be expensive.
You can also find regular trains and buses to Udaipur.
Since Rajasthan is surrounded by the Thar Desert, the Summer heat in Udaipur can be unbearable. Having said that, the best time to visit Udaipur is winter.
Winter is the peak tourist season in Udaipur. Peak tourist season means an increase in price for everything. Be prepared to pay double. I won't recommend visiting any of these top 10 holiday destinations in India during peak season.
There are nearly 10 backpacker hostels in Udaipur so finding a place to stay, if you're on a short budget, shouldn't be a problem in any season.
Read more about my experience in this Udaipur Blog.
Valley of Flowers, Uttarakhand
There are some places in the world that have no comparison. Valley of Flowers is one such holiday destination in India. If you don't know about this place, imagine yourself standing in an open valley in the mountains surrounded by flowers for as far as you can see — that's Valley of Flowers for you. But to visit such a place comes a great deal of effort.
Valley of Flowers is located near Joshimath in Uttarakhand. To get there, you need at least three days — an 8-hour bus from Rishikesh/Haridwar/Dehradun followed by a 2-day trek.
Because Valley of Flowers National Park is a recognised UNESCO heritage site, it opens for tourists only for a few months around monsoon and then closes again. The best time to do the valley of Flowers trek is between 15 July and 15 August, when the monsoon is at its peak and flowers are in full bloom.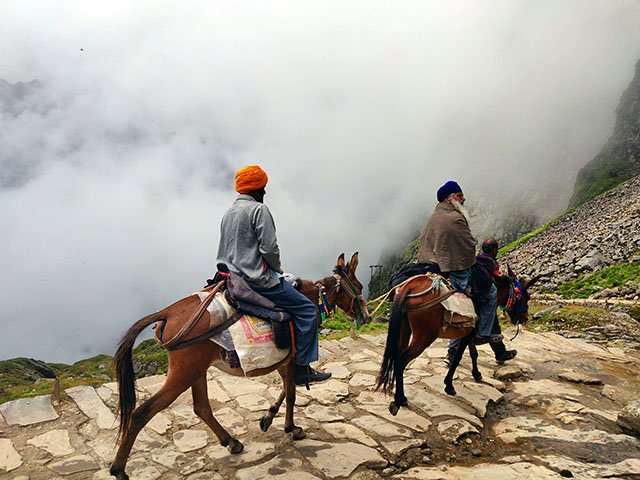 It is possible to book a group tour or plan a trip yourself. Here're a few tips if you are planning to do it on your own:
People who visit the Valley of flowers also visit Hemkund Sahib. Both are located on the same trek. I suggest you do the same.
Valley of Flowers is a min two-day trek. On day 1 you get to the starting point of the trek. Day 2 and Day 3 are for getting to the valley and back.
The first leg of the trek is from a town called Govindghat to Ghangria.
The trek to Ghangaria can take up to 5 hours because of the steepness so keep the time checked. You don't want to trek in the Himalayas after dark.
Though some people attempt to do the second portion of the trek the same day, I don't advise it, as the walk is long and it takes a good portion of the day to explore it.
Because you do the Valley of Flowers trek during the monsoon, carry good rain gear with you.
Day 2 of the trek takes you from Ghangria to the Valley of Flowers.
The valley opens between 7 am and 5 pm with the booking counter (where you're required to register your details) closing at 12 noon.
The entry fee for the Valley of Flowers is 150 Rupees for Indians and 600 Rupees for foreigners.
DSLR and video cameras for any non-commercial use are free to use.
If you are interested to know about more tourist destinations in Uttarakhand, which also includes many best places to visit in India, read my Uttarakhand travel guide.
Zanskar, Ladakh
You write a list of the top 10 holiday destinations in India list and not mention Ladakh? Not possible. Home to some of the world's highest motorable passes, the Ladakh region in India is an adventure traveller's holy grail. It is in Ladakh that most Buddhist immigrants live too, so expect a lot of Buddhist culture around.
There are quite a few popular holiday destinations in Ladakh, India, namely, Leh, Kargil, Nubra Valley, Pangong and so on and so forth. And among all, if I were to suggest my favourite, it will be Zanskar.
Connecting Keylong to Kargil, the Zanskar region is Ladakh's most isolated and underdeveloped region. Most houses in Zanskar still have no electricity and phone reception to date. It is in Zanskar that you get the world's most isolated monastery Phuktal Monastery, which, before 2019 year, took at least three days to reach.
In 2019, Border Road Organisation build a motorable route and thus connected Zansar to Himachal Pradesh via Shinkula Pass. I did a motorcycle trip on Shinkula Pass as soon it was opened and thus completed my Zanskar travels. As soon as I visited Zanskar, it became my new favorite in Ladakh. Naturally, Zanskar gets a much-deserved place in our list of top 10 holiday destinations in India.
I visited Zanskar last year in 2019 during a long 1 month Delhi to Sach Pass to Zanskar to Leh to Delhi ride. You can also read this Sach Pass itinerary if you are interested.
Anyway, here are some travel tips you need to know before you plan a trip to Zanskar:
A road trip to Zanskar is possible only during the summer and monsoon months.
To give you an idea, it is the Zanskar River when frozen in winter becomes the popular Chaddar Trek. I am sure you might have heard of that trek.
The road trip itinerary either starts from Kargil and ends in Keylong, or it goes the other way around. It is a minimum 4-day itinerary, that you can read more about in the link given above.
In Zanskar, there is no phone network. In most towns, there is no electricity either. So plan accordingly.
Just like the rest of Ladakh, in Zanskar too, the toilets are dry toilets.
In most towns across Zanskar, you will find a basic homestay kind of setting. They charge around 700 Rupees a night per person including food.
The biggest town in Zanskar is Padum, where you can find a petrol station and some grocery shops.
If you're visiting Zanskar in winter, you cannot drive but only trek.
A trip to Zanskar is more adventurous than comforting, so be prepared.
Also, check the following youtube videos for a bit of motorcycle action in Zanskar…
These were my best places to visit and the top 10 holiday destinations in India. If you think I should add or delete something from the list, please share it in the comments below!