Covering Highlights in Rajasthan, Gujarat, Maharasthra, Goa & Karnataka, this 9 Day Road trip between Delhi and Bangalore may just be an ideal dose of a brief all-India journey!
There is nothing like a road trip to explore and understand a place better. As you skim through a region you not only slowly understand the geography better but also get to see some of the best views of the country that you can miss otherwise. And if you are one of those people who enjoys learning about cultures and a local way of life, there's even more for you on a road trip.
So yea, road trips are better than any other means of travelling, and when it comes to a country like India, where every 500km takes you to a new world, things become even more interesting. Keeping this in mind, I recently planned a 3-week and nearly 3000 km road trip between New Delhi and Bangalore. Honestly speaking, I understood my country better in those three weeks than the entire 4+ years of full-time travelling put together.
So, if you too can afford a few weeks, want to understand India better, and can plan a road trip somewhere, I can suggest my route map.
This New Delhi to Bangalore (or north to south India) road trip will take you across 5 Indian states, a constantly changing landscape, and a big-time culture shift. From the original 3 weeks, I have carefully cut short the duration to 9 days, because I understand that for some people, TIME DOES MATTER! Alright, let's get to the business…
Introduction: Delhi to Bangalore Road Trip Itinerary
Before initiating the journey, I handpicked a few places that I didn't want to miss. This included Udaipur in Rajasthan and the coastal stretch between Mumbai and Goa. I have done Mumbai and Goa Coastal last year in 2018 and knew what beauty they can offer. To my knowledge, the Mumbai to Goa stretch was going to be the highlight of the journey. But as I started, I realised that roads in Rajasthan offer an equal opportunity to endorse a road trip in India.
Having said that, if I were to suggest a few highlighted stretches out of my entire Delhi to Bangalore route, I will suggest Jaipur to Udaipur, Mumbai to Goa (via coastal route and not the highway), and Goa to Marvanthe.
Please note that if you will Google navigate between Delhi and Bangalore, it will suggest you the shortest route via Madhya Pradesh and Telangana, avoiding Rajasthan and the western coast. I took that route during my return journey (from Bangalore to Delhi which took me only three days to cover the entire distance). Where you will certainly find better roads on that stretch and the journey will be quicker, but you will miss many places. Having said that, if the idea is to enjoy an all-India Road Trip, I won't recommend you take that route.
Two Days in Rajasthan

The two-day road trip taking you from Delhi to Jaipur and Udaipur, before you enter Gujarat can be brief but a fairly good introduction to all that a road trip in Rajasthan can offer. I mean if I talk about myself, before this motorcycle trip I always thought that Rajasthan is only all about old heritage towns and forts… but after only a few days of riding in Rajasthan, I was proved wrong.
Rajasthan isn't just about exploring old towns and appreciating architecture but enjoying beautiful landscapes and road trips too. From desert trails to winding mountain roads, Rajasthan has something for everyone.
I remember as soon as I left Ajmer and started towards Udaipur, the highway constantly changed from open straight stretches to winding and narrow curves. At times it gave the most cliched desert-like landscape, before dramatically changing into a Hampi-like setting with mountains of big boulders to be only seen all around.
From Udaipur, I went straight down south towards Ahmedabad. But had I taken a right, and west towards Mount Abu, things would have been entirely different, offering a Himalayas-like setting.
A two-day road-trip, doing Delhi-Jaipur-Ajmer-Udaipur, is a short. Still, nevertheless a good introduction to the kind of experiences and rich landscapes a road-trip across Rajasthan can offer.
Also Read: Is Udaipur Worth Visiting?
Udaipur to Vadodara to Mumbai
Udaipur to Vadodara and further south to Mumbai is a boring stretch of the journey – with good highways of course, but almost no natural beauty to enjoy a road-trip. The first 100km from Udaipur was still okay with the periodic change in landscapes but as soon as I entered Gujarat and neared Vadodara, the journey became monotonously boring with nothing but a long highway and a lot of traffic to deal with.
Vadodara to Mumbai was also another boring stretch of the journey with nothing much to see and do around. If colonial history interests you, Daman can be a good place to explore on the way (located 150km north of Mumbai).
The highways between Udaipur and Mumbai are overall quite in shape with only toll roads connecting the entire stretch. Though it's very tiresome to do the journey in a day, I suggest you try it because there is literally no beauty on the way. If not, break the journey into two days (choose Ahmedabad, Vadodara or Bharuch to stay on the way.
Four Days In Coastal Maharashtra
Mumbai to Goa coastal route was, in fact, one of the two reasons why I did a north to South India motorcycle trip in the first place (the other reason was exploring Kerala on a motorcycle). I did the same route more than two years ago while shooting an ad commercial for Maruti Alto and was well accustomed to the highlights this route can offer – from natural beauty to different riding conditions.
For people who like road-trips, Mumbai to Goa coastal route is like going to Mecca. From riding next to the coast to venturing into a jungle-safari-like setting to ferry crossings, here, you will find something for everyone. And if you're a drone to make videos, you can literally do magic. Here's a video I made on the second day of the trip, watch the drone shots:
Now, if you're doing Mumbai to Goa via NH 48, you can do the same journey in about 10 hours, but following the coastal route takes at least four days even when you're riding all day. Taking ferries can moreover consume some time as they run every 45 minutes at most of the points and it may happen that you arrive at a ferry point the minute the last ferry has left.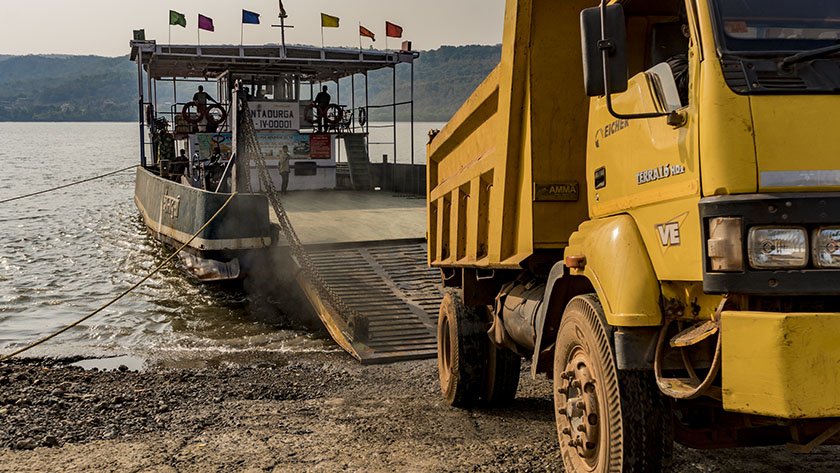 The entire stretch has more than five ferry crossings all operating during the daytime only. Visit CarFerry.in to check the time schedule for each ferry point and save yourself from needless waiting.
Here's how you can plan your 4-day journey between Mumbai and Goa:
Mumbai to Harihareshwar (7-10 hours)
Harihareshwar to Ganpatipule (7-10 hours)
Ganpatipule to Tarkarli (6-9 hours)
Tarkarli to Goa (5 hours)
Further Reading: A More Detailed Mumbai and Goa Coastal Route Itinerary (please note that my motorcycle road trip followed the same route but I chose different places to break the journey. The itinerary suggested above is the basis of the two journeys I have done on the coastal Maharashtra route).
One Day In Coastal Karnataka

As soon as you exit South Goa and enter into Karnataka, the first highlight comes your way with River Kali flowing on one side and the Arabian Sea on the other. Karwar Beach is a famous tourist spot to stop by and enjoy the two waterbodies simultaneously, but if you just look at the map, you will find the hidden gem of Devbag Beach, located only a few km from Karwar. From Devbagh, it's possible to experience a Marvanthe-like setting – with river Kali flowing on one side of you, and the Arabian Sea on the other.
The entire Goa to Marvanthe stretch will have winding roads with most of the time the road is open for two-way traffic. The roads may be narrow but overall pretty good in shape. Though only a 5-hour journey it can take a good 8 to 9 hours as there are many beautiful spots where you might want to take a moment and click a picture, so leave early.
Marvanthe will be the highlighted spot with the Arabian Sea and Suparnika River flowing on either side of the highway. The main beach may get a little crowded in the evening, but if you will try it's not too hard to find your own quiet corner somewhere.
There are places to stay near Marvanthe Beach. And when you reach Bangalore, I suggest you stay near HSR because this is where you find most green spaces, including some of the best parks in Bangalore.
Concluding Delhi To Bangalore Road Trip

When I originally planned my Delhi to Bangalore journey, I decided to go all the way to Mangalore (exploring Murudeshwar and Udupi, the south of Marvanthe) before finally moving to Bangalore and ending the trip. But because the weather was too hot and humid to ride in South India, I decided to cut short my trip from Marvanthe. This hot weather has troubled me since I reached Mumbai. The south I went and the hotter and sweatier it only got. This was during the winter months (December and January). Anyway, here's more cribbing about the weather and the reason why I think South India Is Not Meant for Riding (currently writing the article).
Now, coming back to the point… Marvanthe to Bangalore will take you to the green patches of Chickmangalur with proper mountain-like riding conditions for at least half of the journey (until you exit Chickmangalur and reach Balur.
There are two almost parallel running routes from Marvanthe to Bangalore, but take the one that takes you from Marvanthe to Agumbe to Hassan and then Bangalore as that one is more scenic. At two points on the journey, near Agumbe Sunset Point, you will be dealing with around 20 hairpin bends, making the experience quite enjoyable. Located at nearly 1000m above sea level, the Agumbe motorable pass is a local tourist attraction.
Have you ever done a Delhi to Bangalore road trip? Or some other equally long north-to-south India road trip? Where was it to?