Want to learn snowboarding in India? I suggest you buy a snowboard in India and learn it yourself. Find out snowboard prices in India, where you can learn it on your own and other tips. This blog is written on my personal experiences. So, let's get started.
Ever since I visited Sethan last year, for learning snowboarding in India, I've been hooked on the sport. I was, in fact, so hooked that I was watching tutorials on Youtube on what to do and what not. From how to correctly stand on a snowboard to how to wax it — I've seen them all.
One year later, I didn't know back then, I will be snowboarding myself. See Youtube Video by clicking here. I now also organise skiing and snowboarding courses, at my own backpacker hostel FOOTLOOSE CAMPS in Manali. Check Basic and Advanced courses here: Footloosecamps.com.
I got hooked on the sport two years ago though when I visited Gulmarg (one of the popular tourist destinations in India) and saw some people doing it. Looking at them, one thing was clear: I was going to buy a snowboard in India, next year, learn it on my own, and become a pro. So I planned a visit to Manali – one of the top places to visit near Delhi – and learned a bit about it.
So let's discuss how I did it…
Snowboarding In India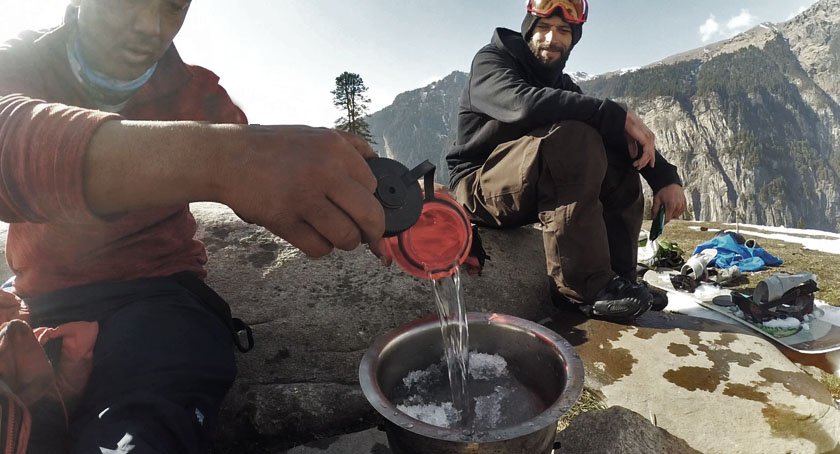 To cut things short, let me tell you… to buy a snowboard in India, you need to do a little work. It's a challenge, just like buying other sports equipment. Even the most popular skiing locations in India like Auli and Gulmarg have no stores to buy a snowboard. Though you may easily find one to rent, buying is, unfortunately, pretty impossible. Most online retailers moreover don't sell one.
When I was planning to buy a snowboard in India, right after my visit to Gulmarg, I almost got a sticker shocker after finding that someone in Manali was selling his 4-year-old snowboard for 35,000 Rupees.
"If a used one cost 35k, how much a new one would be" I wondered.
And then Decathlon happened…
Snowboard Price In India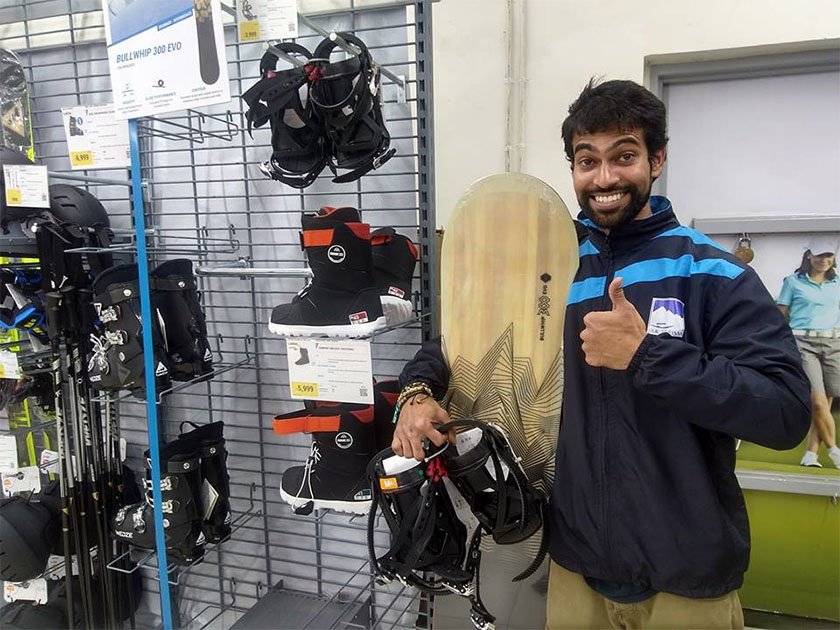 No wonder, Decathlon stores have revolutionized the sports and adventure scene in India. Their products, though may not be of top quality, are at least affordable. They have allowed people in India to try different sports, that they once only dreamed of. I've seen kids in my neighbourhood, in Delhi, chasing each other on skateboards — something that only felt like a foresighted dream.
So when renting a snowboard in Manali and other places and buying one seemed unreal to me, Decathlon's Wed'ze came as a messiah in my life.
At only 9000 Rupees Decathlon was selling a brand-new snowboard. The binding cost 4000 and the snowboard boots — another 5000. With a helmet costing 1800 Rupees, I was ready with all the necessary safety snowboarding equipment for under 20,000 Rupees.
[Disclaimer: I wasn't paid for writing a review for Decathlon, which may otherwise feel after reading this article. All recommendations and experiences are solely personal]
Update 2023: Decathlon discontinued selling them in 2023.
If you want to learn snowboarding now, you need to hire the equipment. There are some online retailers selling the equipment online but I barely trust them. Having said that, hiring equipment and learning is the easy way to do it.
At FOOTLOOSE CAMPS, we organise 7-day snowboarding lessons, including equipment, accommodation, food and instructor fees for as less as 15 thousand per person. Visit the website to know more and read all the inclusions.
Snowboarding In India: Where To Learn
Learning snowboarding in India isn't tough at all and requires only a few hours of coaching. Once you know the basics (that you can learn by watching youtube videos too) all you need is practice and gain self-confidence. Though a proper certification will, of course, help you in the long run as you can then take part in skiing or snowboarding competitions and even teach it, for fun runs, you don't need certification at all.
When I initially bought my snowboard, I decided to learn snowboarding in Gulmarg — for Gulmarg is believed to have some of the best ski slopes in India. But given the high accommodation prices during winter in Gulmarg and the expensive chairlift, I gave up the idea.
According to my calculation, I was going to bleed nearly 20,000 Rupees in about 10 days for staying and using the chairlift in Gulmarg, on top of an additional 5k for the airfare. When all that seemed a bit too much for me as a beginner, I decided to visit Sethan, for I knew it isn't a popular snowboarding destination, unlike Gulmarg, and staying there won't be expensive.
Popular for backcountry snowboarding in India, Sethan offers budget accommodation options, costing less than 1000 Rupees a day (including all meals) if you are staying for a longer time — say a week or 10 days. I stayed in Sethan for over 10 days and ended up spending about, in addition to 3000 Rupees for transportation to and from Delhi.
So after more than 10 days in Sethan, and qualifying myself from a no-snowboarder to a beginner-level snowboarder, I spent a total of 20,000 + 9,000 < 30,000 Rupees. With under 30,000 Rupees, I learned snowboarding in India and ended up having my own equipment for life. Pretty sweet, eh?
But you can learn snowboarding in less than 10 days, and not require buying the equipment. I suggest you rent the board, try the sport, and learn it, and if you enjoy it a lot think about buying a board.
Anyway, you can try snowboarding for 3400 per day, including the equipment and instructor fee. Check the website: FOOTLOOSE CAMPS.
We also organise 5-day, 7-day and 9-day all-inclusive snowboarding and skiing courses. Check our website footloosecamps dot com for more information. We have two locations around Manali – Sethan and Solang Valley.
Two of the key differences between learning skiing in Manali vs learning skiing in Sethan are…
Sethan is comparatively less crowded, making it a better place for beginners to learn.
Sethan, however, doesn't have a ski lift. In Manali, you get a ski lift, making the overall learning process easier and quicker.
Click here to check our Sethan Packages.
Because of the ski lift, it is possible to do an advanced skiing course in Manali. In Sethan, we only have a basic course available.
There are two different packages available for learning snowboarding or skiing in Manali: a basic ski/snowboarding course, an advanced ski/snowboarding course.
Basic Course (5 Days): If you are a beginner and would love to understand the first steps required in the activity, you can select the basic snowboarding course where you will be introduced to all the equipment and the less challenging paths.
Advanced Course (9 Days): If you would like to experiment with the trickier sessions of snowboarding and skiing, then there is the advanced snowboarding course for 9 days which will take you to much higher altitudes and multiple challenges.
Both our packages are full-board plans, meaning you will be provided with food, accommodation, transportation and all snowboarding equipment.
PRICE
3400 Rs per day per person for the equipment and the instructor, if you are managing you stay yourself. Pay per day and learn for as many days as you want. A minimum of 2 people are required. We can also help find you accommodation. Please contact us on WhatsApp at 8800763430 to book.
If you want to learn snowboarding or skiing like a professional, choose from our Basic/Advance full-board plans, and itineraries mentioned below…
For Basic Manali Skiing/Snowboarding Course
INR 15,500 per person for a group size bigger than 7 people.
INR 16,400 per person for a group size of 4 to 7 people.
INR 18,000 per person for a group size of 2 to 3 people.
For Advanced Manali Skiing/Snowboarding Course
25,000 per person for a group size bigger than 7 people.
27,100 per person for a group size of 4 to 7 people.
29,000 per person for a group size of 2 to 3 people.
Further Reading:  Backcountry Snowboarding In The Himalayas