This Kuala Lumpur to Genting Highlands travel blog talks about 6 reasons why you should plan a trip to Genting.
Malaysia is one of those countries that can never disappoint a tourist. From Highlands that are a breath of clean, cool air; to mesmerizing islands; to new-age modern cities – Malaysia has something for everyone.
But among all, if you're looking for something that fits best for your few days of a family holiday, look no further than a trip from Kuala Lumpur to Genting Highlands.
For those who don't already know, the distance between the two destinations is only about 50km. It is approximately a one-hour drive away and is nestled on a mountain peak! So expect really cooling weather.
What else you can expect there is a crazy theme park, a strawberry fun farm, mesmerizing cable car rides, some memorable shopping experiences… well, the list is long.
But if I were to suggest the top experiences you should travel Kuala Lumpur to Genting Highlands for, as soon as you're ready, they would be these:
A Ride In The Cable Car
Though you can travel from Kuala Lumpur to Genting Highlands in your own car, the best way to get there is in a cable car. As you swiftly fly over a breathtaking view, overlooking the lush green mountains, you realise that your time in Malaysia couldn't be more picturesque. The ride lasts about 15 minutes and it's a great activity for a family.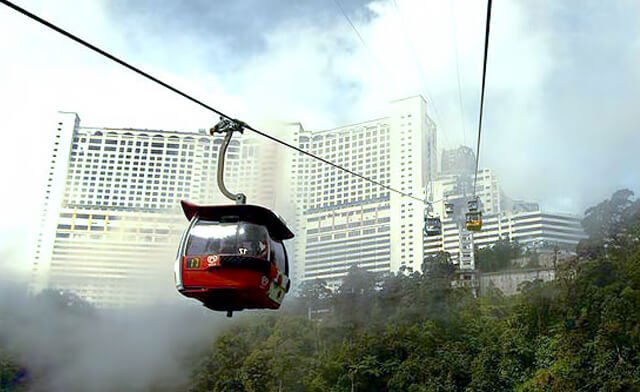 Trying Your Luck In A Casino
If you're already of legal age and are a little positive about your shining stars, do not forget to try your luck at a poker table, in one of the 24-hour casinos in Genting. After all, there is no harm in winning a little more cash for your trip, when you can, right? But before you do that, check the dress code, because patrons wearing sunglasses, slippers, short pants, and other sports attire are generally not permitted.
Picking Your Own Strawberries At The Strawberry Farm
The Strawberry Farm at Genting Highlands allows you to pluck strawberries and get that authentically 100% fresh strawberry taste. Just roam around the lanes of the garden and pick the best juicy ones for yourself. Alternatively, those fresh strawberries can also be purchased by weight.
Along with the strawberry garden, they also have a Mushroom and a Lavender garden, where you can see how local people grow and harvest Mushrooms. So, another reason to plan a holiday from Kuala Lumpur to Genting Highlands is the strawberries.
Also Read: Must Visit Places In Kuala Lumpur and these Nature Retreats in Kulala Lumpur.
The Outdoor Theme Park
Once you're in Genting Highlands, be prepared to experience some thrilling, sky-high rides in the outdoor theme park. The wide variety of rides you can find here will surely leave you awestruck – the happy, the scary, the easy, the wet, you name it. For a tip, when you visit the outdoor theme park, make sure you carry a pair of extra shoes and clothes for you to look like a sane, civilized being while returning from the park.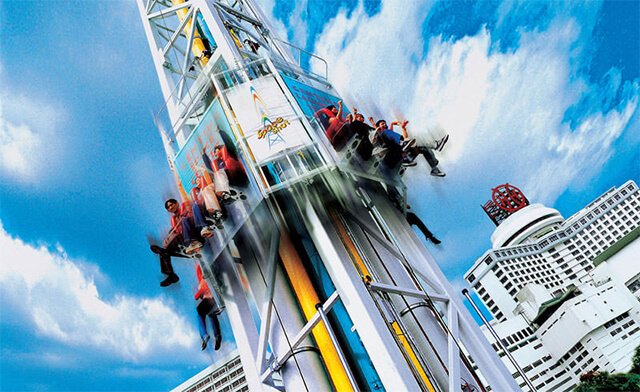 Play Around In Snow City
As you might have guessed, Snow City is a mini artificial city covered in snow. It's about 22.8 sq km and the temperature inside is -6 Celsius. A nice change from the everyday heat in Kuala Lumpur, if you visit the Snow City with your kids, be rest assured that it is going to be their trip's highlight. The snow city is definitely a no-miss for families. It is located just a few yards away from the indoor theme park.
Enjoy The Natural Vistas And A Perfect Weather
If none of the above strikes your fancy, then you'd definitely be enthralled by the eye-soothing landscapes here. If you already didn't enjoy your Kuala Lumpur to Genting Highlands drive, just find a quiet corner to make yourself comfy and enjoy the serenity and the peace in these mountains. The temperature here is moreover always a few good degrees cooler than Kuala Lumpur and other neighbouring flatlands, making it a refreshing and breezy getaway!
Kuala Lumpur to Genting Highlands
There are daily shuttles organised by express buses and tour companies as it is a popular destination for locals.
From the base of the mountain (where you can take a chairlift too) it is about 20 minute drive. You pass the small town called Gohtong Jaya and Chin Swee Caves Temple as you move towards the peak.
Speaking of how to get to Genting Highlands from Kuala Lumpur, there are three ways…
Self Drive
If you are driving, you'll likely take the Gua Musang Highway (E33) route, which starts after passing through Jalan Kuching road or Route 1.
This is a toll road (costing about RM6). If you take this route, it will take about an hour all the way from your place in Kuala Lumpur to Genting Highlands.
I suggest you leave before the peak traffic hour else it can take more than an hour. Be cautious as you start your journey uphill if you are not an expert driving in mountains.
Buses
There are a lot of options to choose from when it comes to travelling from Kuala Lumpur to Genting Highlands by bus. You can take a bus from Utama Shopping Mall (Petaling Jaya) as well as the Sentral Station. Buses take about RM5 and RM13 for a one-way ticket.
The most popular route, however, is from KL Sentral Station, with buses departing on an hourly basis while other stations depart every two hours or longer.
It is possible to take a bus all the way to the top of Genting or to Awana Skyway Bus Terminal from where you can take the cable car.
In my experience, the best way to travel from Kuala Lumpur to Genting Highlands is by doing a combination of bus and cable car.
Cable Car
Genting Highlands is accessible via two cable car services, namely Genting Skyway and Awana Skyway. The latter is more popular and runs daily. The former works only during weekends and season time.
Awana Skyway is operational daily between 07:00 and 24:00. It takes about 10 minutes from Awana Station to SkyAvenue Station. A one-way ticket for the standard gondola is priced at RM8 per person, while the glass-floor gondola costs RM50 per person.
That's all in this travel blog on Kuala Lumpur to Genting Highlands.
Here is a few more related travel blog you may want to see: Selangor Travel guide and how to travel from Kuala Lumpur to Penang.