Kuala Lumpur can be a great city for a first-timer, but if you've been there before, or are going to be staying in the town for a few days, be well informed that the town may appear as one chaotic mess. It is one of those cities in the world that never sleeps. Its energy hits you in the face and the madness grows on you over time. Everywhere you turn in Kuala Lumpur there is blocked traffic, crowded sidewalks, annoying taxi drivers and smoggy air.
But the good thing is, Kuala Lumpur is not short of quick and accessible getaways or, Zen Retreats!
Drive an hour or two away from Kuala Lumpur in any direction and you're either going to end up in a thick rainforest or somewhere closer to the musical sound of the ocean — a kind of setting perfect for a quiet holiday.
During my recent 5-day blog trip with Selangor Tourism and Malindo Air, I happened to explore a peaceful forest reserve in the north of Kuala Lumpur, and an idyllic beach resort in its south — two very different and distinct places, yet equally charming Zen Retreats near Kuala Lumpur. And one thing that made them similar despite their differences, was the piece of mind you get there.
The Sticks, in Kuala Kubu Bahru

Imagine waking up to the sound of birds chirping, the whisper of rustling leaves, and the yellow morning sunlight shining on your face. Wouldn't that be blissful? Well, you can actually experience a similar setting if you'll visit The Sticks, an eco-resort located an hour's drive from downtown Kuala Lumpur. Smacked within the tropical rainforest in Kuala Kubu Bahru, in the Hulu Selangor region, The Sticks can be a perfect hideout spot for urban millennials. The only thing is, be prepared to get some nasty mosquito bites (unless you apply a mosquito repellant) and come across some deadly-looking spiders and lizards.
Located in the dense rainforest of Hulu Selangor district, The Sticks is an ideal Zen Retreat near Kuala Lumpur.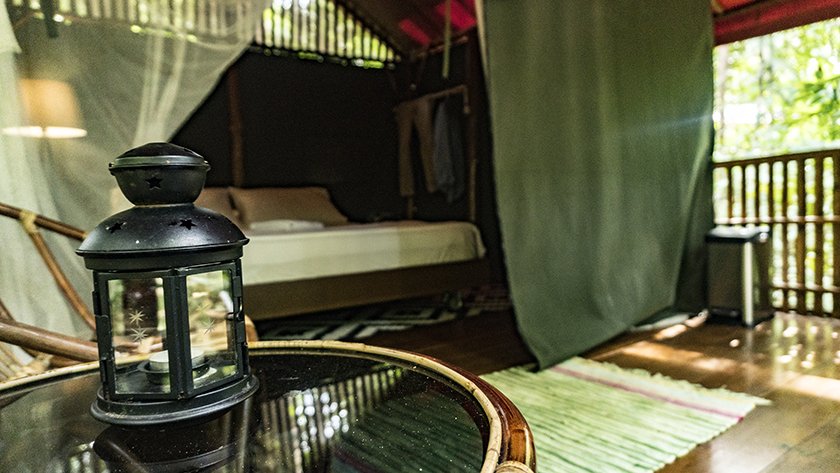 To get here, you will need to do a short 10-minute trek (so make sure you bring a backpack, not a suitcase) which takes you away from the nearest road connection, guaranteeing a peaceful stay at the property. The trek moreover passes through a beautiful suspension bridge located over the stream of Sungai Meranti. A natural pool for some evening tubing can moreover be spotted in the stream.
The sheds here are intentionally created with a minimalist feature, free from any lavishness, with the sole purpose to allow you to fully immerse in the beauty of the jungle. Suppose you feel like being a bit adventurous. In that case, you can always opt for exciting activities like jungle trekking, river rafting, or taking a dip at the cascading waterfalls and plunging pools. So don't forget to bring your swim shorts and some sunscreen.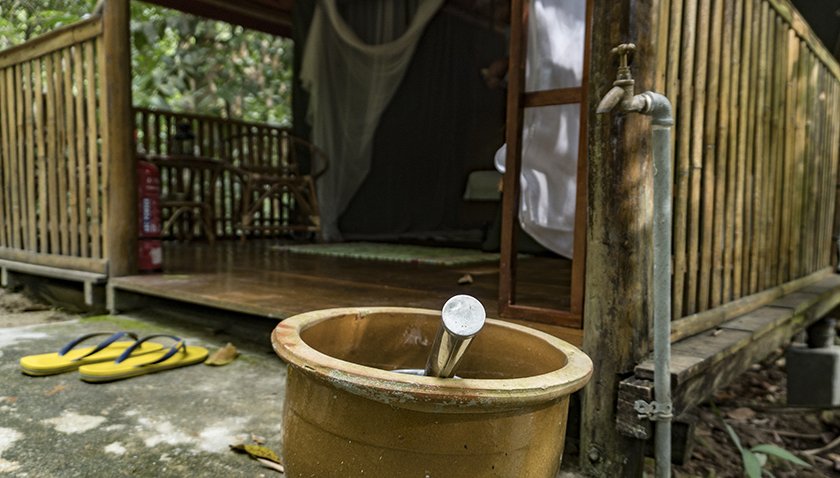 An interesting thing to note is, the entire property has been built on a former tin mining site, keeping environmental sustainability in mind. The resort facilities were constructed with a minimal clearing of the surrounding rainforest. Accommodations are powered by solar energy and supplied with water from the nearby stream of Sungai Meranti.
Other than water activities, another fun activity to fill up your day with is paragliding at the nearby site of Batu Pahat hill at Millennium Park. The park is located at a 10-minute drive from The Sticks.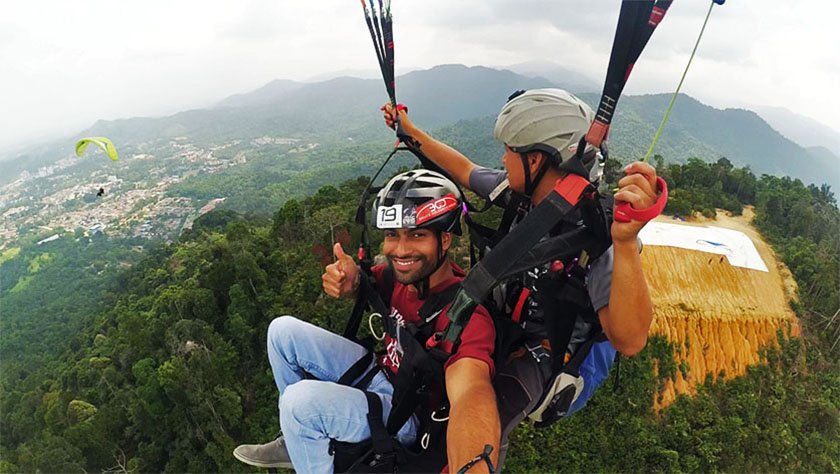 Avani Gold Coast Resort
If you're more into beaches and luxury, with a bit of fine dining, while literally floating over the sea of Malacca as you sleep inside your bedroom, the AVANI Sepang Goldcoast Resort is the place to be. About 90 km south of downtown Kuala Lumpur (a 45-minute drive) towards the coast, AVANI offers its guests a relaxing water escape.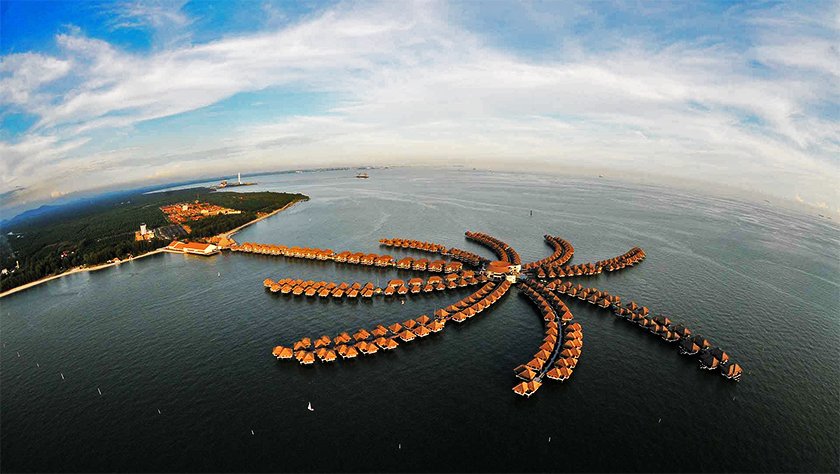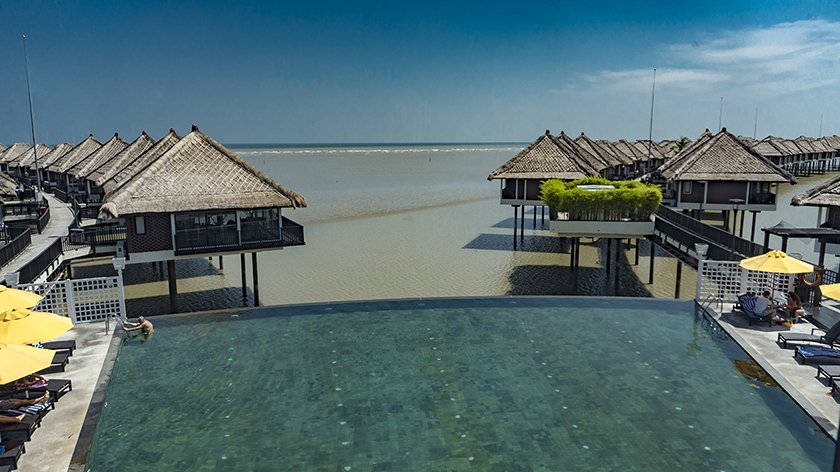 It features over-water villas that, together, and if seen from a distance overhead, form the shape of a palm tree. Stretching over one kilometre of water, the luxurious villas are placed over the sheltered waters, while perfectly balancing accessibility and isolation.
Stretching over one kilometer of water, the luxurious villas are placed over the sheltered waters, while perfectly balancing accessibility and isolation. With that said, the best thing about staying in AVANI Sepang Goldcoast is the panoramic ocean views right from your bedroom window.
The food at AVANI Sepang Goldcoast was delicious too! With five different restaurants plus room service, we were spoiled with choices at every meal. Breakfast was served in a buffet style with a huge selection of Asian and western dishes.
The beautiful infinity pool located by the Clubhouse is everyone's favorite area. We got sweeping views of the ocean from the infinity pool, and around the pool are two rows of cabanas. Perfect for anyone who prefers some time in the shade!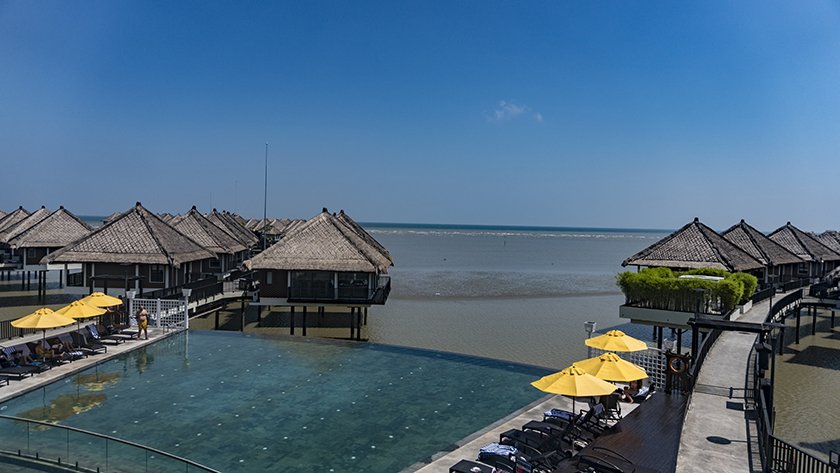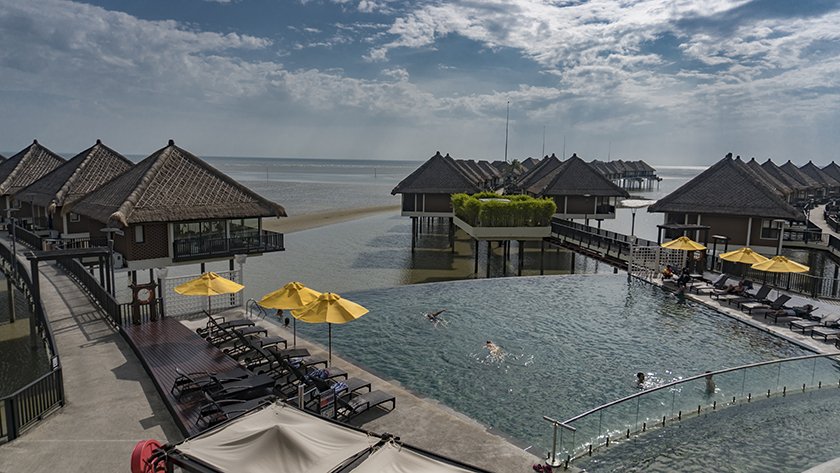 As for the activities, you can choose to laze by the pool and enjoy the resort's facilities, or pick a ball and head out to the beach for some exciting beach games. The Resort also has some free daily programs lined-up to keep guests busy such as Yoga, Power Walk, Bicycle tours for beginners and adults, Zumba for kids, beach soccer and beach volleyball and a Zumba Live party. If you're a wildlife enthusiast, go for a short boat tour along the mangrove river and watch the tropical flora and fauna. Expect to spot a bunch of lame monkeys, and if lucky, perhaps a few Mangrove Monitor Lizards as well.
But even if not, just like it happened with me, you will have your time capturing life around the Mangrove.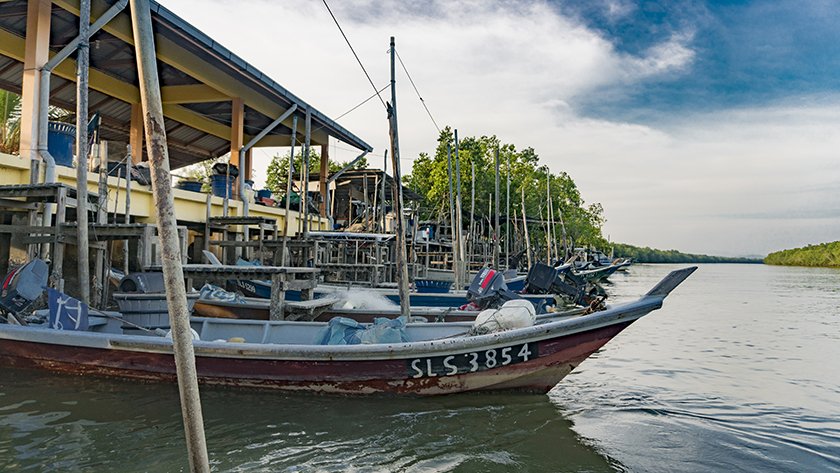 Read: Other Things To Do In Selangor | My First Bungy Jumping Experience In Selangor
Disclaimer: I visited Selangor on a 5 Day FAM trip hosted by Tourism Selangor and Malindo Air. Though my trip and experiences were all sponsored, all recommendations and advice are totally personal. I only recommend what I personally experience and find worth appreciating.