Planning a motorcycle trip? Read this 7-day Jammu to Killar itinerary and find out how to plan a similar, but one of the most adventure-filled road trips in your life.
In the blog, you will get details on how to ride with road conditions from Jammu to Basholi to Sarthal to Bhaderwah to Gulabgarh to Killar to Gulabgarh to Patnitop to Jammu. You can do this ride on a Royal Enfield as well as other motorcycles like Pulsar and Apache, among others.
This road trip from Jammu will be any motorcycle enthusiast's love. This was my first ever real ride in the Himalayas and since then I am hooked on riding. So without wasting any more time, let's get started…
Jammu to Killar Road Trip Itinerary
In short, this is how I planned my route map per day basis:
Jammu to Basholi
Basholi to Sarthal
Sarthal to Bhaderwah
Bhaderwah to Gulabgarh
Gulabgarh to Killar, and back
Gulabgarh to Patnitop
Patnitop to Jammu
And if you are looking for the route map and thinking how many kilometres it will be per day, here we go:
Jammu to Killar Route Map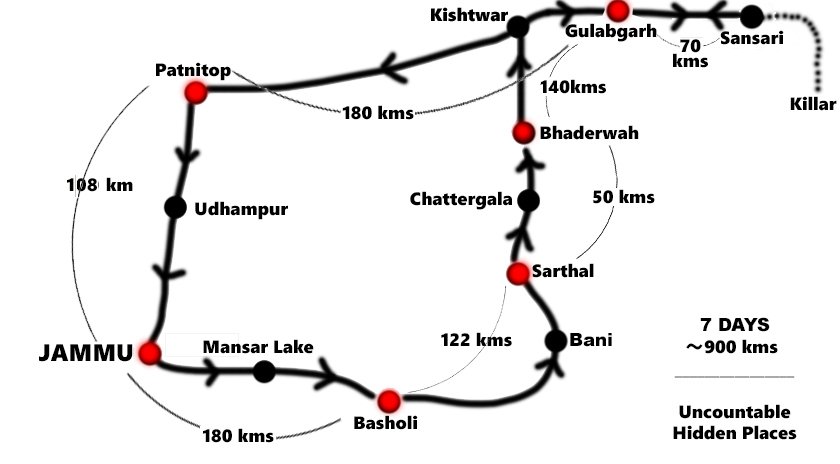 Completing a loop of 900 km, we rode for 7 days in a row, covering less than 150 km every day and keeping things more real and entertaining. Moreover, since we were a pretty big group (with 60+ motorbikes, two travellers, and a 4*4 drive) collecting all the riders, and riding together was a task.
Those travelling individually, and those short on time and high on adrenaline, can cover up the entire itinerary in 3 or 4 days.
However, I'd advise not to rush too much and enjoy the ride, slowly as it reveals.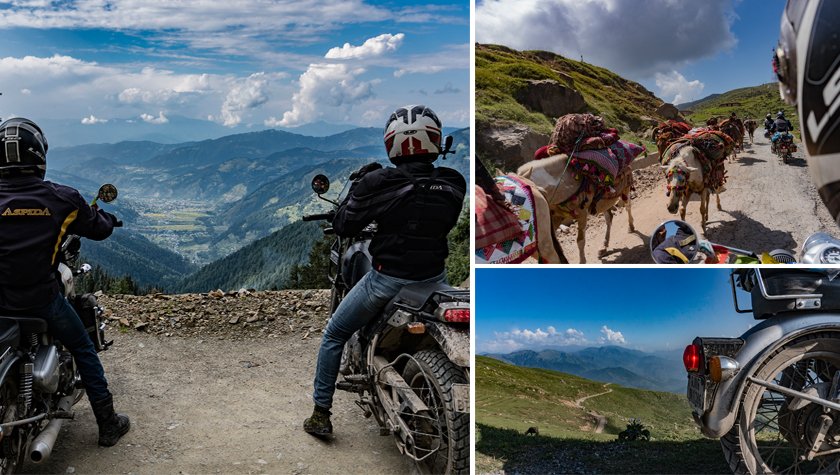 About My Visit
After writing a few blog posts on the Spiti Valley road trip itinerary last year, one question I repeatedly got from the readers was "how commercialized Spiti Valley is." And innocently, I always answered, "not at all". Spiti Valley is certainly an offbeat place to travel in the Himalayas. But there is no denying the fact that it is getting crowded every day.
So if you're looking for a real offbeat motorcycle trail in the Himalayas, where should you go to? My answer: Jammu to Killar. Follow this 7-day itinerary and you will explore some of the most untapped regions in the Himalayas.
My trip to this place happened on a media invite by J&K tourism, with 60-plus riders from across the country. Our route map took us to exactly what the expedition title promised, "exploration of unseen places," as we slowly made our way, over a 7-day riding period, from Jammu to Killar, and back, bypassing some of the highlighted valleys and unspoken towns.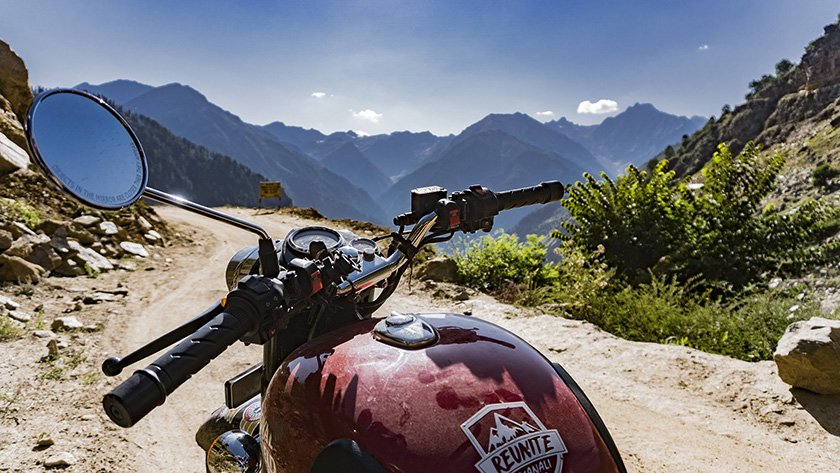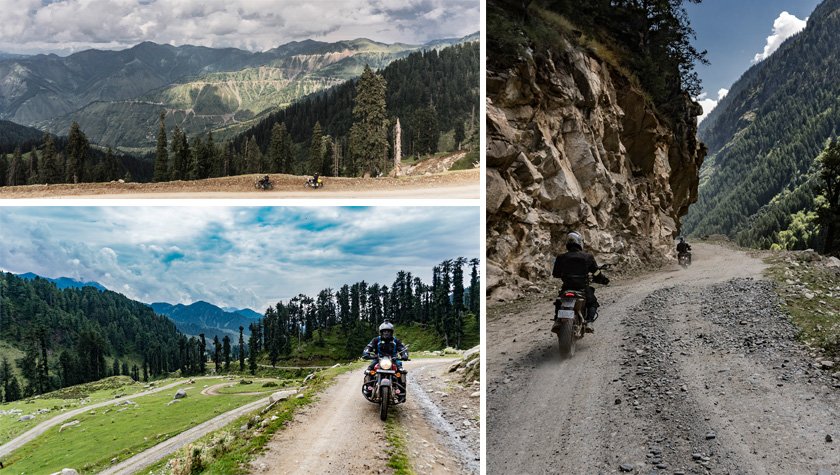 I won't say that all the places we stayed at and all the routes we followed, were deserted. Patnitop, Basholi and even Gulabgarh (a popular pilgrim site) were pretty common among tourists of different tastes, but towns like Bhaderwah and Sarthal made it up to us. Roads connecting both the towns, moreover the entire Basholi-Sarthal to Bhaderwah to Sansari to Patnitop route were absolutely unseen, particularly among the motorcycle community in India.
So let's discuss the entire 7 days Jammu to Killar road trip itinerary one day at a time…
Also Read: My First Real Motorbiking Experience In the Himalayas
Basholi, Sarthal, Bhaderwah, Gulabgarh, Patnitop
Jammu to Basholi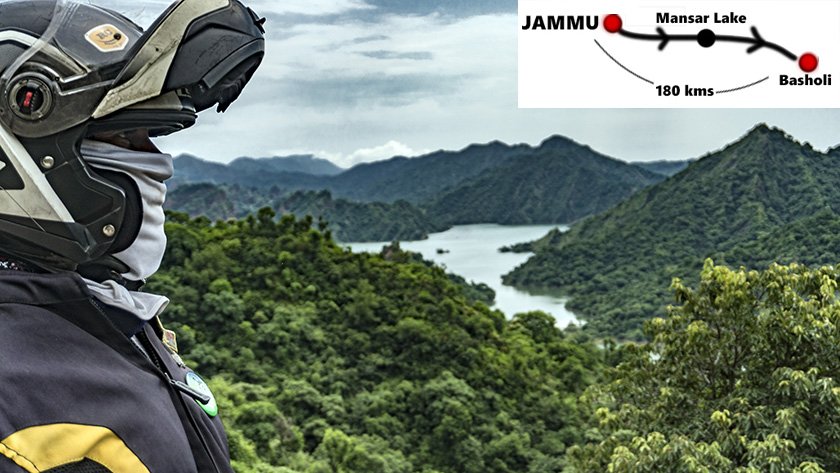 Except for a few bumpy patches as we neared Basholi, the entire route from Jammu to Basholi offered a sweet and comfortable ride. The journey took off with a steep climb, with unbearably charming views over the adjoining valleys and a beautiful railroad connecting Jammu to Katra.
Though there are few alternative routes to reach Jammu to Basholi, we followed the one that took us to Mansar Lake in Buttal for it is one of the highlights in the region with its history belonging to the time of Mahabharata. After a bit of quick nibbling near Mansar Lake and we hit the road again, for a better half of the day's driving.
Despite ongoing construction in a few places, most of the Jammu to Basholi route offers a pretty smooth ride.
It's possible to Basholi in less than 5 hours, despite many stretch-your-back stops on the way.
Basholi is a small town, but no short of tourist attractions. Visit Basholi Fort, Atal Setu Bridge and Ranjit Sagar Dam lake to cover the highlights.
The town offers a few private guest houses as well as TRC Basholi, run by the Jammu government.
No matter what season, you will certainly enjoy Jammu to Basholi trip.
Basholi to Sarthal
Granted a national highway status, the entire route from Basholi to Sarthal was completed in 2018. The road is metalled until Bani (which is the middle point from Basholi to Sarthal). After Bani, it starts degrading and slowly disintegrates into a rough trail, but fret not, the surrounding views will keep you entertained.
The reason why it is degraded is that there are high mountain passes on this route and keeping the road in perfect condition is not an easy job.
During our Basholi to Sarthal ride, the road was plagued by landslides, and for that reason, we got stuck at a few places, because we had three four-wheel drives following us. But once you go higher the treeline, landslides sound like a mere farce.
Starting from a mere 1,700 ft above sea level, the 120 km Basholi to Sarthal stretch takes you to a whopping 7,000 feet.
Until Bani, the route is pretty much flat (with some periodic ups and down). But once you cross Bani, the route suddenly starts gaining altitude.
Since Sarthal is a pretty small town, with almost all families residing there living a semi-nomadic life, the only accommodation option (you can rely on throughout the year) is the government-owned TRC Sarthal, which can accommodate a few dozen people in shared tents.
A few places of interest from Bani to Sarthal are Seven waterfalls, a Trout farm that sells Kashmir trout and the town of Bani.
Sarthal to Bhaderwah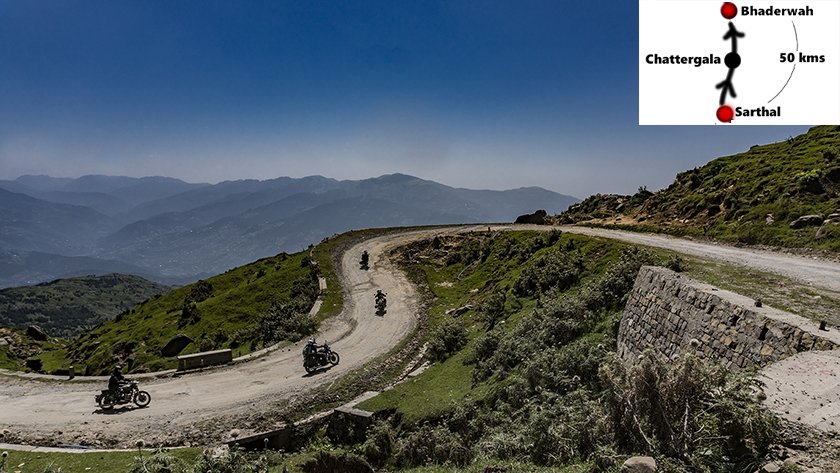 In reality, Sarthal to Bhaderwah is only a 50 km stretch but takes at least 4 to 5 hours to cover because of tough driving conditions and high altitude variations. Moreover, the views are so gorgeous that you won't help yourself stopping at a few places.
Starting from 7,000 feet in Sarthal to Bhaderwah takes you to 10,000 feet above sea level near the Chattargala pass — the highest pass in this region (as a point of reference, Leh is at an altitude of 11,000 feet) — before coming down to 5,200 in Bhaderwah.
The many hairpin bends and an open valley with visibility to a few kilometers in every direction make Sarthal to Bhaderwah one of the highlighted routes throughout the Jammu to Killar route itinerary. So don't pace too much on the route and slow down to soak in the beauty.
There are no petrol pumps on this route so carry enough fuel, or at least have your petrol tank topped up.
Spend at least one night in Bhaderwah, for it's one of the rare big towns in the Himalayas that are still a virginal beauty and is completely developed at the same time. The town was moreover unexpectedly clean, quiet and beautiful — something that Kullu or Srinagar must have looked at and left like, a decade ago.
Sarthal to Bhaderwah is a beautiful ride.
Bhaderwah to Gulabgarh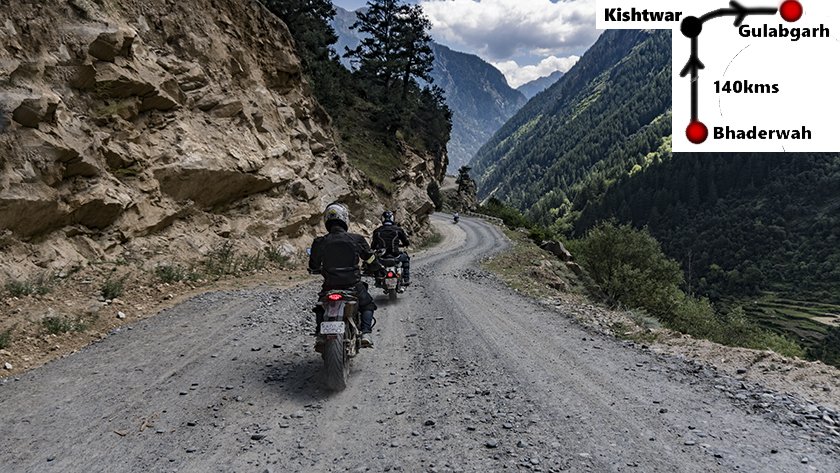 The route between Bhaderwah to Gulabgarh offers pretty much everything — smooth roads, gravel, big towns, open valleys, deep and suffocating gorges, you name it.
Bypassing the town of Doda, you reach Kishtwar in nearly 2 to 3 hours, and that's exactly when the ride becomes tougher and far more memorable. With the Chenab River flowing on your left, the Kishtwar-Keylong road takes you to roads much more treacherous and beautiful.
From Bhaderwah to Gulabgarh (especially when you cross Kishatwar, which is almost halfway) you will find the valley becoming quite narrow and dry at places, offering dramatic gorges and a steep fall of at least 500 meters. From Kishatwar, it takes at least 2 or 3 hours to drive.
The entire Bhaderwah to Gulabgarh takes around 5 hours at least. Starting at Kishtwar (Which is the middle point of this route) it takes around 2 to 3 hours to finish the ride, even if you stop a few times on the way.
Kishtwar is going to be the last big town on this route until you reach Killar, so get any repair work done as well as refuel your petrol tanks.
Thanks to the many guesthouses, accommodation shouldn't be a problem on day 4.
Killar road is one of the top motorcycle trails in the Indian Himalayas. I loved the route myself so much that I ended up riding here again, during my trip to Sach Pass.
Gulabgarh to Killar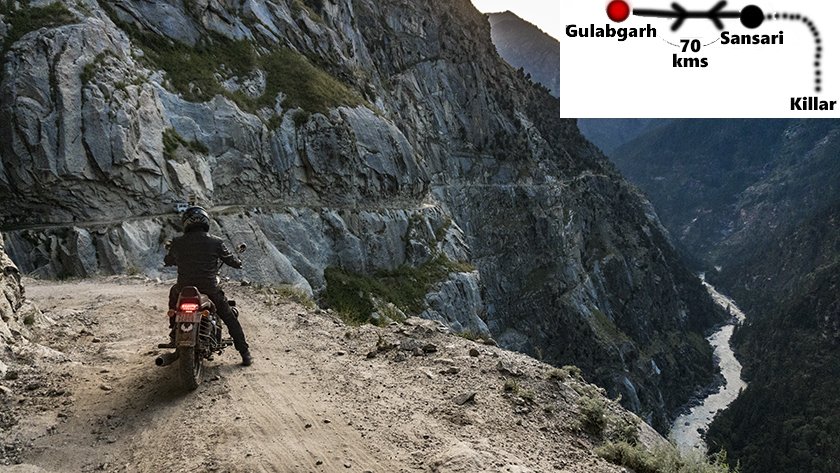 Your Jammu to Killar motorcycle trip ends here as you start moving back today.
Gulabgarh to Killar journey was definitely the memorable part of the entire Jammu to Killar route. With unrealistic cliffhangers and deep gorges, the narrow & suffocating roads made up for their title of Indian Himalayas one of the deadliest roads.
The unavailability of life and the significance of having your luck by your side makes things even more challenging in Gulabgarh to Killar, so be prepared for it.
If you plan to go all the way to Killar and back, leave at the first light and & spare at least 7 to 10 hours of riding in total.
We rode only up to Sansari (35 km on one side), clicked a few happy selfies at the Himachal border and returned, and still ended up riding for over 6 hours.
Since you will be riding on slippery gravel, with a deep fall moving along on your right, be sure your tires have a proper grip.
It's definitely not a good idea to drive a four-wheel on Gulabgarh to Killar route unless you have a driving efficiency level of 10/10.
Gulabgarh to Patnitop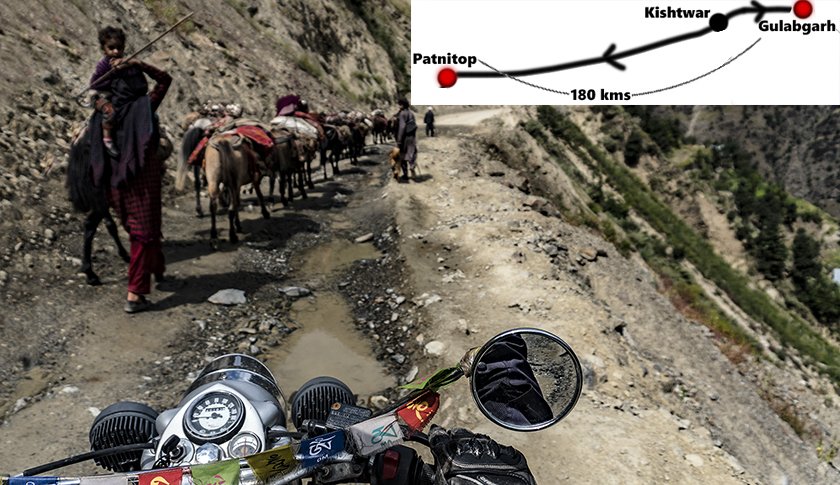 Before you leave Gulabgarh, as we did, drive 10 minutes to a hot spring location called 'Tapta Paani' to quickly rejuvenate and fine-tune your driving senses.
The highlight of the Gulabgarh to Patnitop will be until Kishatwar from where the road will turn into how most other Himalayan roads appear — boring and easy. Even after an uncountable number of stops, we reached you should do the entire stretch in less than 5 hours.
I think the reason why I found Gulabgarh to Patnitop boring is that we had seen better roads on the way.
If you are only doing this bit, you will certainly enjoy the route, so don't lose your heart.
Patnitop to Jammu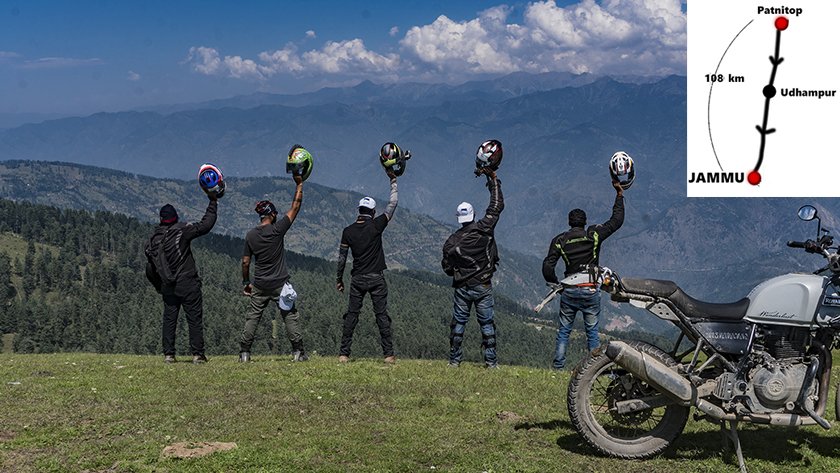 Patnitop is popular for a quick weekend trip for people in Jammu because of the cool sub-zero temperature that you found on the peaks here. Having said that, for those living in this region it is no less than a top holiday destination in India.
At 15km — a one-hour steep climb — lies the highest point of Natha Top. The road to Natha Top is a treat to eyes and the location, even more beautiful. With panoramic views of the Pir Panjal Mountains, as you look down, Natha Top stays in your mind and memory forever.
Between Patnitop to Jammu, a couple of attractions are Sansar Lake and the Chenani-Nashri Tunnel (India's longest road tunnel traversing a distance of 9.2 km).
Also, if you visited Natha Top, you are going to cherish the experience for a long time. It is a popular weekend destination in the region.
Patnitop to Jammu, if you're planning to visit Natha Top (I'll definitely recommend that) and Chenani-Nashri Tunnel, takes less than 7 hours in total.
Leave early to avoid getting stuck in the ongoing lorry-traffic from Uhampur.
Patnitop to Jammu is the most boring part of the trip.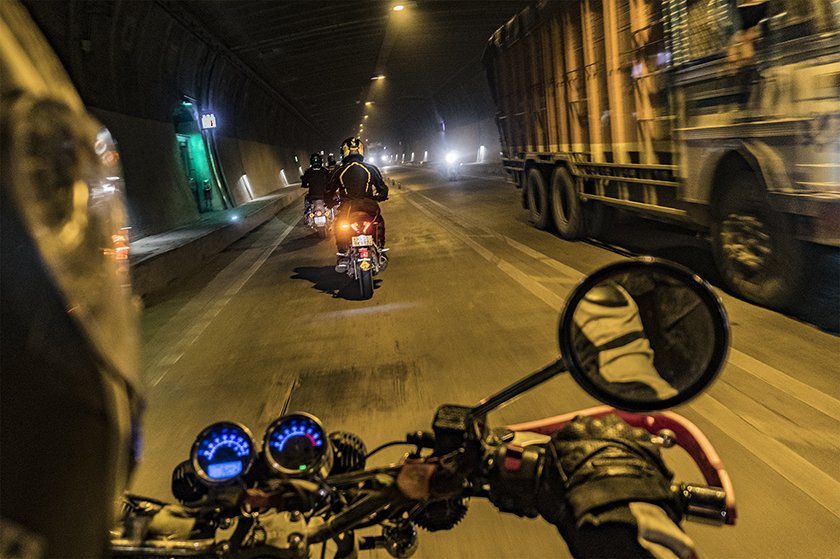 Where To Stay
Bhaderwah, Kishtwar and Patnitop are big towns, with no dearth of accommodation.
From budget guesthouses to something fancier — you can easily find a place of personal choice and taste.
In Sarthal, however, you will not be having such a luxury stay. Named as TRC Sarthal, the government-owned guesthouse is going to be your only option. The guesthouse, however, can easily accommodate nearly a dozen people. It also has a massive campsite for those looking for extra adventure.
Useful Tips
There are enough petrol stations on the entire route. You won't need to carry extra jerkins, even if you're riding a Royal Enfield.
Renting a motorbike can be a problem in Jammu as there are no rental shops available. You may have you arrange for one before you get there.
The entire route remains open throughout the year, except for Chattergala pass which blocks during snowfall in winter with no prior notice. The route opens as soon as the snow melts. Moreover, Killar to Kishtwar track can get very muddy and slippery in winter and during rain, making it challenging to get through.
---
Disclaimer: This trip was organized by J&K Tourism and Biker Brotherhood Motorcycle Club, Jammu. But all recommendations and endorsements are solely personal. I only recommend what I personally try, and find worth appreciating.
Also Read: Tips For Solo Motorbiking In Himalayas
If you are looking for another adventure trail near Jammu, read this Sach Pass itinerary
I hope you found this motorcycle trip in Jammu article worth reading. If you have anything to add to this 7 day Jammu to Killar itinerary, please share it in the comments below.