There're some journeys that leave an imprint on your soul. And my solo bike expedition to Spiti Valley was one among them!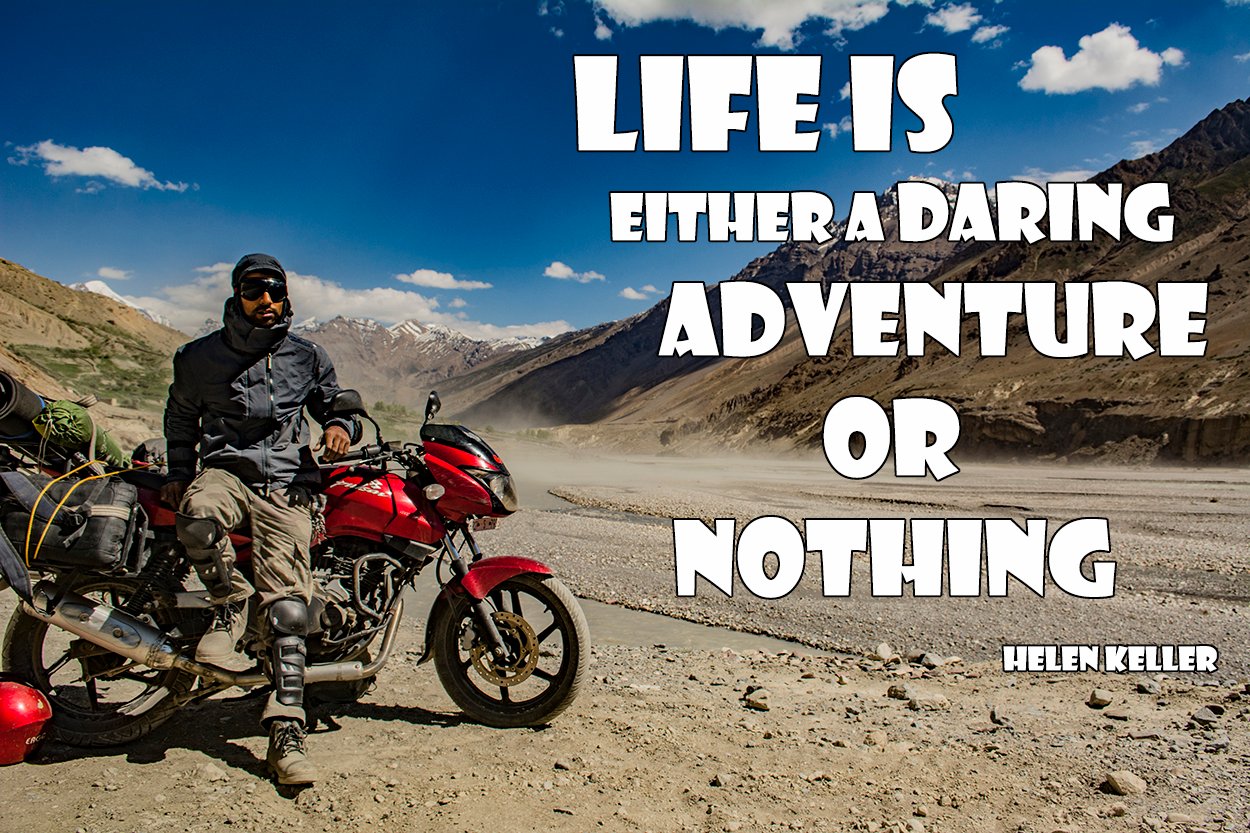 Many years ago, my father happened to stay in Lahaul-&-Spiti. He told me stories about Spiti Valley's raw and uninviting nature. It was from him, I knew how disconnected Spiti Valley can feel, from the real world. Time has changed though. Regular morning buses, which run daily, in different parts, now connect Spiti to its neighbors. Private cars and taxis also, at times, are quite visible.
"Surely the Gods must live here, this is no place for men." Rudyard Kipling
But if compared to Ladakh, Spiti valley is still very harsh and desolate. It takes a certain amount of madness to drive on these uninviting, mesmerizing landscapes. And to do it solo – you need to be more than just mad. When I decided to drive solo, through this unfamiliar terrain of East Himachal – home to one of the 'world's deadliest roads' – my sole intention was to see its natural vistas and being careful of every step.
Spiti is accessible by road throughout the year and requires you to travel a total distance of 700 to 800 km, depending on what all places you want to visit on the way. I traveled from Shimla to Kaza to Manali. You can also complete the journey the other way round – by starting from Manali, and following the tribal circuit, until you reach Shimla. But personally, I'd advise you to start from Shimla for a couple of reasons. First, if you start from Shimla, it would be easy for you to acclimatize to high altitude without a sudden discharge. Second, this way you won't need to obtain a permit to cross Rohtang Pass, which you otherwise do if you initiate the journey from Manali. Obtaining the permit means spending the extra money and killing one or two days in the DC's office, in Manali.
Also Read: Shinkula Pass Itinerary
[Note: Before you leave, do not forget to check if Kunzum Pass is open – the only route that makes Spiti Valley accessible from Manali. Though the route will still remain open from Shimla, but only till Losar. From a few kilometres past Losar (if Kunzum Pass is closed) you will have to turn around and take the same road all the way back to Shimla]
Here's a more detailed description of the expedition and the route map I followed: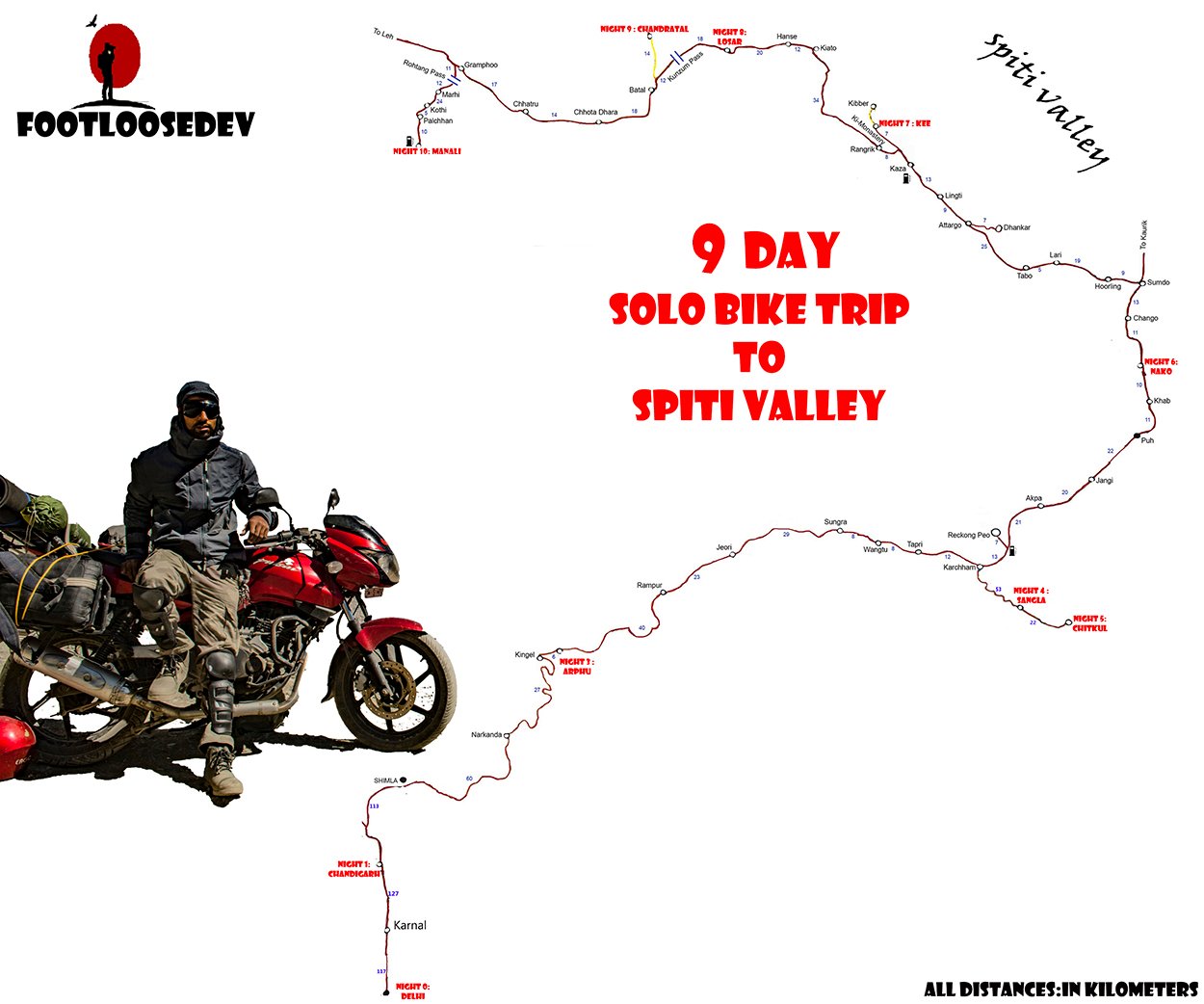 Day 1: New Delhi to Chandigarh (4 Hours; Distance Covered: 244Kms)
Before I left home, if there was one thing I was sure about, it was – I am going to travel slow; this was to enjoy the movement and to keeping my butt away from getting sore. Day 1 started a little early – at 4 in the morning, and I already found myself driving on a perfect highway which gives you the freedom to do over 100 km an hour and reach Chandigarh, from New Delhi (about 250Kms) in less than four hours. Motorbikes go a little slow, but even an average speed of 50km an hour allows you to crash at your guesthouse in Chandigarh in under 5 hours. Night 1 turned out to be the only night, in the entire journey, when I did not camp.
[Also Read: 7 Ideal Location To Camp In Spiti Valley And Not Pay A Penny]
Day 2: Chandigarh to Arphu (7:30 Hours; Distance Covered: 206Kms)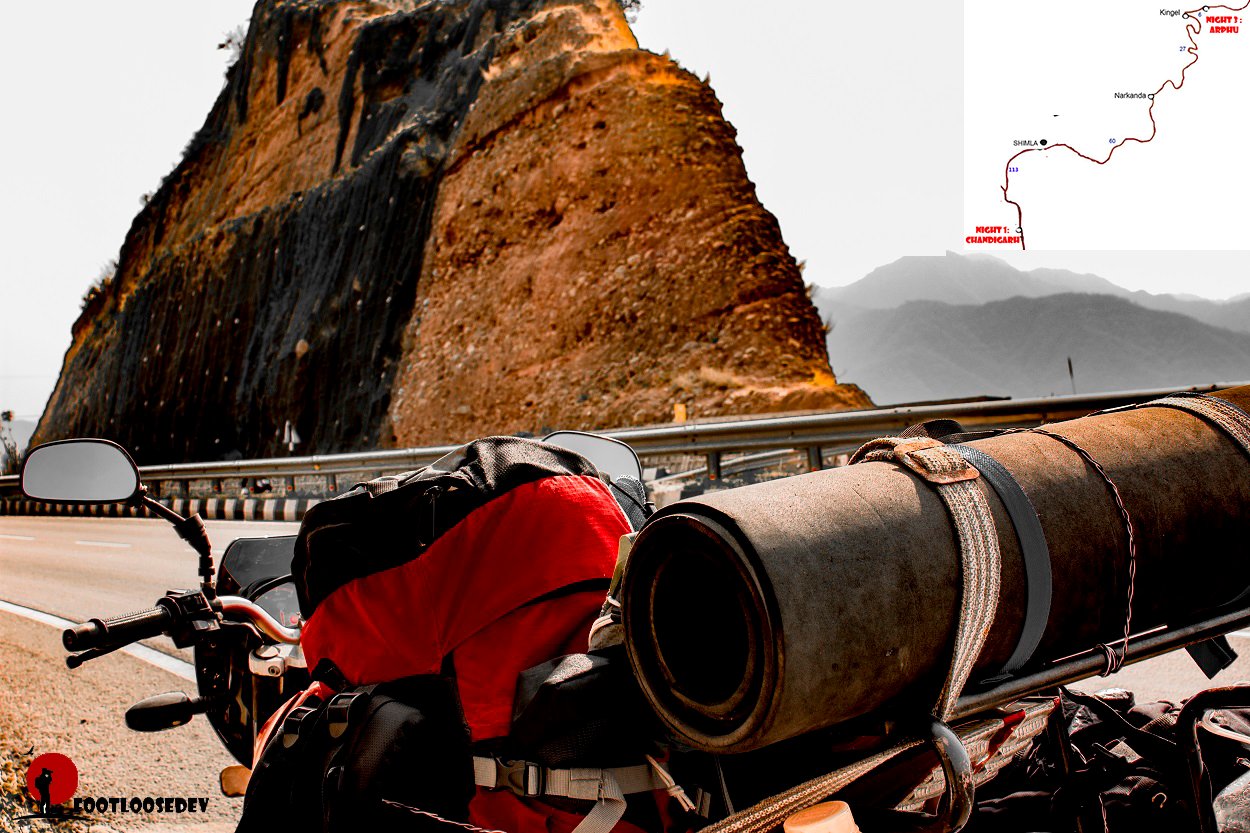 It takes about one and a half hour to drive from Chandigarh to Shimla (if you end up being lucky and found no traffic on the way). The road to Shimla, and further ahead, is mostly good in shape and stays good all year round, which assures you a smooth ride. You might have to ask a few people about the directions before you hit Narkanda, but once you cross Narkanda there is pretty much only one single highway to follow.
People driving from Shimla to Kaza, from New Delhi often spend a night in Shimla. I would suggest them to leave Shimla for lousy weekend-getaways and drive a little further to stay somewhere in Narkanda or in Rampur – depending on how much further they can drive. These towns are comparatively cheaper, scenic and more peaceful.
I had, however, found a small establishment near Kingel – a town named 'Arphu' where I camped for the night, which, to my satisfaction, had no Guest House but only open fields to grow Apples and play cricket. Since I was the only amiable and a super friendly guest in the town, I happened to get the first invitation of the trip from a local family to dine at their house. People from Delhi bring new and worldly stories for these people, so getting such invitations in the small towns of Himachal Pradesh is no tough deal. Happens all the time!
Day 3: Arphu to Sangla (9 Hours; Distance Covered: 173Kms)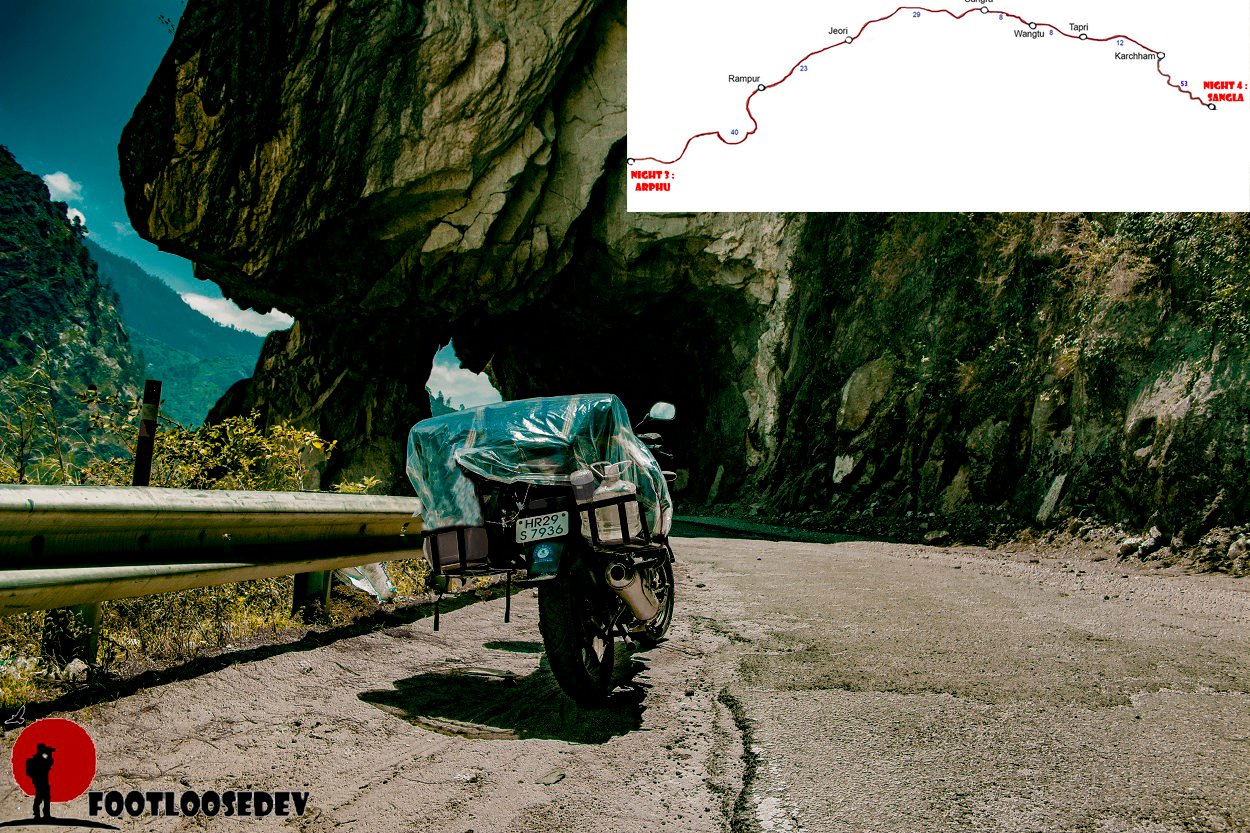 Day 3 Started with a light shower. Kinnaur can give you a drizzle at times, so do not forget to bring a rain cover for your luggage and for yourself. Spiti Valley is comparatively dry.
You'll experience the first-ever "You Don't Call It A Road" episode near Wangtu where you drive about 8 km towards Tapri under an angry bright sun. It took me 40 mins to cover this nasty 8 km stretch. I had to stop every 10 minutes to check if my bike is not yet punctured. Tapri, however, awards you with a perfect Hot Spring where you can relax a bit. The hot spring is situated about 2 km away from the town of Tapri. The town also has a petrol pump, in case you're planning a little detour towards Chitkul – the last Indian town.
Chitkul, in recent times, has gained some interest among the travel community, due to its beautiful surroundings and a perfect climate. It is required to go off the track and a different road from Karchham (towards Chitkul) and the way back (approximately 75 Kilometres each side). But those who visit Chitkul never come back dissatisfied. I camped in Sangla, which was a little less than 20kms before Chitkul.
Day4: Sangla to Chitkul (1:30 Hours; Distance Covered: 22kms)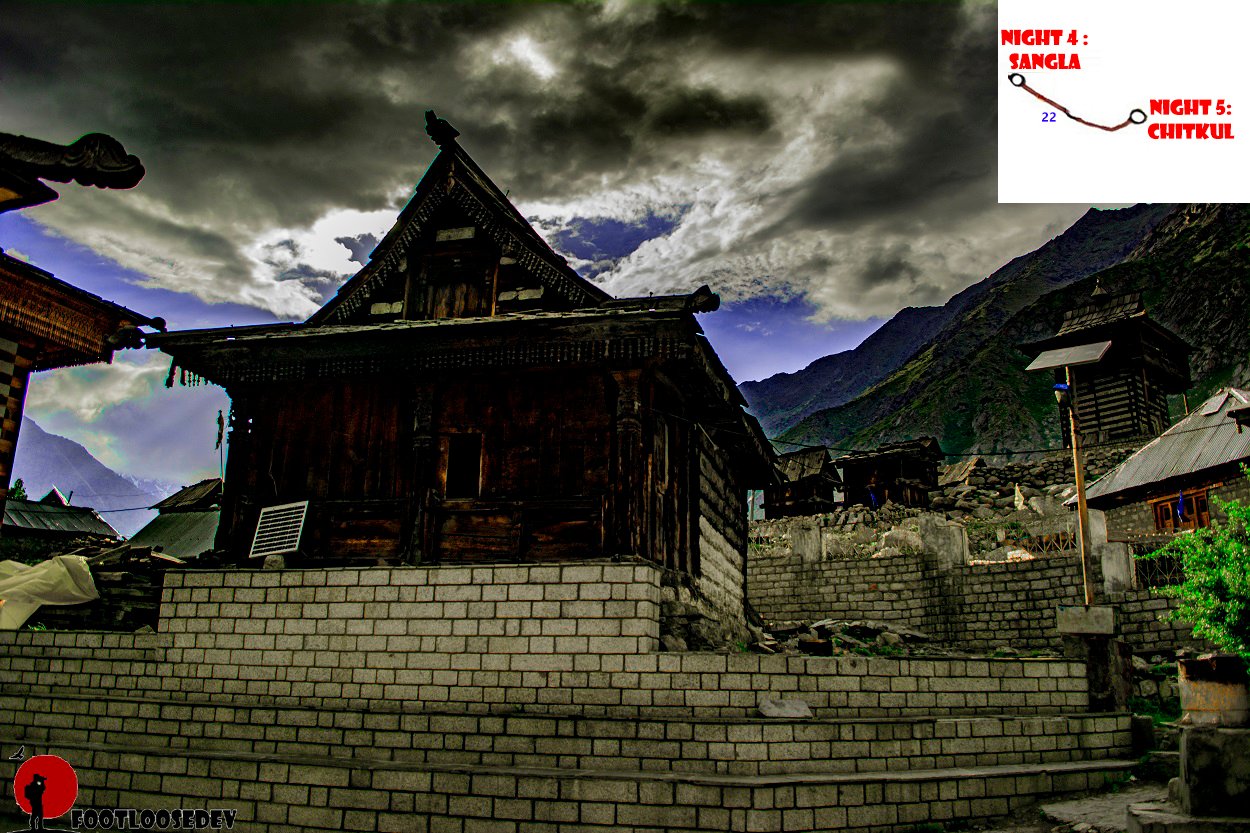 You feel the difference when you enter Sangla valley (which starts from the town of Sangla and ends in Chitkul), for it has an unparalleled beauty. [Related: Chitkul Pictures] Snow-capped mountains, perfectly beautified with ancient Tibetan architecture – dating back its foundation more than 100 years ago. A gentle stream of water can be found running next to the narrow driveway – which, for most of its part, can be found in good condition. The drive, I am sure, at any time of the year feels no less than driving on a 'road to heaven'.
Chitkul is a tiny Tibetan settlement claiming its small portion of land at the end of the Indian border. Often known as the last Indian town, it is a perfectly quiet town, with good – though a little expensive – accommodation options, which range from camping – for Rupees 1,500 a night – to comparatively cheaper rooms. I ended up camping, again and bailed out for free.
Day 5: Chitkul to Nako (8 Hours; 172Kms)
You can pretty much cut your engine, for most of the time, during the 75 km stretch back to Karccham, from Chitkul. Karccham to Rekong Peo is a little less than an hour's drive which can be avoided if you're Indian – as the town has nothing extraordinary to offer. Foreign nationals, however, are required to obtain a permit in Rekong Peo, which they will have to submit at a couple of checks posts in Spiti Valley.
I skipped Rekong Peo and drove straight towards Puh. Do not, however, forget to fill your petrol tank in Rekong Peo, which has the last petrol station until you finally hit Kaza, after a long and dusty ride of more than 200 kilometres.
You're required to register yourself at your first checkpoint in Puh, which takes 2 minutes for Indians and about 15-20 minutes for non-Indians. The road from Puh soon transforms itself into a driver's nightmare. Though numerous hairpin bends and close to open views of the valley will keep you engaged, and a little encouraged too, with its beauty.
It took me about 8 hours to reach Nako, from Chitkul. Nako is a sleepy settlement situated high over the moonland Himalayas – looking straight at many snow-capped mountain peaks. Cheap accommodation options make Nako a preferred destination among backpackers. Nako Lake, however, which attracts quite a few tourists were a big disappointment for me, due to its significantly tiny dimensions. But what made this town perfect for my stay was its 15th-century monastery which allowed me to camp inside its premises.
Day 6: Nako to Kee (9:30 Hours; 111Kms)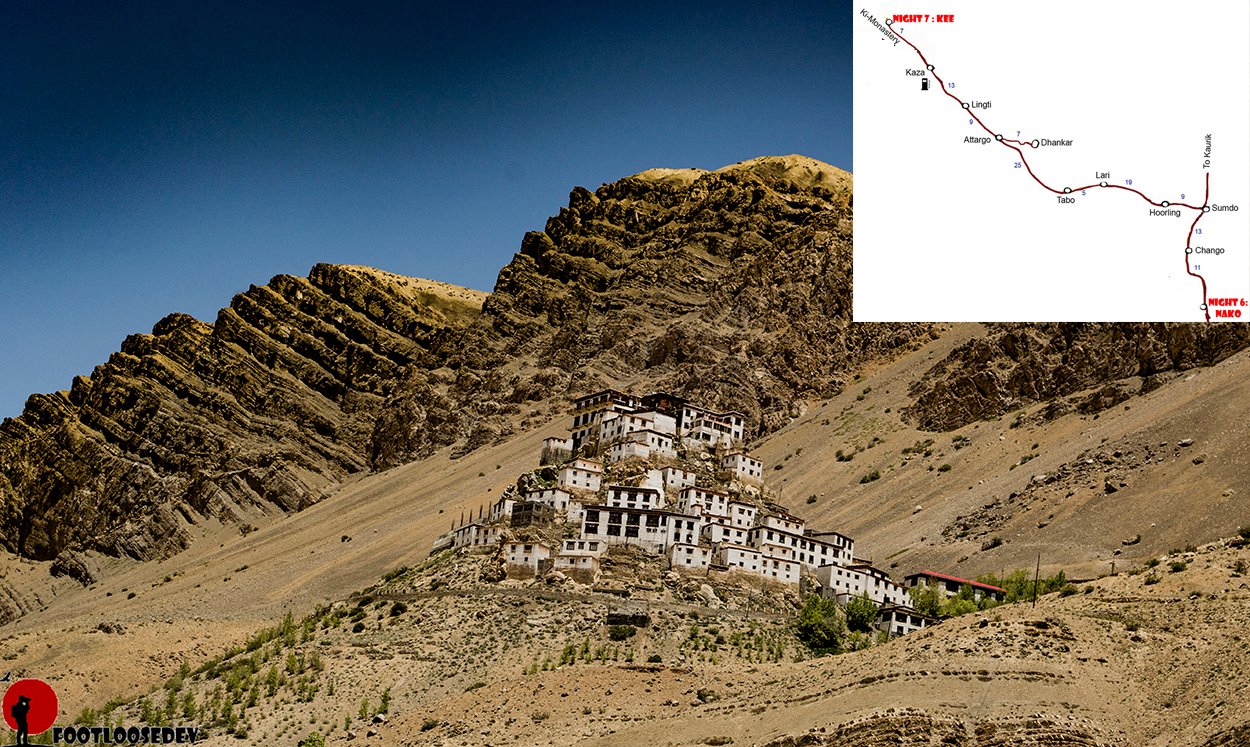 Kee is about 5 km from the town of Kaza. To me, the idea of staying in a small town, which is far less touristy and is close to a 13th-century monastery (perched on a mountain top) seemed more appealing. Though I was disappointed, for I did not get the permission to stay in the monastery, or camp anywhere outside it. But the town of Kee, to my satisfaction, had quite a few open and perfect spaces for camping.
The drive from Nako to Kee was pretty much – for most of the part – concrete, gravel, and small/big size boulders. Though big sized excavators and road-rollers can be found running throughout the year, trying to remove any debris from the road, and change the condition of the road from worse to manageable. From comparatively narrow driveways, the valley opens itself into the vast and uncluttered spaces, once you cross the town of Tabo and keep expanding and beautifying itself until you cross Kunzum Pass.
Day 7: Kee to Losar (5:30 Hours; 81Kms)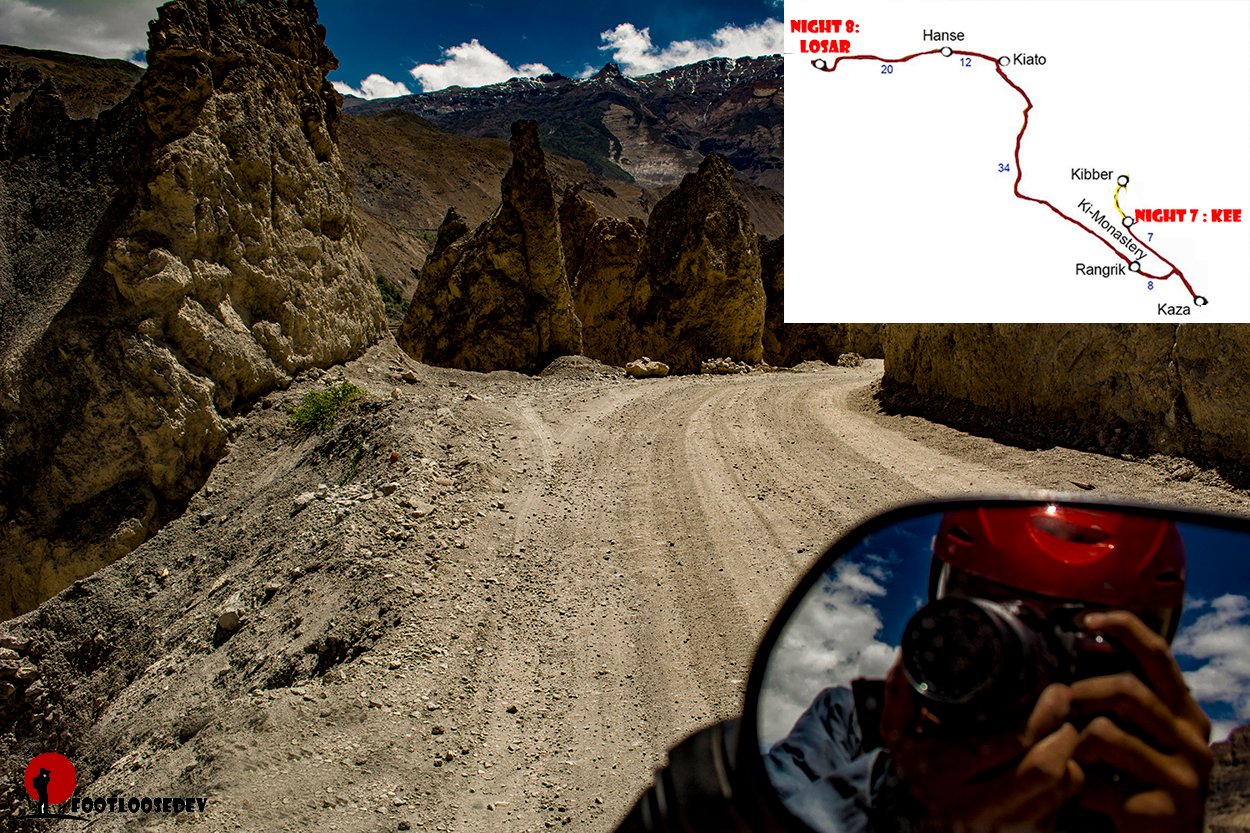 Kaza is the district headquarters of Spiti valley, and runs the only petrol pump in the area – for about a 200-km radius, in either direction, so going to Kaza was inevitable. Day 7 brought me back to Kaza (From Kee), which takes about 15 minutes. With my petrol tank full again, I soon found myself enjoying the giant and vainglorious peaks of Spiti Valley, towards Losar.
Losar turned out to be a sleepy Shangri-La. Its people, its beauty, its tranquil but wild surroundings are all a perfect setting for anyone to retire and settle down in the town, for good. And the town's many inviting and amiable faces were no less compelling. It was in Losar where I was provided with a place – inside a private property – to camp, as according to locals "it would be convenient for me to camp anywhere else". There are quite a few accommodations options too, which, nonetheless, are fairly cheaper.
Day 8: Losar To Chandratal (3 Hours; 38Kms)
After Losar, brace yourself for the ascent to Kunzum La and for another episode of World's Worst Roads (which lasts until you reach Gramphu and merge with the traffic of Leh-Manali). Tar will occasionally come and go here – leaving the roads similar to the condition of a nasty dirt track situated somewhere far in the Middle East.
After crossing Kunzum Pass and driving a few kilometres downhill towards Batal, you will come across a narrow driveway – wide enough for only one car to clear. This is a 12.5km stretch which goes all to Chandratal. A traffic signboard, however, ostentatiously points towards Chandratal, so you'll have no problem in finding which way to go. Caution is advised while driving. Keep on the lookout for any vehicle coming from the other side, and if you spot a car in the other direction, look for a wide enough spot and wait there for the other vehicle to pass you by. Share proud looks with the other driver and part your ways.
Despite a challenging drive, Chandratal is a no miss. Situated at an altitude of about 4,300m, this is where you'll find vainglorious mountains overlooking the lake on one side, with a magnificent cirque on the other – if you know what that means. The way to Chandratal is accessible by a motorbike, or a jeep, up to the very end. You'd then only be required to scraper your feet and walk for 10 minutes to reach the beautiful Chandratal – which is pretty much a cluster of lakes – one after another.
Chandratal has no guest houses but only a few camping sites. For a luxury camping experience, you might need to pay around 2500 Rupees per person, and for a rugged, what-a-night experience you pay 700. I camped on my own, once again, and had a different experience. "Time to get a room," I thought the next morning.
Day 9: Chandratal to Manali (10 Hours; 120Kms)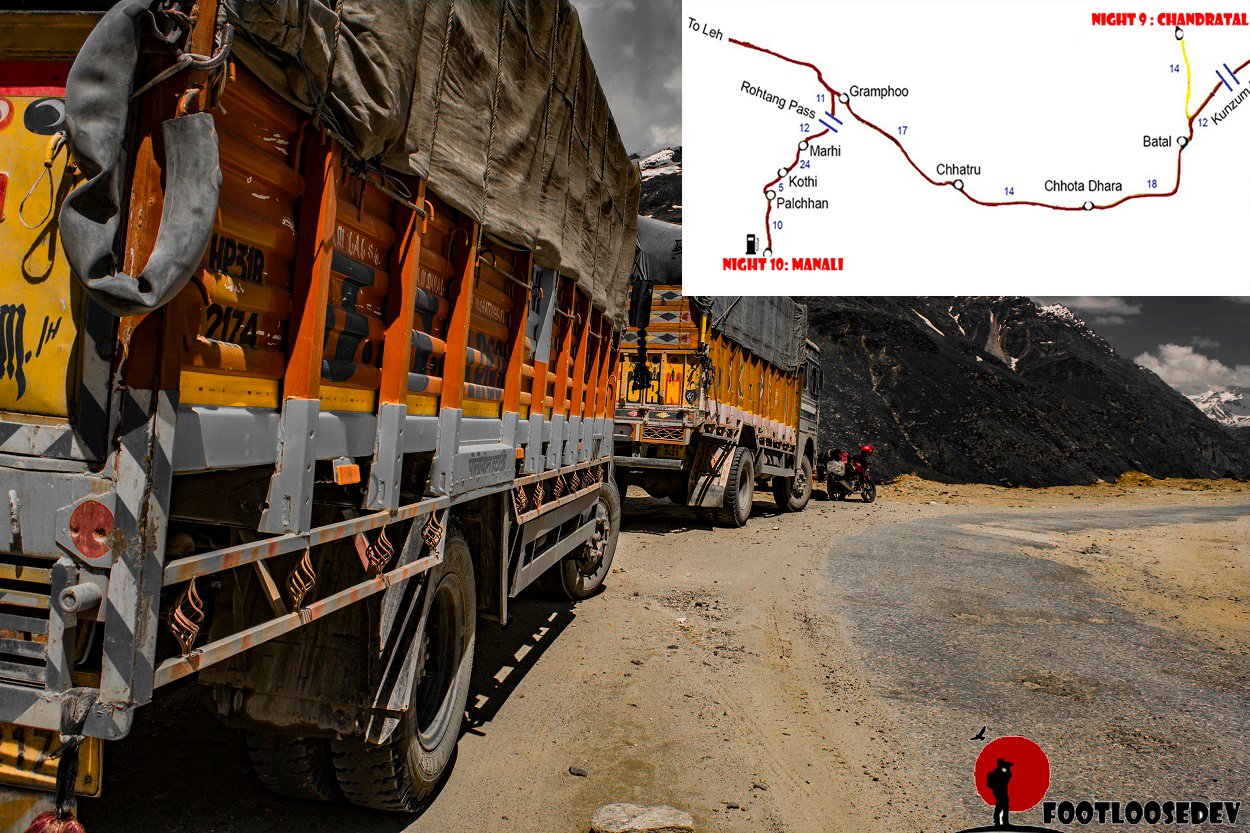 Travel back 12.5 Km on the same road that you took for Chandratal until you come back to a diversion and take the highway that goes towards Batal. Make sure you fill your stomach at one of the dhabas in Batal because the next town might be a little far. Though it's only 18 km away since you'll be driving at only about 10kms/hour – thanks to a poor road, something only suitable for a JCB excavator. This 50 km stretch, from Batal to Gramphoo, will eat up good 4-5 hours of your daylight.
Once you're back in Gramphoo you will find yourself in a different world. Here you'd be exchanging, quite often, thumbs up with few more (less) crazy riders, seeking adventures on Manali-Leh route.
A few kilometres of drive and you'll reach Rohtang Pass – overcrowded by people to spend a few hours on Ground Zero, surrounded by thick fog. Rain is almost a certain possibility on the top so make sure you cover up with raincoats and plastic bags. Once you come down from Rohtang top, there are many places to eat and rest for a while. A little further ahead lies the beautiful Solang Valley, with better camping spaces. But I decided to take a room in Manali, for I had done enough camping on the way.
[Also Read: An Offbeat Motorbiking Trail In Jammu & Kashmir]
Have you ever attempted a solo bike trip to Spiti Valley? How was your experience? Let me know in the comments below!