Check these Sangla Valley and Chitkul pictures and get an idea of what landscapes there may feel like!
During my solo bike trip to Spiti Valley, I visited Chitkul — 'the last Indian town' with a prominent Buddhist settlement. It was more than 40 kilometres off my Shimla-Kaza route, yet I bifurcated.
It was, after all, "a must-see" as many people recommended to me. "Don't forget to visit Chitkul man, Sangla Valley is so beautiful that you won't believe your eyes. And since you are a blogger, you will love clicking Chitkul pictures" said a guy whom I met while travelling from Chail to Shimla, as he threw another mug of water on his over-pampered Royal Enfield 350 "Classic", as he always pointed out, with a pause.
Situated around 40 km from Karcham, Chitkul comes under Sangla Valley, which is spread over a tiny land of 20 km. If you speak about beauty, Sangla Valley is, in fact, one of the most magnificent places I have seen in the Himalayas.
Here snow-clad mountains surround and welcome you with a spectacular view of The Kinner Kailash.
Chitkul Pictures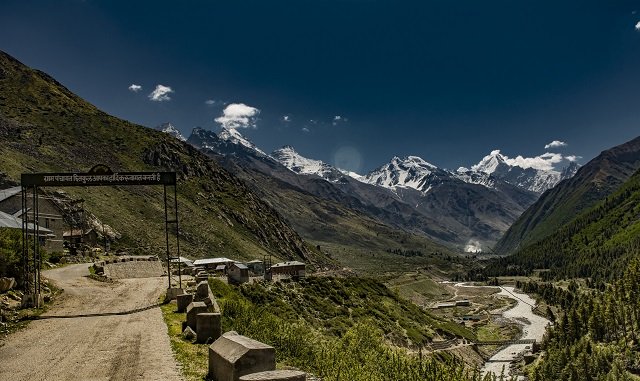 In Chitkul, you find the beautiful Sangla Valley on your left, with the gorgeous and taller Baspa Valley on your right. A rickety river bridge connects the two. In the middle, lies the sparkling and ever-gushing Baspa River.
If you are doing a road trip to Spiti Valley and you are planning to do some camping in Spiti Valley, try some of it in Chitkul too. There are many campsites to choose from.
The best way to visit here is not by public transport but on a self-planned road trip from Delhi to Chitkul. The entire route is scenic with impeccable road connections.
The drive from Sangla to Chitkul, with picture-perfect river crossings, tall pine trees, and dramatic skies is going to be the highlight with many opportunities for a photographer to get the best of Sangla Valley and Chitkul pictures.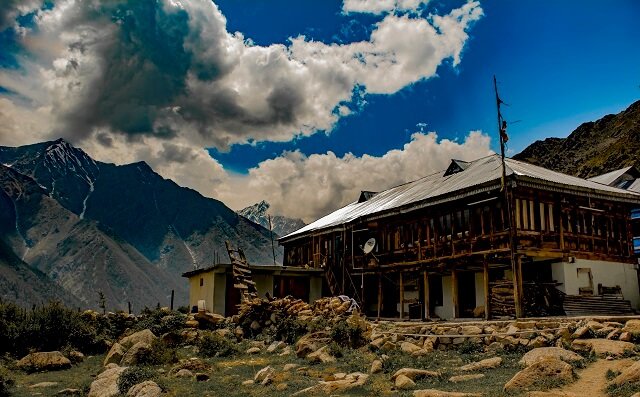 Of particular interest in Chitkul are its houses with each one looking a little different but no less impressive.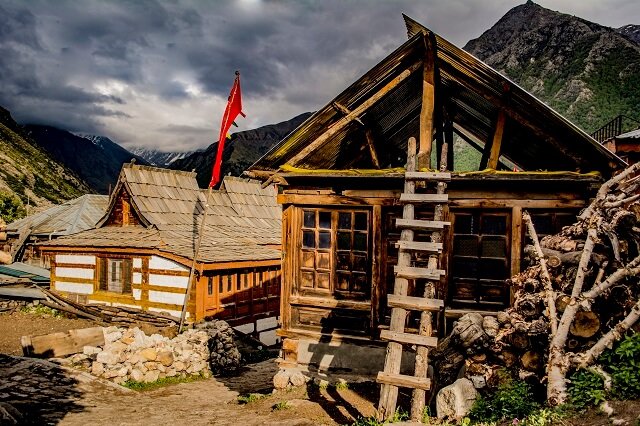 And then comes the Kamru Fort – an 800 years old establishment, which houses the famous Kamakshi Devi Temple.
The 500 years old Mathi temple with images of Shakyamuni Buddha, a wheel of life Mangala and four directional kings on either side of the door, is certainly a no-miss.
Chitkul is also believed to be the last point of Kinner Kailash Parikarma. Local people told me that almost all pilgrims to Kinner Kailash only conclude their Parikrama in Chitkul. "The powerful goddess of Chitkul is the only non-Buddhist deity to which respect must be paid by the Parikrama pilgrims," they said.
So yea, some of the best Chitkul pictures you will get will be of the Mathi Temple.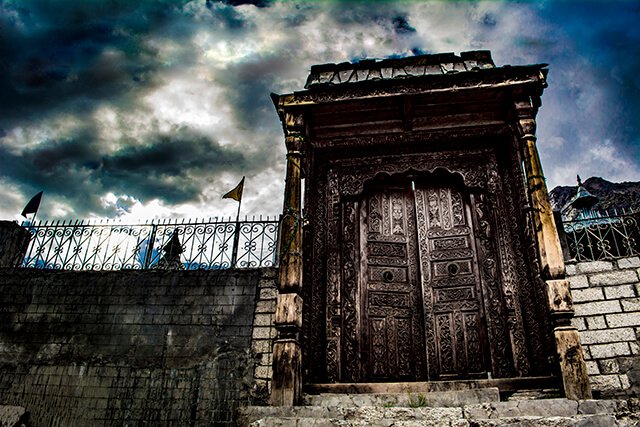 Where the natural setting of Chitkul, and of Sangla Valley speak of an unordinary space, life here is rather usual.
During my visit, I found most people were busy sorting out their simple lives. Men were found working outside, and women, looking after the house.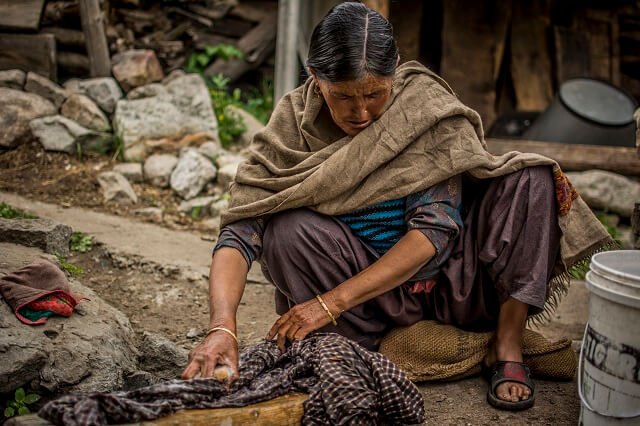 The kids, as usual, were playing on the streets, with days on end!
The last Indian town of Chitkul, as it appeared to me, was beautiful in every way. And it had something for everyone — including a Trout and a Saffron farm. I tried solo locally grown apples (for I visited in the month of October) and watched the clouds playing their tricks, or young people sharing their smiles.
Indeed, there were many reasons to visit this place. Clicking beautiful Chitkul pictures was one of them.
From campsites to guest houses, Chitkul has many options to stay. The food is of a Tibetan influence, but finding yourself a Punjabi or a Gujarati delicacy is also no problem here.
Useful Travel Tips For Chitkul
The best way to travel to Chitkul is in your own car or motorcycle. And that is for two reasons. One, the entire drive from Shimla to Chitkul is very beautiful. For motorcycle lovers, it's another adventure trail in the Himalayas.
If you don't want to self-drive, and or, travelling solo, the best way to travel is on a bus. The only problem is, it takes about 20 hours to travel from Delhi to Ckitkul by bus. If you are coming from Delhi, I suggest you take an HRTC bus.
There are three ways to do the journey: 1) Delhi to Chandigarh + Changirath to Karcham + Karcham to Chitkul 2) Delhi to Karcham + Karcham to Chitkul 2) Delhi to Shimla + Shimla to Chitkul.
There are many homestays and guesthouses to choose from for a stay. A guesthouse/homestay is the most economical way to stay.
There are quite a few campsites to choose from too, the only problem is, most campsites offer a glamping experience and charge quite a bit of money.
Chitkul is a very safe place to travel, even for solo women travellers.
Located at 3500m above sea level, Sangal Valley remains cold throughout the year. Make sure to bring enough woollens and a rain jacket.
Do not forget to carry enough cash from Delhi or Shimla. There is no ATM in Chitkul. The last ATM you will find on this route is in Sangla village and there are going to be chances that there is no cash in the machine.
Airtel and Jio have the best reception in the entire Sangla Valley. Vodafone works intermittently.
Since it is a small town, you won't find much to shop for. From medicines to personal care to necessary toiletry, bring everything you may need.
Also, see these beautiful Spiti Valley Photos if you are going to Kaza too.
Did you like these Chitkul pictures? Which was your favourite? Let me know in the comments below.