… because camping is the answer!
Bike expedition in Spiti Valley, itself, is adventurous. And the idea of camping through it, rather than opting for the safety and comfort of a guest house, is an adventure of the next level. Unlike other parts of Himalayas, here you can't think of camping out in the wild, away from any civilization. Gusty winds and an unfriendly terrain makes it just too hard. When I initially left for the solo bike expedition to Spiti Valley, I had no intention to sleep all the way through it – in my own tent; though I brought it with me to spend a night or two in Chandratal, which falls almost on the way.
I ended up camping for the first night (in a town called Arphu) because I was struck with the idea of sleeping somewhere quieter than the likes of Shimla and Rampur. I needed a place which was not bustling with tourists or, in fact, had no tourists at all. Arphu fit the description, but since it had no guest houses, camping seemed the only possible way.
But camping soon felt convenient and moreover became a habit, as I drove through Himachal's Tribal Circuit, from Shimla-Kaza-Manali. It not only helped me stay away from popular tourist towns but also saved thousands of Rupees in the end, which I'd otherwise spent in buying cheap and dirty accommodation. So if you too are planning a few days' long drive to Kaza, I'd recommend camping along the way. Trust me, it will be a completely different experience, altogether.
Ideal Camping Locations
Though there are dozens of towns and possibly thousands of ideal places to camp on the way to Spiti Valley, these are the 7 tried and tested locations (In RED) where I happened to camp during my trip. They were all small towns, or tiny settlements, with a few dozen houses. Camping here was free and much safer, as compared to doing it out in the wild, and on your own.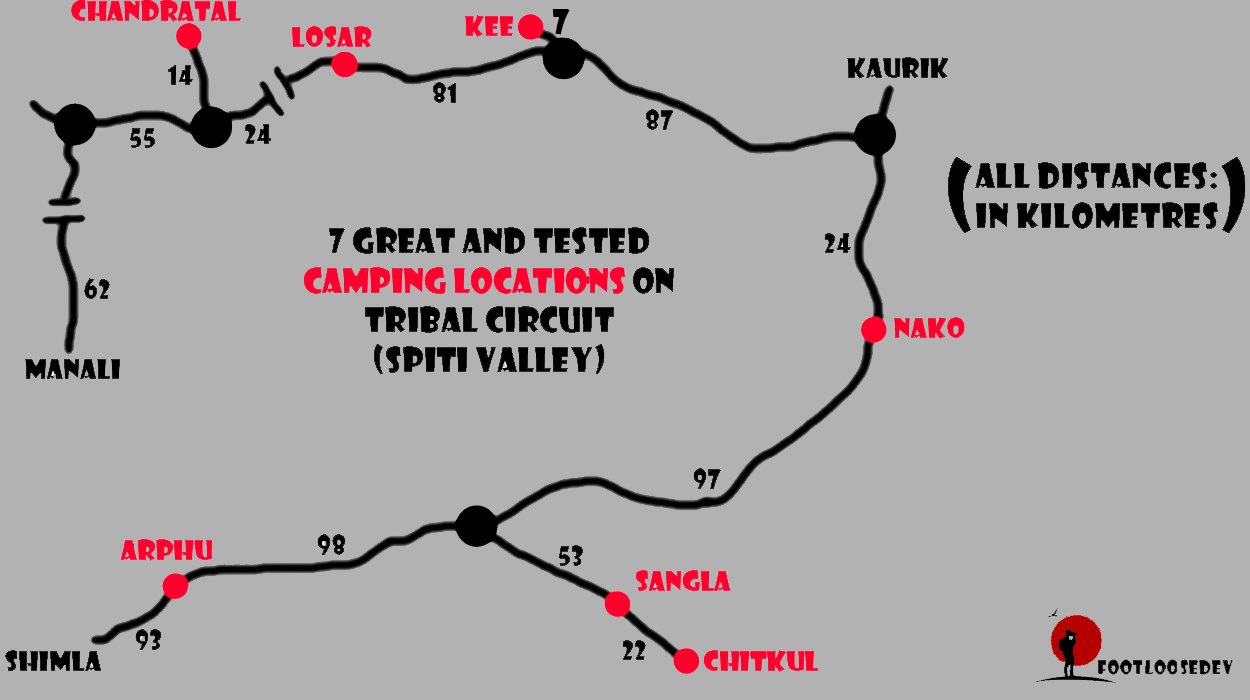 If you are driving from Shimla (as I did) towards Kaza, 'Arphu' – a small town near Rampur can be a good option to camp – due to its close proximity to Shimla. Since the town has no guest house, it's also much tranquil. It moreover has a small local restaurant for some night-time and early morning munchies.
So spend a night in Arphu and leave the next morning for Sangla. Though Sangla doesn't fall on the way to Kaza valley, experiencing the beauty of Sangla valley (which starts from Sangla and ends in Chitkul) is definitely a no miss. Finding a place to camp in the open and inviting spaces of Sangla and Chitkul should be easy. Just look for flat ground, close to a property, ask any unfamiliar face you see around for the permission, and establish your shelter for the night. If you don't want to go to Sangla, (or Chitkul), you can spend a night in the town of Wangtu, or Tapri, which are about 100 Kms from Arphu. See the big black dot in the map, between Arphu and Nako, from where you move towards Sangla, this is where Wangtu is located. Tapri is close to Wangtu.
Next is Nako. Though camping in Nako is fairly restricted, thanks to the many guest houses that don't want to lose their business, you can camp anywhere in the Nako monastery. Just get the permission from the Lama-in-charge, donate about 150 Rupees for a night, and you're good to go. I think it's perhaps a far better, and memorable experience, for you'll be sleeping in a 15th-century monastery.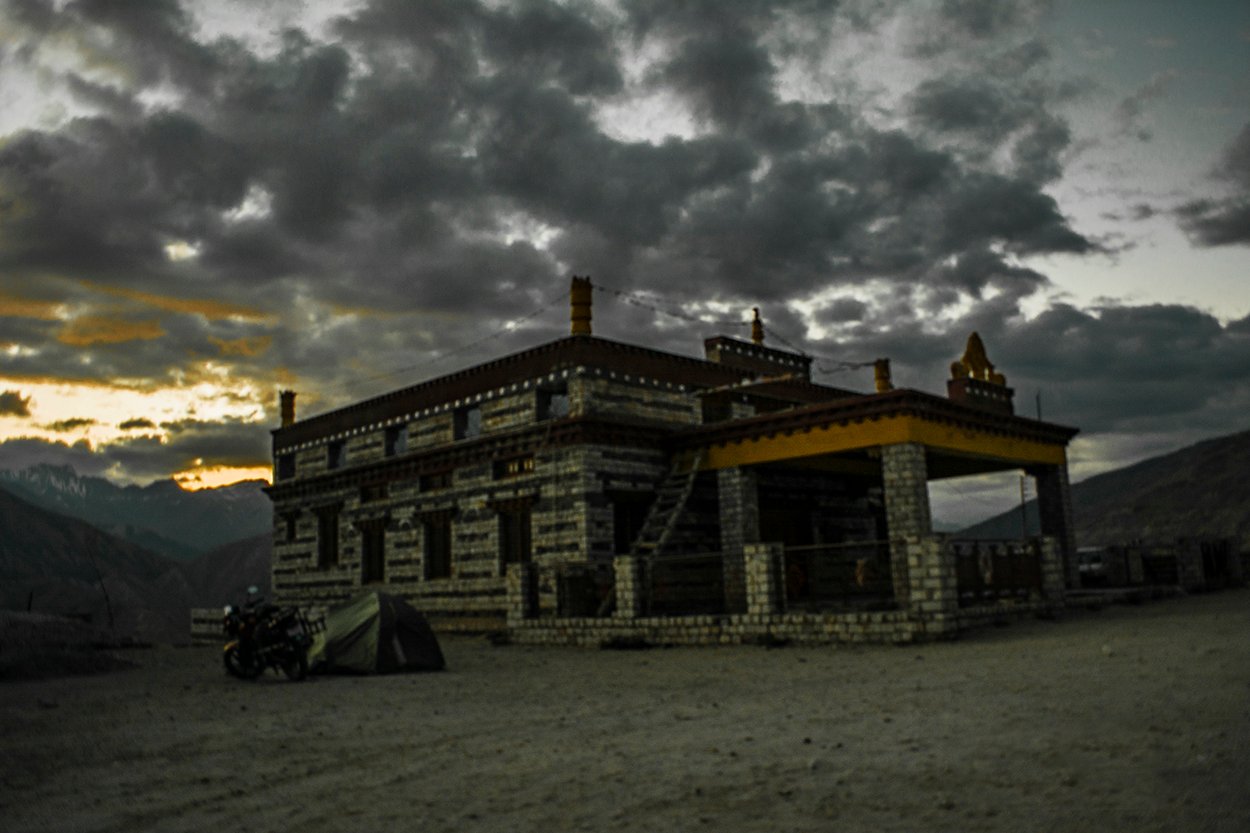 If you fancy staying in Kaza (which is only 7kms away from KEE) you can camp in the premises of Zostel (a Hostel Chain for backpackers in India) and pay 200 Rupees a night, per tent, which seemed the only possible solution to me – as Kaza is comparatively a big town and is not much of a camping ground. But if you can skip Kaza (as I did) Kee, and the town after, caller Kibber, are fairly good options. So spend a night there, before moving forward towards Manali.
Almost all the places that fall on the way from Kaza to Losar – which include my personal favorite Kiato, are perfect camping spots. The only problem is – they've no restaurants. So, in case you're not carrying your equipment to cook, you'll need to drive straight to the town of Losar, and find a spot there. Here you're also be required to register yourself at an army camp, which consumes a little time – particularly if you don't happen to be an Indian.
After Losar, next is Chandratal – which is just an ideal spot for camping and is possibly the best camping site in the entire Tribal Circuit. Please note that camping is not allowed by the edge of the lake, and it is a good thing. From the camping grounds, the lake is still about 3km away.
From Chandratal to Manali, there is only one camping site, until you finally hit Manali. This is close to Chotta Dhara, which also has a temporary restaurant – being operated in a tent itself. Below is a picture in case you fancy a stay here, though I drove all the way from Chandratal to Manali in a day, and ended my journey in Manali.
Read my detailed Spiti Valley Itinerary, for a long-drawn-out version.
Other Things To Know
I carried my standard 'Quechua Arpenaz 2 Tent'
, which is definitely not meant to stand high altitude and gusty winds, yet it proved to be quite reliable. But to tell you the truth it was a little unstable in few places, particularly in Chandratal, due to the tent's comparatively poor air resistance. I'd suggest a better air resistant tent (Coleman tents are particularly good for such adventure) among other options, that stand against a good air blow. A sleeping bag which allows you to be comfortable in temperatures falling under -5 degree Celsius is a must.
If you're solo, it is advised to camp close to some kind of civilization (use the red dots in the map, as your camping location). Because some species are better left alone, and you're not one of them. From convenience to safety – camping under the security of a town or some kind of settlement provides better prospects. And getting permission from locals, if you think an empty land might be owned by someone, is – you'll see – is never a problem.
Related Read: How To Drive Across Spiti Valley On Budget