Spiti Valley road trip is an experience of a lifetime.
The idea of riding on some of the most isolated roads in the world is an adventure in itself. Sure it can be a rough experience, especially if you are doing a Spiti Valley solo trip, but it's an experience to try at least once in your life.
And now that I've done it, and that too while camping in Spiti Valley, I thought why not share my experience and some useful tips for those who want to try a similar experience?
If you are looking for tips on things to carry while travelling to Spiti Valley or about the availability of petrol stations there, then keep reading this blog.
If, however, you are looking for a Spiti Valley solo trip itinerary or what to expect from those roads, check the following two blogs…
Now, let's get started!
Spiti Valley Roads: Dangerous?
In one word: No!
If you're an expert rider, with basic technical knowledge of the motorcycle you're riding, you should have no problem even if you are planning a Spiti Valley solo trip.
I did it alone too, without any history of touring. All I did was carefully plan everything and take every precaution. And in the end, everything turned out just as well as I wanted it to.
Similarly, be careful while riding. Don't rush, wear proper gear, carry spare parts… and so on and so forth.
As long as you're being careful on those roads, you will be fine.
Also, roads in the Himalayas are getting better every day. For example, when I did this route in 2016, it was highly inhospitable. For most of the part of my journey, I found no gravel but just dirt tracks. With increasing popularity and tourism, however, the condition of roads in Spiti Valley has improved a lot.
For example, I did Shinkula Pass in 2019 (the year it was opened for the first time for private vehicles) and redid it in 2022. Connecting Keylong to Kargil, Shinkula Pass (in Zanskar Valley) felt how my Spiti Valley solo trip felt back in 2016 — RAW and DISCREET!
In a few years, as the popularity of Shinkula Pass grows, the government will make efforts and improve the state of transportation with better roads — something that has happened with Spiti Valley roads too.
So, moving back to the topic, it's not dangerous!
Here's the route map I followed when I did a solo ride back in 2016: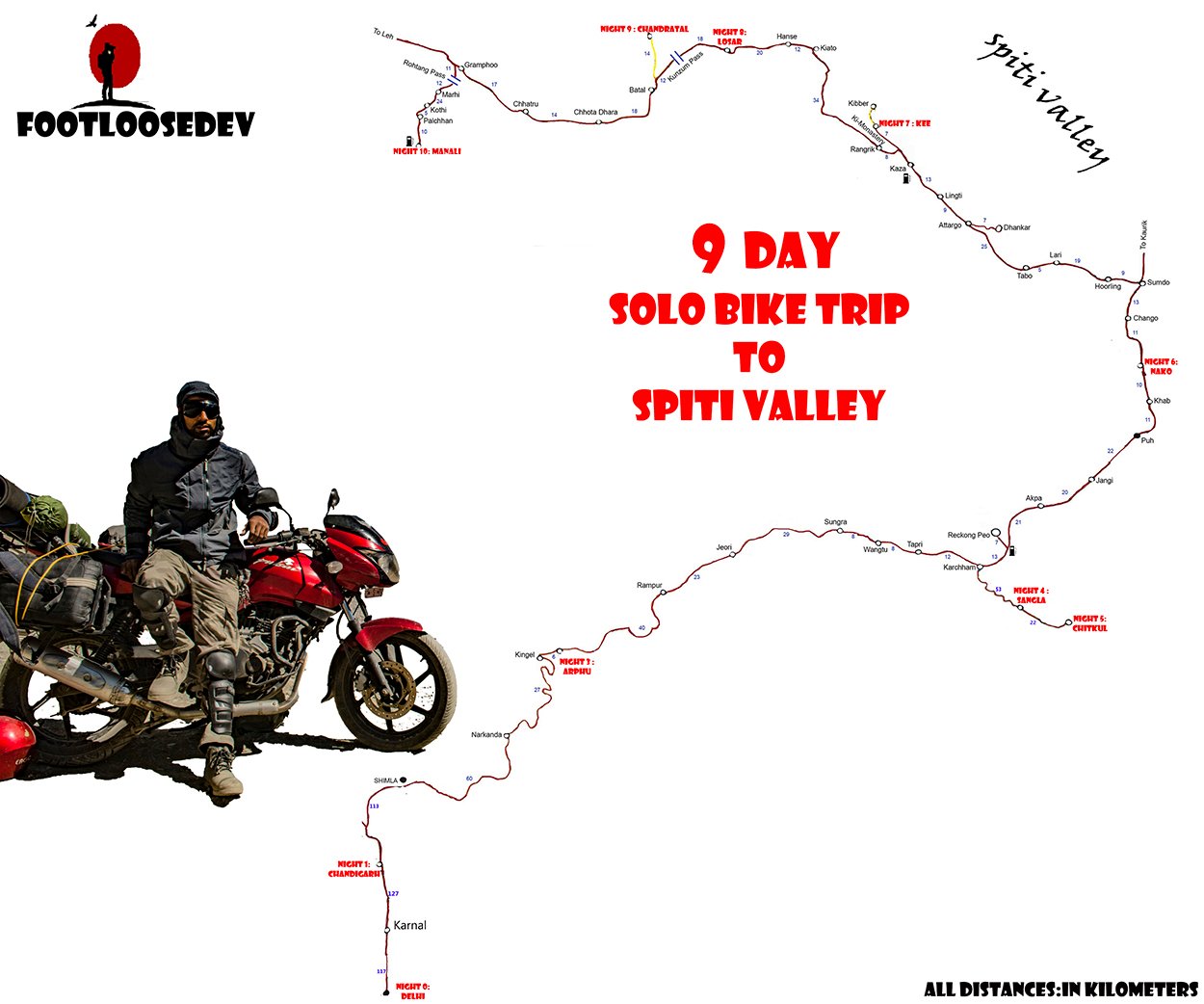 Things To Carry While Travelling To Spiti Valley
Since most motorcycle essentials remain the same, I am sharing with you a useful list of things to carry while travelling to Spiti Valley.
Again, as long as you've them, and own basic technical knowledge, you are absolutely good to go for a solo motorcycle trip there.
Even if you do not know anything about repairing your motorcycle, carry these spare parts so that you can ask other people to help you.
Here's a list of things to carry while travelling to Spiti Valley:
Tool Kit
Air Pump
Clutch Pads
Medicine and First Aid Kit
Rear Tube or Tubeless Puncture Kit
Clutch and Accelerator Wire; and a spare Handle for both
Petrol Stations In Spiti Valley
If you're coming from Shimla, you will find your last petrol station on the National Highway near Rekong Peo. From here, go all the way to Kaza, which requires you to drive almost 200 Kms – if you're not going off the main road there are no petrol stations. From Kaza to Manali, there are no petrol stations for a distance of 200 Kms, so be careful about having enough fuel with you all the time, especially if you are doing a Spiti Valey solo trip.
For me, since I was on a Pulsar, carrying extra fuel was not required. My tank offered 18L capacity (yet, I carried some extra fuel, and advise you to do the same).
For a Bullet and other 300+ cc motorcycles, with comparatively low mileage, and a smaller fuel tank, you may need to carry a couple of jerkins along with you.
Now, if the odds are against you and you still end up running out of fuel, then in that situation, take a lift to the nearest town and ask local people if you can buy some fuel. People in these areas sometimes keep a stock of spare fuel. If the town has a BRO camp (Border Road Organisation, the organisation which builds the roads in these areas) then you will find some fuel.
Spiti Valley Solo Trip
It is said that safety is in numbers. But do you want to be safe? If yes, you should possibly be sitting on your couch right now, drinking a beer and swiping right on Tinder.
But if you want to take the adventure quotient of your ride a notch above, where it is right now, go try a Spiti Valley solo trip. Sure a true "brotherhood experience" would be great, but solo riding is where the serious stuff comes to the surface.
With no support vehicle and no fellow riders to watch your back, one wrong step can result in potential risk. And that feeling makes your journey more adventurous. Here failing is strictly not an option. When you do not have the expertise of a mechanic at hand, or the luxury to have someone else ride your machine during the time of fatigue, you soldier on.
Such an experience is far refreshing. There's a lot to learn about it!
So stop searching for cheap Spiti Valley tours, create your itinerary and leave solo. A trip planned and executed alone is always more memorable than one planned with a big group.
I also organise motorcycle trips to Spiti Valley. Over 8 days, we cover the entire circuit, from Delhi. If you are a group of 10 or more riders, a similar trip (as shown below) can be organised. Though the following itinerary was organised exclusively for Jawa Motorcycles, non-Jawa rides are possible too. 
Please contact me on Instagram for any related queries.
Also Read: Tips For Solo Motorcycle Trip In Himalayas