Amidst several online guides discussing best camping tents in India, how to ensure the one you're referring to is written by someone who has done a lot of camping himself?
Answer: You Can't!
But the best camping tents in India recommended in this blog are certainly the ones tried and tested by the author of this blog.
For those who are new on this website, I want to mention that I quit my corporate career and became a full-time travel blogger in 2016. During my initial days of travelling, budget travelling was the only way out (to make my savings last longer, as I wasn't making money from travel blogging).
In order to save 100% on accommodation, camping was a natural choice.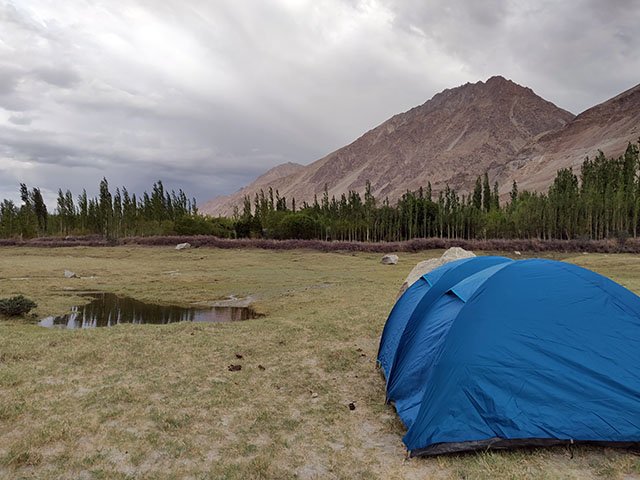 5 years later, collecting different kinds of camping tents has become my hobby.
At this moment, I own…
5 tents for my personal use.
Over 30 tents for FootlooseCamps (the hospitality business I own in Manali, Himachal Pradesh). We organise camping onsite FootlooseCamps as well as we organise various treks across Himachal Pradesh, including the popular Hamta Pass Trek. While trekking camping is the only way to survive, hence I am the master of camping in India. If not the encyclopedia, I am, at least, oxford dictionary to camping.
In short, I own some of the best camping tents available in India, meant for all weather conditions and usability.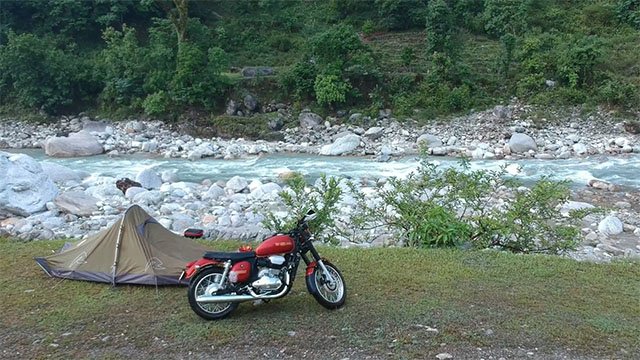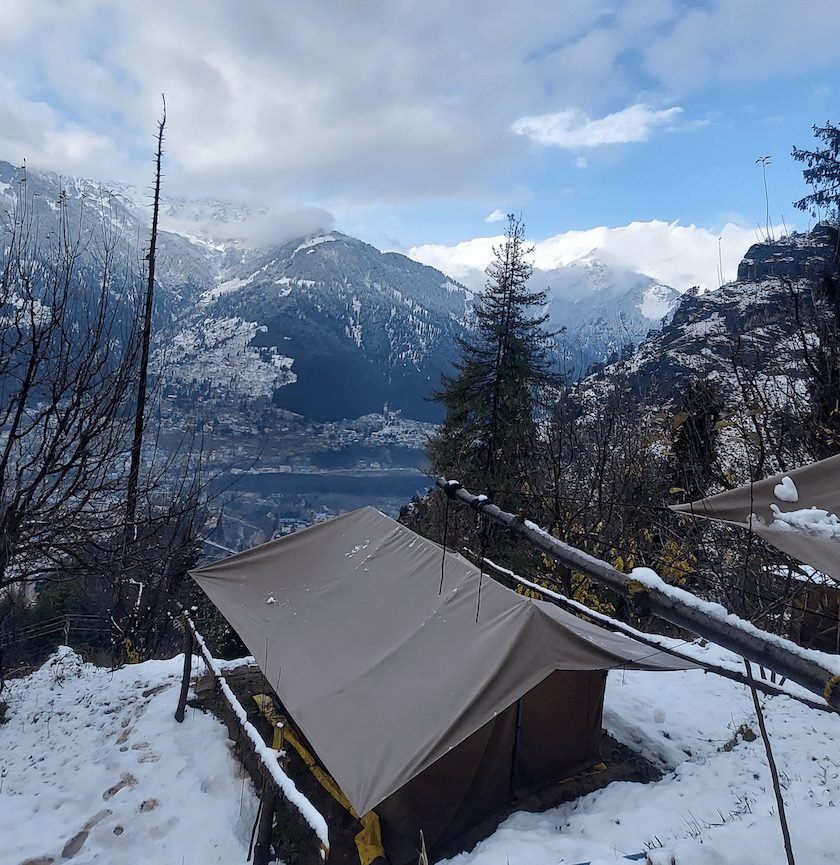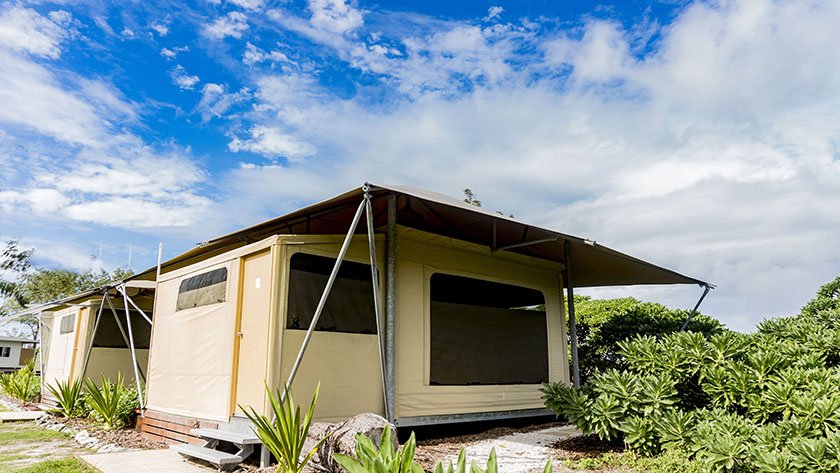 Out of my learning and experiences, in this blog, today, I am mentioning everything I know to help you buy the best camping tents in India available online.
From how to choose a good brand to how to buy something that best suits your needs, this blog discusses it all.
Related Read: Best Sleeping Bags In India
Best Camping Tents In India
From cheapest to most expensive, here's the recommended list…
AMAZON BASICS TENT

Top Reasons To Buy It:
If you are a big family or a group of friends wanting to camp and sleep together, this is a great budget tent.
I have seen as many as 5 people being able to accommodate in this tent.
It comes with 2-layer water-resistant material that can withstand good 4-5 hours of heavy rainfall.
Other top features include a removable rainfly, a back window and a cool-air port for fresh airflow.
Comes with a 1-year limited warranty.
QUECHUA ARPENAZ TENT
Available at Decathlon Store, Quechua Arpenaz has been my all-time favorite for its price tag. It won't call it the best tent in the world but given its 3000 Rupee price tag, it's worth the money, and perhaps The Best In Class. I have used this tent for most of my camping trips during my early camping trips. From camping in the foothills of the Himalayas to camping at places like Chandratal (over 3000 metres above sea level) I have used it everywhere.
Amazingly it's not available to buy online anymore. You can only buy Arpenaz 2-men tent at one of Decathlon's stores. Having said that, if you are looking for a similar alternative because you only want to shop online, you can buy this 2-men tent from Coleman. It may be slightly more expensive than its predecessor but in terms of build quality and durability, you can totally rely on it.
THIS 1200 Rs TENT BY INDIA TRADITION
Not a very extraordinary build, this budget tent by India Tradition is ideal for those looking for a budget alternative. If you are not going to camp someplace with extreme weather conditions, go for this option. It has space for 2 people (without luggage) and comes with a single-layer anti-UV coating.
How To Choose A Camping Tent
Choosing the right camping tent involves considering several factors to ensure you end up buying something that matches your needs. Here are some steps to help you choose a suitable camping tent:
Tent Capacity: Determine the number of people who will be using the tent. Tent capacities are usually specified by the number of people who can sleep comfortably inside. Consider adding an extra person to the capacity if you want more space.
Tent Type: There are various tent types available, such as dome tents, cabin tents, backpacking tents, and more. Consider the camping activities you plan to engage in and choose a tent type that suits your needs. Dome tents are versatile and popular for general camping purposes.
Season and Weather: Determine the seasons and weather conditions in which you'll be camping. Tents are categorized as 3-season or all-season. 3-season tents are suitable for spring, summer, and fall, while all-season tents are more durable and suitable for winter camping or harsh weather conditions.
Tent Weight and Size: If you plan to hike or backpack, consider the weight and size of the tent. Lightweight backpacking tents are compact and easy to carry and they are good for trekking, while larger tents are suitable for car camping. Balance the size and weight according to your specific needs.
Interior Space and Headroom: Consider the tent's floor area and headroom. If you prefer more space to move around or have taller individuals in your group, choose a tent with ample interior space and enough headroom to stand comfortably.
Tent Setup: Evaluate the tent's setup process. Some tents have a simple and quick setup, while others require more time and effort. Look for tents with intuitive designs and user-friendly setup instructions.
Durability and Materials: Assess the tent's durability and materials. Look for high-quality materials that are water-resistant or waterproof. Stronger fabrics and sturdy construction will ensure the tent lasts longer and provides better protection.
Ventilation: Good ventilation is important to prevent condensation and keep the tent comfortable. Look for tents with mesh panels, windows, and adjustable vents that allow for proper airflow.
Additional Features: Consider any additional features you might need. These could include extra storage pockets, a rainfly for added protection, a footprint for extra floor protection, or a vestibule for gear storage.
Budget: Set a budget range for your tent purchase. There are tents available at various price points, so determine how much you're willing to spend while balancing the desired features and quality.
Also Read: Best Camping Gadgets You Should Consider Buying
That's all in this blog. If you have more tips to share or want to recommend your favorite camping tent, please leave a comment below!