Also known as The City of Lakes, Udaipur keeps the robust spirit of Rajasthan alive!
My first visit to Udaipur happened last year in 2019, during my Delhi to Bangalore motorcycle trip, and I couldn't believe its beauty. A blend of old culture and chic style, Udaipur, for me, was a city of constant awe and wonder. From every rooftop (at least inside the old town) I could see a lake – with some having hills in the backdrop, and some, a more fairytale-like setting.
Since my first visit – that, in fact, happened in December 2019 – I've revisited Udaipur thrice. At an average of one visit every month, Udaipur remains my favorite destination entire Rajasthan.
Read: My First Impression of Udaipur
Other than being my favorite destination in Rajasthan, Udaipur is also one of the most visited cities in India. And so, it's filled with hundreds of hostels, hotels, and guesthouses.
With so many places showing up in your search results, how do you know which are the best hostels in Udaipur? I mean, dozens are "top-rated" on Booking.com, right?
During all these visits, I have stayed at a few different places. And out of my experience, I can now claim that there are a lot of things to consider when selecting a hotel in Udaipur. The top four reasons when picking the best hotel in Udaipur are:
Price: Udaipur is a popular tourist destination in Rajasthan keeping the price of hotels and hostels a little high throughout the year. Having said that, if you go with a really cheap hostel, you're probably going to get something with smelly bedsheets and poor customer service.
Location: Unlike Jaipur, Udaipur may not be very huge, and most of the hostels are anyway located inside the gated city – within walking distance of major tourist highlights. But there are still some neighborhoods better than others. All the places listed on this list are in the location preferred by backpackers.
Amenities: Almost all places to stay in Udaipur mentioned below offer free Wifi. But if you want more than just free Wifi, be sure you do your research to find the best hostel that matches your needs.
Staff: The accommodations included in this list have friendly staff and are knowledgeable about the town. A welcoming staff is just as much needed to have a good ambience in a hostel as fellow-travellers.
Even if you don't stay at one of the places listed below, be sure to look up reviews while booking a place online. This ensures you end up at a place where the staff is helpful, the amnesties are good and the price of the room is value for money! Your hotel can make or spoil your experience. And to help you with a few names, here are some top places to stay in Udaipur, supported by the reason why I recommend them…
2 of My Favorite Hostels In Udaipur
Hide-in Hostel
Overlooking the Lake Pichola, Hide-in Hostel, from its roof-top cafe offers beautiful views of Gangaur Ghat, Jagdish Temple and City Palace. It is located a 5-minute walk from Jagdish Chowk, Ambrai Ghat and other popular attractions. The Dorms are spacious, cozy and fully air-conditioned. There are also a couple of private rooms for those wanting some extra privacy. Common perks like free Wifi and a common sitting area with board/card games are, of course, included!
Hide-in Hostel at a Glance:
Rooftop Café with lake view
All AC dorms and lake-view private rooms
Daily walking, cycling, and auto tours in the city
20 minutes from the Railway station/Bus stop. 22Km from the Airport
Located within a 2km radius of the City Palace, Jagdish Temple, and other highlights
Beds from INR 400.
Moustache Hostel
Moustache Hostel Udaipur is a budget backpackers hostel centrally located, close to most of the tourist highlights like Bagore ki Haveli, Jagdish Temple, City Palace, and markets including the popular Lake Pichola. The hostel has a rooftop restaurant with a lake view.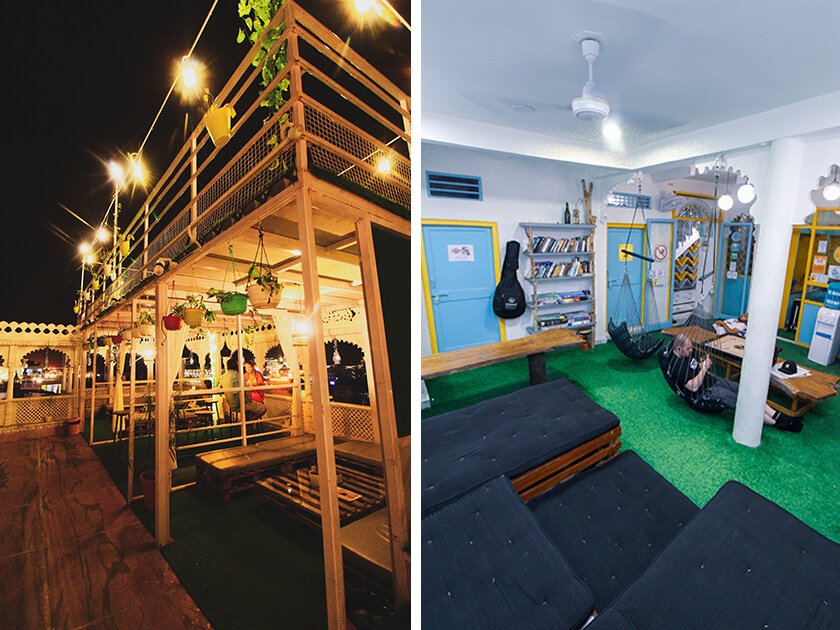 Moustache Hostel at a Glance:
A rooftop area with a lake view
In-house board/card games
Lounge area with swing chairs
In-house café and a dining area
Beds from INR 200.
Best Boutique Stay In Udaipur
Given the fact that Rajasthan happened to be the Royal Asiatic Society of Great Britain, for anyone travelling to Udaipur, or somewhere else in Rajasthan, it's a good idea to book a boutique stay and experience the same.
Having said that, I can recommend Burj Baneria located close to Lake Pichola.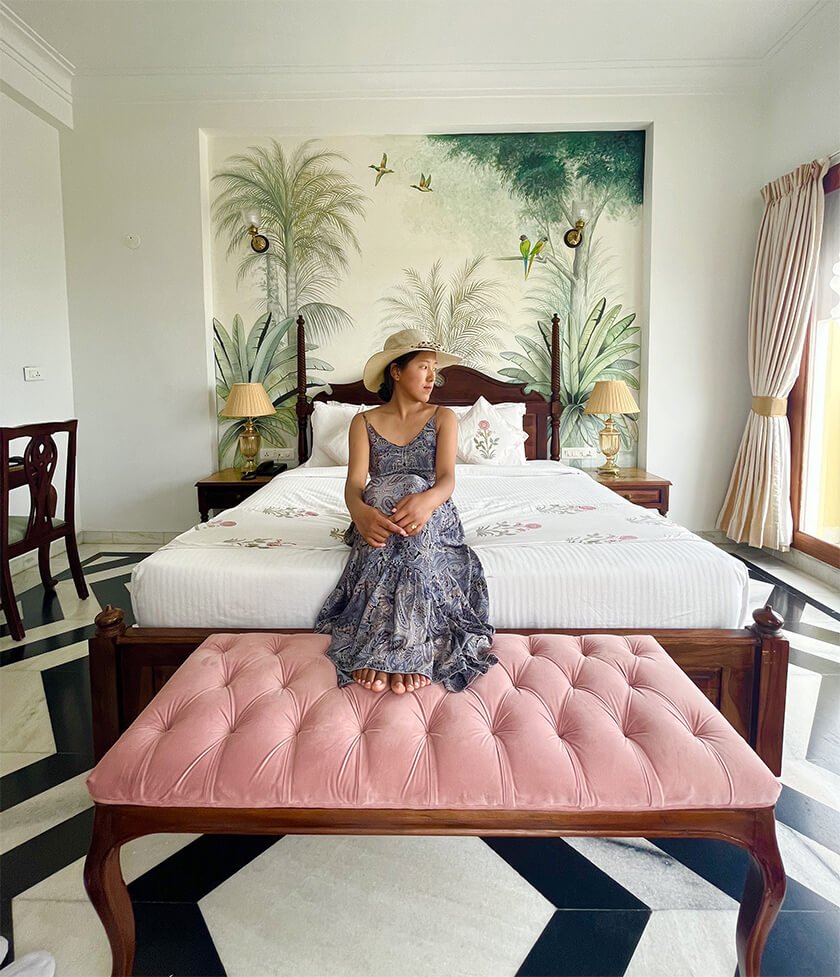 A family-run small boutique stay, Burj Baneria offers 8 rooms and each one of them gives a spectacular view of Lake Pichola. Their rooftop dining area, however, is the best part of the entire premise where we also enjoyed a candlelight dinner.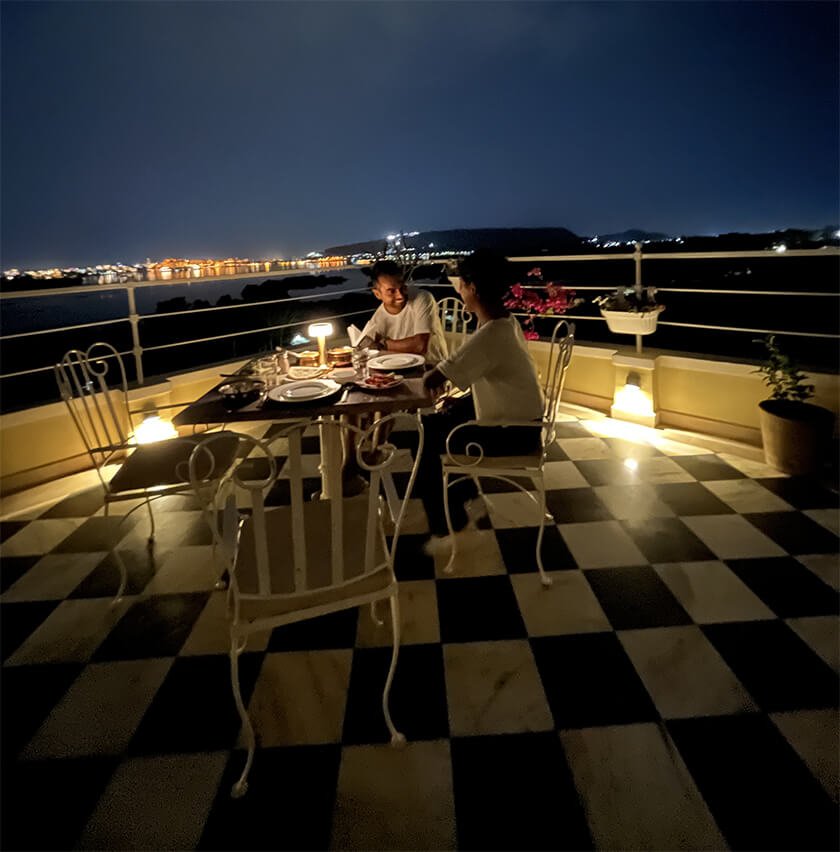 The family of Baneria is part of the nobility of Mewar and three generations of the family have served in the bureaucracy of Mewar and later the state of Rajasthan.
"The whole idea behind the name "Burj" was that one gets a vantage view of Lake Pichola and the old city of Udaipur from our home. This led us to the name Burj because this word originally means a tower on the ramparts of a fort which gives a panoramic view of the surroundings. The design elements of the structure have been taken by the family from their ancestral fort in Village Baneria," concludes Shivika, the owner of Burj Baneria.
Throughout my stay at Burj Benria, I felt the real hospitality of Udaipur and of Rajasthan of course!
Other Recommended Guesthouses/Hotels In Udaipur
Other than the places suggested above here are some more options for staying in Udaipur…
5 Budget Guesthouses
Bunkyard Hostel Udaipur
Situated in the heart of Udaipur, this hostel provides a mix of dormitory-style and private rooms with basic amenities.
The property features a vibrant rooftop cafe, a common lounge area, free Wi-Fi, and a friendly atmosphere.
Website: http://www.bunkyardhostel.com/
Udai Haveli Guest House
Located in the old city, Udai Haveli offers budget-friendly rooms with traditional Rajasthani decor.
The guesthouse features a rooftop restaurant, free Wi-Fi, and a picturesque view of the Lake Pichola.
Website: http://www.udaihaveli.com/
Panna Palace Guest House
Situated near the City Palace, Panna Palace offers budget accommodation with a traditional Rajasthani touch.
The guesthouse features an in-house restaurant, free Wi-Fi, and easy access to various tourist spots.
Website: http://www.pannapalaceudaipur.com/
Hotel Hanuman Ghat
Located near the Hanuman Ghat on Lake Pichola, this guesthouse offers affordable rooms with traditional decor.
The property features a rooftop restaurant, free Wi-Fi, and beautiful views of the lake and surrounding area.
Website: Not available.
Hotel Thamla Haveli
Situated in the old city, Hotel Thamla Haveli provides budget-friendly rooms with a blend of Rajasthani and Mughal architecture.
The guesthouse offers a rooftop restaurant, free Wi-Fi, and a convenient location near major attractions.
Website: Not available.
3 Mid-Range Hotels In Udaipur
Hotel Boheda Palace
Located near the City Palace, Hotel Boheda Palace offers well-appointed rooms with modern amenities.
The hotel features a rooftop restaurant, a swimming pool, free Wi-Fi, and a peaceful ambience.
Website: http://www.bohedapalace.com/
Aaram Baagh Udaipur
Situated amidst the lush green Aravalli Hills, Aaram Baagh Udaipur offers spacious rooms with a touch of Rajasthani elegance.
The hotel boasts a swimming pool, a spa, a multi-cuisine restaurant, and beautiful views of the surrounding landscape.
Website: https://www.aarambaaghkumbhalgarh.com/
Hotel Udai Median
Located near the Fateh Sagar Lake, Hotel Udai Median provides comfortable rooms with modern amenities and stylish interiors.
The hotel offers a rooftop restaurant, a swimming pool, a fitness center, and a convenient location for exploring the city.
Website: http://www.udaimedian.com/
Related Read: Best Hostels In Jaipur
Have you tried any of the places mentioned above? Or stayed and recommend something else in Udaipur? Let's share in the comments below!