Ambience drenched in pink, people roaming around in colourful turbans, folklore being narrated at every street corner – this is the pink city of Jaipur for you.
Jaipur is on every traveller's bucket list, especially those visiting Rajasthan. Though I have not written any blog on it, I have been to Jaipur a few times, and my love for the city grows with every visit. To me, Jaipur has it all: history, food, culture, beautiful architecture and a great backpacking scene. Close proximity to New Delhi moreover makes Jaipur an easier destination to travel to.
Being the capital town of Rajasthan, Jaipur can feel big and crowded. And when it comes to hostels, there are quite a few of them around. Thankfully, I find prices of hostels in Jaipur the lowest compared to other destinations in Rajasthan. Still, that doesn't make it any easy for travellers to find the best hostel in Jaipur.
Out of my several visits to Jaipur, almost all of which were celebrated in a hostel, I have tried a few different places. There is a lot to consider when selecting a hostel. A few things to consider when picking a hostel in Jaipur are:
Location: Jaipur is huge, while it has a fairly good availability of local taxis (Ola and Uber work in Jaipur) tuktuks and city buses, it can take some time to get around. Pick a place that has a central location and is not very far from the gated old town. All the hostels listed in this list are in a central location.
Amenities: Almost all backpacker hostels in Jaipur offer free Wifi. But if you want more than just free Wifi, be sure you do your research to find the best hostel that matches your needs.
Staff: The hostels included in this list have friendly staff. A welcoming staff is just as important to have a good experience as the hostel's ambience and other fellow-travellers staying with you.
Even if you don't choose one of the hostels listed below, be sure to look up reviews while booking a hostel online. This ensures that you end up at a place where the staff is helpful, the amnesties are good and the price of the bed is value for money! Your hostel can make or spoil your experience. And to help you with a few names, here are some top hostels in Jaipur, supported by the reason why I recommend them…
Best Hostels To Stay at In Jaipur
Moustache Hostel
I like hostels that reverberate the feel and colors of a destination and Moustache Hostel, given its interiors, is certainly one of them – not to mention the name Moustache that makes you think of Rajasthan. With all the comforts of modernity and a touch of the local culture and architecture Moustache hostel attempts to give its guests the essence of the city. The hotel is located just 1km away from Jaipur Railway Station and 800 mts from the bus stop. And if you're a foodie, you can easily grab some local food nearby the hostel.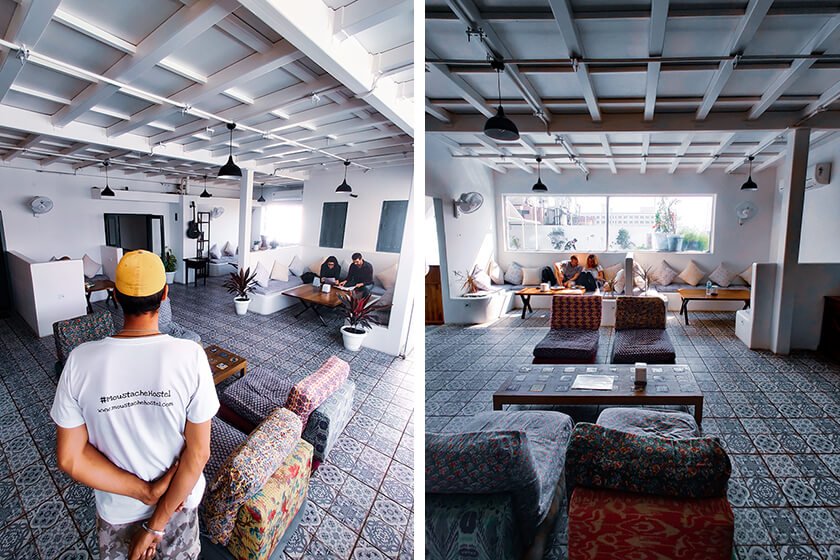 Moustache Hostel at a glance:
Digital safe in dormitories
Rooftop sitting area with books and games
Common rooms are equipped with music system
Privacy curtain, reading light and fan for each bed
The lounge area has board games for mingling with other travellers
Beds from INR 150.
Backpackers Headquarter
Backpackers Headquarter is situated at the center of the city, keeping major tourist highlights as well as bus and railway station in reach. The dorms are equipped with reading lights and conveniently accessible power sockets near all the beds. Outside the rooms, the common area provides leisure space with a library, musical instruments and games. The hostel also organises tours like city heritage/food walks, cycling tours and more. Out of all the other places, I like the beds made our of Sustainable furniture such as Bamboo in this hostel better.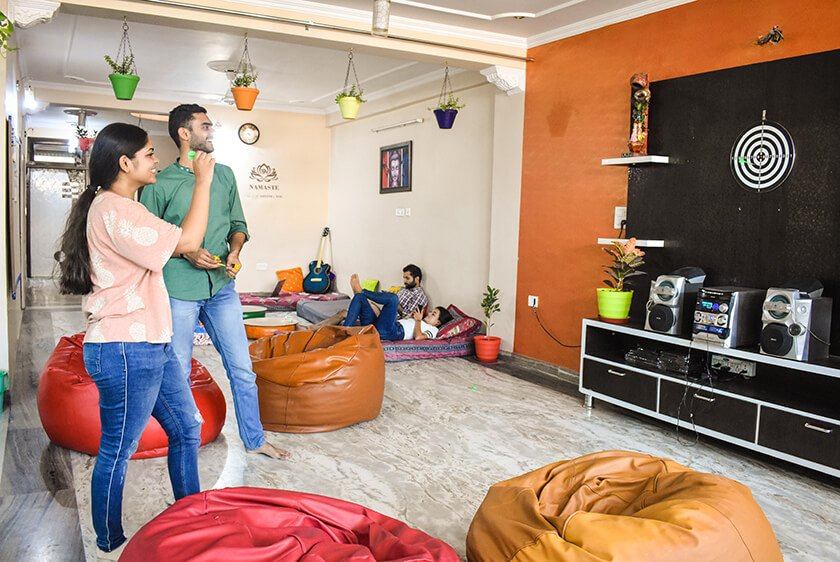 Backpackers Headquarter at a glance:
In-house multi-cuisine cafe
Roof access with a free yoga mat
Patio to relax, mingle or sit alone and read a book
Common area, with a number of board/card games
2 massive common areas to accommodate all the guests & even organize an in-house party
Beds from INR 270.
Hostel BlueBeds
As per March 2020, BlueBeds was ranked #1 on Tripadvisor. Apart from the good reviews, I can recommend BlueBeds for the really neat and organised environment (the kind that makes hostels good for not only solo backpackers but families too). The hostel also organises city tours and has in-house board games for travellers.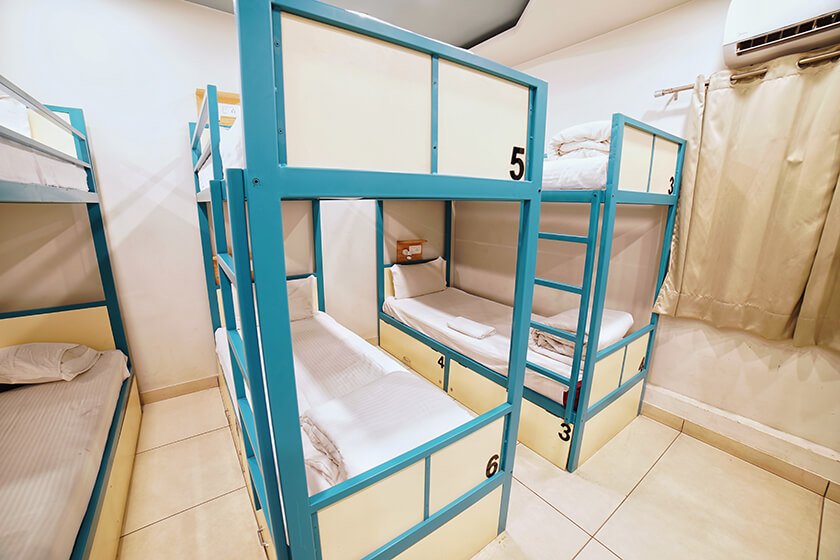 BlueBeds at a glance:
Common spaces with board games/books to read
Clean and well-looked after dormitories
Central location
Beds from INR 350.
Hostel Karwaan
Hostel Karwaan is situated in a posh neighbourhood of Jaipur, 2.5 km from Jaipur Railway Station. The hostel's interior provides a mix of Rajasthani culture and modern architecture, and a garden cafe, a co-working space, a shared kitchen, and a rooftop common area. The hostel also organises heritage and food walking tours. Given its location, the hostel organises free tuk-tuk rides from to Hawa Mahal in groups of 4 in the morning as all the major attractions like City Palace and Jantar Mantar are within a walking distance from Hawa Mahal.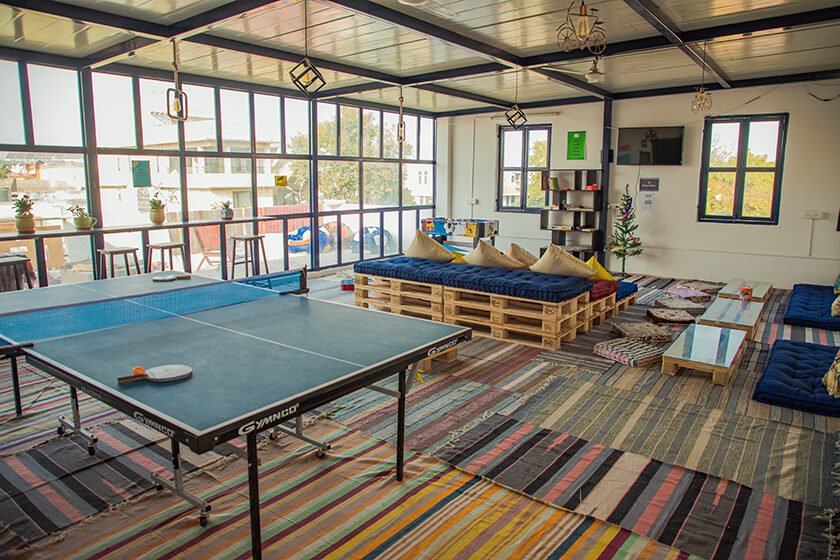 Hotel Karwaan at a glance:
The common room has table tennis, foosball, card/board games, a television.
Bonfire at the rooftop
An inhouse cafe
Free morning heritage walk for all guests
A romantic/colourful in-house garden
Beds from INR 299
Have you tried any of the hostels mentioned above? Or stayed and recommend something else in Jaipur? Please share in comments below!