Looking for a place to stay in Delhi? Here's a list of best hostels in Delhi.
Most tourists who come to India land either in Delhi or Mumbai. And it's from these two cities that they build their first impression of the country. Unfortunately, Delhi does not always make a good first impression.
For most first-timers, Delhi feels chaotic, crowded and too overwhelming to handle – offering too many surprises in too little time.
Out of all metro cities in India, Delhi also has the biggest land area – almost twice the size of Mumbai, and thrice that of Bangalore. Delhi has fairly good public transport, with a well-connected metro system, but travelling inside the city still remains a challenging task. So, to find the best hostels in Delhi, you need to know the best locations.
Delhi is big. In fact, massive. And your hostel/hotel location plays a big role in shaping your entire Delhi experience.
Also Read: 2-Day Delhi Travel Guide
And with so many places showing up in your search results, how do you know which are the best hostels in Delhi? I mean, dozens are "top-rated" on HostelWorld, right?
According to my research, here are the top four factors to consider when picking a hostel for you in Delhi:
Location: Though Delhi Metro goes everywhere around the city, it can still take some time to get around. Pick a place that is central to the tourist sites and airport/bus/train station. All the hostels listed here are in central locations.
Price: In Delhi, you get only what you pay for. Rent a cheap place and you won't get anything beyond a stinking bed and stained walls, located right inside of a shady neighborhood.
Amenities: Almost all backpacker hostels in Delhi offer free Wifi. But if you want more than just free Wifi, be sure you do your research to find the best hostel that matches your needs.
Staff: The hostels included in this list have friendly staff and are knowledgeable about the city. A welcoming staff is just as much needed to have a good ambience in a hostel as fellow-travellers.
Even if you don't stay at one of the places listed below, I suggest you looking up for reviews before booking a hostel online. This ensures you end up at a place where the staff is helpful, the amnesties are good and the price of the bed is value for money. Your hostel can make or spoil your experience. And to help you with a few names, however, here are some top hostels in Delhi, supported by the reason why I recommend them.
Best Hostels In Delhi
LetsBunk Poshtel
LetsBunk is a luxe hostel located in the funkiest yet calm neighbourhood of Hauz Khas Village – known for its range of restaurants and bars. Hauz Khas is also considered one of the posh areas of Delhi. Speaking of the hostel, however, LetsBunk has a cafe-bar onsite, communal kitchen, common area, laundry service, transportation services, and more.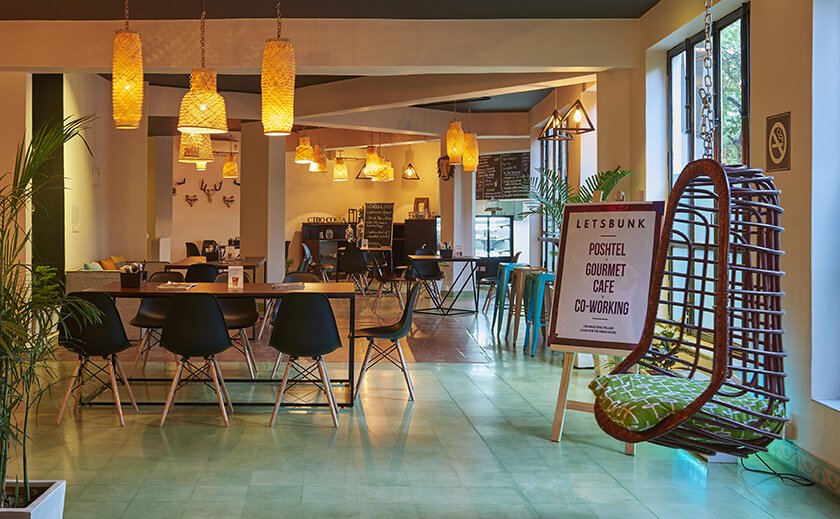 LetsBunk Poshtel at a glance:
Central & posh location
Scandi Boho on-site café
Scandi designed dorms and private rooms
Common rooftop to mingle and enjoy drinks
BBQ parties on the rooftop to ease people socialize
Beds from INR 550.
Hide-In Hostel
Located in South Delhi, Hide-In Hostel is the greenest hostel in Delhi. Its rooftop – that also offers beautiful views of Qutub Minar – is decorated with more than a hundred plants. The hostel is located about 45 minutes from the international airport. The nearest metro station is only a few meters away. Other than the common rooftop, the hostel comes with a small kitchen that serves home-cooked meals.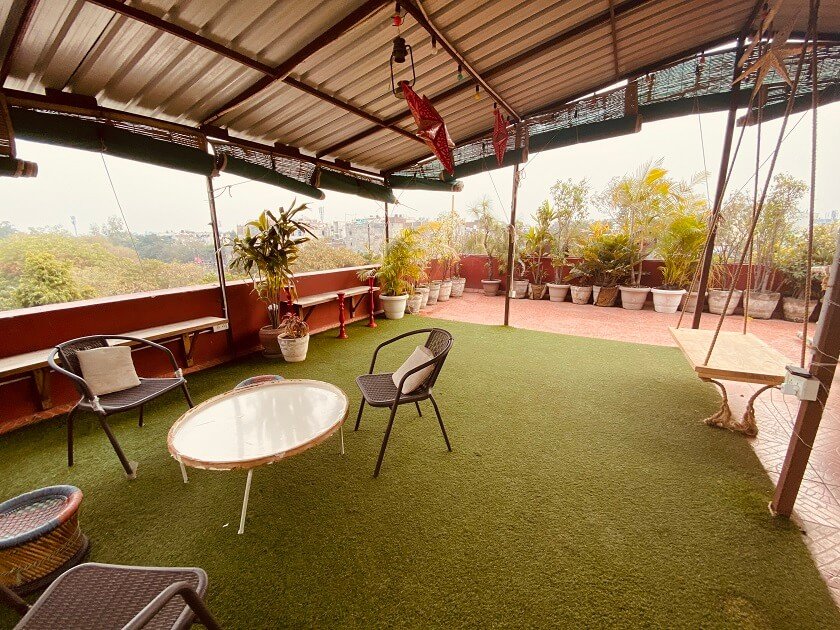 Hide-In at a glance:
Convenient location – only a few metres away from Saket Metro station
Beautiful rooftop offering a view of Qutub Minar
Free walking tour and yoga sessions every day
Inhouse food available
Female friendly hostel
Beds from INR 350.
Joey's Hostel
With four-set of dormitories and two private rooms spread over three floors of the building, Joey's Hostel is located in the student-friendly area of Laxmi Nagar. Given its location, the hostel will give you a feel of local life in Delhi. The hostel also organises walking tours every day exploring different sides of Delhi covering history, culture, food, and heritage – covering folktales and stories that have been a part of Delhi's life and tradition over the past few centuries.
Joey's hostel at a glance:
Different walking tours & events every day
Party rooftop with open patio
24-hour helpdesk
Beds from INR 450, including breakfast.
Useful Travel Tips For Delhi
The best time to visit Delhi is winter. Summer is too hot and so is spring.
The best way to get around in Delhi (and to travel to and from the airport) is Delhi metro or taxis.
Ola and Uber are the two most popular taxi services in Delhi.
If you have never been to India before, the pace of the city may feel overwhelming. So be prepared.
Delhi is notorious for bad air. Carry a mask.
Though most people in Delhi speak Hindy, English is also fairly spoken.
If you're buying any service or product, consider bargaining.
Because most bars don't have the permit to remain open after midnight, Delhi has a culture of an early nightlife.
If you're a foodie, however, you are going to love Delhi. Try Mughai curries, Punjabi food, and cuisines from across India.
Weddings in Delhi are an experience of a lifetime, so don't miss a chance if you get to experience one.
Holi and Diwali are two major festivals in Delhi.
Drinking tap water is strictly unadvised. Buy packaged water.
Be careful of touts, they are everywhere. Also, be careful about personal safety.
Do you agree with the above suggestions as best hostels in Delhi? Or do you recommend something else?