Tawang Monastery Arunachal Pradesh is the world's second-largest monastery.
Located at 10,000 feet with a commanding view of Tawang River, the Tawang monastery is one small city in itself.
It is an ideal epitome to some 500 monks, many of whom are novice monks.
They stay inside the monastery premise and learn and follow Buddhism.
Tawang Monastery Arunachal Pradesh
Tawang Monastery is located in Tawang city in the Indian state of Arunachal Pradesh.
The city is wrapped with a hulking mountain range that casts special magic on whoever visits it.
The entire valley is, moreover, no less a patchwork of stunning mountain ridges and vast fields.
Other than the beauty, the natural vistas and the world's second-largest monastery, what else worth exploring in Tawang is the local Monpa tribe? With a Buddhist prayer wheel in their hands and a traditional yak-wool overcoat, the Monpa people can be found in Tawang and a few other places.  A small number live in the East Kameng district near the Bhutan border. They are sub-divided into six sub-groups because of the different languages each sect speaks. Not much is known about them, but their appearance is certainly striking.
Well, that is just one of the many reasons to visit Tawang.
But the prime reason why it stands above the crowd is that it is home to the world's second largest monastery – Tawang Monastery Arunachal Pradesh.
And it is this distinction that makes it exclusive in the world.

World's Second Largest Monastery
… and this is what it taught me!
During my visit to Tawang Monastery Arunachal Pradesh and a small conversation with a senior monk, I found that in Buddhism they believe that a child is capable to follow 'Lamahood' when he is mature enough to walk on the path of compassion. And this is the very essence of Buddhism – other than staying in search of happiness.
The conversation was soon accompanied by a small incident that further validated the belief and inspired me to practice compassion myself.
I don't remember his name but the message he left me with was something indelible. As I stumbled upon his cute novice face and started with my routine photo shoot accompanied by questions like where he came from and what he was learning in the monastery, we found a spider crawling on the floor.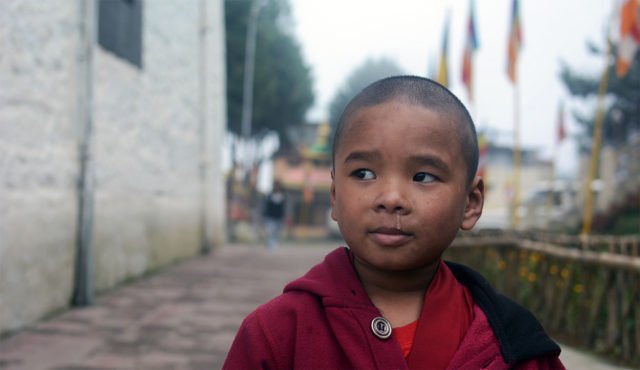 I have seen kids generally foreboding and running away in fright in such situations, wanting someone to kill whatever is causing them distress.
But this little fellow went from carefully catching hold of this spider and releasing it away from us, with an arresting smile on his face.
When I asked him why he did so, he struggled a bit to put this forward and said: "because we are humans and we are meant to look after others".
For a kid of his age, away from his parents – showing such love and compassion for others, in my opinion, was a lesson. But I guess that's what monastery teachings and knowledge are all about. And when we are talking about Tawang Monastery Arunachal Pradesh, the world's second-largest monastery, the teachings had to be even stronger.
I've often heard Buddhists talking about wisdom and compassion but witnessing such a small child practising it with such innocence was simply overwhelming.
What do you think? Let me know in the comments.
Also Read: Namdroling Monastery Bylakuppe