Ever tried hitchhiking in India? I once did it from Leh to Srinagar and it was a wonderful experience.
Contrary to what most people think, it is easy to hitchhike in India.
People in India are moreover very helpful, especially in the mountains, so finding lifts in India is often no problem.
I have always loved hitchhiking in India, and this is for two reasons: one, it makes my journeys cheaper; and two, it allows me to meet some of the most helpful and interesting people out there. For example, during my Sandakphu trek, I hitchhiked, saved myself more than 3000 Rupees and found two very great people.
And it's not just India. Other than hitchhiking in India, I've done this in Europe and Southeast Asia too. It remains one of those budget travel tips that I find not only saves me money but gives great experiences too.
I, moreover, don't find hitchhiking risky. In my belief, the misconception that hitchhiking is dangerous has only been spread around by the fear-mongering society!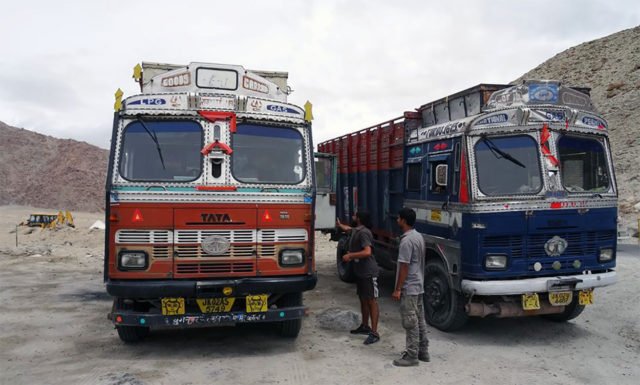 Hitchhiking In India
… my Leh To Srinagar Journey!
My Leh to Srinagar journey was the first-ever hitchhiking experience in India.
It happened when I met David and Marion on a chilly October evening in Leh. We teamed up to see if we could do it from Leh to Srinagar – a 420 km long and isolated road with some of the most popular towns in between, including Kargil and Dras (the second coldest inhabited place on Earth).
I have seen people hitchhiking from Manali to Leh because of regular ongoing traffic but Leh to Srinagar route was new for someone to try.
Our shabby and hopeless scheme – as it seemed at first – started in Leh, and as expected we found ourselves standing on National Highway 1D on day 1 with our thumbs out, attempting to look as friendly as possible with an amiable smile on our faces, for the passing drivers. And pass they did. One after another.
Hitchhiking in India in Ladakh with two foreign backpackers seemed a little unsure in the beginning. And to make it even worse, all three of us were having our massively looking rucksacks – something so heavy that it would even force a bus driver to pull a face before allowing us through.
But after almost 2 hours of waiting, we finally found some time.
To my experience, it wasn't anything like hitchhiking in Indian cities, where cars move reasonably fast, and drivers, who don't intend to stop, scarcely spare you a glance.
Here, in Ladakh, things move excruciatingly slowly. In fact so slow that you get a fair amount of time to make appealing eye contact with the driver to plead for a ride, which soon turns into an implored beseech before you get rejected – and that is the hardest part to accept. Because at every rejection, you have to muster all the self-respect and start right from the beginning.
But my first hitchhiking experience in India wasn't that bad either. We managed to find quite a few Indian Oil truck drivers who were happy to drop us off.
Where a state bus takes two days to do the Leh to Srinagar journey, we took three days. We stayed in Lamayuru and Dras on our way.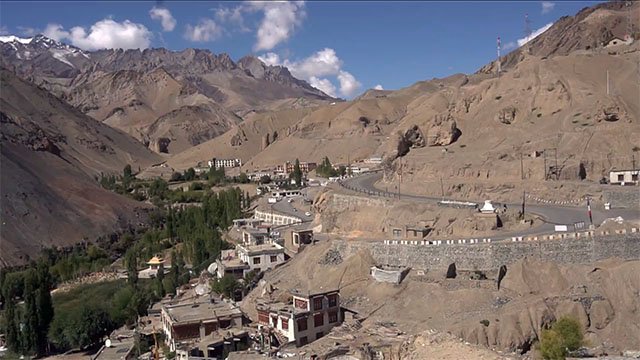 I particularly liked and recommend 'Lamayuru' a small Buddhist village between Kargil and Leh. It was, by far, one of the best places I've seen in J&K. We decided to spend a night at Lamayuru but ended up staying three, and I can't wait to go back.
Dras was okay, given it's the second coldest inhabited place on earth, it was worth a night. But getting a ride from Dras turned out to be the toughest part. "We are never going to get picked up," I remember admitting it every time a truck had forsaken us.
It took more than three hours to find our next ride in Dras. Despite moving at a maximum speed of 15 km an hour, it screeched to a stop making a cloud of gravelly dust. David and I stood transfixed as Marion spoke to the driver – and in the fullness of time – we finally got a ride all the way to Srinagar.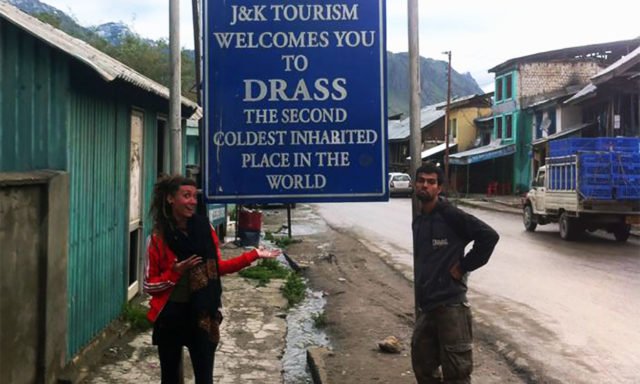 Trucks have been picking up hitchhikers in India for decades. Our first ride ever was with Satinder, a 46-year-old man from Punjab who has been driving for Indian Oil for the past 20 years on the Leh to Srinagar road, and it was quite a job.
According to him, they've to complete a minimum of three rounds of delivery from Leh to Srinagar every month and get paid around INR 7,000 for each round. He tries to do as many as five rounds a month to earn more, but this means long, continuous rides. Sure, life as a truck driver in India is tough.
And then there are the ridiculous stories too: hauling strange loads, overloading, horrific accidents, disfavour by police and all those disdained looks by car drivers.
Where most people think hitchhiking is risky and often demotivates others to do it, I found it rather otherwise. It is fun and gives you many great travel memories.
My first experience of hitchhiking in India was indeed a great experience. And thanks to David, Marion and all those drivers we met on the road, I tried more of it as I covered more holiday destinations in India, especially while travelling in Gujarat.
If you will read my Kutch travel guide you will see that the very reason that I could solo backpack there was that I hitchhiked. Since public transport is bad in Kutch and I didn't want to spend too much money on taxis, getting free lifts was the only option.
Hitchhiking in India is certainly worth trying. And I would suggest others do it too, at least once.