As I entered the town of Sandakphu, a signpost welcomed me with an unusual charm. "Pollution Free Zone" it read, obstructing a view to the mighty Everest at a distance.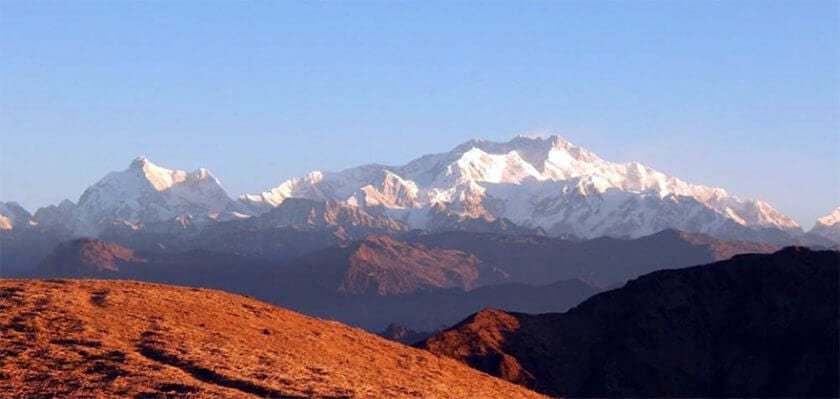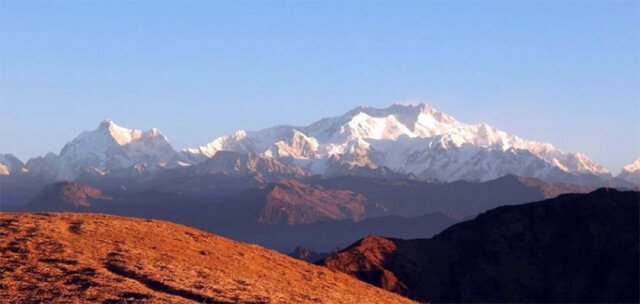 It took me three days to reach Sandakphu, while slowly galloping through flying clouds and interrupting lakes. "Pollution Free Zone" I read the signpost once again, only a little louder this time and asked myself, with a smile — how many of those places are still left in the world!
Singalila Ridge Trek (or Sandakphu trek, as is often called) is one of the most picturesque treks around Sikkim. The highest point in West Bengal, the trek offers some of the most fantastic views in the Himalaya. The valley beautifies itself, with clear panoramic views of snow-capped mountains, as you start your journey from Mane Bhanjang towards Sandakphu. The funny thing is, as you start waking from Mane Bhanjang to Sandakphu, you cross India-Nepal border a few dozen times because the Sandakphu trek is more or less the borderline between India and Nepal. And the towns that come on the way, including Tumling and Sandakphu are owned by both countries.
Sandakphu, as a town, is popular because it is the highest peak in the state of Ilam, in Nepal and West Bengal, in India. What makes it more amazing is its summit, from where you can see four of the five highest peaks in the world — Mount Everest, Kangchenjunga, Lhotse, and Makalu, in a panoramic view. From Tumling you can see three peaks.
The journey from Mane Bhanjhang to Sandakphu
From wherever you're coming – Darjeeling, Gangtok, or even Kolkata – your taxi will drop you off at Mane Bhanjhang. From Mane Bhanjang there are two ways to reach Sandakphu, one is by trekking (and trust me, that's the best way) and the other way is by renting a classic Land Rover.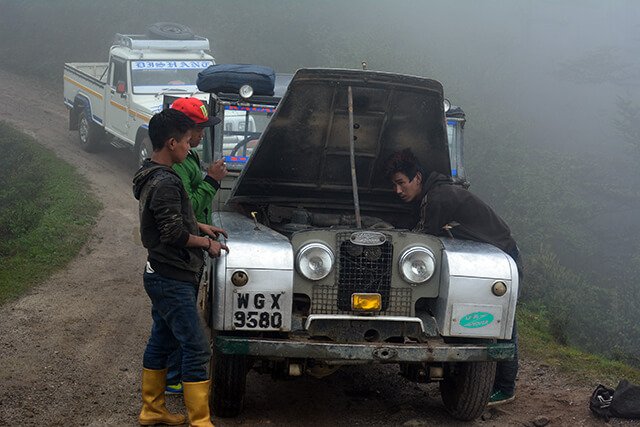 The trek is well marked, and goes right parallel to the motorable road, which makes it an easy deal, even if you're alone and are unfamiliar with the route. The other way to reach Sandakphu, i.e. by taking a ride in a classic Land Rover, is for those who want a bit of comfort and are little limited with time.
Sandakphu, for some reason, is owned by a group of Land Rover owners because you won't find other paid taxis running around these roads. You can rent one of those Land Rovers for 3000 Rupees, for a round trip.
I, however, hitchhiked. And the best part was, the lift that I got was even coming back after spending a night in Sandakphu. I met two friendly guys who ran a medium-duty 4*6 truck, on the route. They run a trip to Sandakphu once every month, delivering food items in the village. And in one of their scheduled trips, I accompanied them.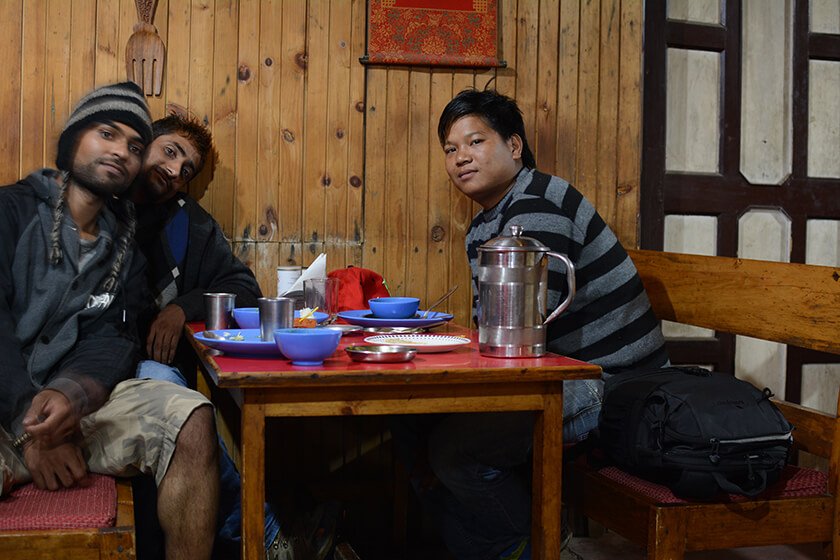 What If You're Walking
Day 1: You start from Mane Bhanjhang. Follow the trek, bypassing a few villages on the way, and reach Tumling in 6-7 hours. Stay in Tumling for the night, which has a few lodging options (my recommendation: Mountain Lodge. Find the lady with the name "Keshari" she runs and owns the lodge). Distance from Mane Bhanjhang to Tumling is 11 km.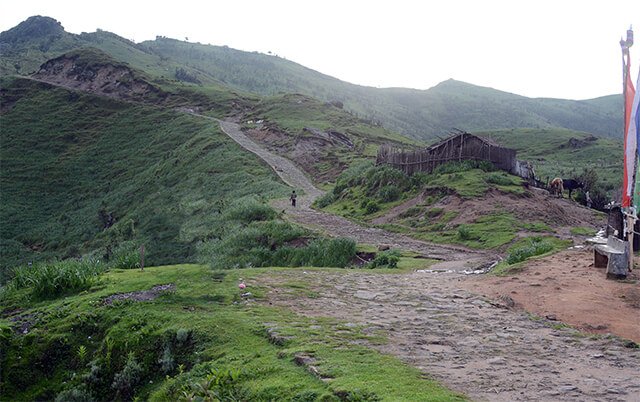 Day 2: Start early from Tumling and reach the town of Kalipokhri. Right after Tumling, you enter into Singalila national park, which is home to some of the nastiest and deadliest plants in the Himalayan region. So don't try to eat the berries. Tumling to Kalipokhri is a 9 km steep walk. Stay overnight in a trekker's hut in Kalipokhri.
Day 3: Kalipokhri to Sandakphu is 8 km, and can be done in under 5 hours. Enjoy the panoramic views of the Mt Khanchendzonga and Everest and the scenic forests underneath, as you reach Sandakphu. Also, be ready for a cold and harsh night.
Day 4: Walk downhill, from Sandakphu to Tumling.
Day 5: Tumling to Mane Bhanjhang, and the journey back home.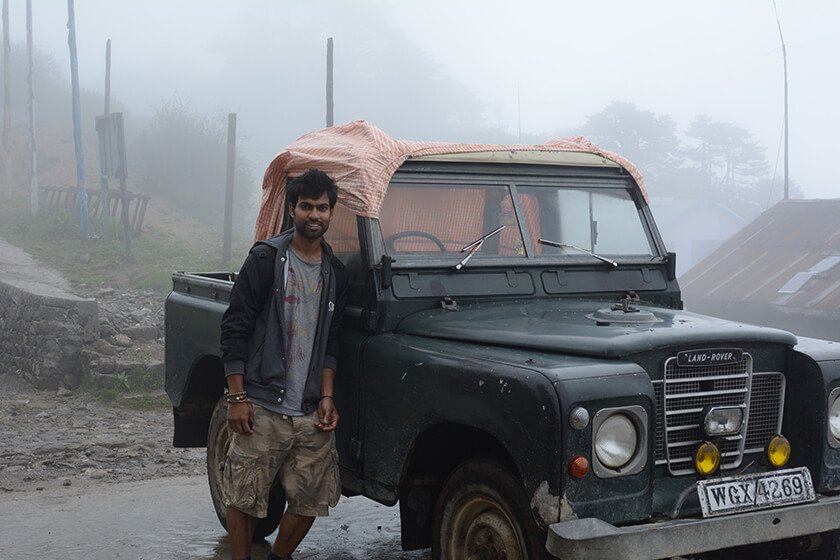 Permits And Guides For Sandakphu Trek
You don't need any permit to do this trek, but having a personal guide is mandatory within the Singalila National Park, which starts right after you cross Tumling, towards Sandapkhu. Hire one from GTA Tourist Reception Centre, or from Mane Bhanjhang. To save money, hire one from the village Tumling, or perhaps hitchhike like me and escape it.
Another beautiful trek I recommend: Panchachuli Base Camp Trek