As I finished my Sandakphu trek, a signpost welcomed me. It didn't say the name of the place, or anything about the trek I did, but something far unusual. "Pollution Free Zone" the sign read! 
Singalila Ridge Trek (or Sandakphu trek, as is often called) is the most popular trek in the state of West Bengal, and the highest point in West Bengal.
As you start waking from Mane Bhanjang and begin your Sandakphu trek, the valley beautifies itself with clear panoramic views of snow-capped mountains. You cross India-Nepal border a few times because the trek divides the two nations and is more or less the borderline between India and Nepal. And the towns that come on the way, including Tumling and Sandakphu are owned by both countries.
The trek concludes at a town called Sandakphu, hence the name.
The town is popular because it is the highest peak in the state of Ilam, in Nepal and West Bengal, in India.
What makes it more amazing is its summit, from where you can see four of the five highest peaks in the world — Mount Everest, Kangchenjunga, Lhotse, and Makalu, in a 360-degree panoramic view. From Tumling you can see three peaks.
Sandakphu Trek
When I did Sandakphu trek, back in 2016, it was very different. There were only two ways to do it. One, of course, was walking the entire route (which takes 5 days) and two (you do it in a classic Land Rover). Back then, the road was very risky too, demotivating many people to do it in a jeep and prefer walking.
And then the road construction work started. Just like most places in the Himalayas – whether it is a Delhi to Manali route or Manali to Leh – Sandakphu trek also got a needless makeover.
In 2018, the road work was completed, making it so easy to do this route that almost any car can now reach the last point. This also increased the number of tourists who visit this place, making it an unavoidable prey to over-tourism.
Here's a picture of how the road looked back in 2016. Now if you will visit, it will be a proper tar road.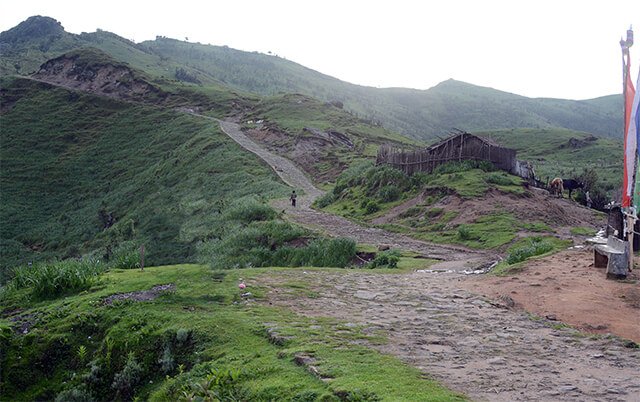 So yea, the charm of following any Sandakphu trek itinerary – whether you walk all the way to the last point or do it in a jeep – is somewhere lost. But if you still decide to visit it and wondering how to self-plan it, here is how…
How To Reach Sandakphu
From wherever you're coming – Darjeeling, Gangtok, or even Kolkata – your taxi will drop you off at Mane Bhanjhang. From Mane Bhanjang there are two ways:
trekking (and trust me, that's the best way)
renting a 4*4 (and not doing the trek at all).
The Sandakphu trek is well-marked and goes right parallel to the motorable road, making it easy for those trekking without a local guide.
As I said, back in 2016, the route was dominated by Classic Land Rovers. Back then, it was possible to only hire a Land Rover for 3000 Rupees.
Today, many other 4*4 and private vehicles also go this way.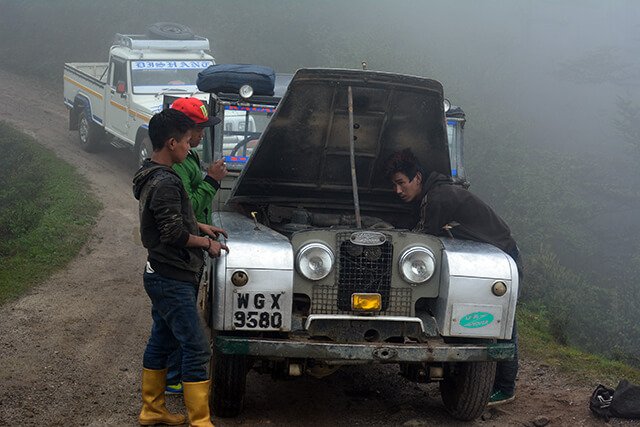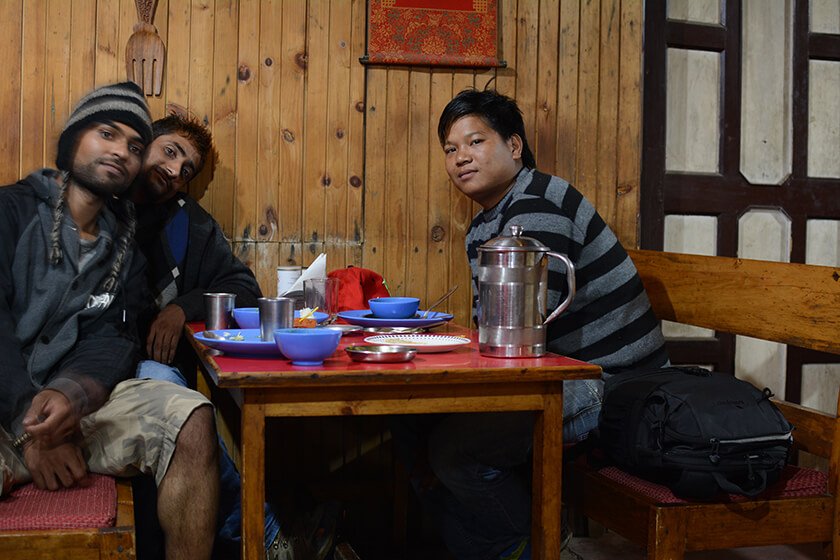 Sandakphu Trek Route Map
Here's a Sandakphu trek route map itinerary you can follow with all distances. Though road conditions have improved and more crowds can be found, the distances and the map remain the same.
---
---
Now let's discuss the 5-day Sandakphu trek itinerary in detail…
Day 1: You start from Mane Bhanjhang. Follow the trek, bypassing a few villages on the way, and reach Tumling in 6-7 hours. Stay in Tumling for the night, which has a few lodging options (my recommendation: Mountain Lodge. Find the lady with the name "Keshari" she runs and owns the lodge). Distance from Mane Bhanjhang to Tumling is 11 km.
Day 2: Start early from Tumling and reach the town of Kalipokhri. Right after Tumling, you enter into Singalila national park, which is home to some of the nastiest and deadliest plants in the Himalayan region. So don't try to eat any berries. Tumling to Kalipokhri is a 9 km steep walk. Stay overnight in a trekker's hut in Kalipokhri.
Day 3: Kalipokhri to Sandakphu is 8 km, and can be done in under 5 hours. Enjoy the panoramic views of Mt Khanchendzonga and Everest and the scenic forests underneath, as you the viewpoint. Also, be ready for a cold and harsh night.
Day 4: Start the trek back towards Tumling and reach Tumbling.
Day 5: Tumling to Mane Bhanjhang, and the journey back home.
And now, this is what the entire trek route looks like. Polished as new…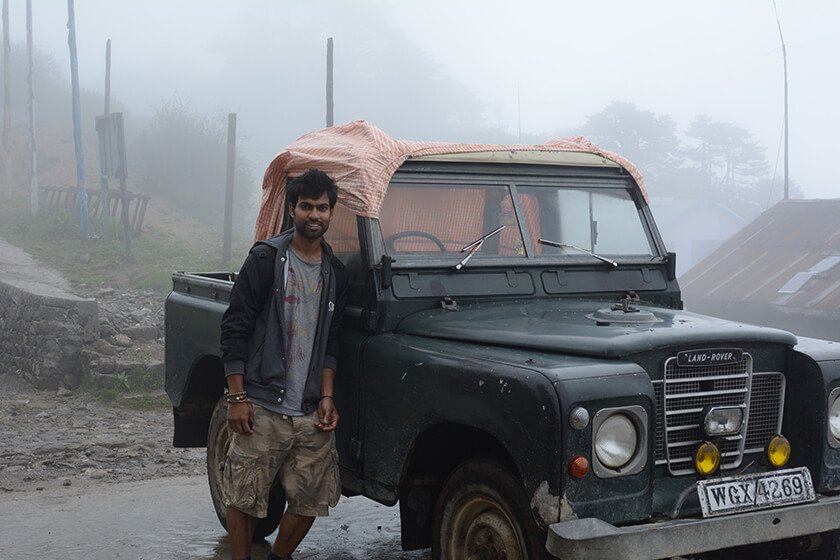 Permits And Guides For Sandakphu Trek
You don't need any permit to do this trek, but having a personal guide is mandatory within the Singalila National Park, which starts right after you cross Tumling.
Hire one from GTA Tourist Reception Centre, or from Mane Bhanjhang. To save money, hire one from the village Tumling, or perhaps hitchhike like me and escape it.
Best Time To Do It
Just like most treks in the Himalayas, Sandakhphu trek there is no point in thinking of doing it in winter because of heavy snowfall. Monsoon season also makes for a bad time to do it because of heavy rainfall in the national park area. This leaves us with two seasons: spring and fall.
Among the two, and throughout the season, the best time to do the Sandakphu trek is between September and November. This is when the weather is perfect, the crowd is less and everything is comparatively greener (right after the monsoon).
The months of April to July are also good to do this trek but it can be quite crowded with accommodation and taxi prices being the highest.
Another beautiful trek I recommend is: Panchachuli Base Camp Trek