Planning to do Panchachuli Base Camp trek? Here's all you need to know…
I've done quite a few treks in Uttarakhand. Dodhital, Har ki Dun, Valley of flowers trek, Stopanth Lake, and a few more on Char Dham Yatra. And often the journey was concluded solo. I like the idea of long solo trekking, under the magnifying beauty of the Himalayan cliffs and open spaces. There is some adventure in that. So this time, I was off to do Panchachuli Base Camp trek.
Located at the end of the eastern Kumaon region, in Darma Valley in Uttarakhand, Pancahchuli Base Camp is one of the highest treks in the region.
Before you plan the base camp trek to Panchachuli, I would like to tell you that the term Panchachuli literally means the 'five-pointed oven'. According to the locals, it was the at the peaks of Panchachuli where the Pandavas (one of the two major Sanskrit epics of ancient India) cooked their last meal on the five peaks of 'Panch' (meaning, five) 'Chuli' (meaning, peaks) before leaving for heaven. And that's its religious significance.
The trek to Panchachuli turned out to be pretty easy. Where most of the blogs, on the internet, suggested that it takes a good 4-5 days for a strenuous walk to complete the Panchachuli Base Camp trek, I found that 2 days were just enough.
Panchachuli Base Camp
Off late, the road construction works in Darma Valley and the route to Panchachuli is going on very aggressively.
Starting from Sobla, the road has already connected the town of Nangling. Next is Baling and then Dhuktu. From Dhuktu Panchachuli Base Camp is an easy 1-hour trek. So it's very likely that if you will do this trek, a few months after this article was written originally (in October 2016) the road might have already reached Dhuktu, and you no longer need even 2 days to reach the base camp.
Here's a rough Panchachuli base camp trek map: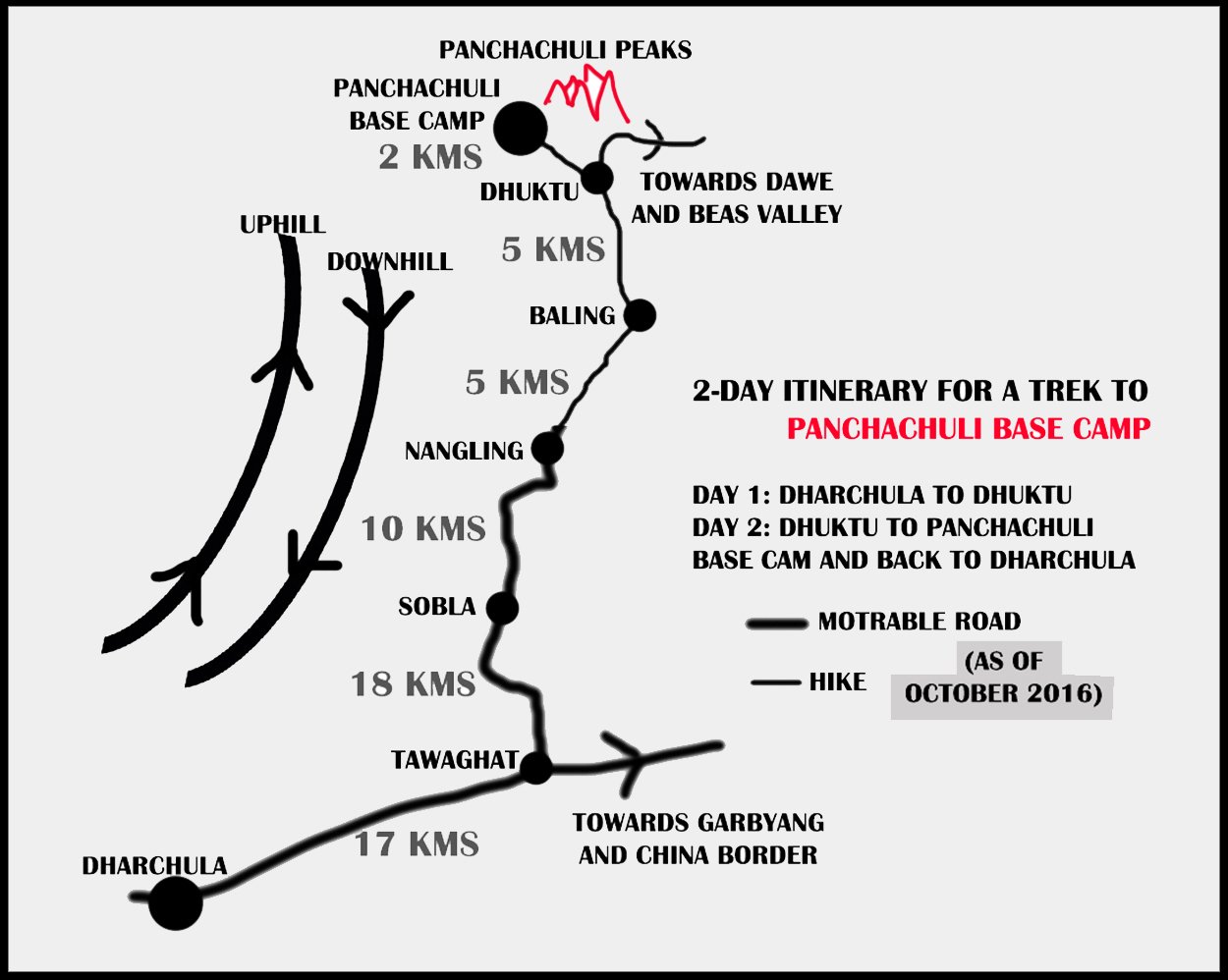 This was the status of the road when I did the trek in October 2016. It is possible now that the road might have reached further, making the trek even shorter and easier.
Panchachuli Base Camp Trek Itinerary
As of October 2016, you can complete the Panchahuli Base Camp trek in two days and this is how the itinerary looks like:
Day 1: Dharchula to Dhuktu
You start from Dharchula – the town where you obtain the permit from the local SGM-in-charge to access the route.
If you take an early morning taxi, you can reach the town of Nangling before lunch. Nangling to Dhuktu takes 3-4 hours, depending on how fast you walk. So even if you start your Panchachuli Base camp trek at 2 in the afternoon, from Nangling, you can reach Dhuktu before sunset.
You stay in Dhuktu for the night.
Day 2 Dhuktu To Panchachuli Base Camp
On day two, start early from Dhuktu towards the base camp. A 2-kilometer Panchachuli Base Camp trek (from Duktu) should take no more than 45 minutes.
Return to Dhuktu before 10 am, and walk towards Nangling, which is mostly an easy downhill walk and should take no more than 2.5 hours. I did it in 2 hours.
Take the afternoon 'shared taxi' to Dharchula (from Nangling) and you're done. Trek completed. A few good selfies, with Panchachuli peaks in the backdrop, safely obtained.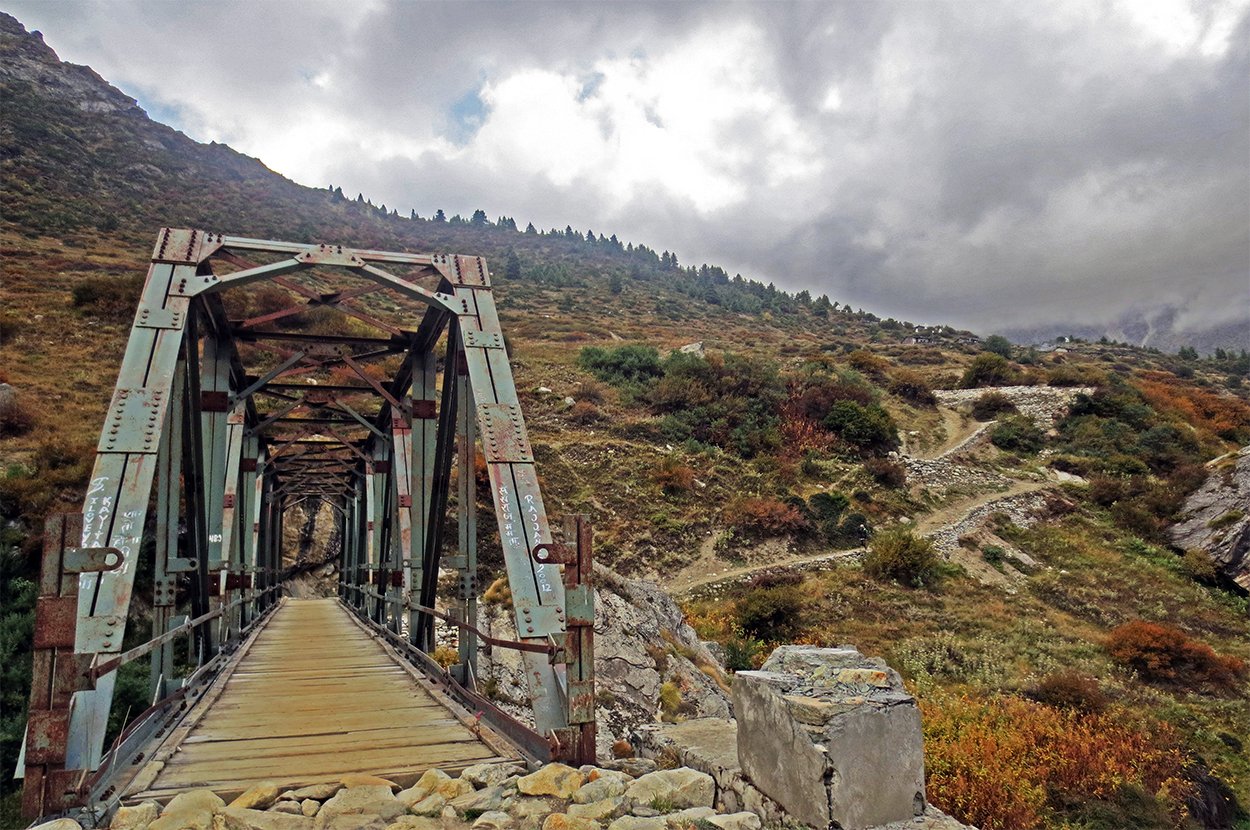 What Permissions You Need
Getting permission for Panchachuli Base Camp trek is fairly easy. You write an application addressing 'SGM, Dharchula' that you want to do the trek, mentioning your route map.
Attach one passport size photograph, write your personal details, and get it signed by the SGM.
The process involves no costs. The permission paper will be checked on the way, at ITBP camp, at Baling.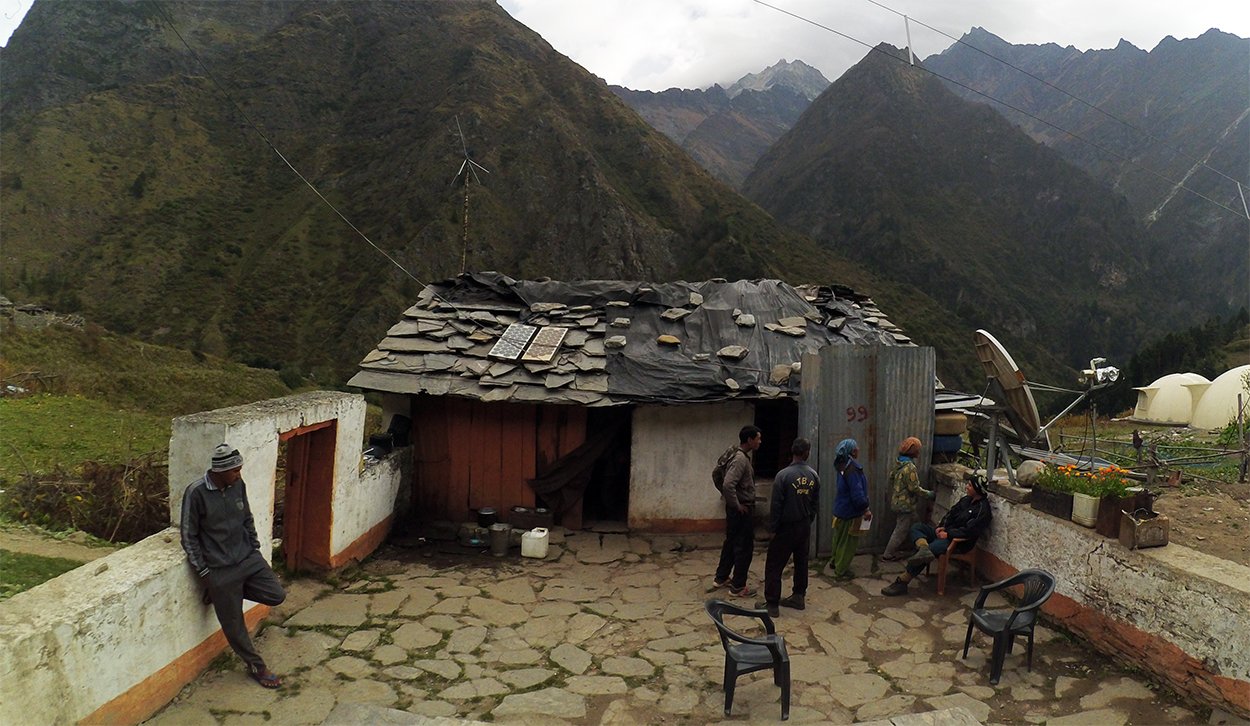 Total Budget To Plan
The taxi from Dharchula to Nangling takes 300-350 Rupees. Food in Dhabas, around the area, costs 60 to 110 Rupees per thali, depending on what you eat.
Each town – from Nangling to Baling to Dhuktu, and a few other surrounding ones – have a local community guest house, with dormitories charging 200 Rupees per person per night.
Note: The prices might have increased now as the article was written back in 2016. All prices are based on what I was charged in 2016.
So if you do it in two days, the total budget, for your journey from Dharchula to Panchachuli Base Camp and vice versa, should exceed no more than 2000 Rupees. Reaching Dharchula (from New Delhi) takes 780 Rupees, each way, in a direct, overnight bus.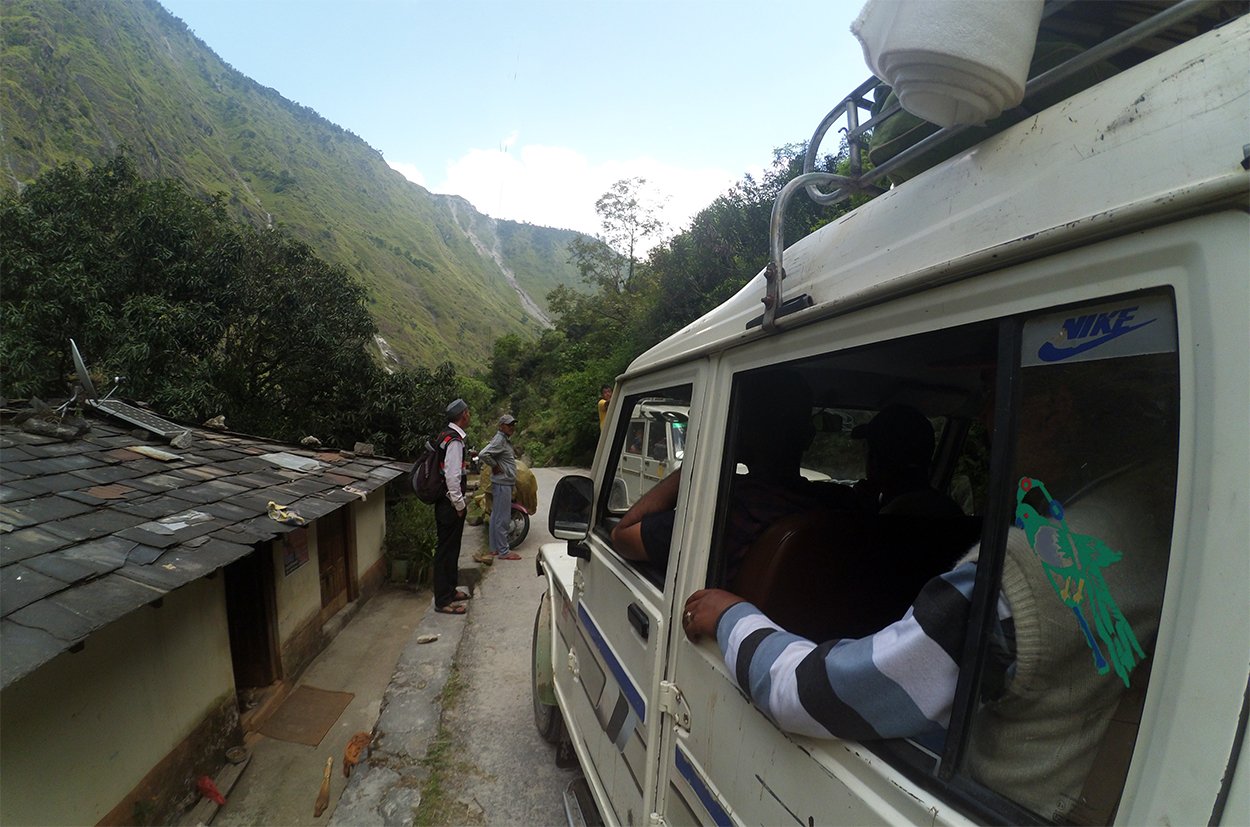 My Journey And Costs
I took 4 days to complete the journey and I Did it solo and while camping throughout the journey. Nangling turned out to be the first overnight destination where locals let me camp inside the PWD premises (the company which is constructing the roads in the area). In the process, a local family invited me to dinner.
The next two nights (in Dhuktu) saw a similar trend, where locals helped me find a perfect camping place and invited me for dinners and lunches. It turned out that in 4 days, I only paid for my meals twice. One, when I was in the taxi from Dharchula to Nagling; second when I was in the taxi from Nagling to Dharchula.  Darma valley surprised me for its hospitality. Throughout my journey, I ate for free. Local guides showed me around, without accepting money. Everyone seemed much affable and happy to speak to tourists. Kumaoni people, in Darma valley, had a different way of welcoming tourists.
Read more about My Journey Into Darma Valley
Since I was carrying my tent, and mostly ate at local people's houses, I survived 4 days in less than 800 Rupees. 600, out of which, was directly paid for two taxi rides between Dharchula and Nagling.
Now that we have discussed the itinerary and a few things you need to know before you do this trek, let's discuss a bit about the place too.
The Best Time & Other Tips
The best time to do Panchachuli base camp trek is either the months of March and June or between September and November. It is not possible the route during winter because of heavy snowfall. Monsoon is not advised because Uttarakhand gets a lot of rain compared to other nearby Himalayan states.
Other than that, please note that the Darma Valley is a small area and phone reception remains fairly limited. BSNL has the best phone reception as ARMY people use the same network. JIO is also intermittently available. Other networks like Vodafone and Airtel don't have a reception in that area (it might have changed in the recent years though).
It is advised to carry cash and use the ATM in Pithoragarh. Though Dharchula has an ATM too, there are high chances of finding no cash there. Expect no one on the way to Panchachuli base camp to accept any form of digital payment.
More About Panchachuli Peaks
Located in the eastern Kumaon region (one of the two administrative divisions in Uttarakhand) Panchachuli has an altitude of  6,334 metres to 6,904 metres. The peaks are located a little less 150km from the town of Pithoragarh. The first ascent of the peak was done by ITBP team in 1972. The peaks are numbered from northwest to southwest, with the highest peak being Panchachuli 2.
As I mentioned above, the place has religious significance in local people's culture. They believe that it was at the peaks of Panchachuli where the Pandavas cooked their last meal. Having said that, when you visit the place make sure you regard the five peaks the highest way possible.
Other than Darma Valley, it is possible to see them from Munsiyari. I did my Delhi to Munisyari trip last year in 2019 and realised that the bests place to see Panchachuli is Darma Valley. It is from there that the peaks look bigger and more closer.
Another Beautiful Trek I Recommend: Sandakphu Singalila Trek On India-Nepal Border
If you have been planning to do Panchachuli Base Camp trek again and again and lack the motivation to actually do it, read these Inspiring Travel Quotes. Set them as your phone or computer wallpaper. These quotes will certainly keep you motivated!