Planning to do Panchachuli Base Camp trek? This travel blog includes all factual information you may need.
I've done quite a few treks in Uttarakhand. Valley of Flowers trek Har ki Dun, Pindari Glacier Trek, and a few more on Char Dham Yatra route. But never have I ever done any trek twice, except for one — Panchachuli Base Camp trek.
The first time I got there it was in 2016. Back then, Border Road Organisation (or BRO) was still building the road and the entire Darma Valley was in a development phase. During my revisit, in October 2020, BRO had already built the road to the last village (and beyond) from where the Panchachuli base camp trek begins.
Where in 2016, it took me 4 days to do the return journey from Dharchula to Panchachuli Base Camp, in the year 2020, it was a quick 2-day affair.
About Panchachuli
Before you plan the base camp trek to Panchachuli, I would like to tell you that the term Panchachuli literally means the 'five-pointed oven'.
According to the locals, it was the at the peaks of Panchachuli where the Pandavas (one of the two major Sanskrit epics of ancient India) cooked their last meal on the five peaks of 'Panch' (meaning, five) 'Chuli' (meaning, peaks) before leaving for heaven. And that's its religious significance.
Panchachuli peaks have an altitude of  6,334 metres to 6,904 metres. The peaks (or the Panchachuli Base Camp) are located at about 150 km from the town of Pithoragarh, in the Kumaon region (often referred to as the Honeymoon Getaway of Uttarakhand).
Other than Darma Valley, it is possible to see the Panchachuli peaks from Munsiyari. I did my Delhi to Munisyari trip last year in 2019 and realised that the bests place view is apparently from Darma Valley.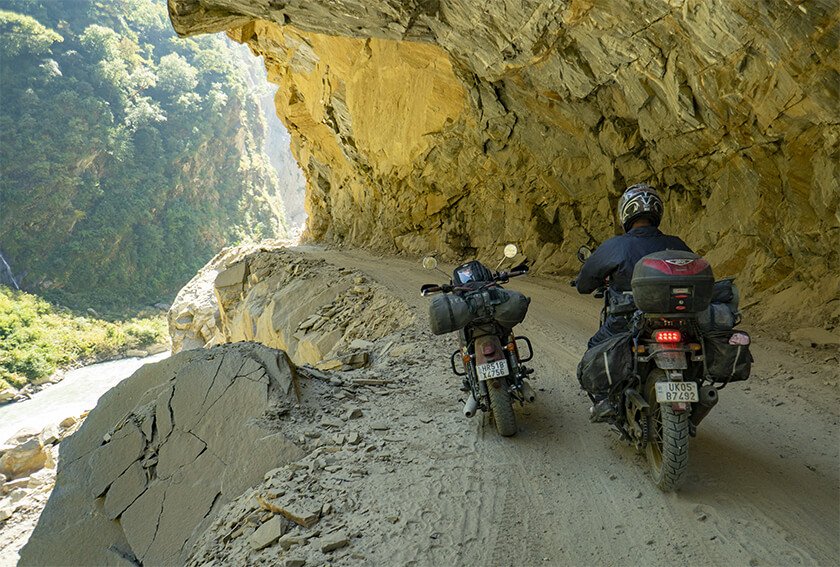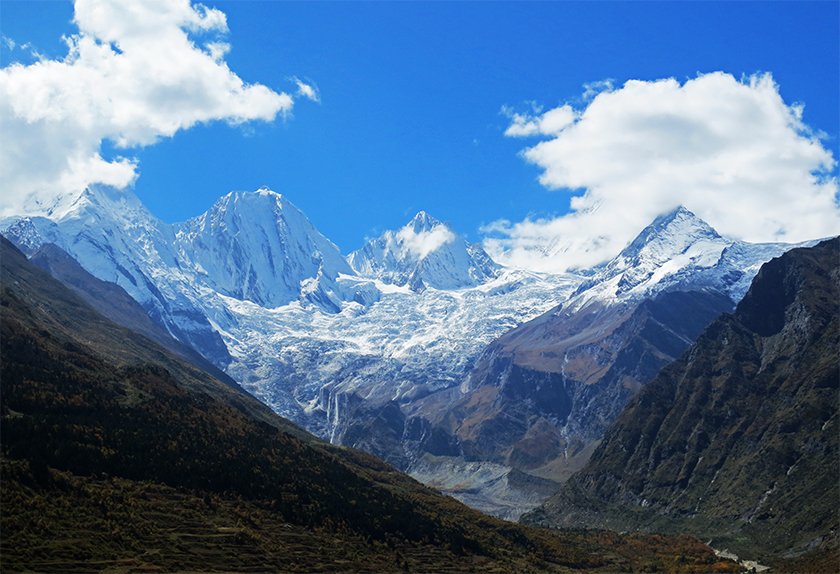 How Many Days For Panchachuli Base Camp
As I said above, since 2020, it is a quick 2-day journey from Dharchula — no guides or paid group tours needed. You can plan a trip on your own.
It is possible to ride a motorcycle or drive a car all the way to Dhuktu Village or Dhatu Village — the two closest villages to the basecamp. Both are located next to each other and less than 2km from the basecamp.
It is moreover not necessary to trek to the Panchachuli base camp point because you now get an equally beautiful view from a bridge connecting Dhuktu and Dhatu. Just park your car or motorcycle next to the bridge and click some pictures.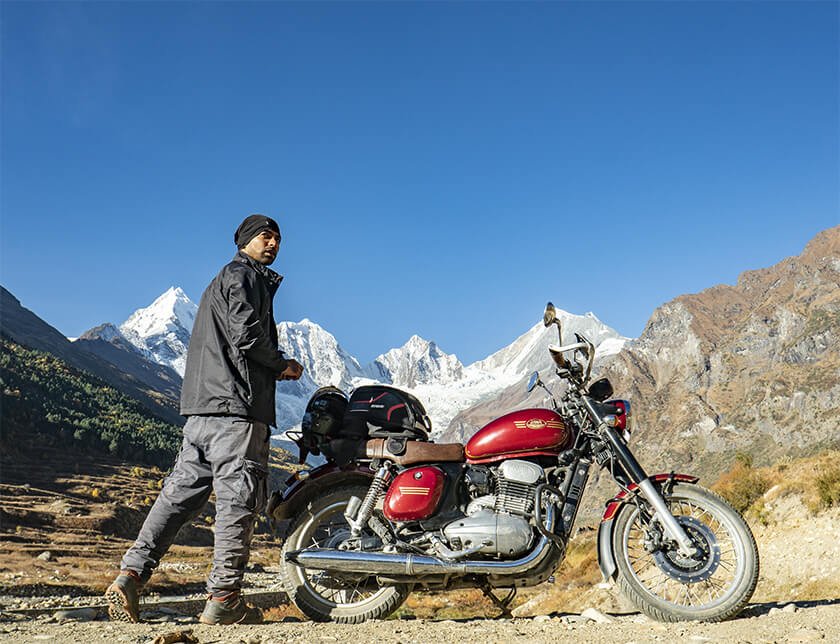 Panchachuli Base Camp Trek Itinerary
Let's assume you are starting from Pithoragarh or Dharchula. If you're starting from Pithoragarh, start no later than 8 in the morning to reach Dhuktu Village (or Dhatu Village) by the evening.
If you're starting from Dharchula, it is okay to start (just like I did) sometime around 11 or 11:30 in the morning and still be able to reach Dhatu village before sunset.
Now let's assume you're starting from Dharchula and discuss the route map:
Dharchula to Tawaghat (17 km)
This is the only stretch of the entire 55 km Dharchula to Panchachuli Base Camp journey where you are going to find a concrete road.
If you are driving a car, be careful as the road is mostly narrow with some corners wide enough for only one car at a time. You will be driving next to Sarda River (also known as River Kali) until Tawaghat. It is the same Kailash Mansarovar Road that takes you to Lipulekh Pass.
From Tawaghat, you bifurcate from the Kailash Mansarovar Road, take left and enter Darma Valley. Dharchula to Tawaghat takes about 45 minutes.
Tawaghat to Panchachuli Base Camp (38 km)
From Tawaghat, the condition of the road — all the way to the starting point of the base camp trek — starts deteriorating. This 38 km stretch of a road, that in fact, is known as Darma Valley road is not really a road but a dirt track.
If you're on a motorcycle make sure you have a face mask on as the route is very dusty. You are going to find 8 to 10 water crossings as well but most of them are very mild. September and October are the safest months to do this route as water-crossing is the least fierce during that time of the year.
It is possible to drive or ride a motorcycle in Darma Valley alone (just like I did). Though you won't find any puncture shops, or even a mechanic between Tawaghat and the starting point of the Panchachuli base camp trek, as long as you're not going to have any technical problems in your vehicle, you should do fine alone. The route isn't challenging or risky at all.
Tawaghat to Dhatu (or village Dhuktu) — the last adjacently places villages from where the 2km Panchachuli Base camp trek begins — can take a maximum of 4 hours driving time.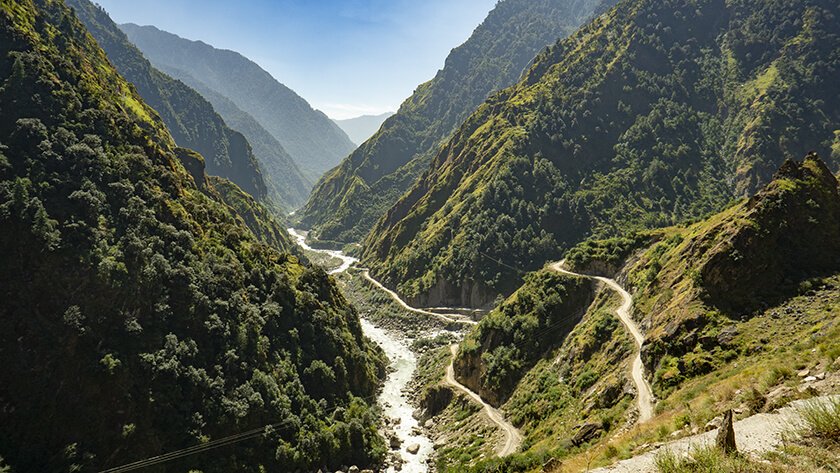 Where To Stay In Panchachuli Base Camp
The so-called base camp point has no accommodation for tourists (though we have a PWD campsite at the base camp, it isn't operational). Having said that, the closest you're going to find a homestay will either be in Dhuktu Village (2km from the base camp) or Dhatu Village (2.5km from the base camp).
The Panchachuli Base Camp trek actually begins from Dhuktu village. So if you're staying in Dhatu Village (just like I did) you will have to get to Dhuktu and then begin the trek.
I suggest you book a place in Dhatu Village as it is perched high on a mountaintop. From most homestays in Dhatu, you get clear views of Panchachuli peaks. From Dhuktu village, there's no visibility of the Panchachuli peaks.
See below the photo clicked from my homestay in Dhatu Village. The tiny village you can see across the mountain (separated by a glacier river-stream) is Dhuktu…
And here's a morning view of Panchachuli peaks from my homestay in Dhatu Village:
Staying in Dhatu or Dhuktu is moreover going to cost you the same: 1000 Rupees per night per person including all meals. It's the standard rate in all village homestays in Darma Valley.
Here's a photo of the homestay I stayed in Dhatu Village. Most homestays in Darma Valley are traditional mud houses:
Best Time To Travel Panchachuli Base Camp
The best time to do the Panchachuli base camp trek is either the months of March and June or between September and November. It is often not possible to do the route during winter because of heavy snowfall. Monsoon is not advised because Uttarakhand gets a lot of rain compared to other nearby Himalayan states.
Other than that, please note that phone reception in Darma Valley — particularly in villages around Panchachuli Base Camp — remains fairly limited. BSNL has the best phone reception as ARMY people use the same network. JIO is also intermittently available. Other networks like Vodafone and Airtel have no reception at all.
It is advised to carry cash and use the ATM in Pithoragarh. Though Dharchula has an ATM too, there are chances of finding no cash there.
What Kind Of Vehicle You May Need
If you are driving: Any 4*2 car can be driven on this road. You won't essentially need a 4*4. Just make sure the car you are driving has a good ground clearance.
Two Wheelers: As far as motorcycles are concerned, I suggest something that is quick and nimble. For me, for example, my Jawa 42 did a perfect job. Its lightweight body, powered by a 300cc and 28 N.m @5000 rpm of torque generated enough power to easily climb uphill. Check more about Jawa motorcycles on the official website and compare the specifications with your ride.
But again, as long as your motorcycle has a great power output and is not too heavy, given its engine size, you should do good on those roads. It's not necessary to have a big engine (a 200 or 300 cc should do fine) but for a motorcycle trip to Panchachuli Base Camp, your bike should have enough torque to be able to pull you through.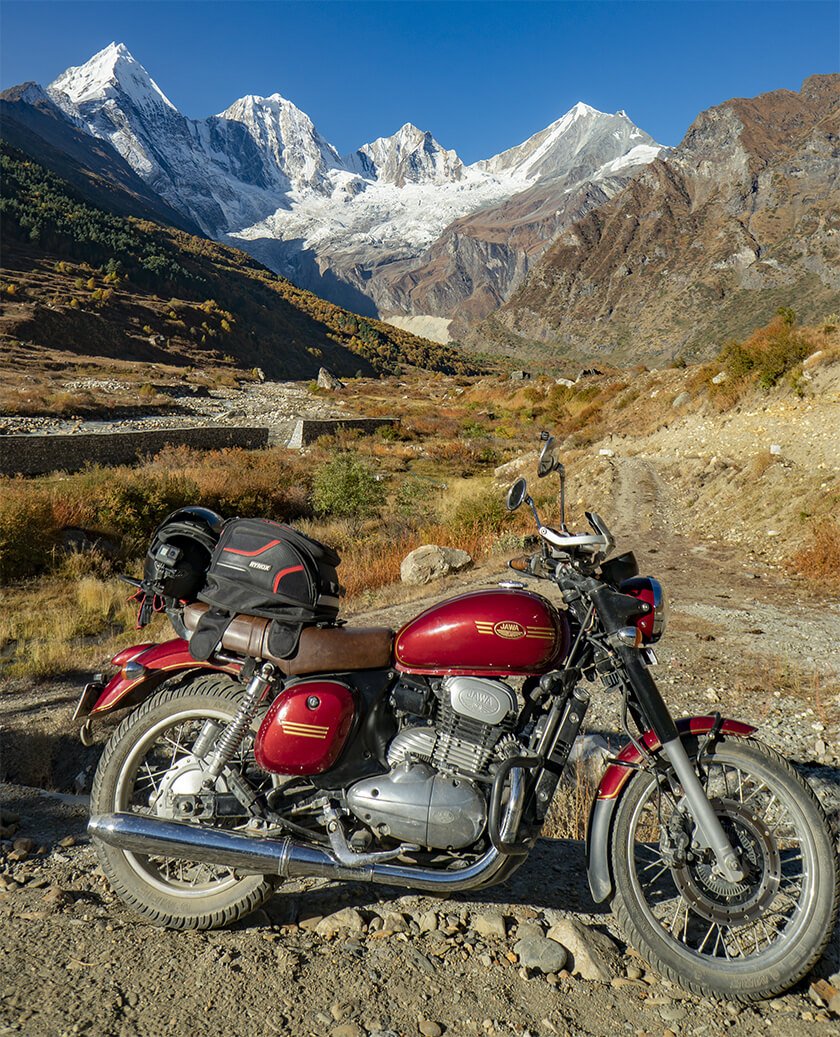 Does Panchachuli Base Camp Trek Require An ILP?
Not anymore. In 2016, I was required to get an ILP (Inner Line Permit) from the SDM in Dharchula, but in 2020 it wasn't needed. You need an ILP if you are going towards Om Parvat or Lipulekh Pass but not for Darma Valley.
If you are doing the entire loop (that takes your from Tawaghat to Panchachuli Base Camp to Kuti to Om Parvat to Gunji to Garbyang to Tawaghat, then you need an ILP. Getting an ILP is fairly easy. You write an application addressing 'SDM, Dharchula' mentioning your route map.
Attach one passport size photograph, write your personal details, and get it signed by the SDM.
The process involves no costs. The permission paper will be checked on the way, at respective ITBP camps.
Cost Of Travelling To Panchachuli Base Camp Trek
As I said above, it costs a set 1000 Rupees per night per person in all homestays in Dhatu and Dhuktu. Even if you bargain, you will save 100 or 200 Rupees per night at max. But this 1000 Rupee price includes all your meals and chai, which is pretty sweet.
Other than the fuel costs, add 1000 Rupees for your stay, dinner and the next day's breakfast. Add 500 on top for other miscellaneous costs. In about 1500 + Your Fuel Costs you can do a 2 day trip from Dharchula to Panchachuli Base Camp.
Shared cabs on this route charge about 500 Rupees per person per trip (1000 for the return journey).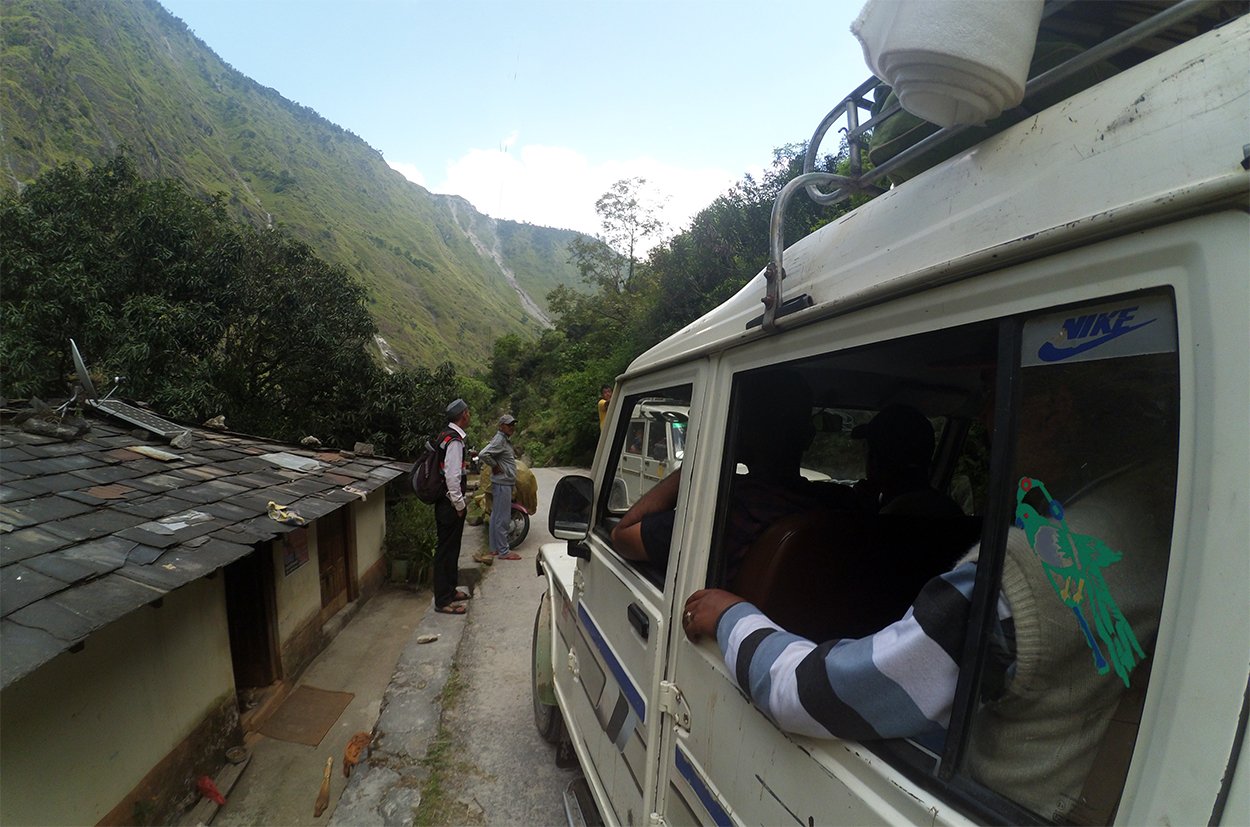 Food in Dhabas, around the area, costs 60 to 110 Rupees per thali, depending on what you eat.
You can also find guesthouses or homestays in other villages on the way like Nangling, Baling and Sobla. Some places have a dormitory too, charging 300 Rupees per person per night.
Again, if you are doing a 2-day return journey for Panchachuli Base Camp Trek (from Dharchula) your expenses should not exceed more than 2000 Rupees per person.
Dharchula to New Delhi is a 700 Rupees overnight bus journey.
How Much Did I Spend
In 2020: 350 for the fuel + 1000 for stay, dinner and breakfast in Dhatu Village + about 400 for other meals/chocolates etc. In total = less than 2000 Rupees for a round trip from Dharchula to Panchachuli base camp.
In 2016: I took 4 days to complete the journey and I did it solo and while camping all the nights (thus saving 100% on accommodation). Village Nangling turned out to be the first overnight destination for me where locals let me camp inside the PWD premise. In the process, a local family invited me to dinner.
The next two nights (in Dhuktu) saw a similar trend, where locals helped me find a perfect camping place and invited me for dinners and lunches. It turned out that in 4 days, I only paid for my meals twice. One, when I was in the taxi from Dharchula to Nagling; second when I was in the taxi from Nagling to Dharchula.  Darma valley surprised me for its hospitality. Throughout my Panchachuli Base Camp trek journey, I ate for free. Local guides showed me around, without accepting money.
Since I was carrying my tent, and mostly ate at local people's houses, I lived 4 days in less than 800 Rupees. 600, out of which, was paid for two taxi rides between Dharchula and Nagling.
All About My Previous Visit In 2016
As I said above, in 2016, BRO was still building the road in the area. Unlike in 2020 when the road has been built to Dhatu Village (2km from Panchachuli Base Camp) in 2016, it reached only to a village called Nangling (at least one day away from the base camp). Here's how it was had you planned a journey in 2016…
Off late, the road construction works in Darma Valley and the route to Panchachuli is going on very aggressively.

Starting from Sobla, the road has already connected the town of Nangling. Next is Baling and then Dhuktu. From Dhuktu Panchachuli Base Camp is an easy 1-hour trek.
Here's a rough Panchachuli base camp trek map: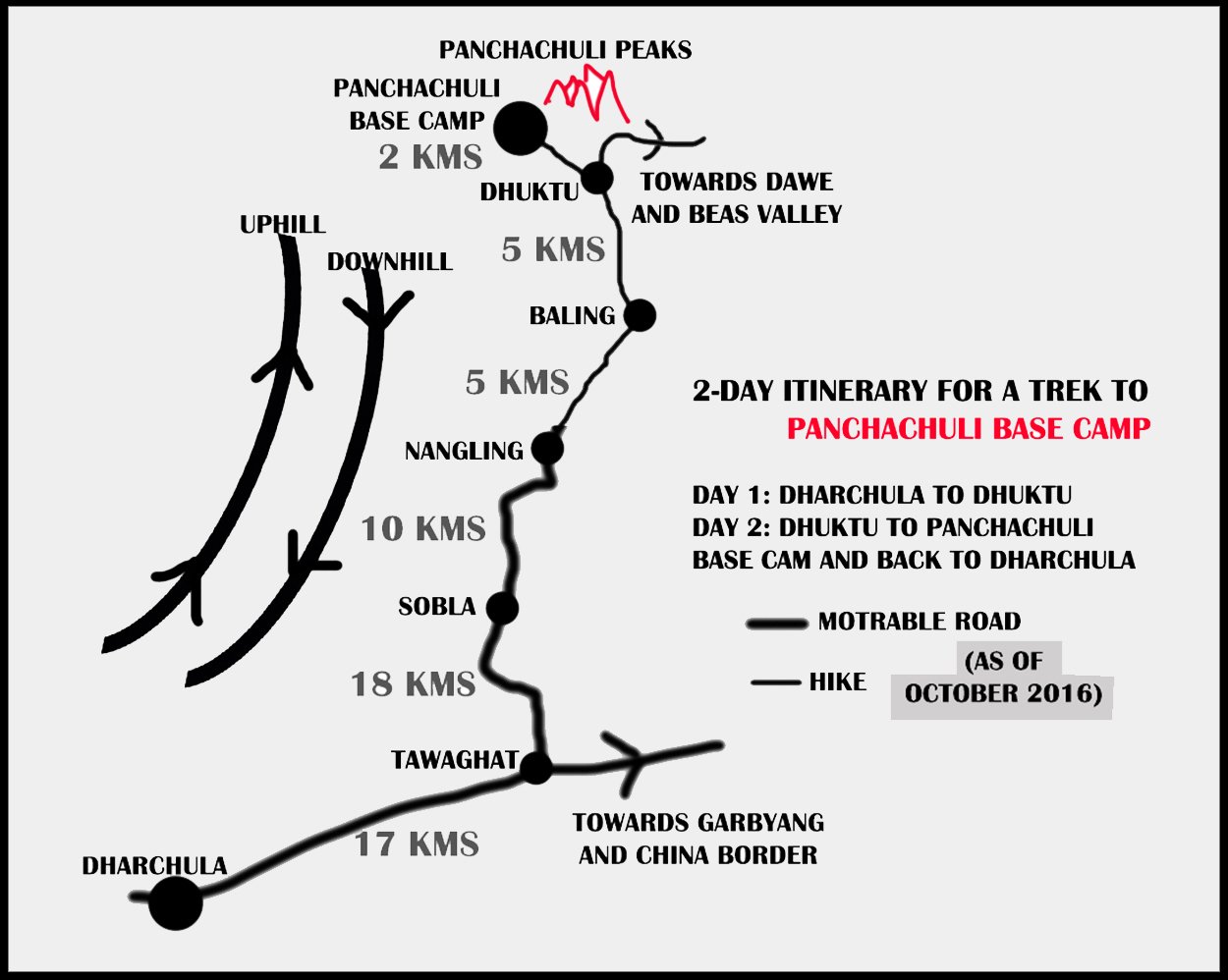 This was the status of the road when I did the trek in October 2016. Since 2020, you get the road all the way to Dhuktu and beyond.
As of October 2016, you need 4 days to complete the Panchahuli Base Camp trek (from Dharchula). This is how the itinerary looks like:
Day 1: Dharchula to Dhuktu or Dhatu
You start from Dharchula – the town where you obtain the permit from the local SGM-in-charge to access the route.
If you take an early morning taxi, you can reach the town of Nangling before lunch. Nangling to Dhuktu takes 3-4 hours, depending on how fast you walk. So even if you start your Panchachuli Base camp trek at 2 in the afternoon, from Nangling, you can reach Dhuktu before sunset.
You stay in Dhuktu for the night.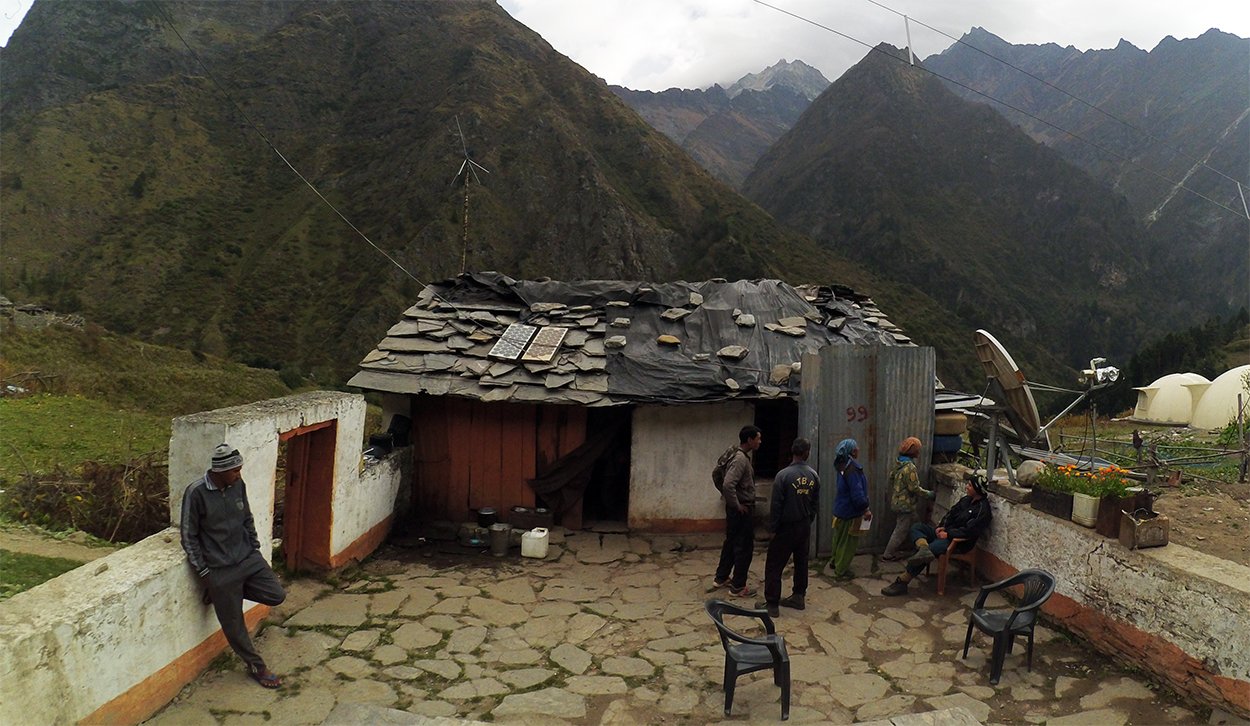 Day 2: Dhuktu To Panchachuli Base Camp
On day two, start early from Dhuktu towards the base camp. A 2-kilometer Panchachuli Base Camp trek (from Duktu) should take no more than 1 hour. Spend a couple of hours at the base camp and return to Dhuktu.
You can spend the day at Dhuktu or return to Nangling so that you can take the taxi to Dharchula the next morning.
Day 3: Return journey to Dharchula
Take the shared taxi to Dharchula (from Nangling) and you're done. Trek completed. A few good selfies, with Panchachuli peaks in the backdrop, safely obtained.
Another Beautiful Trek I Recommend: Sandakphu Singalila Trek On India-Nepal Border
If you have been planning to do Panchachuli Base Camp trek again and again and lack the motivation to actually do it, read these Inspiring Travel Quotes. Set them as your phone or computer wallpaper. These quotes will certainly keep you motivated!