Off late, the Pindari Glacier trek, in the Kumaon region in Uttarakhand, has picked up a lot of popularity. A massive glacier structure gauging over 3 km in length and 1km in breadth is attracting both serious trekkers as well as seasonal tourists.
During my recent one-month motorcycle trip across the Kumaon region (that also took me to Panchachuli Base Camp in Darma Valley, and the newly built Lipulekh Pass on Kailash Mansarovar Road) I ended up doing a part of Pindari Glacier Trek itinerary and gosh, I loved it.
From beautiful landscapes to the warmth of local people, Pindari Valley has become my new favorite.
Here's a video from my Youtube channel about the place…
Pindari Glacier Trek: A 5-Day Itinerary
Before I talk about my experience (which you can find later in this travel blog) and tell you all the reasons why I loved this place, let's get into practical details and talk about a suggested 5-day trek itinerary for Pindari Glacier Zero Point.
Think of Zero Point as the base-camp — the closest point to get the spectacular views of Pindari Glacier.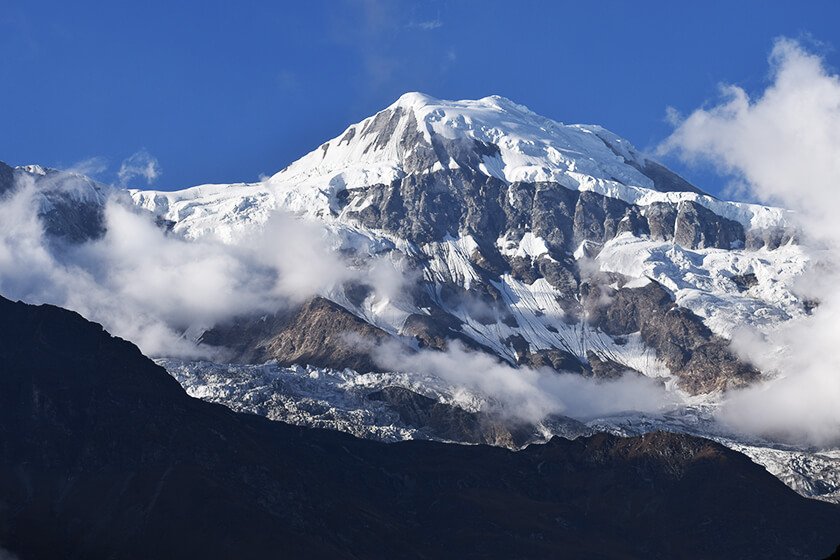 Please note that most itineraries on the internet suggest Loharkhet as the starting point for the Pindari Glacier trek, with Dhakuri being the first night's stay location.
Loharkhet was the starting point until 2019.
In 2020, another motorable road was constructed for a village called Kharkiya. It is, therefore, possible to reach Kharkiya (and avoid Loharkhet and Dhakuri) by road and save yourself one day or a total of 14km of the trek.
Here's a picture of the Pindari Valley trekking route (installed by Uttarakhand Tourism) before 2020. Since the road reached Kharkiya in 2020, it has no mentions of Kharkiya: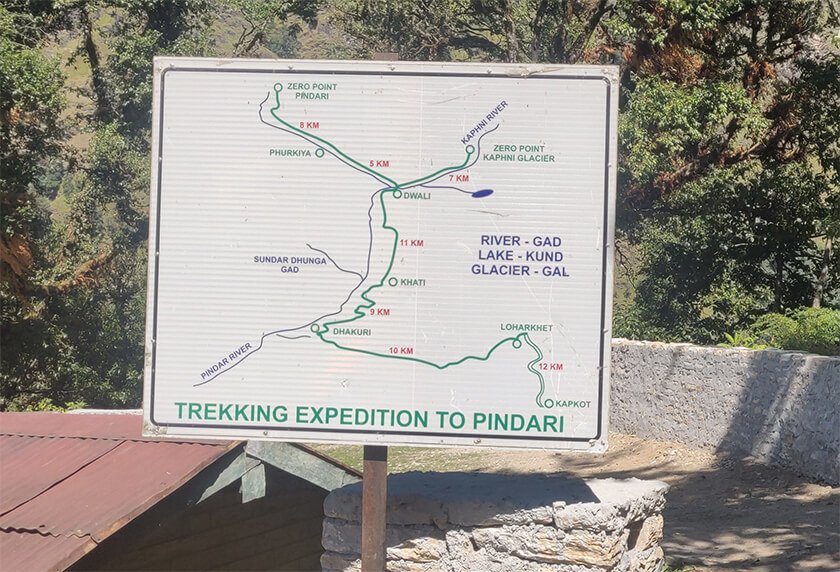 And here's how it will look if I will add Kharkiya village to the same map: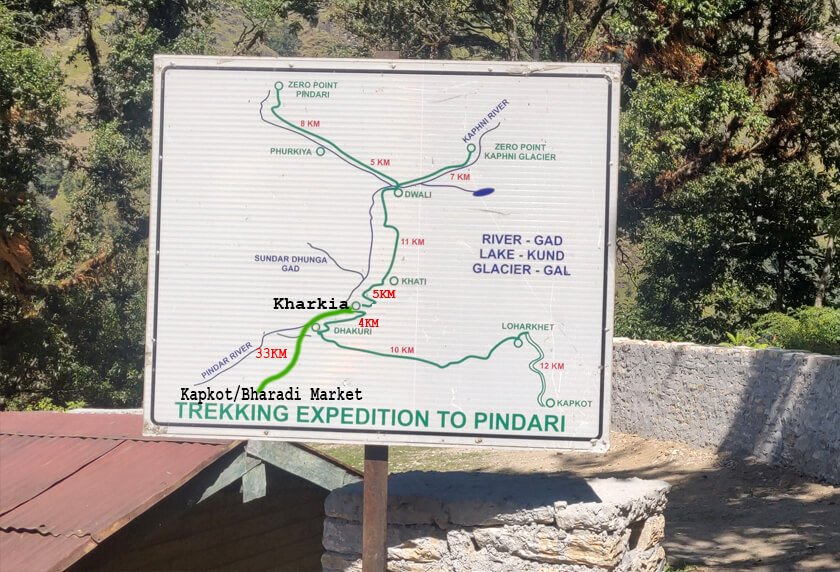 In the map above: Kapkot/Bharadi Market-Kharkiya (motorable road 33km) | Loharkhet-Dhakuri (10km trek) | Dhakuri-Kharkiya (4km trek) | Kharkiya to Khati (5km trek)
I visited Pindari Valley in October 2020.
Now let's get to the detailed itinerary…
Day 1: Kapkot-Kharkiya-Khati
Kapkot-Kharkiya (33km drive) | Kharkiya-Khati (5km trek)
The road to Pindari Valley bifurcates from Bharadi Market (in Bamsera) located 4km from the popular town of Kapkot. It is possible to Google Map Navigate for Kapkot and Bharadi Market.
From Bharadi, phone networks, Google Maps and other forms of technology start losing their significance. As of October 2020, only it was only BSNL that had a reception in Pindari Valley — that too for only calling. No internet!
As soon as you leave Bharadi Market, take the left turn (the other route that goes straight will take you to the older Pindari Glacier trekking route — one that starts from Loharkhet).
From Bharadi, kharkiya village (the last point on the motorable road) is only 33km. But it can take over 2 hours as the road is quite bad in shape. There will be a few water-crossings on the way too.
Please note that the road doesn't end in Kharkiya village but at an overbridge 2km further from the village.
There is no parking there. Moreover, the trek to Khati village starts from Kharkiya Village itself. So if you ended up at a dead-end return to Kharkiya to park your vehicle.
It is possible to find a room (for 200-500 Rupees for a double bed) in Kharkiya as well as Khati. If you managed to reach Kharkiya by 4 in the evening, I suggest you park your vehicle in Kharkiya and trek to Khati, as Khati is more picturesque.
If, however, you arrived in Kharkiya late or you feel tired to trek for an hour, make Kharkiya your base for the night. Kharkiya to Khati is a 5km (or one hour) trek.
Kharkia to Khati trekking route is pretty easy with no uphill or downhill. The entire 5km route is moreover well-maintained and well-marked with no chance of losing the trail (once you are on it).
There is ample space to park your car/motorcycle in Kharkiya. The parking is moreover free and safe.
Day 2: Khati-Dwali-Phurkia
Khati-Dwali (11km trek) | Dwali-Phurkia (5km trek)
Day 2 is when the real Pindari Glacier trek begins. Start early (as early as you can) from Khati and reach Dwali by afternoon. The trekking route is easy to identify with no chance of feeling directionless.
Khati to Dwali can be a little uphill at times though mostly flat. You will be walking alongside the Pindari River for pretty much the entire time. It can take up to 7 hours to trek from Khati to Dwali.
It is possible to find a TRC Guesthouse in Dwali (with beds available for 300-500 Rupees per person per night) as well as Phurkia for the same rate.
Dwali to Phurkia is when the valley starts widening and you start getting more picturesque 360-degree views. Comparatively, Dwali to Phurkia is a harder walk as you climb from 2600m above sea level in Dwali to 3200m above sea level in Phurkia (a whopping 600m climb within just 5 km).
It can take 3 to 4 hours to trek from Dwali to Phurkia.
Day 3: Phurkia-Zero Point-Phurkia
Phurkia-Zero Point (8km trek) Zero Point-Phurkia (8km trek)
Phurkia to Zero Point is again a little uphill where you climb from 3200m above sea level in Phurkia to nearly 3750m at the Zero Point in about 8km stretch. It can take as long as 4 to 5 hours to reach the Pindari Glacier Zero Point from Phurkia. On the way back, since it will be mostly downhill, you can do the same distance in 3 hours.
It is a good idea to reach Zero Point as early in the morning as possible to catch a good view. Starting at noon, the top of Pindari Glacier getting cloudy.
A few trekkers doing the Pindari Glacier trek itinerary also stay at Madtoli located (located 2km from Zero Point. No TRC guesthouse there but a massive campground) to reach the Pindari Glacier Zero Point early morning before sunrise. You will also find an Ashram located 1 km before the zero points. Unfortunately, it's not possible for big groups to stay in the Ashram. However, solo travellers are sometimes granted permission to stay in the Ashram.
Day 4: Phurkia-Dwali-Khati
Phurkia-Dwali (5km trek) | Dwali-Khati (11km trek) 
If you are a serious trekker, it's possible to do Phurkia to Dwali to Khati to Kharkia and back (in the night) all in one day because it's mostly downhill and complete the Pindari Glacier trek itinerary in 4 days rather than 5 days.
If not, head back to Khati (or Kharkiya) and spend a night there.
If you will be able to reach Kharkiya on Day 4, it will be possible for you to do Kharkiya to Dhakuri early morning on Day 5, before returning to Kapkot. Dhakuri is located at nearly 3000m above sea level and offers beautiful views of the Pindari Glacier and other peaks of the Nanda Devi Mountain range.
Day 5: Khati-Kharkiya-Kapkot & BACK
Khati-Kharkiya (5km trek) | Kharkiya-Kapkot (33km drive) 
Day 5 includes your return journey from Khati/Kharkia to Kapkot and back home.
Pindari Glacier Trek Costs
If you are going to join one of the paid Pindari Glacier tours, it is going to cost you somewhere between 7 to 15 thousand Rupees. Most of these paid trips start from Kathgodam, Almora and Bageshwar, and include everything — from transportation to stay to food to guide charges.
If, however, you are doing it on your own you can save heaps.
Let's imagine you are a group of 2 people and you hire a guide…
1000*3 days (hire a guide from Khati) = 3000 Rupees
500*5 nights*2 people (for stay) = 5000 Rupees (500 would be the max you will be charged. Most probably you will be staying for 300 Rupees per night).
150*3 times*2 people (meals) = 900 per day | 900*5 = 4500 Rupees (for food)
Total = 3000+5000+4500= 12500 in total | 12500/2 = 6,250 per person for the entire trip. This will be when you are not trying to save money during your Pindari Glacier trek itinerary and doing the trip lavishly.
Now…
It's not necessary to hire a guide as the route is well marked.
If you are travelling during offseason (as I did in October 2020 during COVID-19 you can find a room with a double bed for 200 Rupees).
If you are carrying your own tent, you can do camping everywhere and save 100 percent on stay.
What Is The Best Time For Pindari Glacier Trek?
The best time is between September and early November when the temperature is moderately cold and water-crossings (between Kaptkot and Kharkiya) and river-crossing (on the trek) are least fierce.
It is also possible to do Pindari Glacier trek in the months of May and June.
During winter heavy snowfall makes it too hard to access the Kapkot-Khakiya road. If, somehow you manage to reach Kharkiya and Khati, forget trekking anywhere beyond Khati.
Here's how it looks during winter (October vs February). The photo was taken somewhere between Kharkiya and Khati village…
Monsoon months of July and August are also not advisable to do Pindari Glacier trek.
Located in the upper Himalayas in the Kumaon division in Uttarakhand and on the southeast corner of Nanda Devi and Nanda Kot mountain ranges Pindari Glacier is the source of Pindari River. The river then submerges into Alaknanda River at Karnaprayag.
How To Reach Kharkiya: The Starting Point of The Trek
It is possible to reach Kharkiya on a motorcycle (as I did) as well as in a car. Most locals drive a Bolero as a Taxi so having a 4*4 is not necessary. Alternatively, you can find shared taxis from Bharadi Market to Kharkiya Village.
Shared Taxis take about 300 Rupees per person, which can go as much as 500 Rupees in peak-season.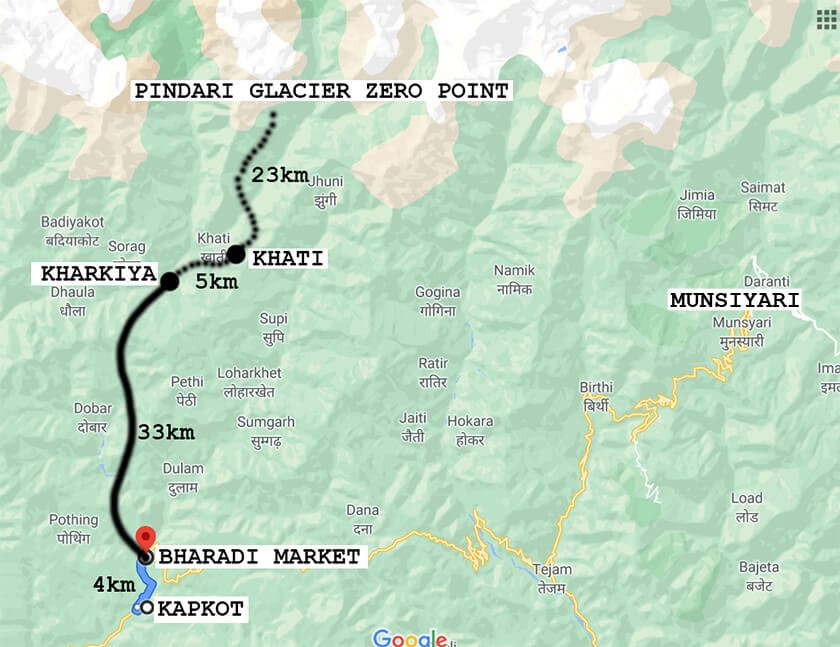 Is It Necessary To Hire A Guide For Pindari Glacier?
Not really. The entire route is quite well-marked. You will also keep meeting trekkers on the way to ask for directions. If, however, you want to hire a guide, I suggest you do it in village Khati.
Most guides take around 1000 Rupees per day (say, +- 300 Rupees depending upon the group size).
Which Phone Network Works In Pindari Valley?
During my visit in October 2020, it was only possible to do calling using BSNL network. Surfing the internet is a distant dream in Pindari Valley. There was absolutely no network for Airtel and Vodafone after Bharadi Market (near Kapkot).
There was also no electricity anywhere except for in Kharkiya Village. Khati had electricity line distributed but the power was not through. Most guesthouses (including the TRC and PWD) had solar charging points for charging mobile phones and cameras.
Local Contacts In Pindari Valley
Guesthouse in Kharkiya (where I stayed for 200 Rupees per night): 7579454356.
Anand Singh (Khati Village | Guide and Stay): 7579055116
Hira Singh Danu (PWD Guesthouse in Dhakuri): 9458116880
Hayat Singh (local Guide in Kharkiya): 9411759304
Other Popular Viewpoints
Since Dhakuri is now not on Pindari Glacier trekking route, most people miss visiting it. However, it still remains one of the most beautiful viewpoints in the entire area. From Dhakuri, you get to see Pindari Glacier, Panwali Dwar (6,683m) and Maiktoli peak (6,803m).
Other than Dhakuri, it is worth visiting Takuli Chilta (2km from Dhakuri) and Pongu Top (7 km from Khati Village). Pongu Top is a popular site to spot some wildlife too including the snow leopard.
It is possible to camp at Pongu Top as it's a big flat meadow or do a day trip from Khati to Pongu Top, and back!
That's all in this travel blog on Pindari Glacier trek itinerary. If you have more to add in this blog or you found any error in the information given above, please leave a comment below.
Got questions? Contact me on Instagram.