Located in Bageshwar District, Khati Village deserves more than just being the starting point of Pindari Glacier trek. It deserves to be a stand-alone tourist destination.
Out of all the villages I have explored in Uttarakhand — or the entire Indian Himalayan region perhaps — Khati happens to be one of my top favorites. From a picturesque locale to friendly locals to beautiful graffiti done across the village, there is a lot to see and plenty more to capture there than just the mountains.
Here's a video (from my youtube channel) for Khati and Dhakuri Pass, during my Pindari Valley tour. The video includes a few drone shots too, take a look…
To be honest, I never heard of Khati Village before I actually got there. I reached Kharkiya (the last village on the motorable road for Pindari Glacier trek) on a Friday afternoon and decided to make Kharkiya my home.
Had I known that less than 5 km or a 90 minutes walk, from Kharkiya, lies one of the most beautiful villages of Uttarakhand, I would have planned a separate trip for Khati altogether.
It took me less than 2 secs to fall in love with it. There were about 100 — all traditional-looking cobblestone-roofed — mudhouses adjacently placed to each other.
A few new-age guesthouses were, however, taking away the charm but they were so few in numbers that their spoiler was almost insignificant.
Most locals were moreover busy working in farms or dealing with village life in some way or the other.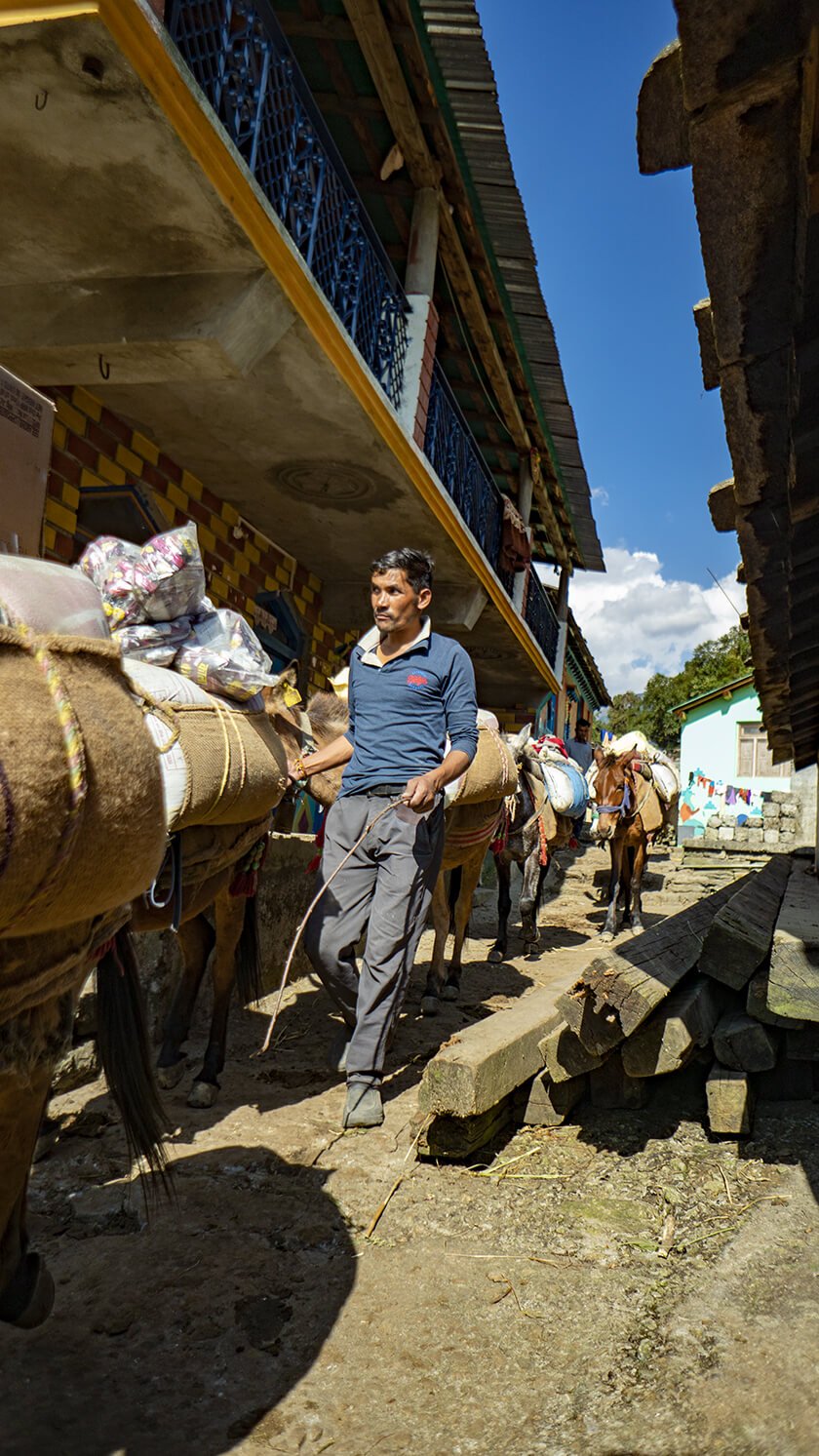 Relax, Unwind & Just Be
One of the reasons why I love the Himalayas is because of small-town destinations —  towns with a laidback vibe, meant to relax and unwind. Such places help me escape my maddening life in Delhi. Khati, for me, was one such destination.
Tucked away from any road connection, Khati was only accessed by tourists doing Pindari Glacier trek, most of whom don't stay there and only pass through.
There is no phone network in Khati except for BSNL — only capable enough for calling.
There is no electricity in the village and most houses are only equipped with a solar charging system. Sleep as it gets dark, wake-up to the chirping of birds, eat locally grown vegetables, stay away from technology and enjoy the bliss of nature — in Khati, there isn't much to do. Where this may be a problem for seasonal tourists, for slow travellers like me, it is luxury.
But that doesn't mean there isn't much to see and do around.
Here are a few things you can do during your holiday in Khati:
3-day trek to Pindari Glacier (and back)
One day trek to Dhakuri (and Kharmiyal Chilta)
One day trek to Pongu top and back. Pongu Top is a flat meadow about 7km uphill from the village. It is also possible to camp at Pongu top and return the next morning.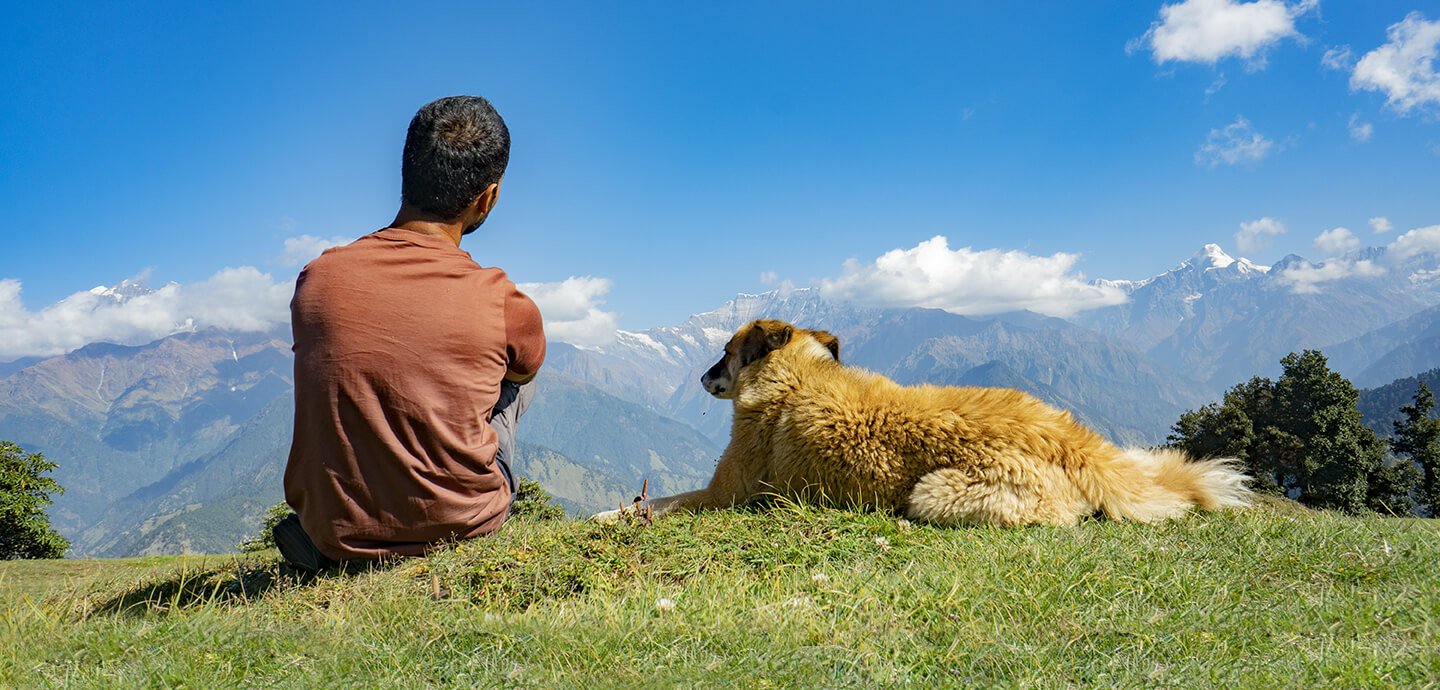 Graffiti Art
I was totally blown to see the impressive graffiti art done in Village Khati.
Though most people who come here often miss the street art, for an intrepid, it is rather a highlight. And adding to its charm is the local life that dwells around.
Most of the Street Art was the humble depictions of village life — the bridal carriage traditional palanquin, a group of women doing the daily chores, and so on and so forth. But with such simple interpretations, they have transformed what may seem like just another village in mountains in India into something totally spectacular.
If you are into graffiti street art, walking across the many peewee lanes of Khati village is certainly a thing to do.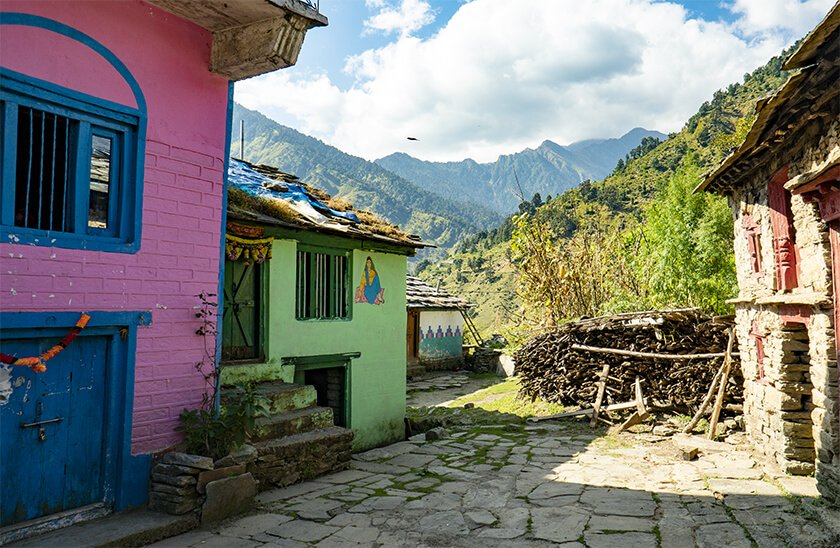 A Sad Truth
As they say, not everything in this world is perfect, if you're thinking Khati is exemplary, let me tell you that it's not.
During my visit in October, I found Khati becoming another Kasol (or Pindari Valley becoming another Parvati Valley in the Indian Himalayas). Wherever I went, locals were busy scraping hash out of intentionally-grown marijuana plants. From elderly women to kids (as young as 10 years old) were busy smoking and making quick-buck by selling hash to tourists. It was possible to get 10 grams for as less as 300 Rupees.
There was more hash in the valley than there were other crops combined together.
Though I understand that selling hash contributes to the income (even though it's illegal) if overdone, tourism in Pindari Valley can go in the wrong direction.
Pindari Valley is an adventure destination. It is known for camping and trekking. To make it a hippy oasis a bad idea.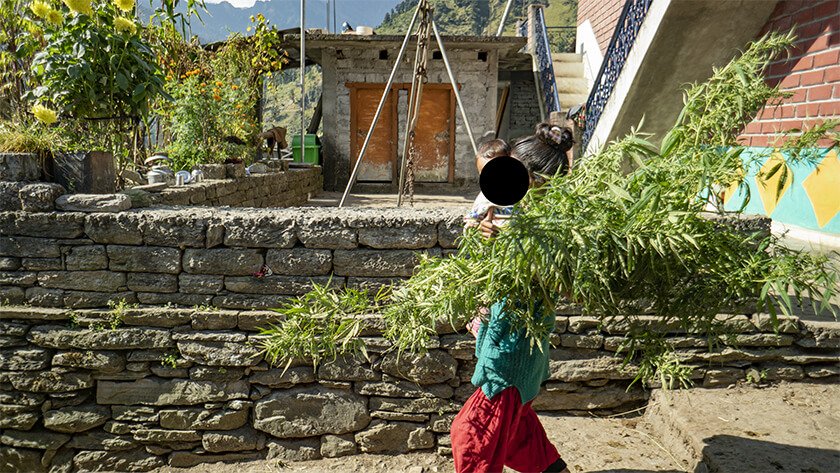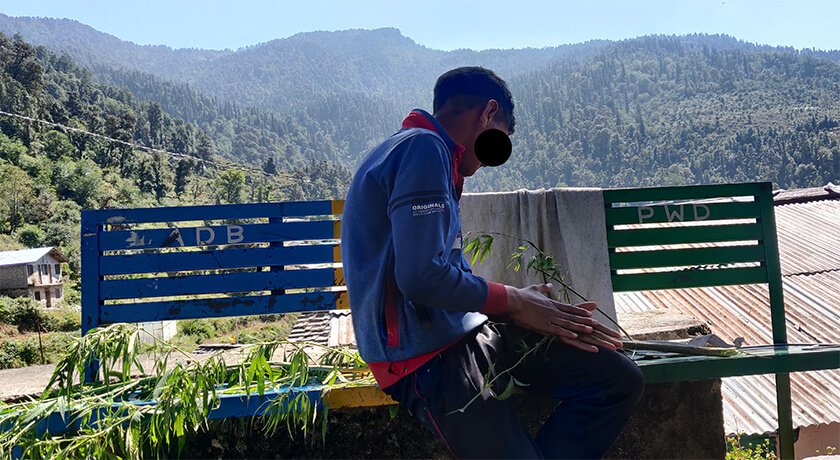 Useful Practical Information
By October 2020, there was no electricity in Khati. Though the distribution of electric lines is done the power wasn't though. Guesthouses and local homes rely on solar-power.
There is no phone network there either. If you are carrying Vodafone or Airtel, you are going to get the reception in Kapkot only. As soon as you take the left from Bharadi Market (and bifurcate Kapkot-Tejam-Munsiyari Road) you lose reception. In Pindari Valley, only BSNL works — that too, good enough for only calling. No 3G or 4G.
Most guesthouses in Khati charge about 300-500 Rupees per person per night — the basis of what time of the year you're visiting and how busy it is.
The best time to visit Khati village, and Pindari Valley at large, is the months of September, October, April, May and June.
If you want to enjoy snowfall, January-March is the best time, but it's possible that the road from Kapkot to Kharkiya is temporarily blocked. Here's a quick illustration of how it looks summer vs winter season:
To reach Khati in Public transport, you will have to travel until Bharadi Market (on Almora-Bageshwar-Munsiyari Road) on a bus or a shared taxi. From Bharadi, you will get shared taxis (no buses here) or a private cab to Kharkiya Village. Kharkiya to Khati is a short 1.5-hour trek.
It is possible to shop for basic toiletry and eatables like biscuits and snacks in the village but expect paying for a few Rupees on top of the MRP as whatever's available here was carried by ponies or ports (5 km trek from Kharkiya village — the last point on the motorable road).
There are no medical shops in Khati. Come prepared!
Also Read: Sethan Village, Near Manali: For Village Experience In Himachal
Got a question? Ask away in the comment section below, or write to me on Instagram (please follow me on Instagram too, think of it as my fee).