After spending a few nights in Jangalia Gaon, near Bhimtal and in Kesar Devi, in Almora, I decided to move to Binsar.
The original idea was to do camping in Binsar Wildlife Sanctuary. But since there were no campsites and neither it is allowed to camp on your own inside the national park I booked a place located right outside of the national park (but in the Binsar area) in a village called Kholsir.
Village Kholsir, near Binsar
Though located outside of the territory of Binsar Wildlife Sanctuary, it was not too far from it.
From the village of Kholsir, I could trek and reach Zero Point (in Binsar Wildlife Sanctuary) in less than 4 hours. From Almora, reaching Zero Point takes about the same time. Alternatively, one can travel from Kholsir in a car or a bike (followed by a short trek) and reach the zero point in less than 2 hours.
According to the locals, Kholsir is actually located in Binsar. "Think of it as the National Capital Region where New Delhi is the national park and Gurgaon or Noida is village Kholsir," I was told, repeatedly.
I was also told that it is still possible to spot the same wildlife in Kholsir as inside the national park — including some of the rare wildcats.
Kholsir offers a typical Kumaoni village experience, where most locals still rely on agriculture. From cereals including wheat and rice to vegetation including potatoes, cabbage and cucumber, everything can be found here. Mangoes make for the most widely grown fruit around.
Speaking of architecture, you will find a mix of old Kumaoni houses made of mud and cobblestone roofs and the boring new-age cemented ones with a flat rooftop terrace.
The only thing that makes the two-generation architecture resemble is the windows — painted either blue or green.
Also Read about Khati: A Quaint Village In Pindari
Camping In Binsar
I stayed at a place called Binsar Adventure Camp located in the village of Kholsir (45 km from Almora, or 38 km from Kesar Devi Temple). There is no other place to stay in Kholsir or in nearby villages.
It was an adventure campsite with big-sized tents (about 10 of them) housing three beds and a few charging points. The tents, on their own, were no attraction but the common area including indoor games like Table-tennis, a Snooker table, Chess and other games certainly was.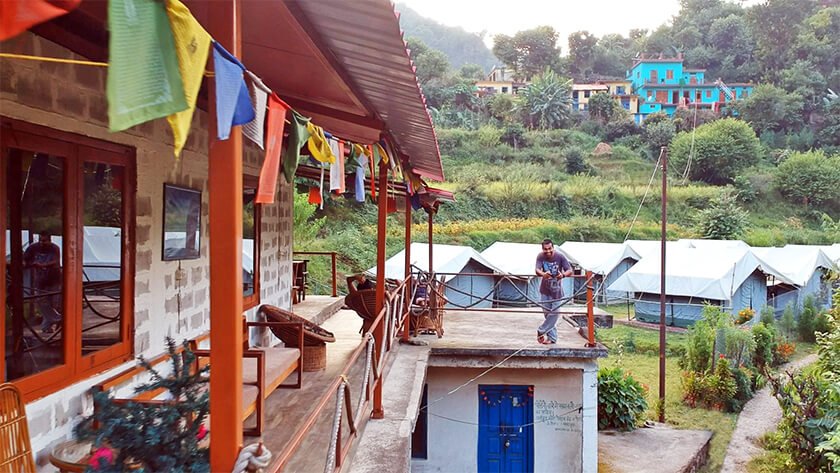 Ideal for big corporate-groups and families seeking a relaxing adventure together, what I loved about the place was the price point. You can check their website for more details about the place.
Binsar Adventure Camp also organises trekking and local-sightseeing experiences.
What To See And Do Around
Other than the camping in Binsar experience there are a few other activities.
Trek To Binsar Zero Point
The Zero Point gives you an impressive 360-degree panoramic view of the surrounding Almora and the distant snow-capped Himalayas. On a good day, it is possible to spot the Panchachuli Peaks and the Pindari Glacier at a distance. The best time to visit is early morning (before sunrise) or in the evening when the light is very soft.
If you happen to visit Binsar Zero Point during the day (as I happened to) you won't see a thing.
According to locals, and the internet, between October and March, is the best time to visit Binsar.
Binsar Waterfall
I won't call it one of the best waterfalls I have seen in the Himalayas but it was certainly worth a short 45 min trek from the campsite. The trek goes along a water-stream into the Binsar Wildlife Sanctuary.
It is possible to take a shower in the waterfall.
Continue further from Binsar waterfall and you can reach the zero point.
Village Raikholi
Since Kholsir village is located deep inside a valley you don't get a direct view of the snow-capped Himalayas as you do from Binsar Zero point. Here's how it looks from Binsar Adventure Camp where you will be staying:
Having said that, for the snow-capped panoramic view, you will have to either visit the zero point in Binsar or village Raikholi.
At 15 km from Kholsir, Raikholi is a mid-point between Almora and Kapkot.
Since Raikholi is located closer to Panchahulu and Nanda Devi Glacier than Almora, you get an even better view of the snow-capped mountains than you do from Kesar Devi in Almora or the Zero Point in Binsar.
Here's how it looks on the map:
Again, the chances of spotting the snow-capped Himalayas at a distance depend on the condition of the light. Visit early morning (before sunrise) or in the evening for a better view.
When I visited Raikholi (in the month of October at 10 in the morning) it was very hazy for a good view. But since Raikholi is perched on a hill-top I still decided to put my tree-hanging flying tent and enjoy being on top of the hill with panoramic views for some time.
Enjoy Village Life
For slow-travellers, enjoying the laidback vibe of village Kholsir can be of great interest. Watch locals sharing smiles and shouting conversations from one rooftop to the other.
It is possible that locals may feel a little reluctant to speak to tourists but that will be out of pure shyness. During my 3 nights of camping in Binsar, in village Kholsir, I happened to explore a few villages wherever I went I was welcomed with inviting smiles.
Other than a good company and a fusion of old and new-age architecture, you get a river flowing right through the valley called Baigadh river. Baigadh is the lifeline of village Kholsir and an attraction for tourists doing camping in Binsar.
Conversations And Bonfire
And last but not the least, if you are a slow-traveller, just like I am, of great interest while camping in Binsar is enjoying interesting and lively conversations over the bonfire.
Camping In Binsar: A Three Day Itinerary From Delhi
Here's my suggested three-day itinerary for you Binsar Camping trip in Binsar, in village Kholsir:
Day 1: Leave Delhi early in the morning and reach Binsar by the noon. Spend the day at Kesar Devi, enjoy the sunset at the ridge near Kesar Devi temple. Leave for Binsar Adventure Camp, in Kholsir, after sunset. From Kesar Devi, it takes less than 2 hours.
Day 2: Trek to Binsar Waterfall. Either spend the day there or trek further to Binsar Zero Point. Please note that the trek can be a little challenging (not the terrain but the amount of effort it can take) for most tourists.
Day 3: Visit Raikholi for sunrise. Return to Binsar Adventure Camp for breakfast, and spend the day relaxing and lazying around.
Start your journey from Binsar to Delhi later in the evening.
If you have more days to spare, I suggest you spend a day at Naikana Village in Jageshwar.