Before I go ahead and we discuss the topic of camping in Manali, I want to announce that I now run 2 properties in Manali: FootlooseCamps Hamta (setup including a traditional Himachali Mudhouse, a few luxury tents and three Geodesic Domes with Jacuzzi & infinity hot pool) and FootlooseCamps 2.0 The Homestay (with three attached bathrooms for long stays). Both places are located within 8km from Mall Road with views like 99% of hotels fail to offer. For booking, WhatsApp/Call 8800763430.
Check below, the Instagram Drone Shot for FootlooseCamps Hamta and a Youtube Video for FootlooseCamps 2.0 The Homestay…
View this post on Instagram
For booking, WhatsApp/Call 8800763430. Now, let's continue with the topic at hand…
---
Planning for Camping in Manali? Here are 6 offbeat places in under 25km that are ideal for the experience. All these locations promise a more raw, real and memorable experience. Rather than booking a group tour or someplace online, head to one of these suggested places and try camping on your own.
At all the places mentioned in this travel blog, you don't need to book a place. Just carry a tent, find a good spot and camp on your own.
Though you can find some commercial campsites too for a more holiday-life experience, if you want to make it more adventurous, just carry a tent, find a flat spot and do camping in Manali on your own.

Now, let's get started with how I ended up at each place and why I recommend them…
Camping in Manali
I remember I first visited Manali some 5 years ago. Dreading the summer heat in Delhi and wanting a quick escape. At 2000m above sea level, life indeed feels a lot more pleasant.
But in Manali, it's not just the weather that stays pleasant throughout the year (below 30 degrees even during the warmest summer days) but the experiences are always great too. Other than camping, there are enough things to do in Manali.
In about a 30 km radius, you have Buddhist monasteries to visit, and adventure activities like paragliding and river-rafting to try. It also has some of the highest motorable passes, crazy shopping centers and nature parks to explore. And if you're still not sure, you always have warm Himachali hospitality to make it up to you. But among all, I can't suggest more for any experience than trying camping in Manali.
As I said above, there are various travel companies offering Manali Camping tour packages, but I don't recommend them as they offer a very unreal and staged experience. Rather, try something on your own.
And speaking of some ideal places for group and solo camping, here is a list of my top 6 handpicked places…
Sethan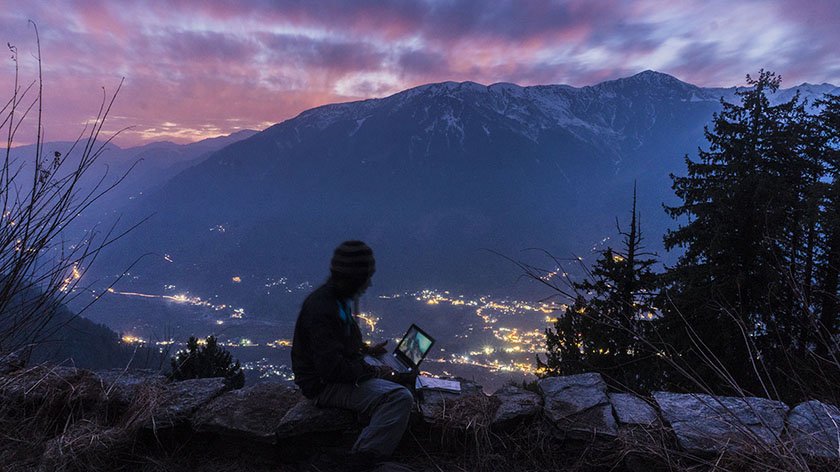 Located 15 km from Manali, Sethan offers a quick escape from big crowds. It promises a relaxing time in the company of a bunch of friendly Buddhists.
The natural vistas in Sethan are moreover unworldly, especially after sunset, as the Kullu Valley, a few hundred feet below, starts shimmering. Sethan is moreover an ideal place for learning snowboarding and skiing in the Himalayas. And when it comes to camping in Manali, Sethan, of course, remains my top favorite.
---
Note: Below, you will find me promoting my own campsite. But I want to assure you that in Sethan too you can carry your own tent and camp on your own, without a compulsion to book a place. Of course, a self-planned experience feels less hassling, but it's more adventurous. Now, let's read ahead…
---
In Sethan, I can suggest my own campsite FootlooseCamps. I started FootlooseCamps after travelling across the Himalayas and shortlisting this place to open my first hospitality venture.
If you do not know, I am a full-time travel blogger who quit his corporate career in England, moved to India in 2016 and started this blog. Since then, I've only been travelling and writing about my journeys. You can read more about it here: my Travel Blogging Journey
So yea, after exploring pretty much every corner in Himachal Pradesh, I chose Sethan to open my first camping in Manali venture (I've plans to open at more locations). Needless to say, there must be something special about the place.
You can find more about Footloosecamps on our website as well as see some photos and reviews on FootlooseCamp's Instagram page.
Here's another article I've written for more details: Camping in Sethan.
Village Soyal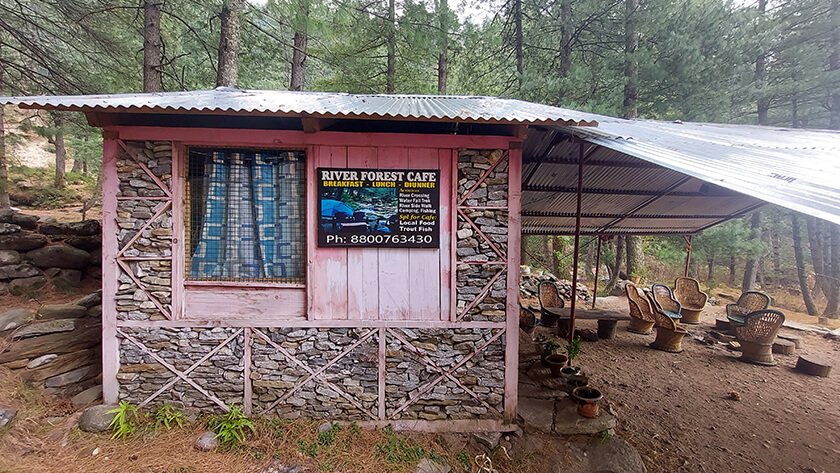 When I was looking for a place to start my first hospitality venture, and before I chose Sethan, I visited Soyal Village too (also spelt as village Soil). For some reason, I chose Sethan.
Located less than 15 km from Manali (towards Kullu, on Naggar Road) Soyal Village is meant for those who enjoy staying away from the tourist trail. Here you will find a glacier water stream surrounded by forest and a few cafes to satiate your tastebuds. It is possible to do a day trip from Manali to village soil or camp and stay overnight.
The camping site is located 1km outside of the village ensuring a peaceful me-time and is big enough for at least a few dozen people to sleep together.
Solang Valley

How does spending a night surrounded by lush green meadows and beautiful mountains sound? Lovely, isn't it? Located approximately 12 km away, Solang Valley offers one of the best places for camping in Manali.
And if you're into adventure activities, Solang Valley has a lot of thrill and adrenaline rush to offer, with activities like zorbing, paragliding, trekking, and ATV rides.
There are many flat surfaces around Solang Valley where you can pitch your tent and enjoy a camping experience. Though Solang Valley, just like other places in Manali has got a little crowded in recent years, it is not hard to find a piece of land for yourself.
So yea, stop thinking and go for it. Because at 2400 meters above sea level, a camping experience feels exhilarating to another level.
River Beas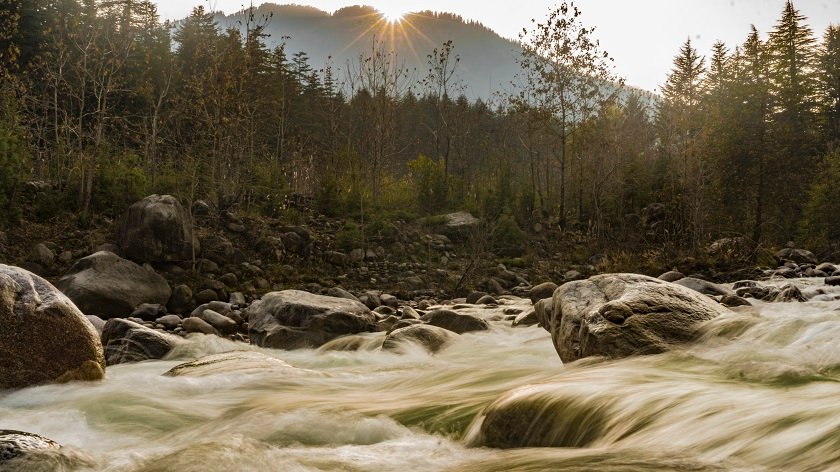 If you love the sound of the gushing river, then camping near the Beas River would be an amazing experience.
You can find Beas flowing all the way from Rohtang Pass to Kullu, but the best patch for some camping experience is near Manali. Just keep driving next to River Bear for about 20km distance from the main town of Manali and find a flat surface that looks good to you.
To give you a suggestion, however, ask anyone for an Indian Oil petrol station between Manali Bridge and Vashishth. Right opposite the petrol station, across the street, you can find a big flat river bed to camp.
Stretching for about 470 kilometres, the Beas River is one of the best places for riverside camping in Manali.
Hallan Valley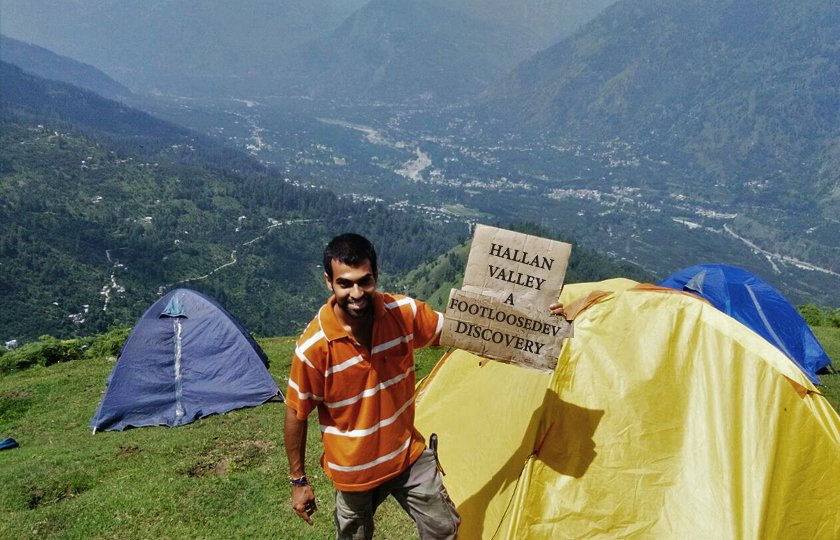 Anyone who loves nature and peaceful serene places must visit this beautiful Hallan Valley. It is located about 25 km from the bus station in Manali.
This picturesque valley, which also happens to be one of the tiniest valleys in Himachal Pradesh offers spectacular views of the Kullu Valley and thus makes it to the list of camping in Manali experience.
You can also hire a bike and do a day trip to Hallan Valley. Riding all the way to the end of Hallan Valley and back, while catching glimpses of some beautiful apple orchards, makes for a lovely experience.
Hallan Valley is also soon to get Asia's largest zip line. So whatever your style of travelling is just chill by soaking in the natural beauty or indulging in some adventure-action Hallan Valley is a perfect getaway.
Just carry your tent to Hallan Valley (if you've your own vehicle it's even better) and you should have no problem finding a good camping spot.
Fojal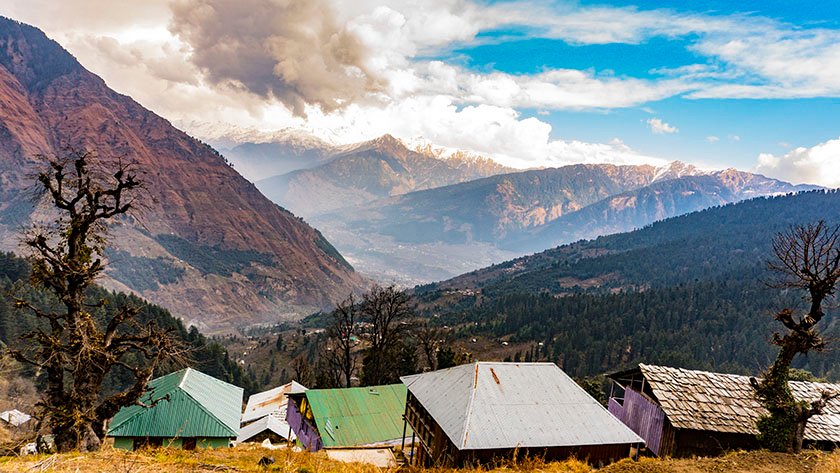 About 5km from the Dhobi Paragliding site, and about halfway between Kullu and Manali lies the beautiful Fojal Valley.
From its placement Fojal certainly appears as someplace where tourists would want to spend a few relaxing nights, avoiding the crowded parts of Manali.
And then, Fojal is a popular paragliding site too (known as Dhobi Paragliding site). Yet there are no guesthouses around. Those who visit Fojal Valley, do only a day trip, try paragliding, and head back to where they came from. This guarantees a peaceful location for camping in Manali.
There's not much for a regular tourist to see and do in Fojal Valley, except for just trying paragliding and a bit of trekking during summer. But for an intrepid, and for those who appreciate the idea of slow travel, Fojal Valley is a perfect place for relaxing and soaking in the laidback Himachali life.
Village Nayalag & Kasheri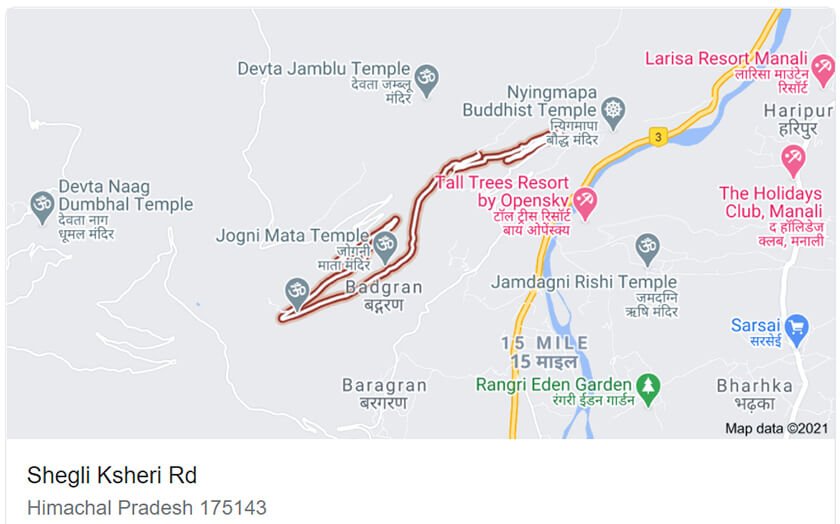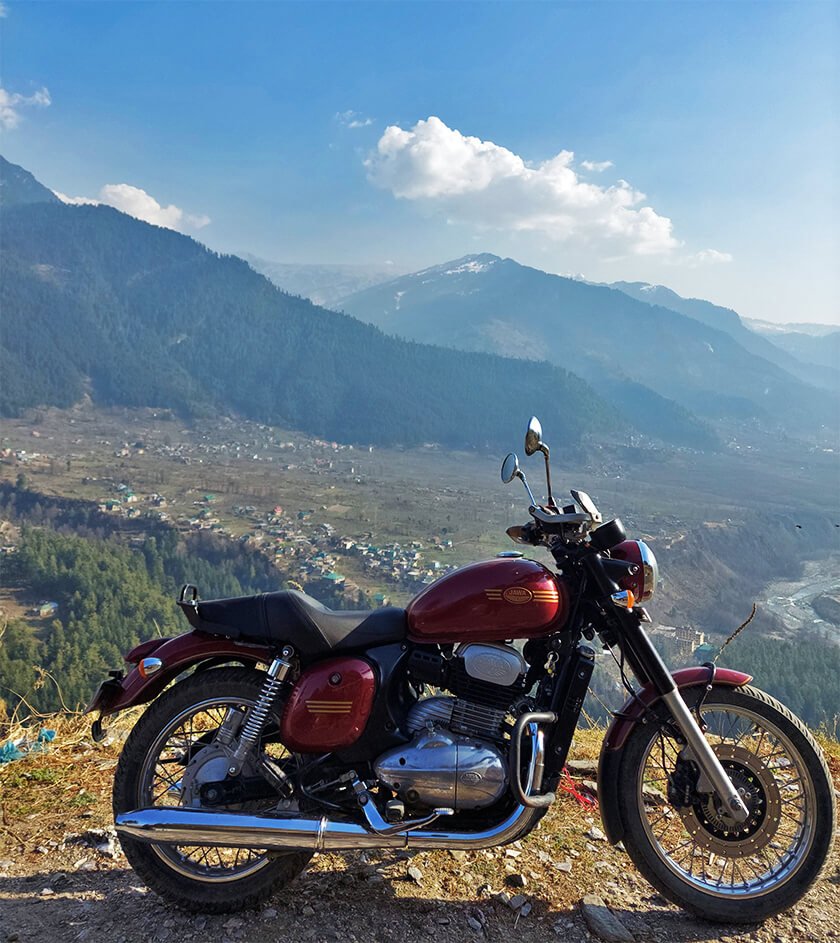 For me, Nayalag & Kasheri offer some of the most beautiful views of the adjoining Kullu Valley. About 13 km from Nayalag (and on the way) also lies one of Manali's most offbeat Buddhist monasteries called Nyingmapa Pangan Monastery.
There are quite a few flat meadows as well as dense jungles near Kasheri village to try a camping experience in Manali.
Please note that it is not possible to camp there (and most other places around Manali) in winter because of the cold. The best time to do so is in summer and autumn.
Other Forms of Stay In Manali
If you are looking for a more traditional setup, I recommend you check out aggregator websites like booking.com and Hostelworld, among other options.
They have thousands of places with different setups like that of a homestay, a hostel and or a budget/luxury hotel.  Various parameters like SORT BY BUDGET, DISTANCE FROM THE CITY CENTER moreover help you choose a place that best suits your needs.
Another useful platform I've recently come across is cozycozy which compares all available accommodation types (like hotel, b&b, villas, boats, chalets, etc.). It is especially useful for last-minute reservations, as it receives accommodation offers from more than 100 sites and offers you the available ones.
Tips For Camping In Manali
The best time for camping is between April and July and between September and October.
In general, you don't need any prior permission to do camping, but it's always a good idea to ask local people as the land you're pitching your tent may belong to them.
Always carry insect repellants and other necessary gear.
It's possible to do solo camping too. I've explored all the locations mentioned above while travelling solo.
If, however, you are still thinking about whether to do camping or stay in a hotel or a hostel, check this 'best hostels in Manali blog' and make up your mind.
How To Travel Manali
By Bus
The best way to travel to Manali is by bus. There are regular buses from Delhi and Chandigarh that take around 14 hours (from Delhi) and run overnight.
For Delhi to Manali, I suggest you use the HRTC website and book a Himachal Roadways bus. They run right on time. Most HRTC buses from Delhi to Manali run overnight and start from Delhi after 4 pm. These HRTC buses moreover drop you right inside Manali's main town. They cost around 700-1500 Rupees the basis on which bus type you're travelling with luxury or ordinary.
There are many private buses to Manali too but they have no time schedule. Most private buses also don't drop you inside Manali but 2 km outside of it at a private Manali bus station.
By Flight
The nearest airport to Manali is in Bhuntar. But flights to Bhuntar are often very expensive and run only from Delhi. So the best way is to book a flight to Chandigarh and travel from Chandigarh to Manali on an overnight bus.
If, however, you are flying all the way to Bhuntar, then be known that Bhuntar is 4 hours drive away from Manali. You can take a taxi from Bhuntar to Manali or catch a local bus.
By Self-Drive
It is also possible to do a road trip from Delhi/Chandigarh to Manali. If you're travelling from Delhi, take NH44 to Chandigarh. It takes about 4 hours and some 300 Rupees of toll taxes.
After Chandigarh, there are no toll taxes but just a green tax booth where you need to pay duty for bringing your car into Himachal. There is no green tax or toll tax for motorcycles. Now, from Chandigarh, Manali is about 9 hours away. Currently, highway work is going on so you may find rough patches at many places.
Though I have written this detailed blog, I actually do not recommend Manali. And this is for many reasons: it is crowded, mainstream and there are better places around like Bir, Palampur and more. I have written this blog on why I hate Delhi to Manali trip stating more reasons. You can also read these offbeat places in the Manali blog for more suggestions nearby.
If you found this post on the best places for camping in Manali useful or if you have a better recommendation than all the places mentioned above, please share it in the comments below.