For people in Delhi & Chandigarh, Himachal is a popular destination, with Delhi to Manali being the most popular route.
Update 2023: We had continuous flash floods and cloudbursts in Manali since July 9th 2023. The route is temporarily shut down (until October). Watch the video below…
I also run two properties near Manali (away from the Main-Town Crowd). Both properties represent tradtional Himachali Architecture. Visit the Instagram Page for photos and know more.

View this post on Instagram

For booking, WhatsApp/Call 8800763430. Now, let's continue with the topic at hand…
Every weekend, thousands of people travel to this destination. While some do a road-trip, others travel by bus.
The first time I travelled on this route, I was in college. We hired a taxi and did a road trip. This was in 2009. Back then, the route was no less heaven. Except for between Delhi and Chandigarh, there was no trace of a highway and the thrill of driving on Delhi to Manali road was different. It was more real.
But time has changed now. Where on one side, highways have made journeys boring in the Himalayas, overtourism has deprived places of their small-town charm — making it a lost deal in every aspect.
Had you asked me about my take on Delhi to Manali 10 years ago, I would have encouraged you. Today, my words are going to sound rather discouraging.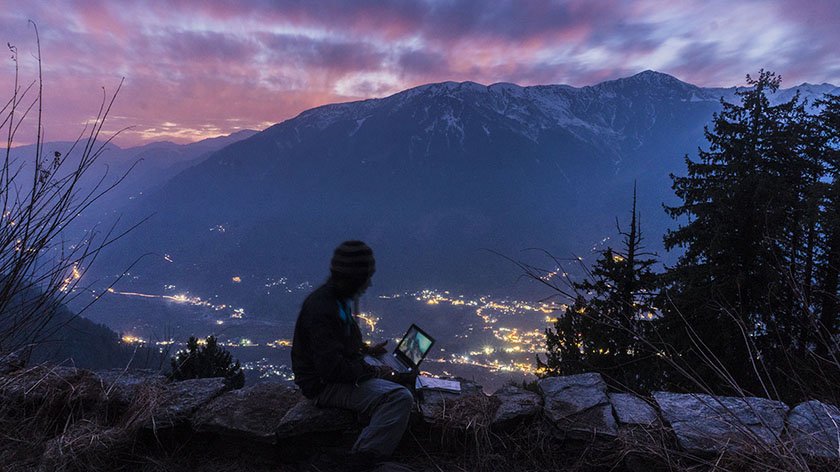 But before we go further and I talk more about it, let's discuss…
Why You Should Listen To Me
My name is Dev and I am a full-time travel blogger from New Delhi. I quit my corporate career in England in 2016 & since then I have only been travelling around India and writing this blog.
In 2018, I started a business for camping in Sethan (15km from Manali bus station) and since then, I have been travelling from Delhi to Manali at least once every month.
I have, in fact, travelled so much on this route that I can count you the total potholes.
From when is the peak tourist season to what people prefer to do during their holiday in Manali, I know it all. I studied this route to use the knowledge in growing my business and let me tell you what… a Delhi to Manali holiday is a bad idea.
Delhi to Manali
How about I give you the top 3 reasons (I have more) to not travel this way…
Construction work on Manali Highway
Currently, the Manali highway is undergoing construction work to make it a 6-lane highway.
Starting Chandigarh all the way to Manali, you are going to see continuous road-work going on. Having said that, there is literally no Himalayan-Road charm left on this route. I will suggest better alternatives later in the article.
The last time I travelled from Delhi to Manali, was right before the coronavirus lockdown in March 2020. I was on a motorcycle and hated it. There was absolutely no green patch and more dust on the road than there is in New Delhi. The traffic was also very bad, with at least 2 hours of traffic jams near Aut tunnel.
Also Read: How To Plan a Trip From Manali to Atal Tunnel
Is Manali Overcrowded?
Manali has become a popular destination. According to this article on TOI, Manali got nearly 40 Lakh tourists in 2017 (consider more numbers in 2018 and 2019). Now compare this number with Himachal Pradesh's total number of tourists in 2019, that according to this report was nearly 1.70 crore.
In simple words, nearly one-quarter of the total tourists who visit Himachal go to Manali. Imagine that!
And this number talks only about Manali. There are more tourist places on Delhi to Manali route which contributes to more traffic on this route.
Here are two videos I have made on my Youtube channel while travelling to other famous tourist destinations in Himachal Pradesh:
Alternate Destinations To Manali
Another reason to not do this route is that you can find better holiday destinations that are much closer.
Delhi to Manali is nearly 12 hours and 30 minutes drive (with no traffic).
Now, compare this route with a few other tourist places in Himachal Pradesh, that happen to be popular places to visit near Delhi…
Delhi to Palampur: 9 hours
Delhi to Tirthan Valley: 10 hours
Delhi to Dharamshala: 9 hours
Delhi to Bir: 10 hours
Delhi to Kufri: 7 hours
Delhi to Chanshal Pass: 12 hours
If you want, we have offbeat destinations like Naldehra, Kotkhai, Tatapani, Shoja, Jibhi and at least 50 more places. If this doesn't suffice, I can count you 100 more from Delhi to somewhere in Uttarakhand.
I mean we travel to have a good experience, but if we are going to a place where the road is bad, traffic is mental, the distance is long and Overtourism is spoiling all local experiences, then what's the point of going there in the first place?
So yea, I discourage you from traveling from Delhi to Manali.
But if you still want to travel, read this offbeat Manali road trip guide where I explored two very offbeat places near Manali.
This was me discouraging you to travel from Delhi to Manali. But you're still going there, let me help you with some practical information.
For someone travelling from Delhi, taking a train or a flight makes no sense. Flight because there is no airport in Manali. The nearest airport is in Bhuntar, which is again 4 hours away from Manali's main town.
Taking a train also makes no sense because you can only travel to Chandigarh. After Chandigarh, you will have to either take a bus or hire a taxi. This leaves us with two options: bus and self-drive.
Let's discuss them both…
Delhi to Manali Bus
If you're travelling by bus you will be happy to know that there are hundreds of daily buses for this route. And most of them run overnight.
Since the distance is almost 14 hours, it makes sense you catch a bus sometime between 5 pm to 9 pm so that you each early to late morning.
There are two bus boarding points: Kashmere Gate and Majnu ka Tila. Kashmere Gate is for government Himachal Roadways buses. Majnu ka tile is for private buses. I suggest you take the government HRTC bus because they have very good connectivity and they always run on time.
If you take a government bus, you are moreover dropped right on Mall Road in Manali. The private bus stop, on the other hand, is located 2 km outside of the city. You can book a Himachal Roadway bus using this website. There are three types of Himachal Roadways buses: Ordinary, semi-luxury and Volvo. Check the website for updated prices.
Now, the reason why people sometimes still avoid Delhi to Manali HRTC bus and take a private one is that they are cheaper. An HRTC Volvo takes almost 1600 Rupees, whereas a private Volvo takes around 800 or 900 Rupees. If you are travelling with private Volvo, I suggest you check their price on PayTm bus booking portal.
Delhi To Manali Self-Drive
Another way to travel, of course, is in a self-driven car. You can also book a taxi, like an ola-outstation if you want.
Speaking of self-drive, you can Google navigate is all the way. As per Google, the route takes 12 hours when there is no traffic, but that's highly unlikely. I have, throughout my 100+ trips, never made it in 12 hours. You are most likely to find traffic in Delhi, Chandigarh, Swarghat, Mandi, Kullu, and Bhuntar.
Take NH44 between Delhi and Chandigarh. It takes about 4 hours and some 300 Rupees worth of toll taxes to Chandigarh.
After Chandigarh, there are no toll taxes but just a green tax booth where you need to pay duty for bringing your car into Himachal. There is no green tax or toll tax for motorcycles. Now, from Chandigarh, Manali is about 9 hours away. Currently, highway work is going on so you may find rough patches in many places.
Best Time To Visit
Except for the monsoon, you can do a Delhi to Manali trip any time of the year. Think of what you want to travel for.
December-February: If you want to see snow, visit between December and February. Sometimes it is hard to find snow there, but if you visit any nearby town like Sethan or Solang Valley, you can find enough snow around.
March-April & September-November: Other than snow months, March to April and September to November makes for a good time to visit if you want to do some camping in Manali or perhaps do a trek nearby. These months make for a good offbeat season too. Most people also visit this time to escape the heat in Delhi.
May-June: May and June are also good months, in terms of weather, but they are also peak-tourist months. I will never visit Manali during those months and rather go someplace else.
July-August: The monsoon months of July and August are not advised to visit any place in Himachal Pradesh, except for Spiti Valley (read Spiti Valley Itinerary here if you're interested). But if you are going to Spiti Valley or you are going to Ladakh, the monsoon months are not bad at all as there is almost no rain in those regions. To go to both places, you will have to come to Manali. Read in this blog: more about Manali to Leh Road if you are going that way.
Where To Stay In Manali
If you have never travelled from Delhi to Manali, let me tell you that it is one big place. In about 20 km distance, you can find at least 20 different small towns with at least 20 guesthouses (hypothetically speaking, but you get the idea).
Speaking of where to stay in Manali, however, I can suggest three places (in under a 2km distance). Please note that I have a note included the main town because it is not worth staying there. The main town is very crowded and expensive. I would never stay in the main town (near Mall Road) even if someone pays for my hotel. Anyway, speaking of three places to stay in under 2km from the centre, here are they:
Hamta Valley
If you want to stay on top of Manali and watch the crowd down below, Hamta Valley is the place for you. This is where I run a traditional 100-year-old Mudhouse converted into a backpacker hostel setup. Visit FootlooseCamps on Instagram for photos, or check the below Instagram Video. You can contact us at 8800763430 for booking.
View this post on Instagram
Old Manali
This is an old town with more hostels and homestays than luxury resorts or hotels. The place established itself as a hippy backpacker destination, but with an increasing crowd, it is now entertaining guests of all kinds. Old Manali is comparatively quiet and more scenic and budget-friendly.
Vashisht
If, however, you are looking for something more offbeat and a town perched on top of a mountain, I suggest Vashishth. Located 2 km from Mall Road, Vashishth is a small village. You can take a tuk-tuk from Mall Road to Vashishth for less than 100 Rupees.
Aleo
This is another small village located around 1km from Mall Road. Alleo has a few backpacker hostels to choose from. It is a good place if you want to stay next to the old Kullu-Manali highway.
I have shared a link to offbeat places in the Manali article above if you are interested to know about more places nearby.
Popular Tourist Destinations Nearby
If on one side I discourage the idea of holidaying from Delhi to Manali, on the other side I encourage it too. And I encourage it because of all the things you can do here on holiday.
About 20km from Mall Road, you can visit high mountain passes, do paragliding, river rafting, camping, fishing, hot air ballooning, and much more. Other than that, there are numerous small villages and lakes to explore. If you love eating, you can try one of the hundreds of cafes around. In short, there is something for everyone.
Check this Manali Travel Guide for more on what to see and do there during a holiday.
Travelling from Delhi to Manali? Need personal advice? Write me a comment below and I will answer as soon as possible!