Before I go ahead, I want to announce that I now run 2 properties around Manali: FootlooseCamps Hamta (setup including a traditional Himachali Mudhouse and three luxury Geodesic Domes with Jacuzzi & infinity hot pool) and FootlooseCamps 2.0 The Homestay (with three attached bathrooms for long stays). Both places are located within 8km distance from Mall Road with views like 99% of hotels fail to offer. For booking, WhatsApp/Call 8800763430.
Check below, the Instagram Drone Shot for FootlooseCamps Hamta and a Youtube Video for FootlooseCamps 2.0 The Homestay…
View this post on Instagram
For booking, WhatsApp/Call 8800763430. Now, let's continue with the topic at hand…
---
Where the Beas River chuckles down the gorges and the snowy peaks of the mountains reach their fingers to meet the sky: that's what Manali is, in nutshell.
Though I would now argue that the town has lost its charm due to no control over tourism inflow, for many it is still a worthy holiday destination in India.
Also, given the distances and popularity, we cannot disregard the fact that Manali is one of the top places to visit near Delhi.
Manali is a go-to vacation spot for not only adventure seekers but leisure seekers, honeymooners and budget travellers as well.
There are temples, hot springs, some of the world's highest mountain passes, rich culture and adventure sports like paragliding, skiing, and river rafting — all under a 50km radius from the centre (or the Mall Road).
According to Lonely Planet, Manali is India's adventure playground. In my view, this statement is particularly valid for people living in Delhi.
Manali Travel Guide: A Detailed Blog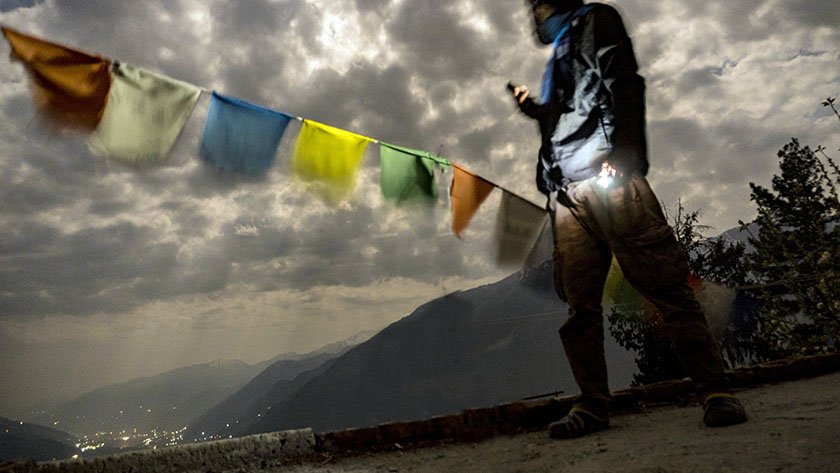 Best Time To Visit
Although Manali remains packed year-round with tourists, it is wise to get an idea of what to expect from the weather there, because at 2050m above sea level nature plays a dominant role.
The best time to visit Manali is the Indian summer season which typically starts in mid-March and stays until the end of June.
The second best season is November, December, January, and February when winter hits the town and snowfall begins.
Winter is a great time to see top tourist places in Manali covered in snow, including the popular Mall Road.
Don't travel during the monsoon months of July and August, because there is too much rain.
Snowboarding or Skiing is a great sport to learn. There are many tourist places in Manali where you can learn to ski. Hamta Valley, located less than 15km from Mall read, for example, is considered to be one of the best places to learn snowboarding in the Himalayas.
Read this blog where I have shared more details on how to learn snowboarding in India.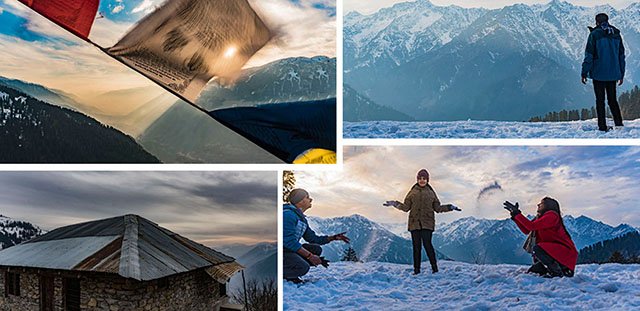 Top Tourist Destinations In Manali
Hadimba Temple
Located in the Old Town, the Hadimba Devi temple is certainly one of the best tourist places in Manali.
If you're into temples, you're going to like its vibe, if not, you're going to like and appreciate its placement. Surrounded by towering groves of Deodar trees, Hadimba temple offers an oasis of tranquillity. The architecture resembles that of Japan with its pagoda-shaped roof and shingles. It's possible to walk all the way to the Hadimba temple.
Due to increasing traffic, it may take almost the same amount of time in a taxi too.
Vashisht Hot Water Spring
After Habimba, the next thing I will suggest in this Manali travel blog is the hot spring of Vashisht. At 2.5 km from the main town, Vashisth hot spring remains a popular tourist destination in Manali.
The hot spring is believed to have medicinal and healing properties. It is possible to bathe in the natural spring (for men and women both) but because of increasing popularity and with it the increasing crowd, the best time to visit is early morning around 6.
A short walk away, lies the quieter Manu Temple which presents a stunning vantage point to witness the view of the valley with the Beas River flowing merrily through it.
Museum of Himachal Culture & Folk Art
Located on Hadimba Devi Temple road, the Himachal Museum of Culture and folk art is certainly among the top tourist destinations in Manali.
It was originally constructed to preserve and restore the local art in the region. It is at the museum that you can witness models of ancient temples, houses, and forts, in addition to stone vessels, utensils and other daily use items that local families in the region used.
A visit to this museum will help you gain a closer look at the evolution and growth of the local Himachali populace too. So yea, I will certainly suggest you visit the museum on this travel blog.
Rohtang Pass
A spectacular destination and one of the highest mountain passes in the world, Rohtang Pass, at nearly 4,000m above sea level, remains Manali's best tourist destination to experience snow all around the year. So yea, the Rohtang pass deserves a big shout-out in this Manali travel guide.
The slopes of Rohtang Pass moreover provide an opportunity to try skiing and/or tubing. Rohtang Pass remains blocked in winter due to the heavy snowfall but remains open throughout the summer and monsoon season (say, between May and November).
Rohtang Pass has located almost 50km from Mall Road and it's possible to visit and spend a few hours there enjoying the snow on a day trip from Manali. Regular taxis from Manali to Rohtang Pass and back can cost anywhere between 3000 to 7000 Rupees depending upon the type of taxi and how busy the days are. Please note that Rohtang Pass remains closed to tourists every Tuesday.
If you are interested in a long road trip, however, read my blog on Manali to Leh Road.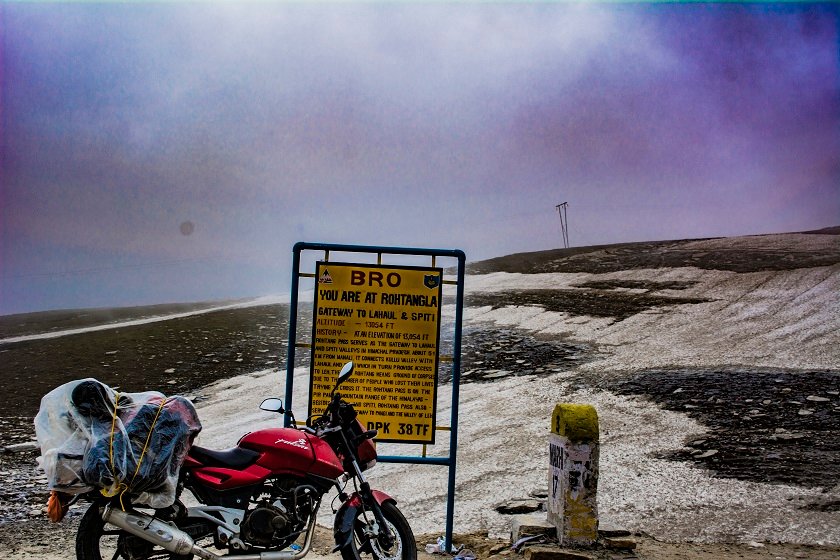 Pandoh Dam
Nestled amidst a spectacular patch of greenery, Pandoh Dam is truly a worth-visiting tourist destination in Manali. If you're into birdwatching, you can even spot some exotic migratory species taking refuge in the reservoir here. The chaste beauty of Pandoh Dam place is worth mentioning.
Nehru Kund
Situated at a distance of 6km from Manali Mall Road, Nehru Kund is a fresh cold water spring. Named so after India's first Prime Minister, Nehru Kund is a very beautiful and picturesque destination to travel to.
One can spend a day picnicking and lazying around, or exploring the nearby jungle and discovering their own trekking route. So yea, if you're into trekking, count it as one of the top tourist destinations in Manali.
Hamta Valley
Hamta Valley, home to the popular Hamta Pass trek, is another popular tourist destination in Manali. To get there, just drive to the town of Prini (located 3km from Mall Road towards Kullu on the Old Kullu-Manali highway) and take a detour — the picturesque Hamta Valley has already begun to keep you awestruck with its beauty.
The Snow Point in Hamta Valley is the closest of all popular snow destinations near Manali, which remains open throughout the year offering tourists an ideal location to try snow activities during the winter season when Rohtang Pass remains closed.
During summer, Hamta Valley offers a great escape for those who want to explore (and moreover stay) offbeat tourist destinations in Manali.
It is possible to drive all the way to the snow point in Hamta Valley, which is located about 20km from Manali Mall Road. One can moreover stay in a village in Hamta Valley called 'Sethan'.
Sethan is also popular for its unique Igloo stay experience.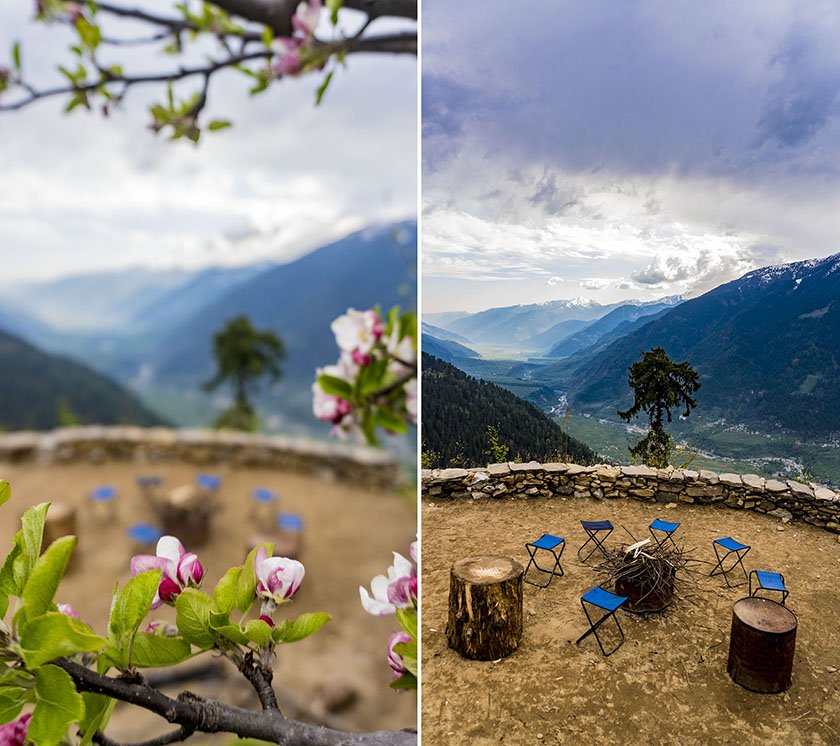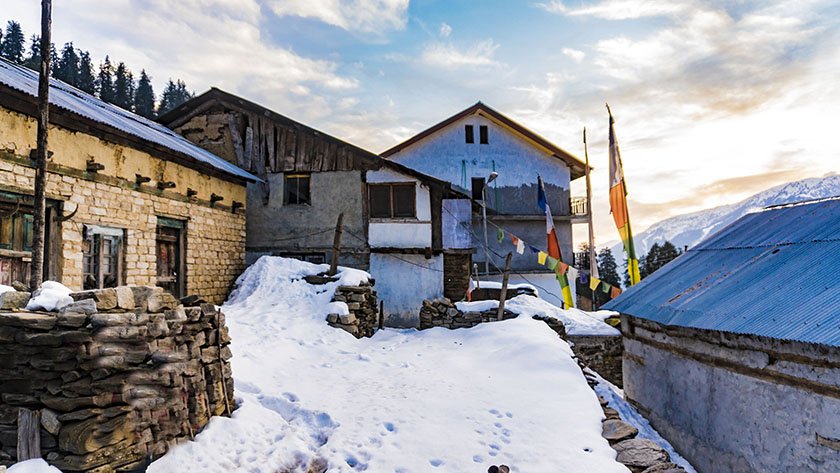 Hallan 1
Perhaps one of the smallest valleys to explore, Hallan comprises no more than a dozen villages on either side and stretches for about 6 km with a connected motorable road, before coming to an end.
The valley offers a real local Himachali experience offering a few accommodation options too for those who want to stay there. A day trip to Hallan Valley is a great way to escape the crowded Manali.
Atal Tunnel
Also known as Rohtang Tunnel, Atal Tunnel happens to be the world's longest highway tunnel. But that's not the compelling reason to visit Atal Tunnel.
The motivation to visit Atal Tunnel lies in the experience of entering the tunnel (from its south Portal near Manali) from the Pir Panjal Range of the Himalayas to exiting into the Dhauladhar Range. It almost feels akin to flying from one continent (probably Asia with no snow around) to someplace in Europe (say, Iceland).
Read More: Planning a trip from Manali to Atal Tunnel, or watch the Youtube video below…
Fojal Valley
Another offbeat, unheard-of place to visit in under 20km distance from Manali is Fojal Valley. Situated almost halfway between Manali and Kullu, Fojal Valley is also a very small valley comprising no more than a dozen small villages.
Speaking of its positioning, Fojal Valley runs almost parallel to Kullu Valley from near the town of Patlikuhl. To get there, you need to take a detour from the town of Dhobi (about 3 or 4 km from Patlikuhl).
When you're in Fojal, you get an impression of being time-transported into the golden age of the 70s or 80s offering people a setting where they would want to come to relax, forget their busy life behind, and spend a few nights unwinding and just being in the moment.
Again, if you're looking to visit offbeat destinations in Manali, I suggest Hamta, Hallan and Fojal as three suggested places to visit. Consider this travel guide recommended!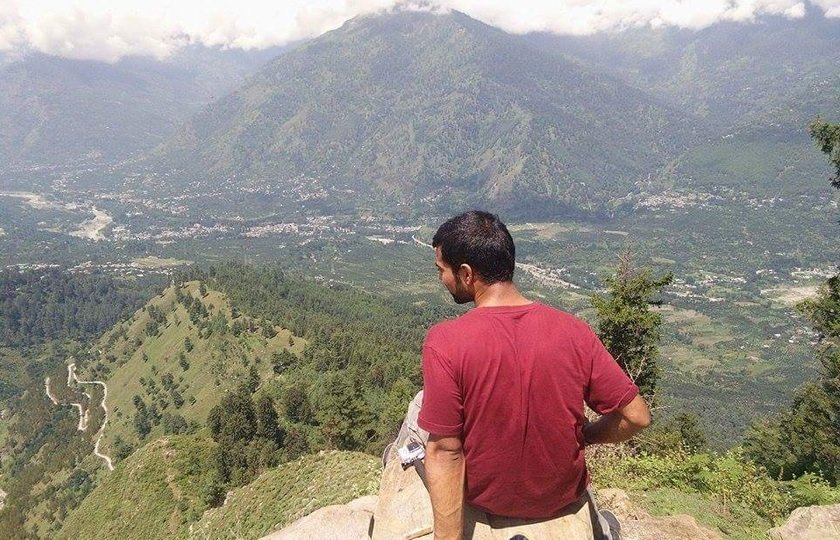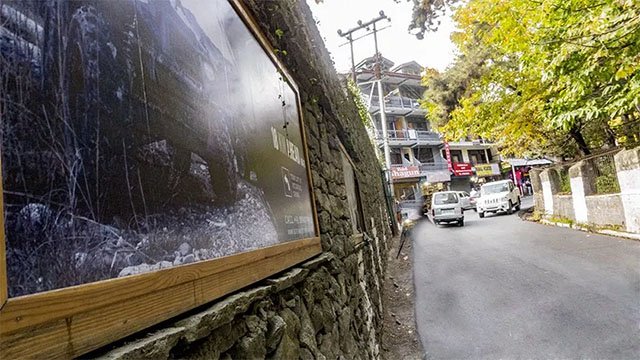 Kasheri Village
Out of all the offbeat places near Manali, it is from Kasheri village that I found the most mesmerizing view of the adjoining Kullu valley. And that's its charm.
Located about 20km from Mall Road, Kasheri village is located at nearly 2500m above sea level. On the way, it is also possible to explore Nyingmapa Pangan Monastery – one of the least visited monasteries in the region.
Soyal Village
Located 14 km from Manali (towards Kullu, on Naggar Road) Soyal village offers a peaceful hideout for an offbeat village experience. Located 1km from the village, tourists also get a river stream surrounded by a few cafes in a dense deodar forest – a perfect spot for a day trip from Manali.
Alternatively, it is also possible to plan an overnight trip and do camping in Soil Village.
Local Markets Near Manali
Mall Road
The Mall Road is the heart and soul of Manali and your answer to all shopping needs. It is a perfect place to pick up some souvenirs and handicrafts like Tibetan shawls, rugs and woollen caps among other things. One can also taste and sample local cuisines and catch the pulse of Manali. The best time to visit Mall Road is in the evening when the place is abuzz with family tourists, backpackers, and locals.
Tibetan Market
As the name suggests, the Tibetan market is where you will find everything Tibetan. It's a better alternative to the Mall Road if you're looking for adventure products like backpacks and trekking shoes, or local Tibetan handicrafts including shawls, prayer wheels, and Buddhist paintings. Among Mall Road and the Tibetan market, if you have to choose one, this Manali travel blog will vote for the Tibetan Market.
Old Manali Market
If shopping on crowded streets is not your thing and you like a more westernized and hippy setting, then hit the market in Old Manali with cobblestone streets. Though there isn't a very big difference in the kind of products you may find in Old Manali's market and the Mall Road, the ambience both provide is vaguely different.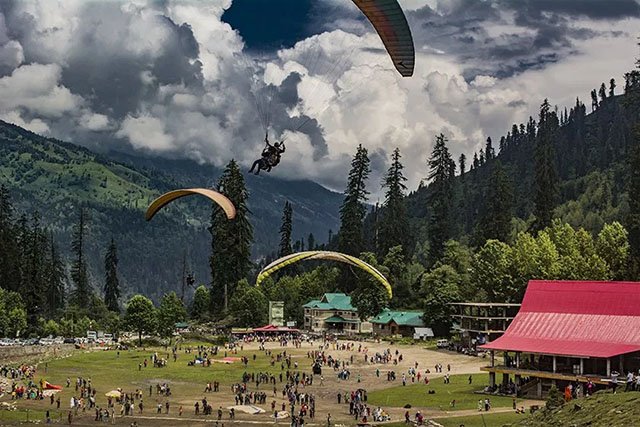 Adventure Activities Near Manali
Trekking
For all the thrill-seeker and adventure-lover tourists, Manali is one of the best destinations to travel to.
There are at least 10 treks that start from a radius of 30km from Manali Mall Road. And if I were to suggest some in this Manali travel blog, I will suggest Chandrakhani Pass, Bhrigu Lake, Patalsu Peak, Beas Kund, Hamta Pass, Deo Tibba and Friendship Peak, with some of them taking you to as high as 4500m above the sea level.
Most of these treks take at least three days to complete and require you to take a local guide and proper trekking equipment.
River Rafting
Those who are into a higher level of thrill and adventure should give river rafting a try. The currents of the Beas River are always abundant and perennial, making rafting in the Manali area even more exciting than in many other places.
The stunning mountain ranges flanking the Beas River present an ideal view to enjoy while you fill your heart with adrenaline and adventure. So yea, river rafting gets a well-deserved mention in this Manali travel guide.
There are at least hundreds of operators that organize river rafting in the region, so a little bargaining is always possible. Just drive past the town of Jagatsukh (about 15km from Manali, towards Kullu) and you will find an operator looking for customers at every 10 steps. Just choose a spot that catches your fancy and enjoy river rafting for as less as 500 Rupees per person.
Zip-lining
Solang Valley is a year-round magnet for adventure seekers of all types, be it paragliding, zorbing or zip-lining.
ATV & Charilift
During winter, Solang Valley offers skiing and snowboarding as adventure sport. Those who are not into extreme adventure sports can, however, try ATV riding and a ride in the chair-lift.
The valley, moreover, offers beautiful meadows to click pictures and have a fun time together with family and friends. It's possible to visit Solang Valley and try a few adventure sports on a day trip from Manali.
Readily available taxis usually take between 1500 to 4000 Rupees for a return journey from Manali, basis on the group size and the time of the year.
Skiing and Snowboarding in Hamta Valley
At nearly 3200 m above sea level and a 45 min drive from Manali, Sethan village in Hamta Valley offers beautiful views of the towering Dhauladhar ranges.
A town inhabited by Tibetan settlements, Sethan is also an ideal place for snow activities like skiing, snow trekking, and sledging, among others, during the winter months of December, January and February.
Unlike other places, like Auli or Gulmarg or Solang Valley, in Hamta Valley you don't have the luxury of a chair-car but that means finding less crowd and having the entire ski slope to yourself.
If you're a learner who doesn't mind walking a little uphill before sliding down, Hamta Valley is the best place to learn ski or snowboard too. Please note that Hamta Valley is a small place and doesn't offer anything like tourist destinations in Manali. There are no markets or anything.
Where To Stay In Manali
If I had written this blog 5 years ago I would have named Vashishth, Old town or somewhere near Mall Road. But now, with increasing popularity, all those areas have become so crowded that it's not possible to enjoy the tranquillity of the mountains there.
Still, if are asking where to stay in Manali wanting to stay closer to the bus station, I can recommend staying somewhere in Oldtown or Vashishth, both of which are located at a half an hour walk from Manali Mall road or a 10 min auto-rickshaw ride.
If are asking where to stay in Manali wanting to stay someplace quiet, I can suggest Hamta Valley without a second thought. It's moreover in Hamta Valley that I started my first hospitality venture, an adventure camping site in Manali with the name of FootlooseCamps.
Footloose Camps
If you are someone for whom the very idea of visiting the mountains is staying at a place that defines peace and harmony then I can recommend Footloose Camps. Located only 7km from the Mall road, in the middle of nowhere, Footloose Camps is a (nearly) 100-year-old mudhouse turned into a backpacker hostel.
The entire premise includes 200+ apple trees and in between the tiny mudhouse. The kind of accommodation includes 2 dorm rooms (one is a 2-bed dorm and the other one is a 4-bed dorm) and a private room.
Rest, the pictures will tell…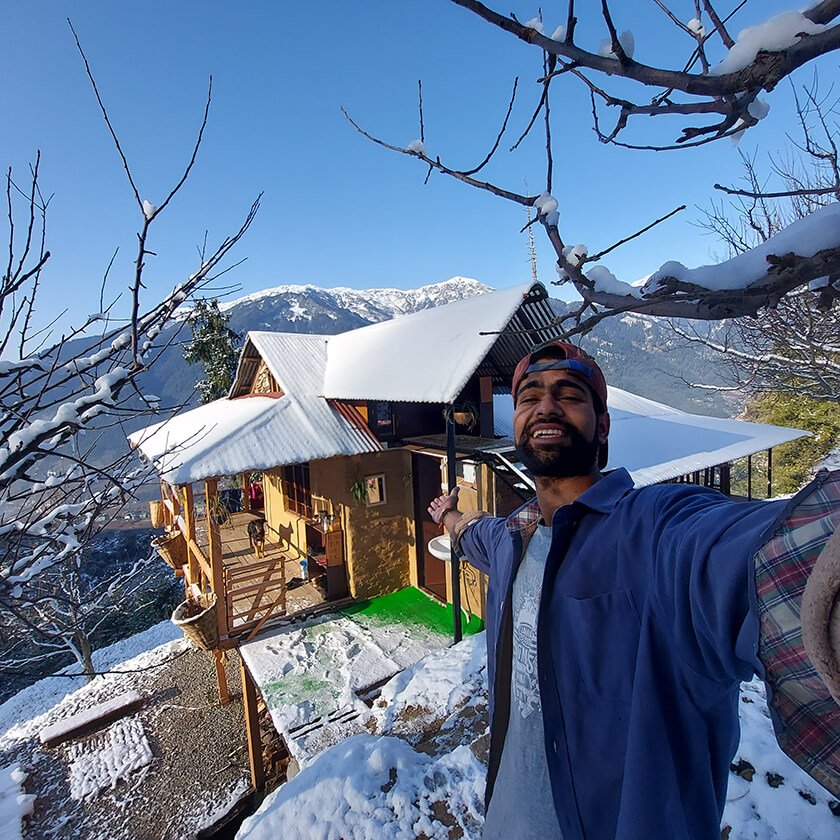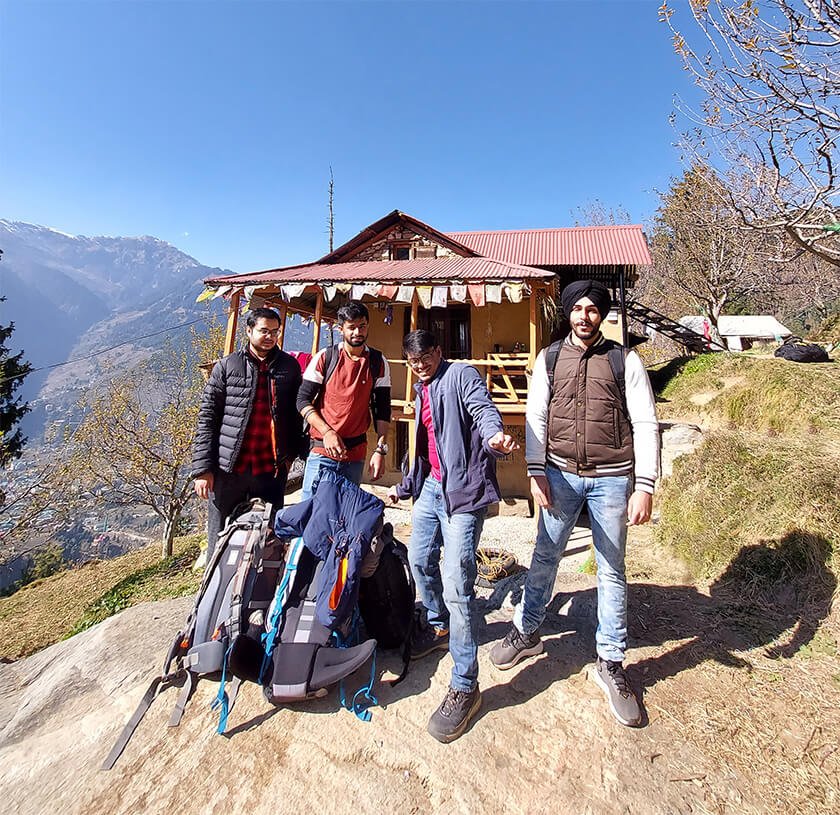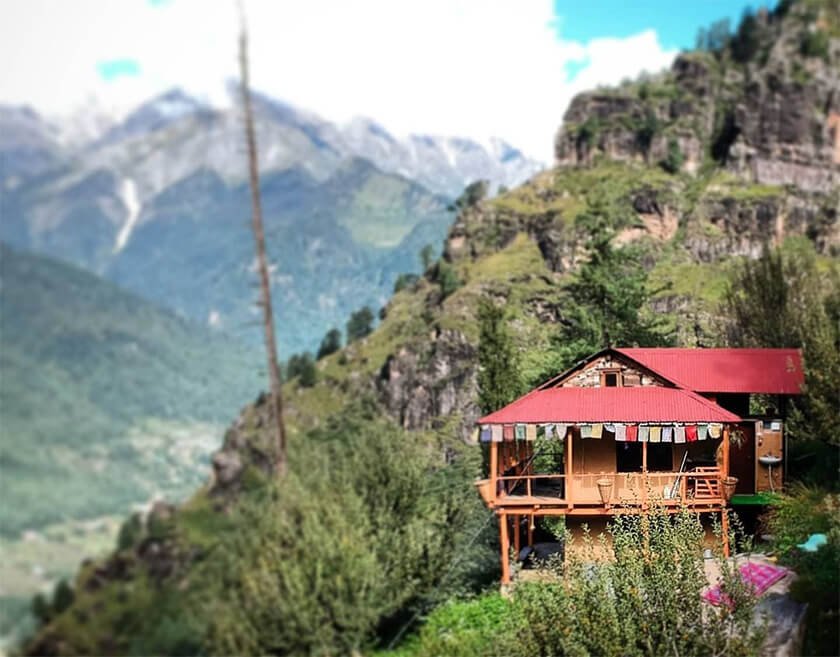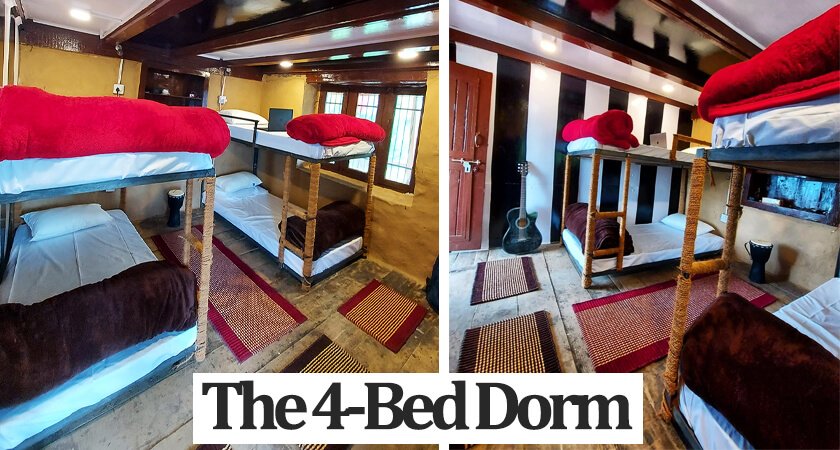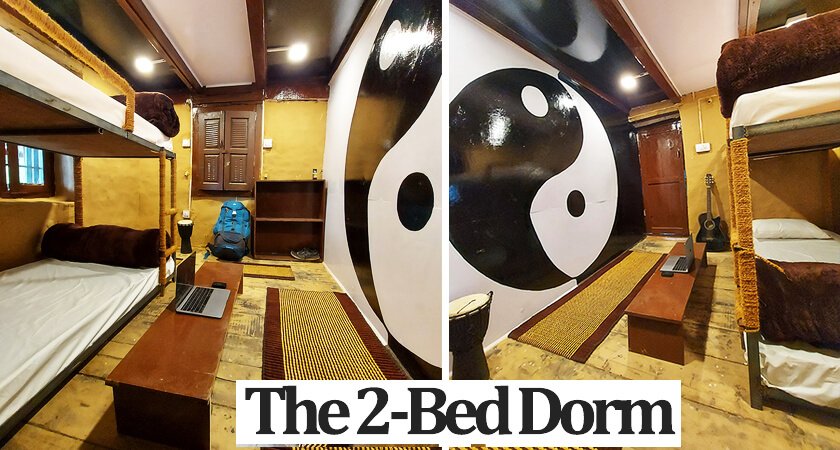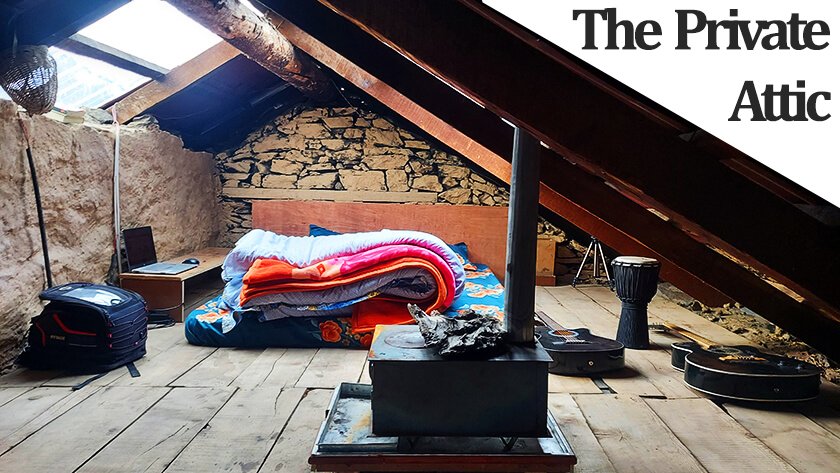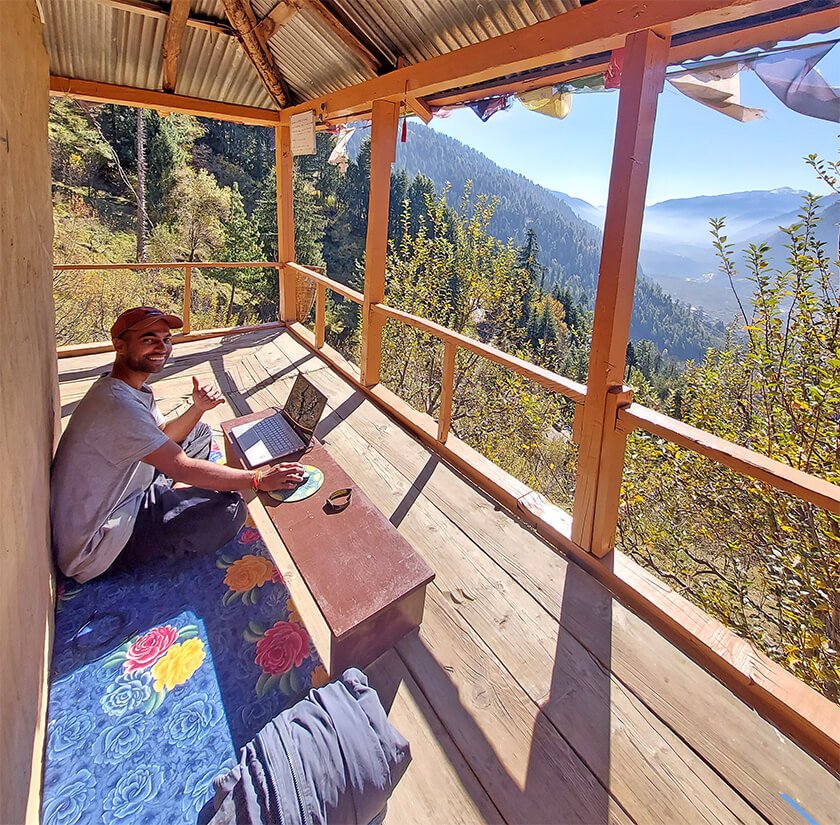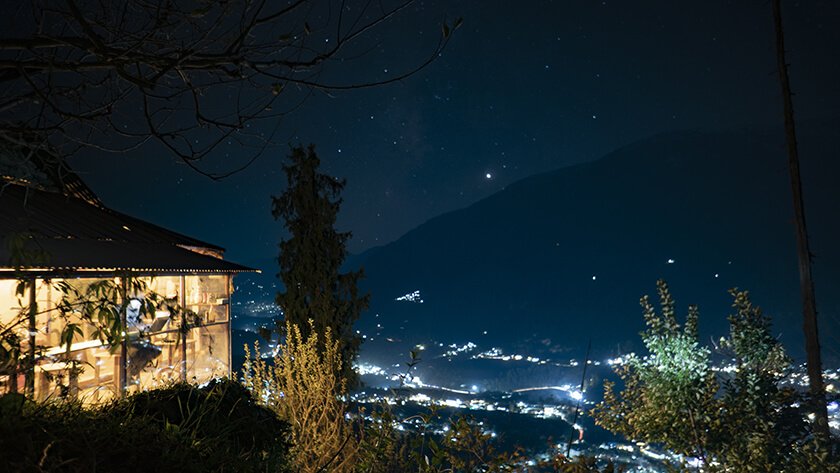 Google Map Location: Click here |  Booking: Whatsapp @8285695030 | More photos: Instagram Channel
Price: INR 1800 per night per person including dinner and breakfast (for dormitory beds). INR 4500 for two people including dinner and breakfast (for private attic).
Also, read more on Camping In Manali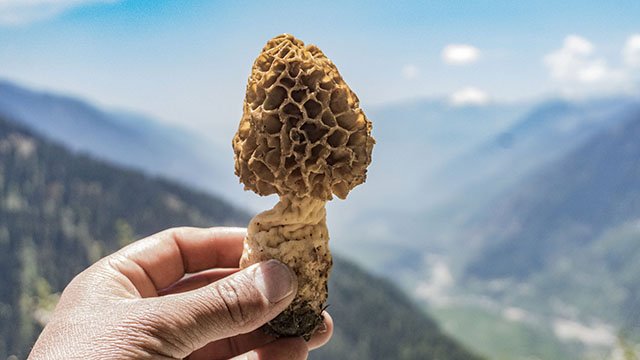 Travel Costs
Food: Food there can cost 150-400 Rupees per person in a good restaurant/cafe. If you're a budget backpacker, however, it's not hard to find a full meal for less than 120 Rupees a person. Manali Mall Road has some of the most expensive restaurants that I often avoid. You can find something similar to eat in a restaurant just as good in the Old town or in Vashishth for a much cheaper price than on Mall Road.
Accommodation: Mall Road has some of the most expensive hotels costing as much as 5000 Rupees per night during season time. In Old Manali and Vashishth, you can find a room under 1000 Rupees during season time, and much cheaper when there are fewer tourists around. If you want something cheaper than that and much quieter, look for accommodation in Hamta Valley, Hallan Valley or Naggar.
Transportation: There is actually no basic fare for taxis and auto-rickshaws in Manali. They ask for a price they like depending upon the demand so don't forget to bargain anytime you need to hire a taxi or an auto-rickshaw. For budget travelers, public buses are the best way to get around.
From Delhi to Manali, I suggest you take the government HRTC bus.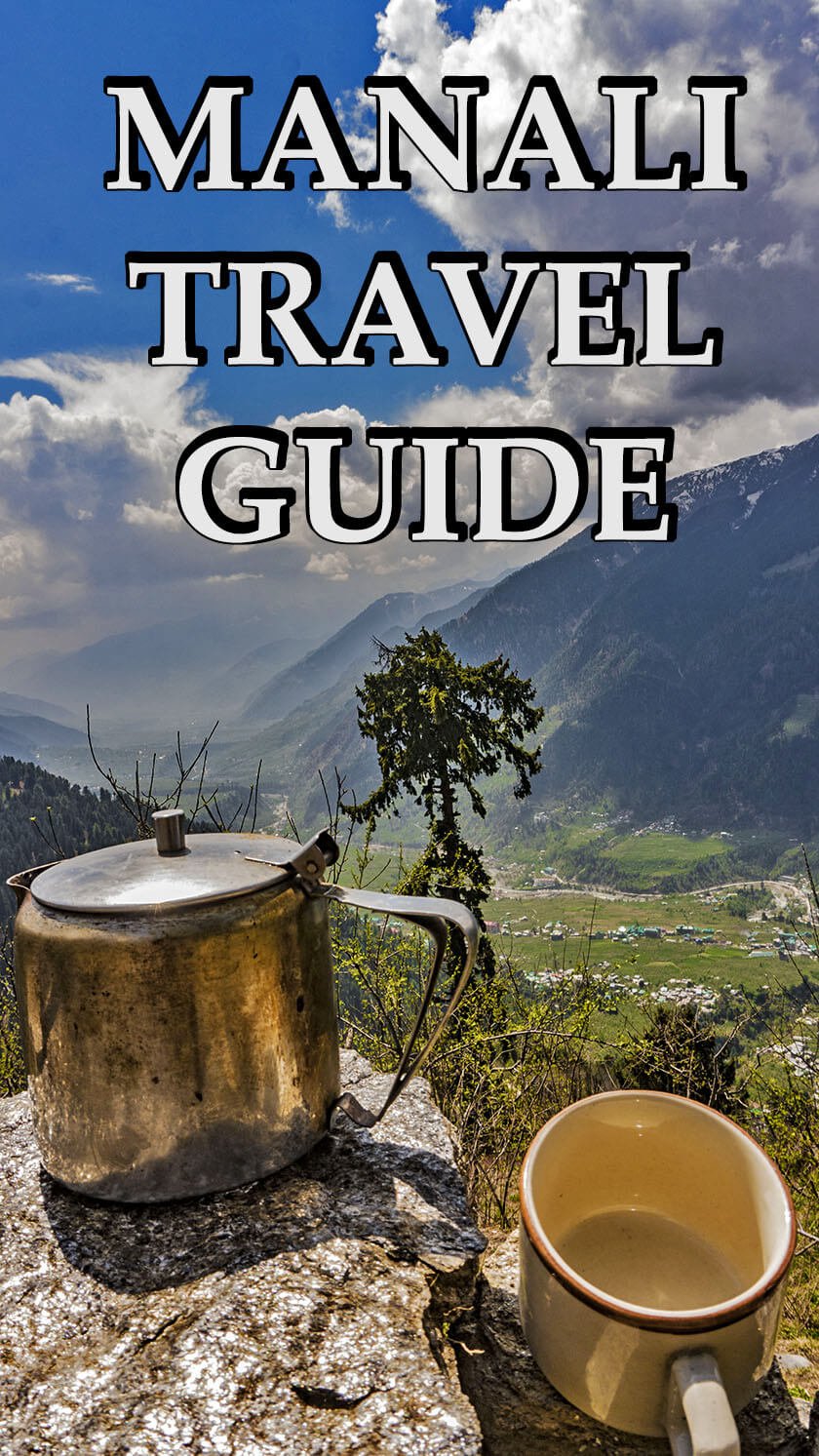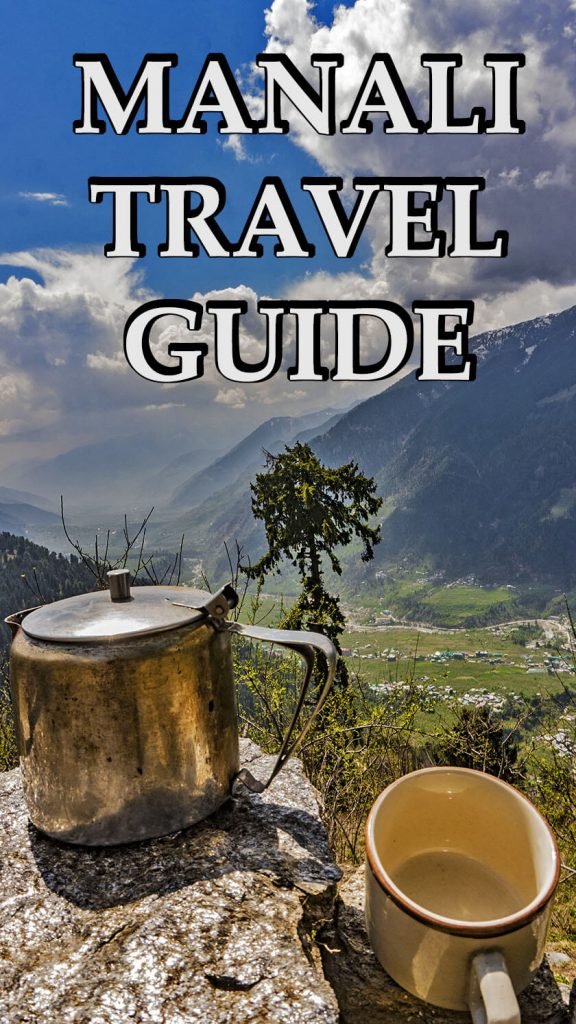 That's all in this Manali travel guide, but if you have more tips on top tourist highlights, where to stay and what to do there, please share in the comments below. You can also write me a comment if you loved this travel blog and found it worth appreciating.