This 3-day Siem Reap itinerary is all you need to plan a trip to Siem Reap. The guide includes personal accounts and learning of a full-time travel blogger. Hence, you can trust the words!
Filled with ancient ruins and one of the largest religious monuments in the globe, Siem Reap is an amazing place to visit.
Featuring one of the seven wonders of the ancient world, this town was at the top of my bucket list – and I was not disappointed!
For your first visit to Siem Reap, three days are enough and I will make you believe so in this blog.
This 3-day Siem Reap Itinerary will allow you to experience the highlights of the area, including Angkor Archaeological Park, Pub Street, and shopping at the night markets.
How To Spend 3 Days In Siem Reap
Before I start, I want to explain the structure of this Siem Reap travel blog. I have divided the three days one by one. Under each day, things will follow.
I have moreover covered the most important things on Day1, followed by Day2 and then Day3.
So if you have only 2 days in Siem Reap. Just read Day1 and Day2 and you are done. Also, read this Cambodia Visa on arrival blog if you're not applying for your visa in advance.
Now let's get started…
Siem Reap Day 1
Explore Siem Reap Town
Start your journey in Siem Reap by becoming familiar with the town. Siem Reap town is quite small in size compared to Phnom Penh or other Southeast Asian cities, but in no way is it small in character.
Allow for at least half a day to browse the town and visit some of the attractions.
According to Lonelyplanet, most people come to Siem Reap for Angkor Wat temples, but there is more to the town than just the temples. From shopping to food to meeting fellow travellers, there are loads of great things to do in Siem Reap.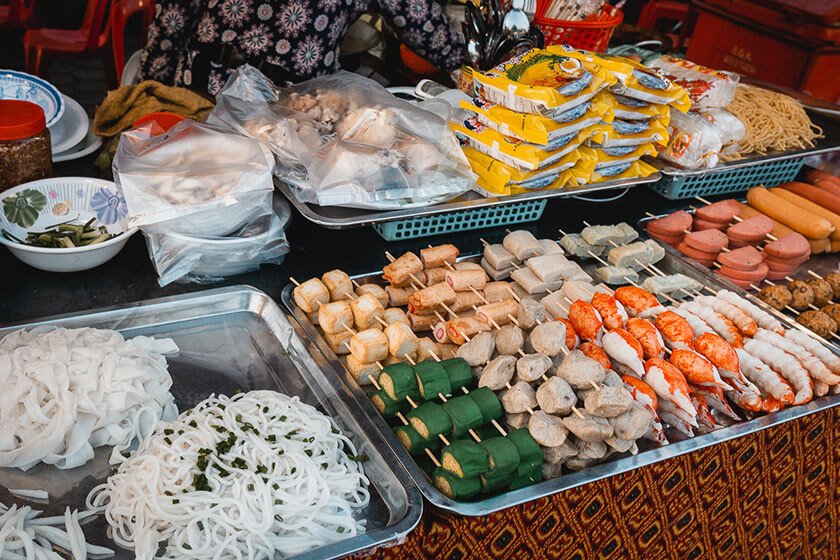 Psar Chas
Psar Chas is the name given to the Old Market. Here, you'll find the locals in Siem Reap, including those who own restaurants buying their produce for the day. Look out for the fragrant spices – the aromas are divine. So visiting Psar Chas is the first thing I will suggest you in this Siem Reap itinerary.
Fish Spa
A fish spa pedicure is very different from a traditional pedicure. It involves a more natural form of pedicure where tiny fish nibble on your dead skin to improve both the appearance and feel of your feet. Definitely a strange concept, and not the best idea for those with ticklish feet, but you'll be surprised at how popular this activity is for tourists.
A fish spa pedicure will cost you as little as $1 USD. As you get closer to Pub Street, prices will increase two or three-fold.
Khmer Lunch
After wandering around the town for the past few hours, you'll have built up an appetite. There are plenty of Western cafes around Siem Reap, but I urge you to try Khmer cuisine – it is simply delicious!
I love eating at places where locals eat. Chae Ngek is my top pick for places to eat, and hence a mention in our 3-day Siem Reap itinerary. I have dined here more times than I can count. Try their tasty Khmer curries! Something that's almost as good as their taste is the price. Curries start at only $2.50 USD, and some other dishes, such as fried rice cost even less!
Siem Reap War Museum
Cambodia has a dark history involving the genocide of innocent Cambodians by the communist Khmer Rouge Party. Pol Pot's regime occurred in the not-so-distant past just forty years ago.
The history is rawly depicted at the Killing Fields and Tuol Sleng Genocide Museum. These attractions are by far the most popular things to do in Phnom Penh and definitely a must-see in Cambodia. So, an obvious mention in this travel itinerary.
The Siem Reap War Museum will give an informative overview of the war, whether or not you've just visited the attractions in Phnom Penh, or whether you'll be heading there later on in your Cambodia holiday. It is the only war museum in Cambodia.
The museum displays military tanks and aircraft. The unique thing about Siem Reap War Museum is that tours are run by ex-soldiers themselves.
Tickets cost $5 USD. The entrance fee includes a guide.
Watch the Sunset at Angkor Archaeological Park
Did you know, it is free to enter the UNESCO heritage Angkor Archaeological Park in the evening? All you need to do is show your pass for the next day and enter into the park after 5:30 pm.
Sunrise and sunset are the best times to visit Angkor. These times offer more comfortable temperatures, the lighting is less harsh for photography, and the skies light up in wonderful colours.
You can buy your pass for the next day from 5 pm. Head to the Angkor Pass Ticket Counters. Your one-day pass should cost you $37 USD.
Then, head to Angkor. My tuk-tuk driver suggested watching the sunset from Phnom Bakheng, which was a great recommendation. The walk to the top will take 20 minutes.
Shop at the Siem Reap Night Markets
During the day, you'll find all the tourists at Angkor Wat. During the night, however, you'll find them at Pub Street and the night markets.
The night markets are the best places to buy your souvenirs. There are multiple night markets within the town which more or less connect as you stroll down the streets. Don't forget to make it across the bridge to the Siem Reap Art Centre Night Market. Even if you're not planning on buying art, it's a great place to wander around and appreciate the works of art.
Sample the street food for dinner at the night markets too.
Siem Reap Day 2
Explore Angkor Archaeological Park
Angkor Archaeological Park is the main reasons tourists visit Siem Reap, and Cambodia, for that matter. So I suggest you start your second of Siem Reap itinerary with a visit to Angkor Archaeological Park.
Starting your day super early to watch the sunrise over Angkor Wat is well worth it. If this is the option you're taking, buy your pass the day beforehand and book your tuk-tuk driver in advance. This way, you can arrive at Angkor Wat before 5 am and get a front-row view.
Otherwise, the ticket office opens at 5 am, and by the time you reach Angkor Wat, you'll be stuck behind a crowd of people. This isn't so bad if you're tall, but being only feet tall, I was so glad I arrived early!
Angkor tuk-tuk drivers usually take you on either the short loop or the long loop. For a one-day pass, I'd recommend taking the short loop as this includes Ta Phrom, the temple made famous by Tomb Raider.
If you're staying in Siem Reap for five days or more, I'd highly recommend buying a three-day pass. Angkor is huge, and there are so many magnificent temples to see.
Get a Massage
After a day of walking and exercise, one of my favourite things to do is to get a massage. After all, a little self-pampering is any day required. So, I am adding a quick massage session in our Siem Reap itinerary.
Like the fish spas, there are massage parlours dotted all around the town.
A 30-minute foot massage will cost you as little as $6 USD an hour, which makes this activity perfect for budget travellers too. A 60-minute full-body massage will cost you a little more, at around $10 USD. The cost for the same treatments at a spa will be more than double this cost.
Experience Pub Street
If you slept early the night before to some get extra shut-eye before Angkor Wat, this is the night to experience Pub Street. Start at the night markets and from 5 pm, sample some of the street food snacks, then pop into a bar for happy hour and live music. Beatnik usually has quite the crowd when there's live music.
Grab dinner at the street food stalls, or if you prefer, there are plenty of restaurants on Pub Street. If you dare (or feel more confident after a drink or two) try the fried insects from vendors right out on the street.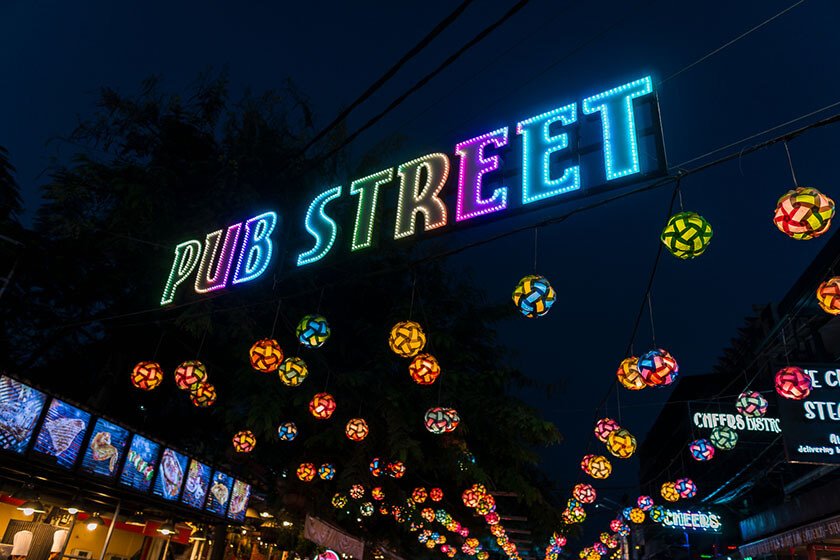 Siem Reap Day 3
Floating Village Tour
Floating Villages are such interesting places to visit. It's not every day you get to see locals buying supplies from boat stalls. So we start our day 3 Siem Reap itinerary with a visit to a floating village.
Floating villages have gained recognition as attractions all over Southeast Asia, and this has caused mass tourism and commercialisation in some villages. When taking a tour to the floating villages, I would recommend a half-day tour to either Kampong Khleang or Kampong Phluk as these villages are less touristed than Chong Kneas.
Alternatives
Due to its over-tourism, and the fact that I had previously visited a floating village in the Mekong Delta of Vietnam, I opted against visiting a floating village in Cambodia. There are other great alternatives, should you decide not to visit a floating village in Siem Reap.
Beng Mealea and Koh Ker are both amazing temples located outside of Angkor Wat. Beng Mealea is likened to an overgrown Angkor Wat, with the same layout, whereas Koh Ker is in the shape of a tiered pyramid. To visit both temples, allow yourself a full day. Tours are available to visit both temples, as well as half-day tours for just Beng Mealea.
Phnom Kulen National Park is home to one of Cambodia's most sacred mountains and the River of a Thousand Lingas, a carved riverbed of Hindu symbols. The park also features two waterfalls, one being around 20-metres tall.
Truly a hidden gem in Siem Reap, as tourists frequently only associate Siem Reap with Angkor Wat. It is located a one-hour drive north of Siem Reap and entry into the park will cost $20 USD. Tours are also available from Siem Reap.
Cooking Class
One of my favourite things about travelling is getting to sample traditional cuisines from each country. And although cooking isn't my most favourite thing to do (as it seems a bit of a chore), I still enjoy taking cooking classes so I can bring a little bit of variety into my cooking back home.
Allow for a few hours in your schedule for a cooking class. You can book them all over the town, as well as on the internet.
My favourite Cambodian dishes are fish amok curry, lok lak, and kuy teav. Most cooking classes will include at least one of these three amazing Khmer meals.
Watch the Phare Cambodian Circus
Phare Cambodian Circus was uniquely formed by refugees of the Khmer Rouge practising circus tricks as a form of art therapy. The circus has now grown to perform daily shows on Cambodian folklore and culture.
Even if you're not usually a fan of the circus and art performance, the Phare Cambodian Circus will amaze you. The show begins at 8 pm and the cost of the ticket will be from $18 USD.
More on Cambodia: Phnom Penh Travel Blog
Disclaimer: This 3-day Siem Reap itinerary was a guest-post by Delilah, a full-time traveller who carries her camera everywhere she goes. She shares her adventures on her travel blog, which endeavours to help others travel the world better. All pictures and content in the article were provided by her!