Out of all the places in Cambodia, Phnom Penh remains my favorite. And here are a few reasons why!
After spending a few days in Siem Reap and exploring the famous Angkor Wat temples, when I decided to travel to Phnom Penh, it was for only one night, before further moving towards the coast. I had only about a fortnight left in Cambodia, and the islands were my priority.
But as I arrived in the city one night became two, two became four, and four became almost a week. Every day, I woke up and thought to myself that I'll get on a bus tomorrow, but didn't.
The city had cast its magic on me!
Phnom Penh
It is the kind of city that sucks you in. It is laid back, cheap and friendly. Everything is accessible at a stone's throw away, and at a cost cheaper than affordable (and if you still find it expensive, read these Cambodia Budget Travel Tips). The pace of life is seamless, and the many affable locals make the city enjoyable. In short, it is a city to blend in, and you don't need more than one day to realise so.
In Pnom Penh, the streets are made of dirt, but cars and motorbikes chase each other in all directions. As the sun goes weary, the people come to the streets and the many restaurant and bars come to life.
The buildings are a bit run down from years of neglect, yet the city is no short of contrasts – thanks to the many new-age hotels and backpacker hostels.
And then, there is some kind of addictive rawness there with locals trying every possible tout on approaching tourists.
Travelling Phnom Penh requires efforts to go beneath the surface and understand the city to be able to truly enjoy it. You have to look for patterns.
From the outside, the city might look crazy and wild, but if you take the time to chat with a local and understand the city through their eyes – a vendor who sold you hippie pants in the market or the waiter who serves you everyday breakfast – you find that Phnom Penh is still recovering from a dark past. But the people in the city are nothing but all smiles.
When you are there, you need no time for realising that Khmers are kind, cheerful and welcoming!
Indeed, travelling to Phnom Penh is a great experience!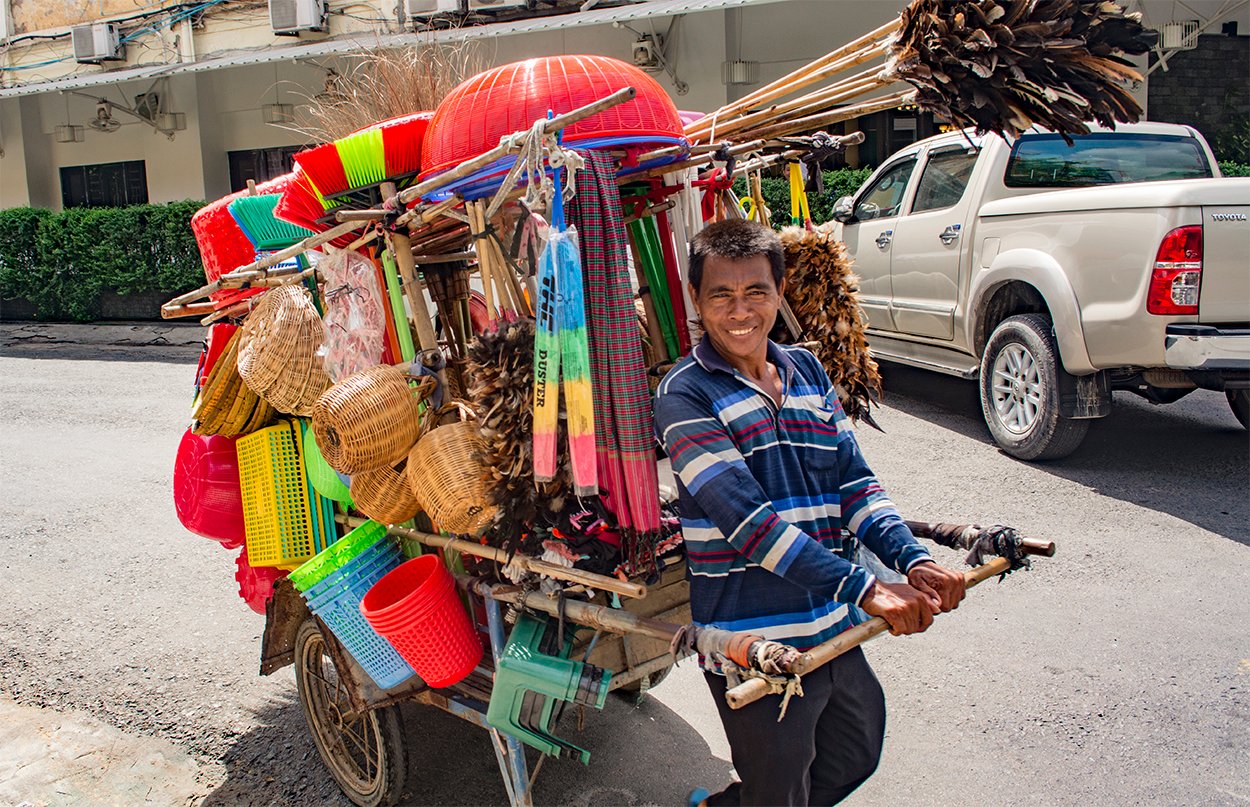 Where To Stay In Phnom Penh
The town offers a rich accommodation scene for backpackers. Most of the places, whether a youth hostel or a luxury hotel, has clean beds and good customer service. Though the staff can always be found expecting tips in Phnom Penh, you won't have to worry much about the quality.
I stayed at one of the backpacker hostels in Phnom Penh called 'Same Same Backpacker' located right at the heart of the city and only about 600 meters from the Royal Palace. The hostel offered good customer service, at a great price. A central location, moreover, made the experience better.
Top Tourist Highlights In Phnom Penh
It is a kind of city where you can spend weeks and not get bored. And with every passing day, your appetite to stay there only grows, as happened with me.
Below are the top tourist highlights in Phnom Penh:
Killing Fields
S21 Prison
The Night Market
The Russian Market
National Museum
Wildlife Alliance
Central Market
Silk Island
ATV Tour
The Royal Palace
Silver Pagoda
Wat Phnom
The Old Market
The Olympic Market
Sisowath Quay Boardwalk
Phocea Mekong Cruises
Bear Care Tour
Since I have already written a 2-day Phnom Penh travel guide, and you can find more details about most of the places mentioned above in the article we aren't discussing them in detail.
But I want to tell you that there are enough tourist highlights in Phnom Penh and as I said, no matter what taste, you are not going to feel bored.
If you are one of those people who enjoy history and culture, you are going to love this place even more.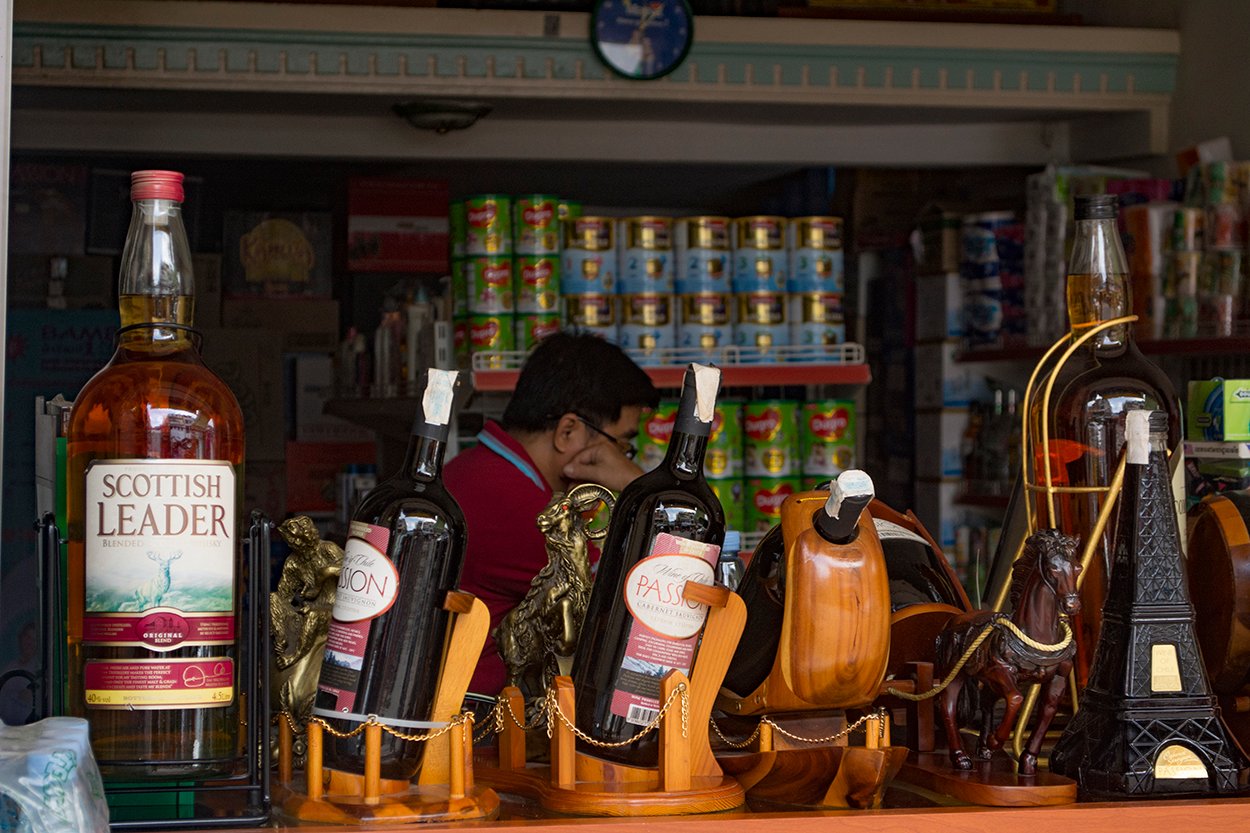 How Much It Costs To Travel to Phnom Penh
Just like with most Asian countries, Phnom Penh can be travelled on any budget. If you are a budget backpacker, you can find hostels charging as less as 5 dollars a day and then right next door you can find a hotel charging 150 dollars a day.
If you love eating out, you have street food costing you less than what a tram journey somewhere in Europe costs. If you want a better experience, you can enjoy one of the many fines dining restaurants.
If you want a more detailed guide on how much it costs to travel to Phnom Penh, check my travel costs for the Cambodia guide.
Speaking of my experience, I was surviving on less than 10 dollars a day. This included staying in a hostel, street food and a beer or two during happy hours.
Some of the top money-saving tips for Phnom Penh are:
Stay in hostels
Eat street food
Use happy-hour drinks
Bargain whenever you shop
Use bike-taxi rather than tuk-tuks
Save money on water by refilling your bottle
How To Travel
Since it's the capital city of Cambodia, getting to Phnom Penh is not a problem.
You can find flights from across Asia and buses from nearby Southeast Asian towns with good frequency.
Flights from Bangkok, Kuala Lumpur and Hochi Minh are quite regular and good priced. I, however, flew from Bangkok to Siem Reap and it cost me just as much as a flight from Bangkok to Phnom Penh costs – around 70 USD.
If you want to travel on a budget, however, you can also catch a bus from Bangkok, Hochi Manh and other places. It is possible to do the immigration, and even get a Cambodia Visa on Arrival if you are entering Cambodia by land.
You can know more about visas on the Cambodia Embassy website.
Unfortunately, there is no railway line in Cambodia.
So yea, if you're wondering how to travel to Phnom Penh, just think where you're coming from. If Thailand or Vietnam, you can travel on a bus and save money. If you are coming from some other country that does not share a border with Cambodia, then take a flight to Phnom Penh.
Best Time To Visit
The best time to visit Phnom Penh and other places in Cambodia is winter. Between November and March is when the temperature remains most pleasant. But with the best time to visit Phnom Penh, comes the peak season too, making everything – from accommodation to flights  – a little expensive.
Monsoon is also a good time to visit if you do not hate rain very much. Weather in Phnom Penh is coastal, so be prepared for a lot of heat, sweat and sun. Carry sunscreen. Wear scarves and stoles!
Read my Cambodia Travel Guide for more tips on what to see and do there.
If you need more tips and want to know about more top tourist highlights in Phnom Penh, write me a comment below.