Wondering how much it cost to travel in Cambodia? Read this travel blog and get a fair idea from my experience.
A lot of people, before I personally travelled to Cambodia, told me that Cambodia is meant for budget travellers. They would ostentatiously boast stories of how they travelled to Phnom Penh for under USD 30 a day. "But USD 30 a day is not cheap," I would say to myself.
Sure it's not expensive, but when back home you're dealing with a currency which is 70 against a dollar (1 USD ≈ 70 Indian Rupees) and you're a full-time blogger with no source of income yet it's inevitable for you to moan over a 20 dollar per day expense! "10 dollars a day would have been better," I would tell myself.
Note: This article was written in 2016. With inflation, the costs of travelling in Cambodia might have gone up than what is mentioned here. But reading this travel blog will still give you a fair idea of how much it costs to travel in Cambodia and how much you should plan your trip for.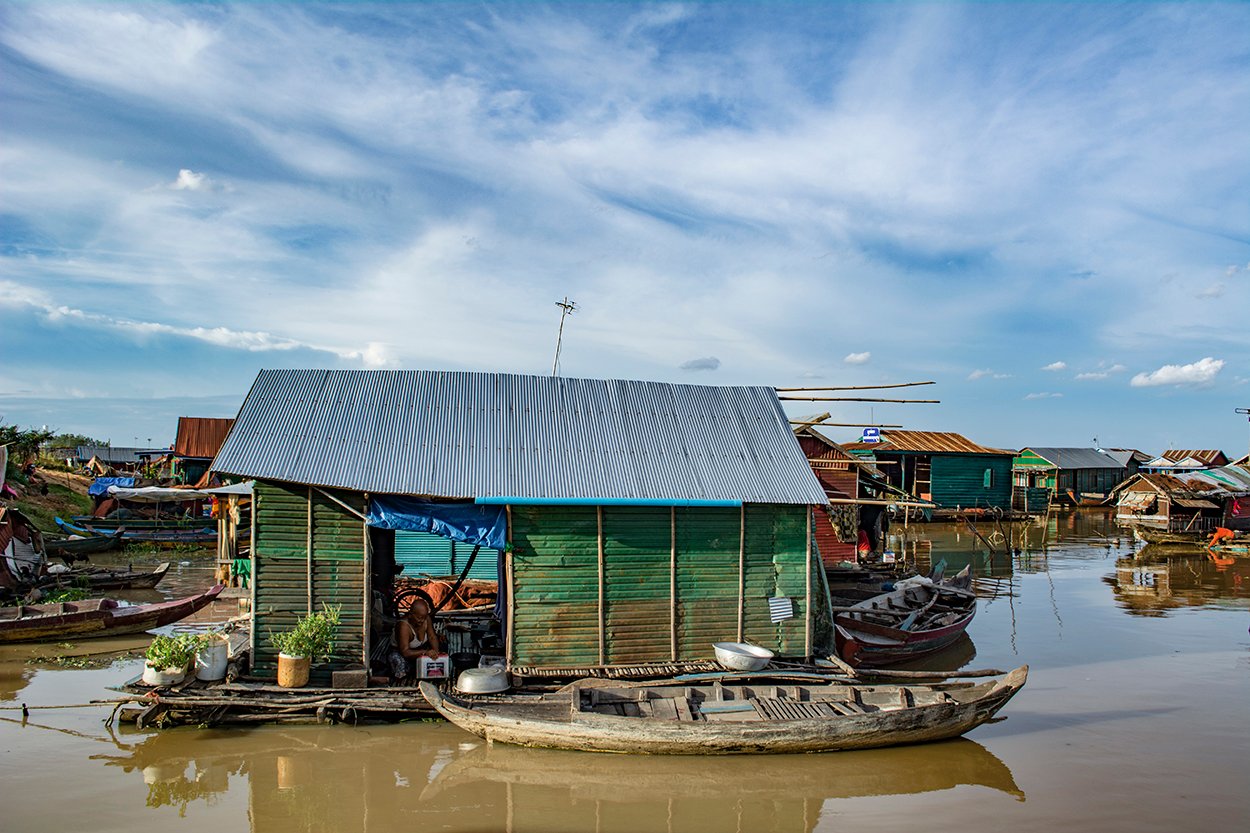 Now let's get started…
How Much It Cost To Travel In Cambodia
Managing your accounts can be tricky in Cambodia – for the country has everything seemingly available for a minimum bill of "JUST ONE DOLLAAAAAR" – as Cambodians often quote.
A shared ride in Tuktuk, 1 dollar.
A drink, 1 dollar.
A pack of crisps, bad quality food, half a dozen bananas, everything for 1 dollar, and you lose most of your money before you even realise it.
So how to make sure you don't end up spending more?
Read my Top Money-Saving Tips For Cambodia.
Never Pay A Dollar
In Cambodia, no one is ever willing to sell anything for less than one dollar. No cents accepted or exchanged. But since its official currency – Riel – is 4000 against USD 1, it can be used as a balance to buy something that is of value for less than one dollar. But that can be tricky, thanks to a few rich Americans, who don't care about sparing a few extra dollars here and there and have the locals spoiled.
For example, a coconut costs 2,000 KHR ($0.50) for locals, but since you're a foreigner carrying dollars, its price for you is 1 dollar.
I remember every time I purchased a 1.5 ltr water bottle, I was asked for a dollar. It was only when a couple of days later when I bought the same from a supermarket and was given 1000 Riel back, I found that a 1.5 ltr packaged water costs no more than 75 cents (some supermarkets even sell one for 50 cents). From that moment on, I started negotiating every one-dollar product.
How Much Did I Spend While Travelling In Cambodia
Before I go ahead, I want to tell you that I spent most of my time travelling in Phnom Penh and Siem Reap (here's a 3 day Siem Reap itinerary and 2 day Phnom Penh itinerary) and I found Phnom Penh more budget-friendly than Siem Reap.
I started my journey from Siem Reap before heading to Phnom Penh and finally to the coastal town of Sihanoukville.
I completed my 20-day trip to Cambodia for just a little over 350 dollars. This, however, included two big expenses: one was the Cambodia visa on arrival fee, which required me to pay USD 30 straight up at the airport; and second, a 40 dollar 3-day pass for an Angkor Wat temples ticket.
Note: The Cambodia Visa on arrival fee and the 3-day Angkor Wat ticket price mentioned above might have changed. Please visit this website to know about the current Cambodia visa on arrival fee and this website for the current Angkor Wat temple ticket price.
Other than my Cambodia visa on arrival and Angkor Wat temple ticket, I happened to squander a little money during an initial couple of days while I was still studying the country and learning the way the accounts there worked.
Sure Cambodia was a tough one to crack, unlike Thailand, but once I learned how things worked in the country, travelling there turned out to be quite inexpensive.
On days I didn't do much, it was easy to survive in under 10 dollars. This included food, accommodation, as well as a couple of evening happy hour beers.
Here's a breakdown of the cost of travelling in Cambodia:
Accommodation Cost In Cambodia
A clean non-aircon dorm charges 3 to 5 dollars a night.
For a private room (shared by two people) expect to pay 5 dollars per person. For an air-con dorm bed, 5 dollars are certainly enough. On islands, you can get a bungalow for under 15 dollars.
Food Cost In Cambodia
Basic street food is available for a dollar and a half – and that's what I had for most of my meals when I was in Cambodia. Restaurant meals start at 7 dollars, which is certainly not too tough to afford either.
Water and drinks Cost In Cambodia
Beers are cheap in the country, and in most cities, you can get a pint, during happy hours for 50 cents.
The only thing that can spoil your budget a little is water. A 1.5ltr packaged water, in most of the small shops, costs 1 dollar. Even if you buy 4 of those, in a day, you lose 4 dollars straight away.
To save a little, you can use a supermarket, some of them sell 1.5ltr bottles for half a dollar. So check a few places to find the right price and save 50% straight on daily water consumption.
Transportation Cost In Cambodia
A ride in tuk-tuk costs somewhere between 3 to 10 dollars depending upon the distance. Bike taxis charge nearly half the price of a Tuktuk. Expect a 5-7 hour journey on a big bus for 10 dollars, including pickup from your hotel.
Here's how it might turn out for you, in a day:
3.50 dollars for three meals
2 dollars on water
1-2 dollars on other drinks
3 dollars for accommodation
This can give you a fairly nice, relaxing day, for under 10 dollars (Islands can cost 5-10 dollars extra).
If you're travelling long distances and/or paying money as an admission fee to museums and other tourist attractions, then it might cost a little more.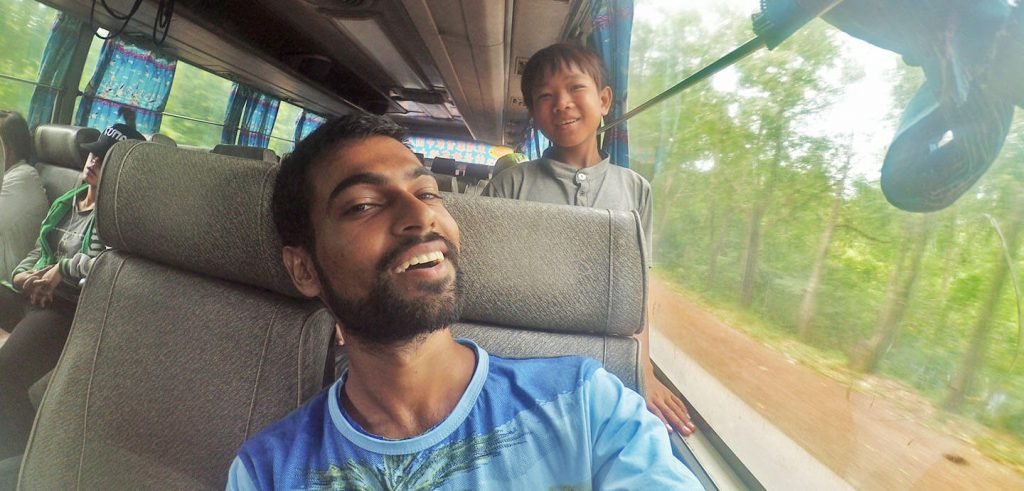 Now that you have got a good idea about how much it costs to travel to Cambodia, let's discuss how to travel to Cambodia in the budget:
How Much Travelling To Cambodia Can Cost
You can find flights from across Asia and buses from nearby Southeast Asian towns with good frequency to either Phnom Penh or Siem Reap.
Flights from major cities like Bangkok and Kuala Lumpur are quite regular. For example, I flew from Bangkok to Siem Reap for 70 USD.
If you want to travel on a budget, however, catch a bus from Bangkok, Ho Chi Minh and other places. It is possible to do the immigration if you are entering Cambodia by land.
Unfortunately, there is no railway line in Cambodia.
Read more on Cambodia in this detailed Cambodia Travel Guide