Wondering what are the top things to do in Phnom Penh in two days? This blog is for you!
For many travellers, Phnom Penh is nothing but an afterthought of the main attraction of the temples of Angkor. While there's no denying that Angkor Wat temples are the highlight of tourism in Cambodia, the lively riverside and the cosmopolitan Cambodian capital are no less charming either.
My original idea was to stay there for only one night, but I ended up liking the town so much that I overstayed for almost a week. No matter what your taste is, there are many things to do in Phnom Penh that you will find more attractive than you had originally thought.
In my view, it definitely requires between 4 to 5 days. But if you're short on time, and have no more than a couple of days to spare, this 2 day Phnom Penh itinerary will help you tick off some of the top tourist highlights in Phnom Penh.
So let's get started…
Things To Do In Phnom Penh In Two Days
Day 1
Russian Market
Riverside of Sisowath Quay
Killing Fields and Tuol Sleng Genocide Museum
Now let's discuss these top things to do in Phnom Penh on day 1 in a little detail, with a proper timeline.
We start with our tour of the Killing Fields. And that is because a visit to the Killing Fields and Tuol Sleng Genocide Museum is a must to understand Cambodia's dark past.
Take a tuk-tuk to The Killing Fields, which is about 9 kilometres south of the city centre, but make sure you bargain with the tuk-tuk driver. Here are more money-saving tips for Cambodia you may want to read. Also, if you are a budget backpacker, I suggest a quick reading of my Cambodia Travel Costs guide. Now, let's continue with our 2 days in Phnom Penh itinerary…
A heart-wrenching audio tour at Killing Field will take you back in time and explain how over two million people suffered and died during Pol Pet's failed regime. Be prepared to witness mass graves littered with bones and a stupa which still contains some 8000 human skulls.
After The Killing Fields, head straight to visit Toul Sleng Genocide museum – a former school that the Khmer Rouge used for torturing over 17,000 people before they were finally sent to The Killing Fields.
A visit to Killing Fields and Tuol Sleng Genocide Museum may make you a little sad, but they are the top tourist highlights in Phnom Penh that shouldn't be missed.
Many people would not find it a cheerful way to spend two days in Phnom Penh but visiting the Killing Fields and Tuol Sleng Genocide Museum helps you understand Cambodia and its people better. So in my view, both places make it to the list of things to do in Phnom Penh.
The entry fee for Killing Fields and Tuol Sleng Genocide Museum was 3 dollars each, with another 3 dollars for an audio tour headset when I visited them in 2016. You can check the updated price on this Cambodia tourism website.
The visit to Killing Fields and Genocide Museum will take a bigger chunk of your day's activity.
Once done with both and ready to see another side of the city, head to Phsar Tuol Tom Pong, otherwise known as the Russian Market. The reason why it is being called the Russian Market is because of the Russian expat population that shopped here in the 1980s. For shoppers, a visit to the Russian Market certainly makes for one of the popular tourist highlights in Phnom Penh
Visit the Russian Market to shop for souvenirs, fake antiques, silks, jewellery and discounted brand-name clothing.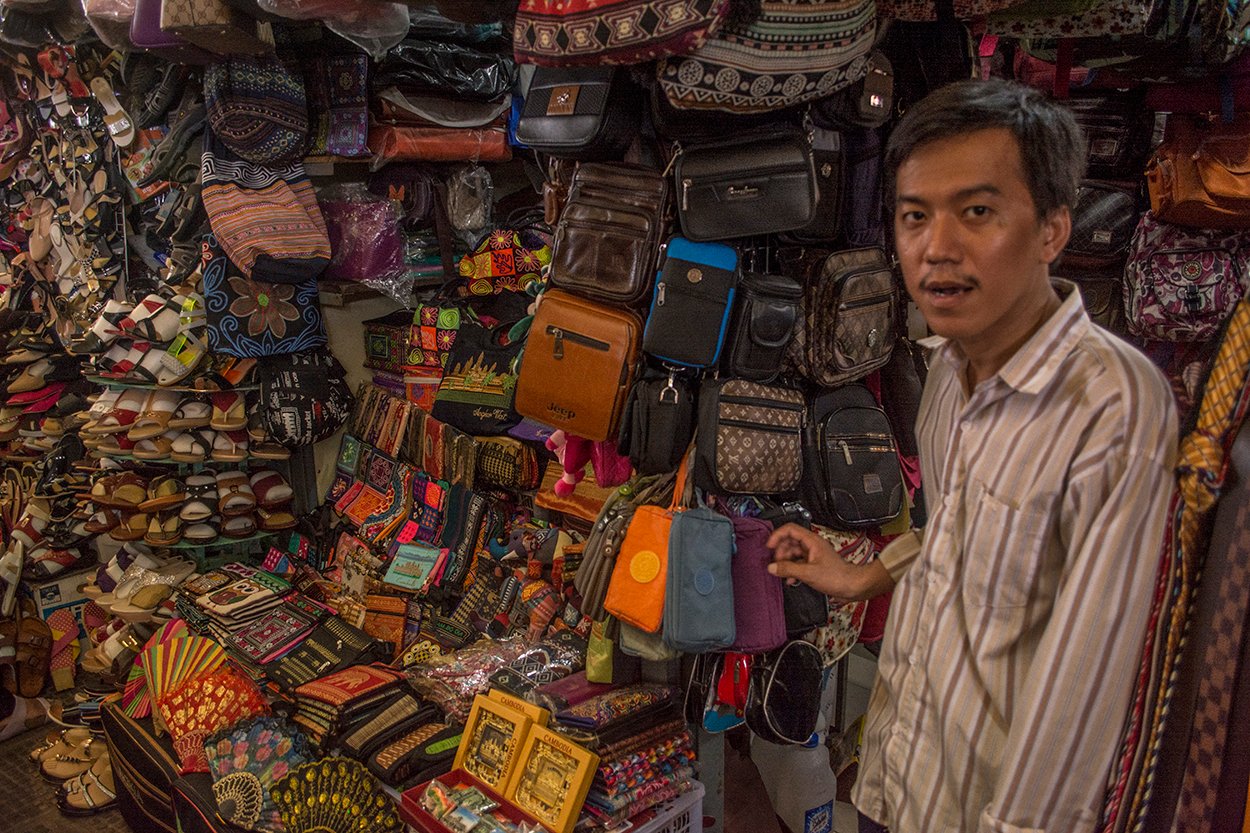 In the evening, head to the riverside of Sisowath Quay. Take a stroll along the riverside and give your evening a slow start.
Walk along the promenade in front of the Royal Palace (this is where you're coming tomorrow) down along the riverfront. Here you can find cheap eats on the street – mostly selling barbecue skewers. If you prefer to eat at a table, there's a choice of Khmer, Thai, Indian and pretty much everything else you can imagine – with food to suit all budgets.
Day 1 of our 2 days Phnom Penh itinerary ends here.
Now let's start with the top things to see in Phnom Penh on day 2…
Day 2
National Museum
Royal Palace in Bangkok
Phsar Thmei central market
Promenade in front of the Royal Palace
Start day 2 by learning a little more about Cambodia's history, by visiting the National Museum of Cambodia.
Entry to the National Museum, however, is not free.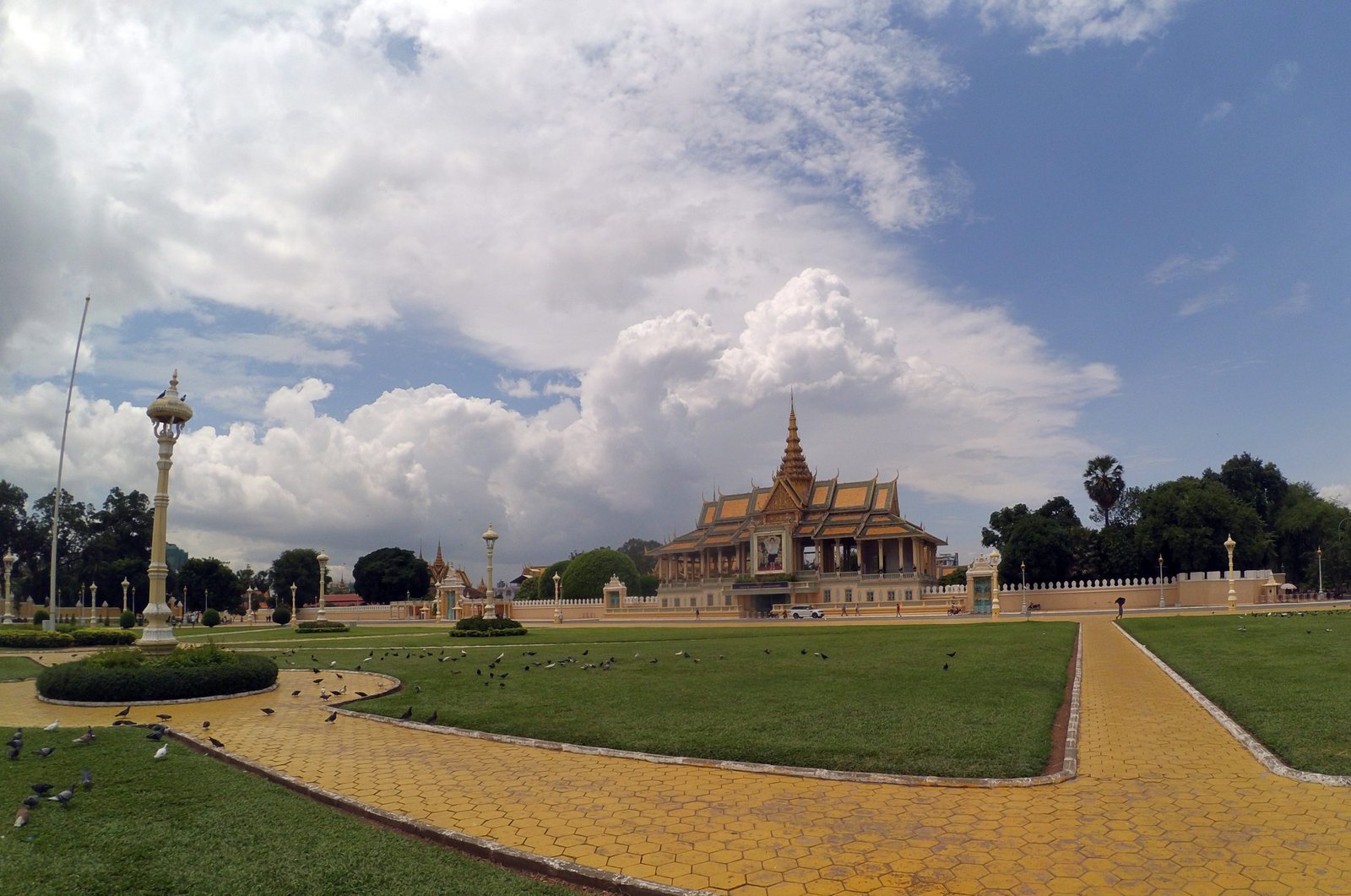 Once done, the next on our list of things to do in Phnom Penh on day two is the Royal Palace.
If you've previously travelled to Thailand, and have visited the Royal Palace in Bangkok, you will notice similarities immediately. The Royal Palace is not as luxurious as the Royal Palace in Bangkok but worth the tiny fee (6 dollars during my visit in 2016). Again, check the website link shared above for the updated Phnom Penh Royal Palace entry fee.
Explore the splendid regal buildings and the Silver Pagoda inside the Royal Palace, before finally leaving for the Phsar Thmei (also known as the Central Market). Here you will find everything, from jewellery to dry fruits to Bowler Hats, but be prepared to negotiate. There is a nice food court in the central market for some local Khmer cuisine.
Do not, also, forget to get a ride in Cambodia's very peculiar rikshaws. They're different and fun!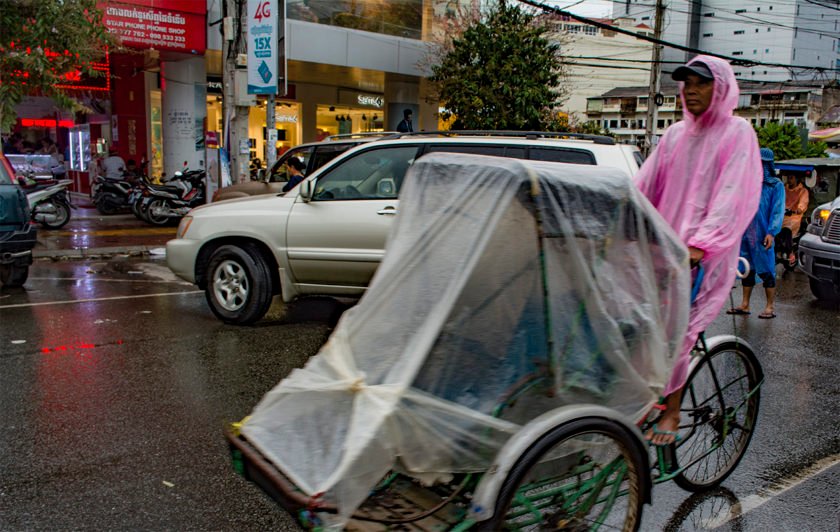 For the evening, head back to the usual Sisowath Quay, or check out one of the only few rooftop bars in the city, including the two popular Le Moon and Eclipse Sky Bar.
If, however, you're visiting Bangkok next, you can skip a roof-top bar experience in Cambodia as they are better in Thailand, and rather just wander around the riverfront and drink a few happy-hour beers.
Now that we have discussed our 2 days Phnom Penh itinerary and things to do there, let's discuss how to actually travel there.
How To Travel Phnom Penh
It is possible to find flights to Phnom Penh from across Asia. There are also many direct buses from nearby Southeast Asian towns like Ho Chi Minh and Bangkok and Luang Prabang.
Flights from Bangkok, Kuala Lumpur and Luang Prabang are available at a good price with a pretty decent frequency. If you want to travel on a budget, you can also catch a bus from Bangkok and other cities.
It is moreover possible to do immigration if you are coming by land. You can even get a Cambodia Visa on Arrival on the way. Check this Cambodia Embassy website for details about the current visa fee and norms.
Since there is no railway line in Cambodia, it leaves us to either catch a flight or travel by bus. Read more about how to travel to Cambodia, the cost of travelling and some useful travel tips in this Cambodia Travel Guide.
Speaking of me, I flew from Bangkok to Siem Reap and it cost me around 70 USD. Here's a 3-day Siem Reap itinerary if you are going that way.
If you found this 'things to do in Phnom Penh in two days' itinerary useful, or have some suggestions to add, please leave a comment below!