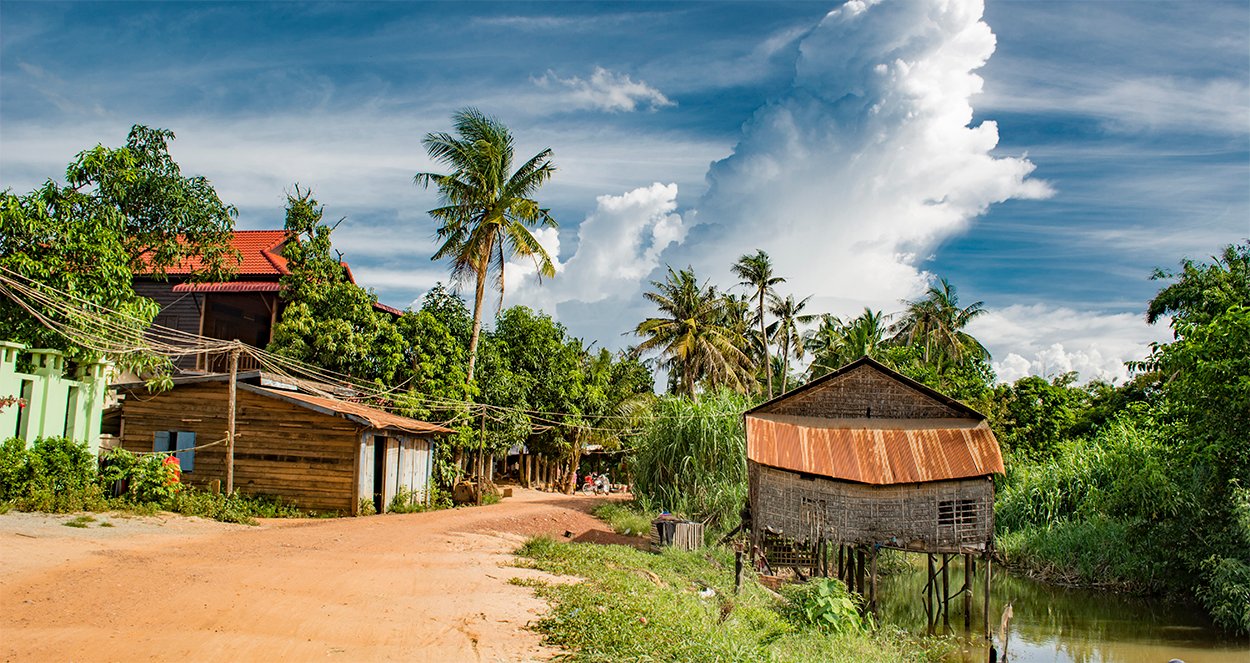 Cambodia is wild, unorganised and raw. But there's something about the country that draws you in. Even though it is widely recovering from a long ripping past, its people are always found sharing smiles. From the moment you step into the country your life slows down, and the pace continues throughout the trip. Travelling in Cambodia is cheap and frugal travellers (as I, myself, tried it) can survive a day in under USD 10. The country's tourism – across its three major tourist towns, namely Siem Reap, Phnom Penh and Sihanoukville – revolves around a rich history, delicious food, beautiful coastline, and a rocking nightlife.
TOP PLACES TO SEE & EXPERIENCES TO TRY IN CAMBODIA
Temples of Angkor Archaeological Park: This is the highlight of tourism in Cambodia and the reason why most of the tourists visit the country in the first place. Spread over 400sq. kilometres, the temples ruins in Angkor Archaeological Park breathe history. Though the archaeological park contains a total of 45 different temples, the temples of Angkor Wat are historically most significant. This is moreover where Hollywood legends like Tomb Raider and Indian Jones were originally filmed.
Siem Reap: Though the town offers nothing much of an attraction, it is popular as a base for tourists to make their day tours to Angkor Wat Archaeological Park. Other than the ruins of Angkor, the only other activity close to Siem Reap, where most tourists tend to frequent, is sailing down the Tonle Sap River. Located at 20kms south of the main town, this is where you can explore a different kind of life running around the country's major waterway.
Sihanoukville: A coastal city on the far south of the country, Sihanoukville was my personal favourite in Cambodia. It is a backpackers' mecca for everything in Sihanoukville is amazingly cheap. The town has a coastline of a number of amazing white-sand beaches, and the options will have you confused about where to stay. Still if you're looking for crazy night parties, choose the Victory Hill; to experience a solid backpackers' activity, however, come straight to Serendipity Beach. For quiet and laidback evenings, and a beach comparatively cleaner, look no further than Otres Beach. Here's a great article on travel tips for Sihanoukville.
Island Hopping: Islands in Cambodia may not have roads, or cashpoints, or rocking wifi, but this is a small price to pay for squeaky white beaches and an escapist's easy-going vibe. Islands in Cambodia, are moreover cheap to stay. Expect a bungalow experience in less than USD 7 a night. They are like the Thai islands of yesteryear that are unspoilt in nature, peaceful, and are meant more for bird-watching rather than partying or diving. Koh Rang, Koh Rang Sanleom, Koh Ta Kiev and Koh Thmei are the four most popular islands in Cambodia.
Battambang: Visit Battambang to see beautiful countryside, get more local experiences and explore an unspoilt French colonial architecture. The town's few ancient temples and a bamboo train are the only two major attractions. Though at the moment, Battambang falls right outside the popular tourist trail of the country, it won't be long when the town's rapidly growing popularity will have its fate following that of Siem Reap and Phnom Penh.
Phnom Penh: As the capital city, Phnom Penh is where you will find the Wild West atmosphere and the solution to most of your problems in the country. Many tourists find Phnom Penh similar to Bangkok, except for the traffic here does not drive you mental, and the city is comparatively raw and much unorganised. Other than a few historic sights and museums, visit Phnom Penh for alluring café culture, bustling bars and world-class food scene.
The Killing Fields & Tuol Sleng Genocide Museum: Located about 8 and 4 kilometres respectively, from the city centre in Phnom Penh, The Killing Fields & Tuol Sleng Genocide Museum are the two dark sites, where the hell broke loose in the country a few decades ago. Although a visit to both places may not be the most cheerful way to spend your holiday in Cambodia, it makes for a learning experience and a testament to the dangers of uncontrolled power. Visiting The Killing Fields & Tuol Sleng Genocide Museum will moreover help you understand Cambodia better. [Read About My visit to The Killing Fields & Tuol Sleng Genocide Museum For More]
BEST TIME TO TRAVEL IN CAMBODIA
Since Cambodia is a hot country, it is advised to come here between October and March. July, August and September also make a fairly good time to travel, thanks to the monsoons, but high humidity might make things tough to travel, particularly while going around the ruins of Angkor, where you're required to walk and sweat all the time.
COST OF TRAVELLING IN CAMBODIA
Transportation: Bike taxis take about 4000 Riel for a 2 to 3-kilometre ride. Tuktuks can charge double. Other than bike taxis, tuk-tuks and just a handful of metered taxis there is no other local transport inside the cities. For long journeys, minivans and buses are the two options, as the country has no railway system. Buses generally cost 24,000 to 32,000 Riel for a 6-7 hour ride (Siem Reap to Phnom Penh; Phnom Penh to Sihanoukville). Night buses and minivans, both cost about 60% more than the fare of a normal day bus.
Accommodation: Accommodation in Phnom Penh can be super cheap. Cheaper than most of the countries in the world. Here you can get a dorm (even in the popular coastal towns) for less than 8000 Riel a night. In Phnom Penh a non-A/C dorm is available for 12,000 Riel, pay another dollar (or 4000 Riel) and you get an A/C dorm. Privates (shared between a minimum of two people) can be rented in under 8000 Riel per night per person. For 40,000 Riel, you can get comfortable hotels with all the basic luxuries you can imagine. Islands can be a little expensive but expect to pay no more than 28,000 Riel per night.
Food: Basic street food is available for 6000 Riel, restaurant meals start at 16,000 Riel. Western meals at nice restaurants can cost 24,000 to 40,000 Riel. Beers are cheap in the country, and in most of the cities, you can get a pint during happy hours for 1000 Riel. Expect a daily budget of 16,000 to 24,000 Riel on packaged water too.
FEW OTHER TIPS
Bag snatching and looting are rampant in Cambodia, particularly around Siem Reap and Phnom Penh, while riding on a tuk-tuk or a Bike Taxi, make sure you place your bag in a safe place. Never wear them on your back.
Avoid night buses in the country. While I was travelling in the country, many tourists shared their story about how they lost their valuable items in the night buses, soon after they dozed off. They all warned me to take whatever means of transportation, but a night bus.
Do not forget to bargain with a tuk-tuk and bike taxi drivers before you take a ride. The first price you're quoted should come down by at least a third – the same thing applies while shopping at local and open markets.