Thailand is backpackers paradise. From lush jungles to white beaches, to crazy city markets – you can find it all here, but all at an affordable price. In fact, the country has so much to offer that it is literally impossible to summarize its diversity. Its capital, Bangkok, is a perfect metropolis with gilded temples and night market. The north offers you hill tribes ruling the mountainous jungles. And the south, on the contrary, is all about postcard-perfect beaches and crazy moonlight parties. Wherever you're in Thailand, there's the cheap street food – something so awesome in its standard that no other country in the world can beat it.
When it comes to travelling in Thailand, it is super easy too. In fact so easy that you actually feel that everything here has been planned, and moreover designed to function, keeping a traveller in mind. Here you can find super cheap hostels, for less than $2 a night, and then right next door you can find a luxurious property charging you a whopping $10,000 each night. So no matter what you like during a holiday, if it's available on our planet, you're going to find it in Thailand.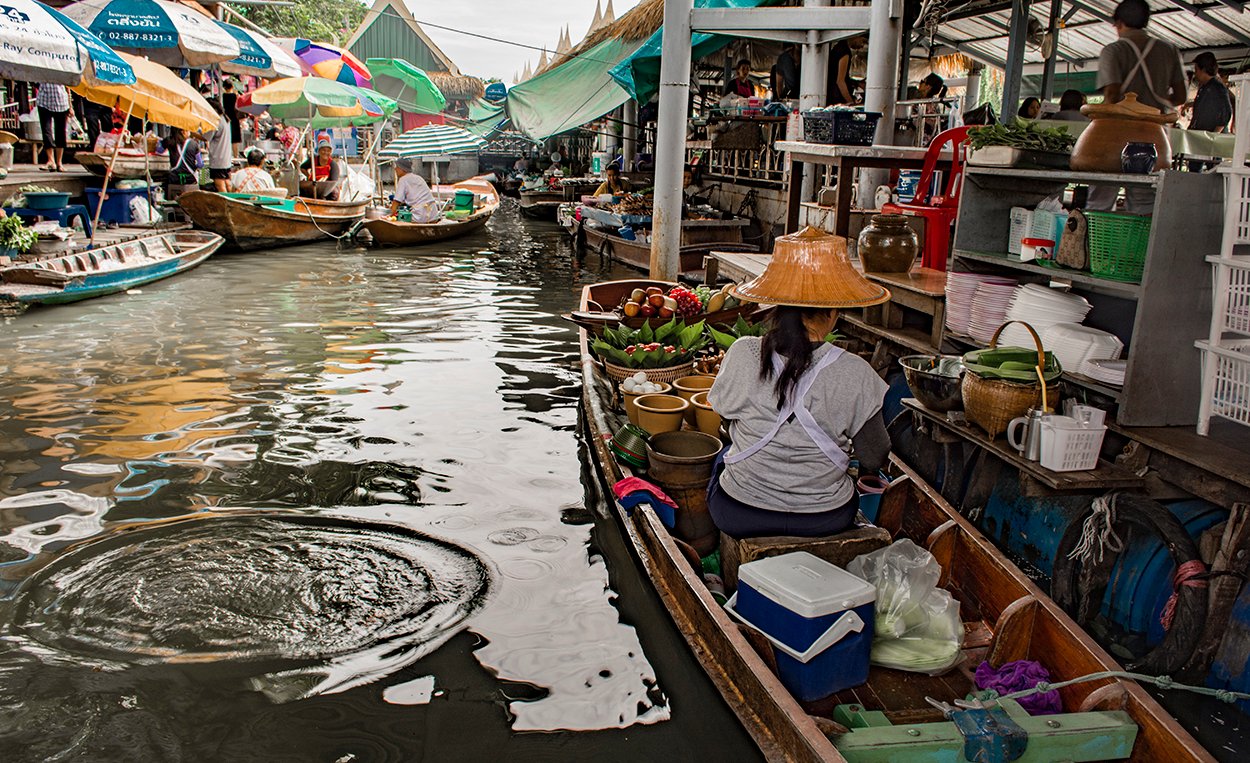 TOP PLACES TO SEE AND EXPERIENCES TO TRY IN THAILAND
Explore Bangkok: Bangkok is designed to suit backpackers and solo travellers. Cheap, fascinating and colourful, this city has something for everyone. Explore temples, night markets, one of the craziest party scenes, and of course, the amazing Thai food. Whether you're here for a day, or a month, there's enough to see and do in Bangkok, but if you just happen to be in the town for a limited time, refer to my Bangkok Three Day Travel Guide.
Night scene on Pattaya Walking Street: Walking Street in Pattaya is one of the biggest party spots in Thailand. Spread over a stretch of one kilometre with nightclubs and go-go bars, with Thai Kickboxing live shows, Pattaya promises an intense party scene.
Visit The Golden Triangle: Not for the opium, but to see Thailand, Myanmar (Burma) and Laos all in one sight, bordering around the same river. Google Images of The Golden Triangle, and you would realise what beauty I was talking about.
Visit a floating market: One of the most amazing and not-to-be-missed cultural experiences in Thailand is visiting a floating market. Here you will find rickety boats selling different variety of food and goods. An ideal place for photographers, some of the popular floating markets are Amphawa floating market, Damnoen Saduak floating market, and Taling Chan floating market – all under a distance of 100 km from Bangkok.
Experience the amazing Maeklong railway market: Ever heard of a daily food market running on a railway track? Perhaps not. The food market on Maeklong railway track is the only such market in the world and is definitely a no-miss during your visit to Thailand. It's located only a 2-hour drive from Bangkok's Victory Monument. Regular minivan services make it easier to visit Maeklong Railways market on a day trip from Bangkok. [Watch the Maeklong Railway Market Videos for a better idea]
Living on street food: Thailand is all about street food. Forget McDonald's, forget KFC, as street food in Thailand is much better, contrasting, fairly hygienic, and far cheaper. Night markets are always an ideal place to explore the best of street food in Thailand.
Driving a motorbike in Northern Thailand: With lush green mountains surrounding a smooth hilly road, riding a motorbike in Northern Thailand is a great experience. One of the most popular trails is from Chiang Mai to Pai.
Relax in Pai: Pai is a small, secluded town, located on a 3-hour drive from Chiang Mai. If you're looking to escape the craziness of cities and want to lose yourself in the peaceful mountains, this town can just be your thing. The night food market in Pie is moreover by far my best in entire Thailand [Read: Things To Do In Pai]
Check out a hill tribe: There are several colourful ethnic minorities living in the northern hills of Thailand – a total of 7 of them, with the popular ones being the Akha, Lisu, and Karen tribes.
A day trip to Ayutthaya: Around two-hour drive from Bangkok lies the cultural and historical city of Ayutthaya. Destroyed by Burmese in the 18th century, Ayutthaya is all about ruins and ancient temples. One of the major tourist attraction around here is Buddha head in tree roots – the only thing that's remained of Buddha's real existence. [Read: Day Trip To Ayutthaya From Bangkok]
Watch Thai Kick Boxing: Known as Muay Thai, Thai Kickboxing, is, by far, the most Thai sport you can experience. To have a real Muay Thai experience in Bangkok, book a ticket in the Bangkok's Rajadamnern Stadium or for free at Channel 7 stadium.
Adventure activities around Chiang Mai: Make Chiang Mai your base-camp to explore the many adventure activities, jungle treks, and day tours outside of the town. Some of the most popular adventure activities include Chiang Mai night safari, Mae Sa Elephant camp, climbing the highest peak in Doi Thanon national park, and visiting the long-neck tribes.
Relax on the tropical islands in South: Islands in Thailand are the most frequented places for backpackers in the country, where people end up travelling from one island to the other for months. The white sand beaches, the parties, the bungalow retreats – you will find it all there. Ko Lipe, Ko Samet, Ko Phi Phi, and Ko Samui are some of the most popular beaches, among others. But please note that staying on an island can be comparatively more expensive than the other parts of Thailand.
BEST TIME TO TRAVEL IN THAILAND
Visit Thailand any time of the year and you will find it flooded with tourists, particularly Europeans. But if you're too particular about the weather and hate sweating, it is advised to travel to Thailand between the months of October and March. August and September are a fairly good time to travel, but frequent rains, predominantly in the north of Thailand might make it challenging at times.
COST OF TRAVELLING IN THAILAND
Food: Thailand is one of those countries where street food dominates the culture. And that's where you should be eating when you're in Thailand. You can have the regular (but of a good taste) meat+rice or meat+noodles at any roadside stall, throughout the country, for as little as 30 or 40 Baht. Sit down restaurants start at 50 Baht, while a western meal can cost you around 100 Baht. Roadside snacks, which include things like Pork sausages and pieces of BBQ chicken can be availed at 10 Baht.
Accommodation: I was literally amazed to see how cheap the accommodation can be in this country. Expect to get a really nice (often king size) clean bed in an air-con dormitory for somewhere between 150 to 300 Baht – price fluctuates depending upon whether you're in a city or the countryside. Private rooms start from 250 Baht per person that are generally shared between two people.
On the islands expect to pay around 500 Baht per night – for private rooms and basic bungalows alike. Hotels start at 1,200 Baht per night and can go sky high. 18 Coins Hotel (Pattaya), The Overstay (Bangkok), Mapping Hostel (Chiang Mai) and Kanravee Guesthouse (Pai), Phuket Backpacker (Phuket) are some of the nice, and tried and tested properties around the country.
Transport:
For a meter taxi: Nearly 6 Baht per kilometre, with a minimum of 35 Baht as base fare.
Tuktuk: Somewhere between 60 to 200 Baht depending upon the distance.
Bike taxi: Around 8 to 10 Baht a kilometre. Bike taxi is an ideal option for solo travellers and for short and quick trips inside a city.
Public buses (only applicable in Bangkok): 7 Baht for Non/AC buses and 12 Baht for AC buses, per ride.
BTS and Skytrain (only applicable in Bangkok): Between 20 to 50 Baht per trip.
Scooter rentals: Start from 100-150 Baht for a 100 cc scooter.
Minivans: Charge just a little over 1 Baht per kilometre.
For overnight and day journeys you have among the three options – trains, buses, and minivans – to choose from. Buses are the most convenient option, and charge around 400 to 800 Baht for a 700 km journey. A minivan would cost around 700 Baht. And a train between 500 to 1200 Baht.
FEW OTHER TIPS
Do not forget to bargain with tuktuk and bike taxi drivers before you take a ride. the first price you're quoted should come down by at least a third – the same thing applies while shopping at local and open markets.
The sex industry is uncontrolled and ubiquitous in Thailand, despite being illegal. Potential trouble from the police, as well as numerous ethical issues, are often involved, not to mention various issues of health and safety. So keep your wits about you.