Looking for Ladakh Jawa Pictures and images? Here are some photos from my recent Zanskar-Kargil-Leh ride. 
I know most of my blog-readers will hate me for this title.
"Ladakh In Pictures and photos was okay", they would say, "but what's with Jawa? This man is so obsessed with his new Jawa motorcycle."
In my excuse, I will say… "You wouldn't say so if you read the comments on my previous Youtube Videos".
Since I've started making Youtube videos showing you around the world, keeping a motorcycle 'Jawa 42' as the center of attraction, I've got more people asking me when will I take that center of attraction to Ladakh.
So dedicated to those comments, this is 'Ladakh in Pictures', with my Jawa 42 in some of the images. Those who want to see Jawa, see Jawa, for those who don't, these pictures speak more than just what the title says…
Ladakh Jawa: Pictures Images and Photos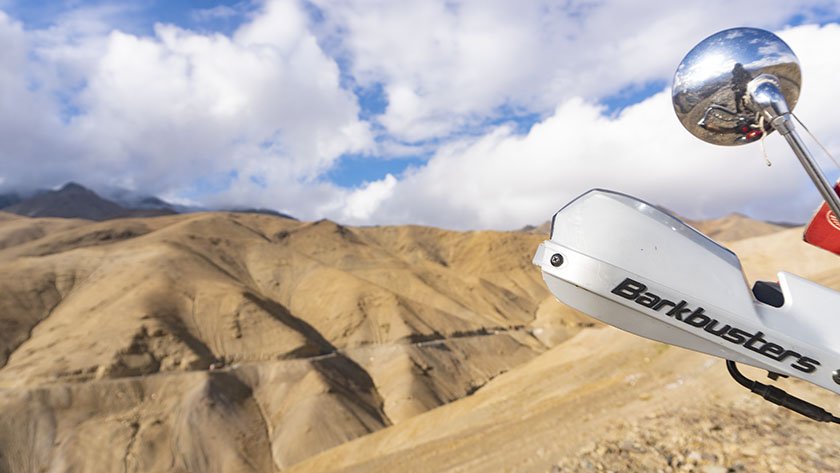 The picture was taken between Kargil and Lamayuru (halfway to Leh, from Kargil) near Fotu La Pass. Fatu La Pass is located at nearly 4100m above sea level altitude where you get some amazing Instagram-perfect pictures and photos of Ladakh. Just only keep the subject in the middle, just like I did, and spoil the photo.
Pretty much the beginning of Zanskar, when you enter from Kargil. In Zanskar, which happens to be in the Kargil region, local schools don't teach Hindi but Urdu as a national language. English, of course, is a part of the syllabus.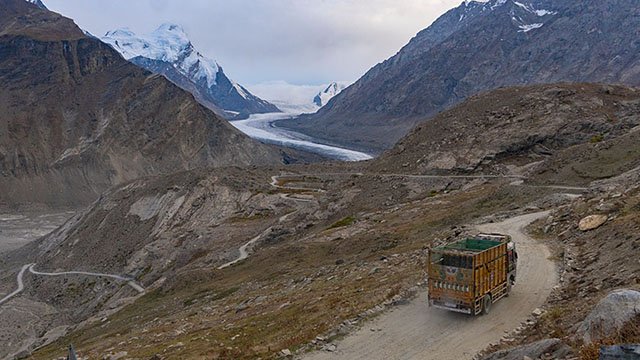 One of the biggest and least untouched Glaciers of the Indian Himalayas – is Drang Drung. As per Google, Drang Drung is the largest glacier in Ladakh, other than the Siachen Glacier. You can find it near the Pensi La mountain pass on the Kargil – Zanskar Road, which I recently did.
Read More about the journey here: Keylong to Kargil Zanskar Itinerary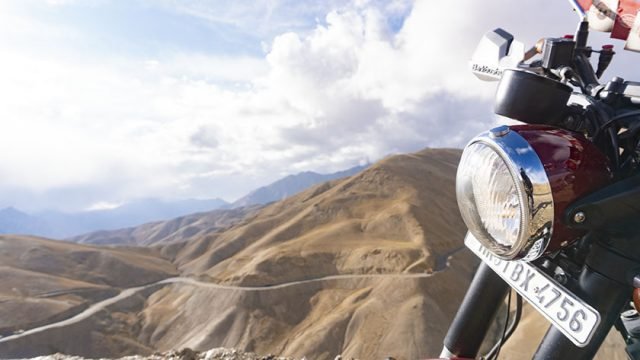 Thanks to BRO, the road connecting Kargil and Leh can now be considered world-class. You can do the 200+km distance on these roads in about 4 hours or less, despite having some of the high mountain passes and natural water-crossings on the way.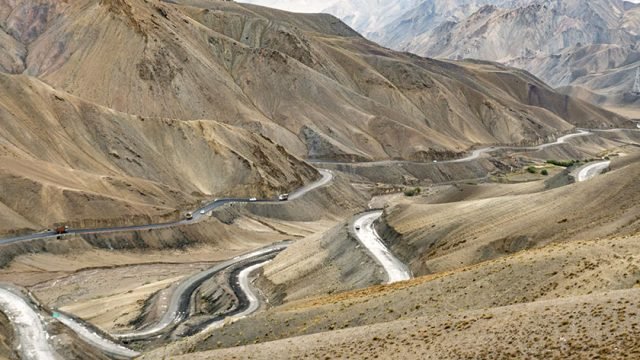 Loops, between Kargil and Lamayuru (about 10 minutes before Lamayuru) that are too hard to miss and too attractive to not click a picture. There are at least a dozen similar sights on Kargil-Leh highway. All you need is an eye for it!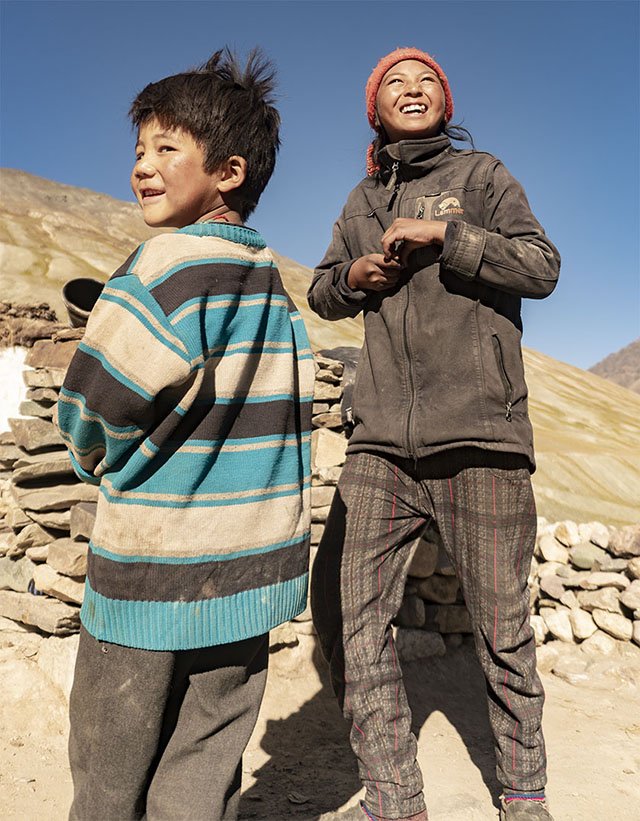 Siblings. Somewhere between Kargil and Keylong, in a tiny village called Kurgiakh. Kargil to Keylong route is one hell of an experience. Where you can do Kargil to Keylong via Leh in two days, Kargil to Keylong via Zanskar can take at least 5 days. And the best part is, other than the beautiful Ladakh images you get there, it is accessible to drive to for only two months in a year.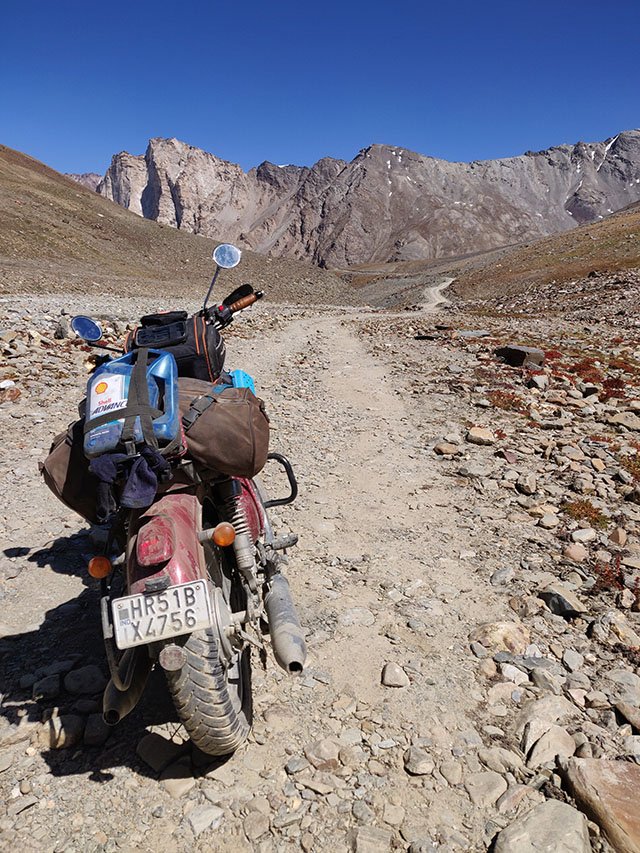 And those two months too, driving or riding here remains a stroke of luck.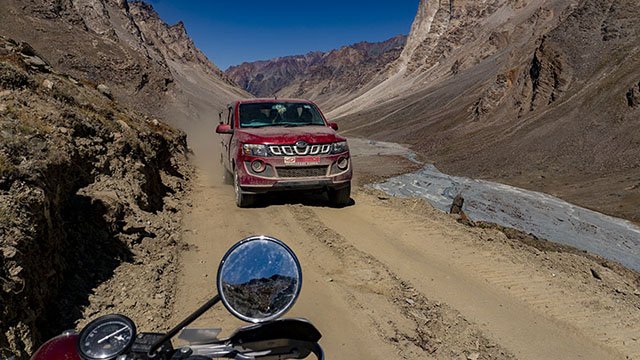 For hours, you will keep moving in a direction with no life to see around but just a river and a camera to click some beautiful images and photos titled 'Ladakh pictures'.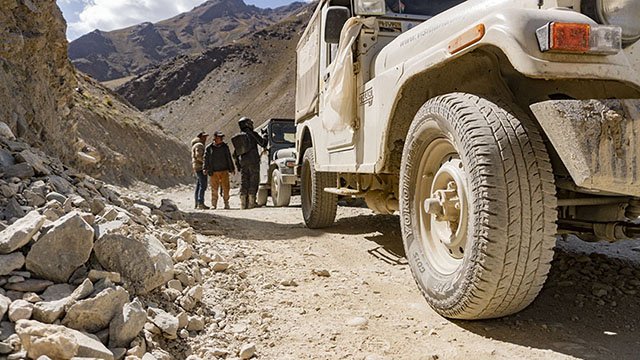 And when you see any human on the way, you naturally stop and ask for whereabouts and other route details. To give you an idea… Zanskar Valley offers a pretty similar riding experience as Spiti Valley, except, Zanskar is more untouched and underdeveloped.
A group of riders, having a discussion. You can see my Jawa 42 parked behind. The picture was taken in Zanskar Valley in Ladakh.
Recommended Read: Riding Jackets I Recommend You Buy
The picture was taken at dawn. Near Rangdum, Kargil district, Ladakh.
A view from Thikse Monastery looking into Ladakh. About 15km on the left is the town of Leh.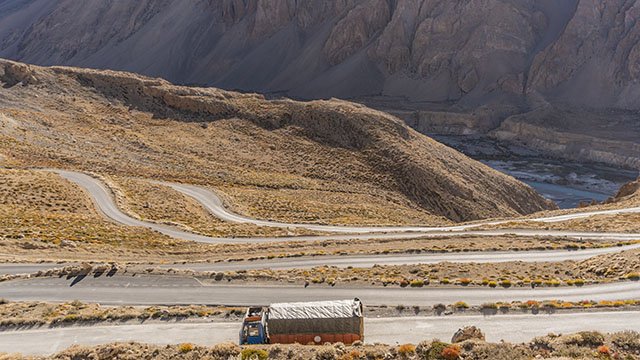 The Instagram perfect photo-spot of Gata Loops is a series of 21 hairpin bends that lead to the top of one of the highest motorable passes in Ladakh region Nakee La. For those who don't know, there are many mysterious stories related to Gata Loops, including Ghosts and paranormal activities.
A beautiful, sleepy village in Zanskar Valley. The name won't matter.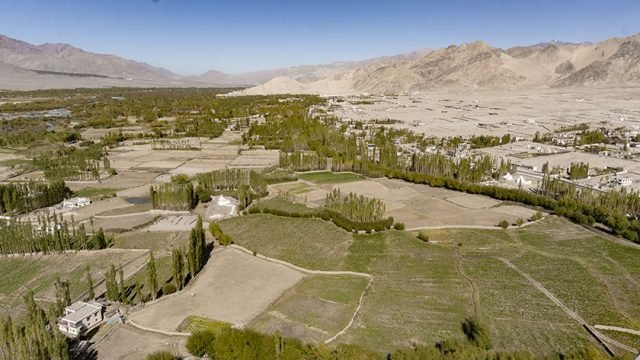 Some agricultural land, before the town of Leh. The picture was taken from Thikse Monastery.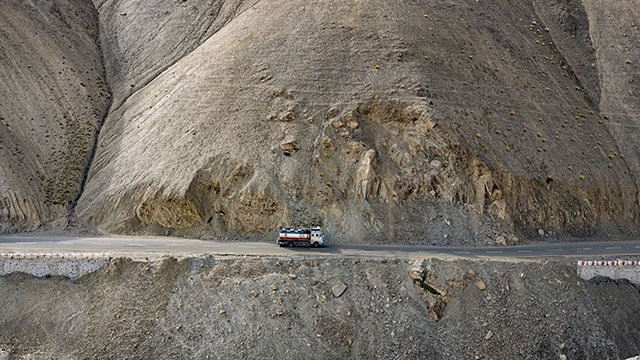 A distant view of the road connecting Leh and Kargil. Somewhere near Lamayuru.
I have also written other articles that you may find worth reading if you want to know more about the bike. Here are more details about Jawa 42 and the Jawa Delivery Waiting Time. If, however, you are more into the budget side economy, you may be interested in reading a comparison review of my Jawa 42 mileage (this review talks about the mileage before the first service, after that, and now at nearly 20,000 km reading).
That's all in this photos blog of Jawa Ladakh pictures.
Here's a quick 1-minute trailer of my entire Ladakh motorcycle tour and my solo Leh to Manali trip. You can also watch the entire Ladakh Ride series (of daily vlogs) on my Youtube Channel.