Lamayuru in one sentence? The last Buddhist town and a perfectly peaceful destination near Leh!
I remember the first time I visited Lamayuru, it was in 2015. I wasn't blogging back then but had already left my corporate life behind to travel indefinitely. Travelling solo, I met two other solo backpackers, and the three of us planned for hitchhiking in India – all the way from Leh to Srinagar. Our first stop happened to be in the town of Lamayuru.
My First Visit To Lamayuru
Our original plan was to stay there for just a night as a 2-hour journey can take about 6 hours of hitchhiking on those roads. But we ended up staying there for 3 days. Lamayuru has some kind of charm that grips you the moment you get there.
The town's surrounding landscapes, otherwise known as The Moonland of Ladakh, have some kind of meditative power in them. You look at them from a distance and you want to keep looking forever.
I remember when I first visited Lamayuru, there wasn't much of a settlement but a couple of homestays and a monastery to eat and drink butter chai. But this time as I revisited the town, things had changed (though, of course, keeping its original charm intact). Those budget ladakh holiday packages might be a reason why such offbeat destinations are getting mainstream nowadays.
Revisiting Lamayuru
So this time, as I was returning after completing my Sach Pass itinerary, before further going for Shinkula Pass and Zanskar Valley (that made me ride from Kargil to Leh) I decided to spend a night in Lamayuru and see how much the town has changed.
Here's a quick video of my visit from my Youtube Channel:
To my surprise, there were more guest houses and homestays than I could count. The roads connecting Lamayuru looked broader, and there were enough Israeli and European backpackers even in the lowest tourist season.
The Lamayuru Monastery, to my disappointment, also started charging an entry fee. In short, it started giving stronger hints of an emerging tourist destination. Busy locals moreover had no time to share a Happy Jullay and start an inviting conversation.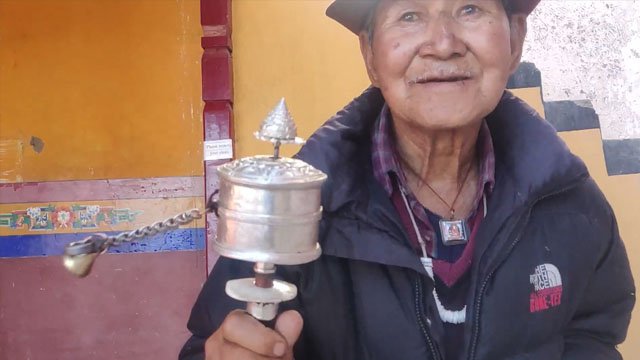 So yea, in just 4 years the town felt different. But it was still a pretty good escape from the maddening Leh.
Lamayuru: A Quiet Alternative to Leh
If compared to Leh, Lamayuru still offers a quieter and more peaceful experience, all while keeping the original feel the same – a 100% Buddhist town, a strong Ladakhi culture, a moorland landscape, a centuries-old monastery, and much more to complete a true Ladakh experience. And the best part is, Lamayuru is only 2 hours away from Leh.
To give you an idea, it is located exactly in the middle of Leh and Kargil. If Leh to Kargil is a 4-hour journey, Leh to Lamayuru is 2 hours, and so is Lamayuru to Kargil. It is moreover the last Buddhist town if you're doing Leh to Kargil (or further towards Srinagar).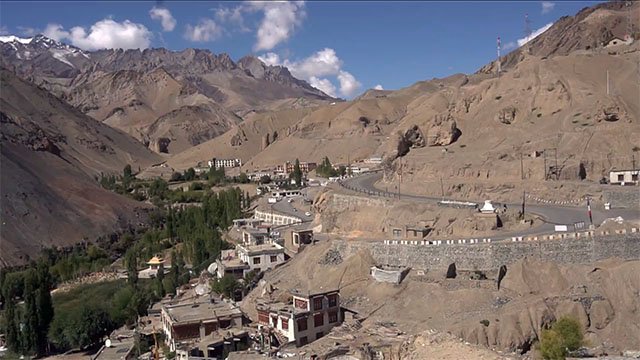 What To See And Do In Lamayuru
Unlike in Leh, you won't find a big market and fancy cafes in Lamayuru. It's a place for those who appreciate the idea of going slow.
Lamayuru Monastery
The monastery is the main attraction in the town, which happens to be one of the oldest and largest monasteries in Ladakh, with many stories and legends associated with it.
Lamayuru monastery houses around 150 Buddhist monks, though there used to be more than 400 earlier.
Yuru Kab Gyat and Hemis Tse Chu
If you happen to visit during the 2nd and 5th month of the Tibetan lunar calendar, you can experience the two popular annual monastic festivals of Yuru Kab Gyat and Hemis Tse Chu including sacred rituals and dance performances.
Hiking and Exploring
Apart from spending some time at the monastery, just wander around in the town and share an exuberant smile with the local Ladakhis. Simply break eyes by saying "Julley" (Hello in Ladakhi) and you will see a conversation will follow.
It is also possible to try hiking in Lamayuru and experience walking on moon-like craters.
Here are more tips on what to
More On Lamayuru Monastery
The monastery here (also known as Yuru Monastery) is believed to have had its first building erected in 958-1055 CE. At the southern end of the Lamayuru Rock, you can find a temple called Seng-ge-ghang, which is now the expanded version of the first few blocks of the original Lamayuru Monastery.
The builder monk of Seng-ge-ghang is believed to be Rinchen Zangpo, who was later commissioned by the king of Ladakh to build more than 100 gompas in Ladakh and Spiti Valley. If you plan a Delhi to Spiti valley trip today, you will find many gompas dating their foundation in 1000 CE.
According to the legends, Lamayuru valley was a clear lake back in the time, making it a dwelling place for the holy serpents (this was all before Rinchen Zangpo founded the monastery here). But when Bodhisattva Madhyantaka made a prediction that the lake will be emptied soon, Rinchen Zangpo (who was a Buddhist scholar in the 11th) spent years meditating in a cave and causing a split in the surrounding hillside.
The lake emptied and therefore began the establishment of the monastery in Lamayuru.
Speaking of what to see there:
The first attraction is the tall prayer wheel outside of the monastery premise.
When you will enter the monastery, on the right side of the courtyard you will spot the revamped version of the original Dukhand Painting that was done in 1970.
The many murals on the wall (inside the prayer hall) depicting the way of life a lama is to live.
A small cave where Zangpo is supposed to have meditated for several years.
The life of lamas living inside the monastery.
Drinking the butter-brewed gurgur tea.
If you are interested in visiting monasteries in India, I suggest you visit Namdroling Monastery in Bylakuppe (that is South India's biggest monastery) and Tawang Monastery (that is India's biggest monastery). You may also be interested in visiting the town of Bodhgaya which is considered the epitome of Buddhism in India.
How To Travel
Leh to Lamayuru Bus
There are many buses that travel from Leh to Kargil. Take anyone and can get off when you reach the town. The buses running between Leh – Srinagar also pass through the town. Take any of them going from Leh to Kargil's direction. It takes about 3 hours from Leh on a bus.
Kargil to Lamayuru Bus
Again, take any bus that is going from Kargil or Srinagar towards Leh.
By air – The nearest airport is Leh International Airport, which is well connected with other major airports in India. From the airport, you can hire taxis or rent bikes to travel to Lamayuru. You can also travel to Srinagar and then take the road trip from Srinagar to Kargil and Kargil to Lamayuru on the next day.