In 2020, Border Road Organisation gave the Indian motorcycle community a new adventure trail — Lipulekh Pass on Kailash Mansarovar Road.
Though in October 2020, while I am writing this blog, no one — except for the Indian army and the locals from village Garbiyang (whose residents reportedly own land around Kalapani) — has accessed the newly built Kailash Mansarovar Yatra Road and reached Lipulekh Pass, it is believed that by the end of 2023, this route will be open for public.
The same Kailash Mansarovar motorable road will then take the tourists all the way from Dharchula to Om Parvat and Adi Kailash in only 2 days.
Until now…
Until now, it was only possible to reach Lipulekh Pass, Adi Kailash and Om Parvat after a nearly 10-day trek from a place called Budhi. Dharchula to Budhi was a 50km or a 3 hours drive. From Budhi (about 5 km before Chiyalekh, or Chhiyalekh) it was a narrow trekking route to Om Parvat, Adi Kailash, and other places.
According to an itinerary on Thrillophilia (one of the cheapest itineraries available online), it costs 30,000 Rupees and 13 days for Dharchula to Adi Kailash base camp trek (near Jolingkong) and back.
Once the  Kailash Mansarovar road is open for tourists, it will take less than half the total time to reach Om Parvat, Adi Kailash and Lipulekh Pass, and a lot lesser budget. It will, moreover, be possible to ride on Kailash-Mansarovar Road in our own vehicle — all it will take is an Inner Line Permit from SDM in Dharchula.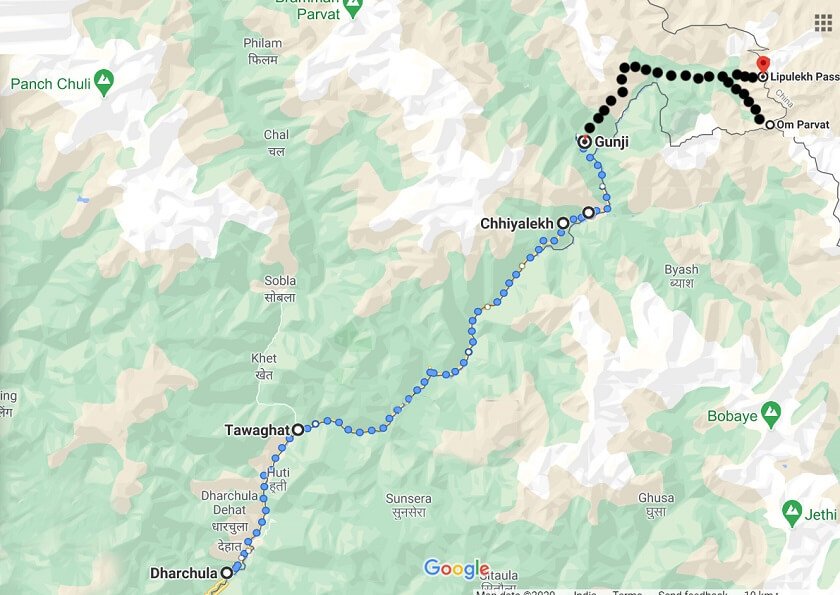 Please note that as per the ongoing road development work in October 2020, the new Kailash Mansarovar road remains open for tourists for only 17 hours in a week — between 7 PM Saturday to 12 PM Sunday. Rest of the days, the road is accessible for only the Indian Army and other permitted government vehicles.
So make sure you check with the SDM in-charge in Dharchula about the permitted timing.
An Unsuccessful Attempt…
In the first week of October 2020 I, along with a few other riders from Pithoragarh and Dharchula tried to access Kailash Mansarovar road up to Lipulekh Pass.
We started from Dharchula and rode all the way Chiyalekh. At Chhiyalekh, since we did not have the Inner Line Permit (issued by SDM Dharchula) we were stopped by the ITBP and asked to return to Dharchula.
In October 2020, given Indo-China border tensions SDM Dharchula was not issuing ILP to tourists to access the route. Why? Because other than China, Nepal is also objecting this newly built Lipulekh Pass road, and this has triggered tensions on the border areas.
Lipulekh Pass, Kailash Mansarovar Road: The Routemap
Despite a failed attempt, and from whatever little of this newly built motorable road by BRO (border road organisation) I explored, I can say that this route is by far the most adventurous motorcycle routes. It was next level to Shinkula Pass in Zanskar and Sach Pass in Chamba, forget Spiti Valley or Manali to Leh highway.
The first 20 km (Dharchula to Tawaghat) was a mix of concrete and dirt road, the next 35 km (Tawaghat to Budhi) was only a dirt track. The real adventure began after Budhi, that, for Chiyalekh, was in fact only 5km but took us about an hour.
From my estimate, we climbed over 500m within 5km. One hairpin bend after the next on what was nothing but a dirt-track carved out of blasted mountains. "And it is just the beginning," I was told. "The real adventure lies after Chialekh".
It is at Lipulekh Pass, on the newly built Kailash Mansarovar Road, that India concludes its territory to Tibet (now under China).
As per rough estimates, this is how the distances on the newly built Kailash Mansarovar Yatra Road will look like…
Dharchula to Gunji via Chialekh (72 km) [Day 1]
Gunji to Nabhidang to Lipulekh (18+11 km) [Day 2]
It is possible to reach Dharchula to Lipulekh Pass in 2 days, given you're driving for most of the hours of the day and don't come across any road blockades.
For example during our ride, despite leaving from Dharchula in the morning we hardly managed to reach Chiyalekh (located 13 km before Gunji). Having said that, though it is a 2-day journey from Dharchula, for one side, take one day of buffer time with you.
Here's a more detailed 5-day itinerary to cover a few more highlights on the Kailash Mansarovar Road…
Day 1: Dharchula – Tawaghat – Pangla – Najang – Malpa – Budi – Chiyalekh Top (3180m) – Garbyang (3044m) – Ceti (2915m)
Day 2: Ceti – Napalchyo – Gunji (3128m) – Kalapani Temple(3505m) – Nabidhang (4119m) – Gunji (3128m)
Day 3: Gunji – Nabi – Kuti (3736m)
Day 4: Kuti – Jolingkong (4295m) Gauri Kund (4493m) – Lipulekh Pass (5200m) – kuti – Nabi
Day 5: Nabi – Gunji – Garbyang – Najang – Dharchula
If you are coming from Delhi, add two more days for Delhi to Dharchula, and back!
What Kind of Vehicle Should You Drive
If you are driving: Though I saw a few 4*2 Mahindra Boleros struggling the way, I strongly recommend a 4-wheel drive for Lipulekh Pass on Kailash Mansarovar Road. Since Indian Army trucks are common to be seen on this road, I don't think the height of the SUV should be a problem.
Two Wheelers: As far as motorcycles are concerned, I suggest something that is quick and nimble. For me, for example, my Jawa 42 did a perfect job. Its lightweight body, powered by a 300cc and a 28 N.m @5000 rpm of torque generated enough power to easily climb uphill.
We had other motorcycles like a couple of Royal Enfield Classic 350 (that I've always found too bulkier and heavier for such terrains, including Ladakh and Spiti Valley), a Hero XPulse and a Royal Enfield Himalayan, and I found my Jawa 42 doing better than all of them thanks to its great power output.
Having said that, as long as your motorcycle has a great power output and is not too heavy, given its engine size, you should do good on those roads. It's not necessary to have a big engine (a 200 or 300 cc should do fine) but for a motorcycle trip to Lipulekh Pass on Kailash Mansarovar road, your bike should have enough torque to be able to pull you through.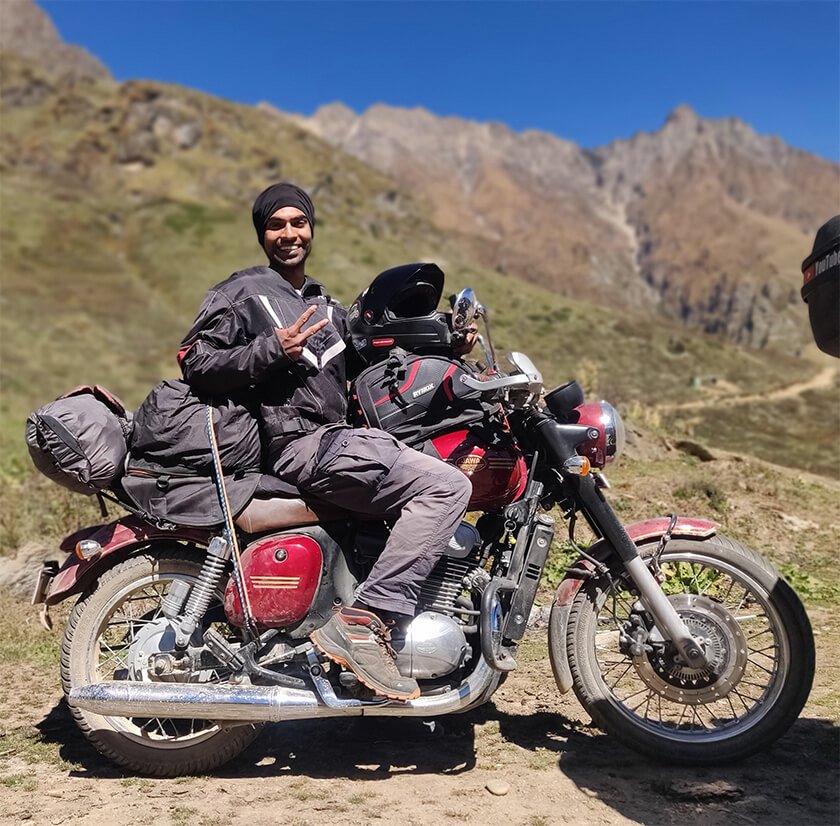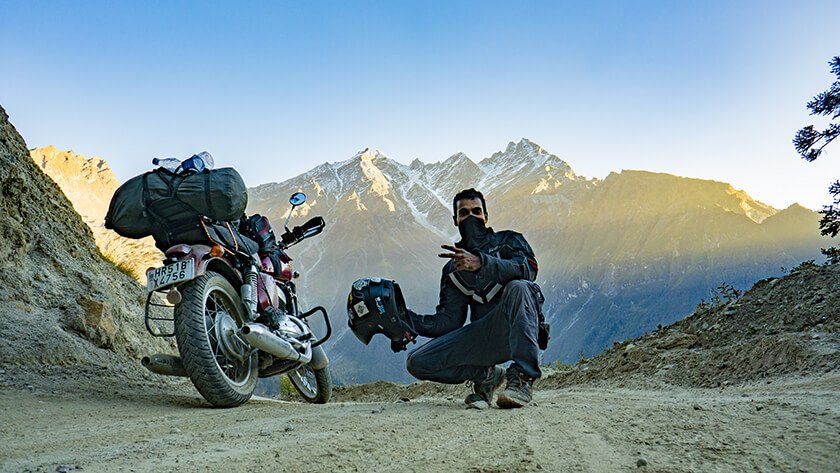 A Few more photos…
Unfortunately, since we couldn't go anywhere beyond Chhiyalekh, I do not have any visuals (pictures of videos clips) to show the route from Chiyalekh to Lipulekh Pass.
Here are a few photos from Dharchula to Chiyalekh though (expect more beautiful and challenging landscapes) on the Kailash Mansarovar Road:
If you don't know Mount Kailash, located in China occupied in Tibet, is of high religious significance to Hindus in India. Since ages, Hindu and Buddhist pilgrims have been making an arduous journey to this place.
The Mansarovar Lake, a freshwater body fed by the Kailash Glacier, is believed to absolve all sins with a sip.
The newly-made Kailash Mansarovar Road will cut down the travel time of this arduous journey, that was, in fact, only possible on foot and horseback so far, by nearly 80 percent.
Also Read Panchachuli Base Camp Itinerary in Darma Valley (the road for Darma Valley bifurcates from Tawaghat, near Dharchula). It is possible to visit Lipulekh Pass and Darma Valley in a single visit to Dharchula.