I wrote this blog before I planned my Sach Pass and Zanskar motorcycle ride. It was a one-month back-to-back road trip on some of the world's deadliest roads. I wrote this blog depicting my ambiguity of mind. But then I returned from the journey and I added more in the blog with tips on how you can plan something similar taking you from Delhi to Sach Pass to Keylong to Shinkula Pass to Kargil to Leh to Delhi – all in a single journey.
So yea, covering it all, this travel blog includes details from planning to executing to coming back and celebrating the ride, not to mention all the tips to help you plan a similar journey.
So let's get started…
25 October 2019: I am back from Sach Pass. I did a part of the journey with friends, and a part of it, solo. Here's a link to the blog post I wrote mentioning the itinerary in detail: Sach Pass Motorcycle Itinerary.
If you're interested to read about Shinkula and Zanskar, Read: Shinkula Pass Itinerary.
You can also watch the entire series (everyday vlogs) on my youtube channel. Here's the link to the Sach-Pass-Zanskar Playlist, or watch the trailer video below!
Now, continue with the article I wrote before the commencement of my Sach Pass–Zanskar–Kargil–Leh journey. If you want, you can also skip this bit and head straight to headlines in the article that says Sach Pass or Zanskar Road trip. Those part of the blog talks about my post-ride tips and will help you plan a similar journey.
Or, you can continue reading The Planning Phase, get the background clear, and then read the itinerary later. Now, let's get started…
14 September 2019: Until now, motorcycling seemed like an utter waste of effort to me. I always thought, what thrill do these so-called bikers get in riding across a place for weeks? I mean think of it this way: when you travel from point A to point B in a bus or, say, on a train, you get to see and do so much more than when you do the same journey riding a motorcycle. When you're on a motorcycle, all you do is ride and ride more. But when you're travelling else-how you look around, speak to the person sitting right next to you or even read a book.
So yea, travelling by any means but on a motorcycle always felt more rewarding to me… but, only until now!
I bought a motorcycle in April 2019, and since then, I've planned two solo-motorcycle trips in the Himalayas.
On the first journey, I covered about 3000km in the Himalayan state of Uttarakhand, over a period of 20 days, exploring offbeat villages, meeting tribal people, and even camping in the wilderness and experiencing solitude in a way that I didn't do in ages.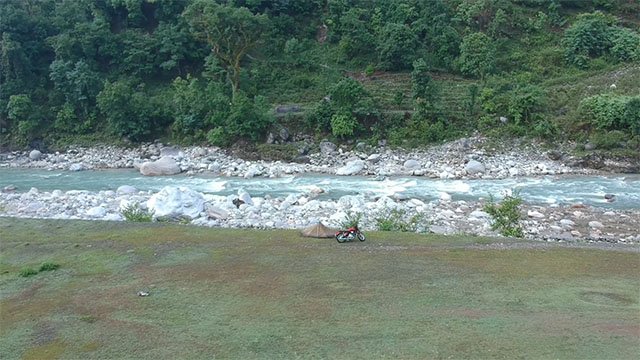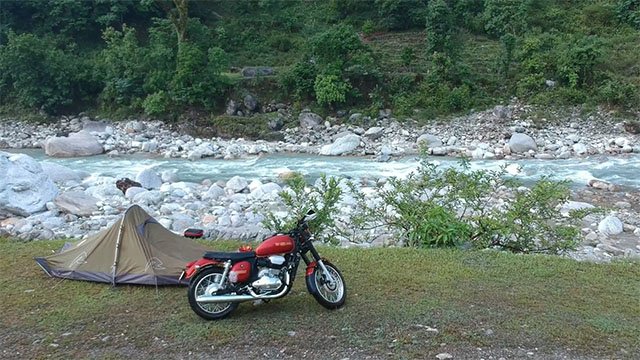 My second journey (about 5 months before I did Sach Pass) took me across the Himalayan state of Himachal Pradesh. I started from Delhi and travelled all the way to Chanshal Pass – the highest motorable pass in Shimla district.
In just about a month, I visited places and stayed in towns that others around me had no idea existed. This includes Cheog village, which has no mention on Google.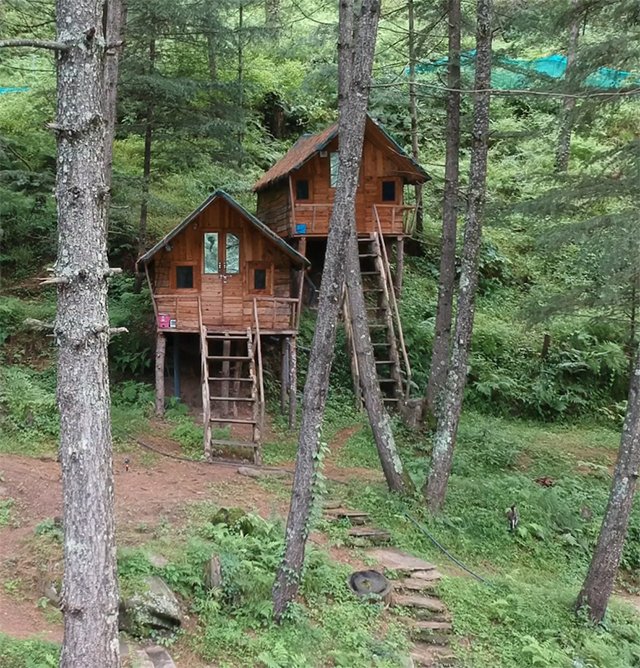 The Upcoming Trip
Though I have had a pretty decent adventure during the previous rides I feel I owe it to myself to do something big. And this calls for an unrivalled trip that I can look back on when I grow old.
Also, because I am planning a 3-4 month ride across Nepal and Northeast India in winter, I wanted to do Sach Pass and Zanskar in one ride to bring more confidence as a motorbiker. The itinerary I have planned this time will have my creative juices flowing.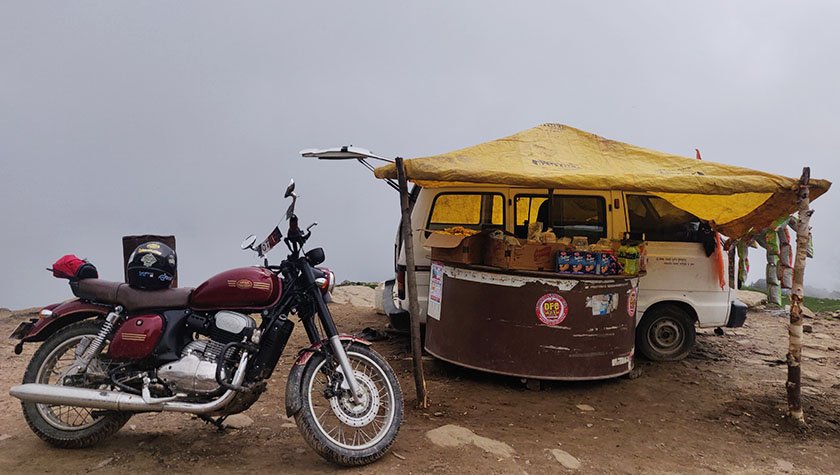 What's So Extraordinary About This Ride
Those from the motorbiking community in India very well know that Killar to Sach Pass offers some of the most challenging motorable road in the Himalayas, something that's next level to riding in Spiti Valley – forget riding to Ladakh (from Manali) or doing the highest motorable passes like Khardung La.
Sach Pass is one epic concoction of narrow gorges, deadly river crossing and isolated roads. If you will Google, it is not Ladakh or someplace in Spiti that wins the title of 'deadliest roads in the world' but the route that takes you from Killar to Sach Pass and further on. Pangi Valley, in Himachal Pradesh, is often referred to as the big daddy of mountain passes – a name just enough to give most riders shivers down their spine.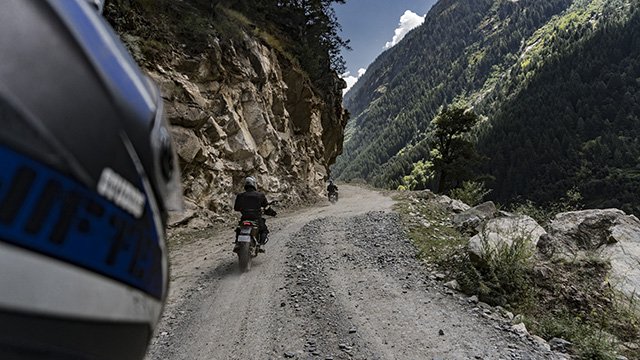 And then, my journey won't stop after conquering Sach Pass and Pangi Valley, as after doing this, I will move further towards Ladakh. I will be avoiding the most common route of Keylong to Leh and following a rather unusual route. This route will take me from Keylong to Kargil, via Zanskar.
No, I am not saying that this is an unusual itinerary, or that, no one has done the two routes (Sach Pass and Zanskar) in one journey before. What I am saying is, such an adventurous ride is a new thing for me.
Of course, I have had a fair share of adventure in life that included hitchhiking for days and camping in jungles, but riding 100-200km every day for about a fortnight on some of the world's toughest roads will challenge me in ways that I cannot imagine right now.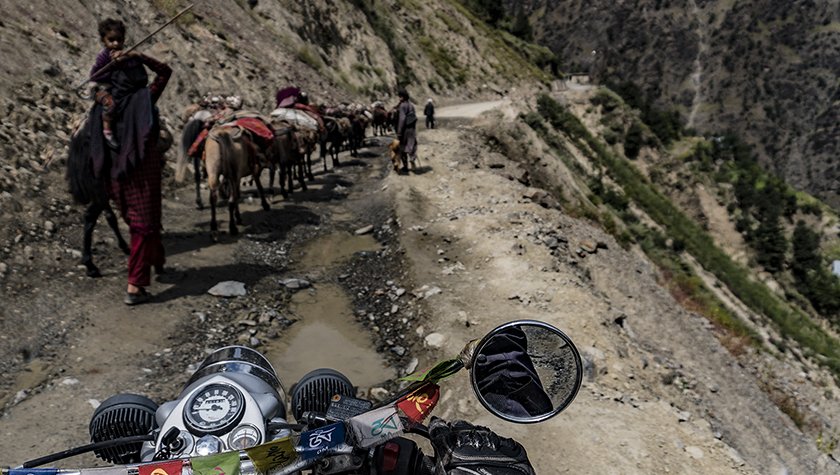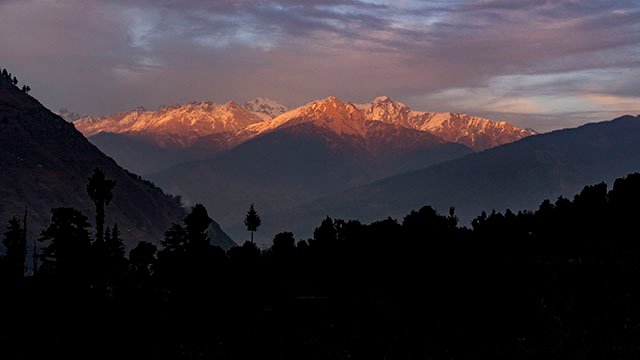 It All Starts Tomorrow
So having prepared this unusual itinerary, I find myself deep in the mire of trip preparation – whose answer lies somewhere between carrying all things of necessity to travelling as lightly as possible. And it is these minute details that, currently, are the hinges of my life.
So come one, and come all, and enjoy my topsy-turvy question-filled existence as Footloose Dev and his cute little Jawa 42 goes on this epic battle with the world, and hopefully live to tell you all about it.
---
Now, let's start with Leg 1 of the journey (about Sach Pass), but before that, let's watch some visuals of my journey on my Youtube Channel before we move to the itinerary…
Sach Pass
For those who don't know, we are talking about a pass that is located at over 4000m above sea level. So a certain degree of planning is needed before the trip.
Make sure you carry proper riding gear that includes: a riding jacket, gloves, riding pants and riding boots. Speaking of the luggage, do not carry too much and carry proper saddlebags. Also, it is important to carry some spare parts. Learn how to fix a puncture before the trip so that you don't get stranded.
It is a better idea to do the trip with at least one riding buddy, but even if you do it solo, you should be fine. Now, let's talk about the itinerary.
There are two ways to do Sach Pass. One, you start with Bairagarh and end at Keylong. Second, you start from Keylong and end at Bairagarh. I suggest you do it Bairagarh to Keylong because you don't need to obtain Rohtang Pass Permit if you do it this way.
Update: Starting 2021 you don't need to cross Rohtang Pass anymore. Read my Manali to Atal Tunnel Blog for the new route that bypasses Rohtang Pass.
Bairagarh to Keylong itinerary looks like this: Delhi – Bairagarh – Sach Pass – Killar – Keylong – Delhi.
It is possible to do the journey in 5 days from Delhi to Delhi.
Here are a few FAQs…
What phone network works in Sach Pass?
BSNL has the best network available throughout the route. After BSNL, Airtel works fine too but not as well. Vodafone is the weakest link among all networks.
What is the best time to do Sach Pass?
If you are looking for adventure, do it in the month of April. This is when the river crossings will be most fierce. If, however, you are looking for the safest month, do it in August or September. October is a good month too (just a little cold though) with the lowest water level on river crossings. I will suggest you avoid the months of monsoon (that is July and August) because rain can make the entire route slushy and slippery.
Do you need any permit to do Sach Pass?
As I mentioned above, if you are doing it from Bairagarh to Keylong, you do not need any permits whatsoever. If, however, you do it the other way round, you will have to buy Rohtang Pass permit. It doesn't cost much to get Rohtang Pass permit though. Also, you can get it online. Additionally, since you are riding a motorcycle, you do not need to pay any toll taxes or green tax in Himachal. If you do it in a car, however, you will have to pay about 700 Rupees of Toll taxes (for a return journey) as well as a nearly 200 Rupees green tax as soon as you enter Himachal Pradesh.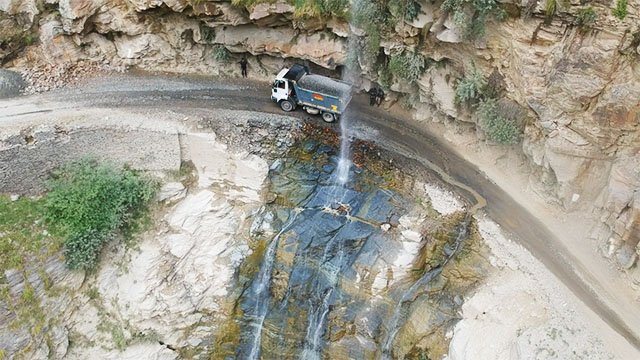 Can you do Sach Pass solo?
Of course. As I said above, it is good to have a riding partner, but if not, you can very well do it solo. Just avoid the months of monsoon and April so that you don't get very tough river crossings. It is only during river crossings that you sometimes feel the need for a riding partner. Additionally, as long as you are a good rider and have the basic technical knowledge, you can ride solo anywhere in the Himalayas. Read this article for more tips on Solo Riding In The Himalayas.
What is more adventurous than Sach Pass?
Honestly speaking, there are many routes in the Himalayas that are more adventurous than this. Spiti Valley, for one, is more adventurous. I even found my Shinkula Pass Zanskar ride more adventurous than my Sach Pass trip.
Here's a quick Youtube video of my Shinkula Pass ride.
How Else Can You Do Sach Pass if not riding?
In two words: by trekking!
First of all, read these mountain quotes because if you planned to do a trek to Sach Pass you are going to need them. Why so? Because the trek is hard. But it is also one of the most magnificent treks in Himachal Pradesh.
Also known as Sar Pass trek, it takes you to a landscape you might have not seen in your life before with gushing rivers, verdant forests, golden streams, snow-capped mountains and whatnot.
It is one of the oldest trails in the Himalayas that was used in the olden days by horse herders. They would pass through Sach Pass as it was the only short cut connecting Kullu Valley or Pangi Valley to Chamba Valley. Though motorable roads have been built, the place has still kept the original charm it had back in the days.
Again, let me remind you that among all the treks in the Himalayas, this trek is considered as one of the challenging. So if you have done the usual Valley of Flowers trek or something equally mainstream, do not compare. The good thing is, however, a surreal view of the beautiful snow-capped mountains of the mighty Pir-Panjal are going to keep you entertained.
Precariously hanging glaciers and the motivation to reach the top and conquer the Sach Pass summit are two things that will keep you going.
It is possible that while trekking your teeth will clatter, not because of cold but because of the slippery slopes. But persevere!
If you are not scared of heights, the teeth will still clatter because of the numb chilling cold – especially at 4400 metres above sea level. But then again, that proud feeling of being on top of the world is beyond words.
The trek of Sach Pass commences from a village called Traila in Chamba Valley, before you reach Satrundi. It then makes its way towards Sach Pass following forest trails and snow-laden tracks. You will keep seeing motorcyclists on the way too.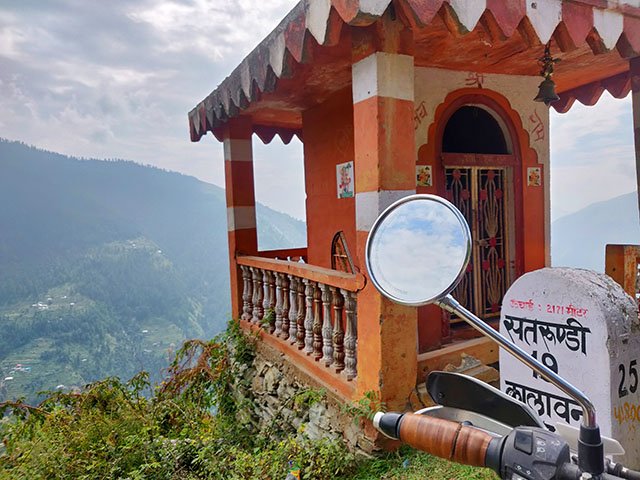 Why A Sach Pass Trek Is A Great Idea?
There are quite a reason why I suggest you do a trek, as much as I suggest you to do a bike ride.
Let's count the reasons in 4 points below…
The trek up to the summit takes you to an elevation of 14,500 ft. The whole idea of waking to a point as high as the popular Rohtang Pass is quite an adventure and a thing to boast about for years.
Unlike a bike ride, while trekking, you will be camping at places where there will be no one around. At such places, the night sky looks absolutely breathtaking. If you are into astrophotography or just love stars, you are going to love the experience.
It is one of the most offbeat treks in the Himalayas. One thing is that not many people, even on motorcycles or 4*4s go to Sach Pass. And two, when it comes to trekking, hardly anyone goes.
While trekking you are going to see some of the most offbeat villages and temples you have ever seen in life
What phone network will work on the trek?
Honestly speaking, this is the only thing that may disappoint you. As I mentioned above, it is rare to find network on this route. You hardly find network when you are going to Sach Pass via road. Imagine walking through jungles. Still, use BSNL or Airtel to at least find some network when you reach big towns like Killar and Bairagarh.
Best time of the year for Sach Pass trek?
If you are looking for adventure, do it in the month of April. This is when the weather will be cold enough and you will hear fierce river crossings (and even deal with them at times). If, however, you are looking for the safest month, do it in May and June or September and October. July and August are certainly no time to do a trek to Sach Pass, and neither the winter months of December to March.
Among all the months in the year, the best month – that golden period when everything is great – is September. From land-slides to cloud-bursts, in September, the risks are the least and the weather is perfect. Hence, September!
How To Reach To The Starting Point of the trek?
There are three ways you can reach. If you are coming from Delhi, the best way is by road (bus). If you are coming from far south or East, take a flight or a train. Let's discuss each way of transportation in detail to make you understand better.
By Air: If you are taking a flight from your city, the nearest airport is going to be Dharamsala-Kangra airport (often referred to as Kangra airport). There are many flights connecting Kangra to either Delhi or Chandigarh. From the airport, you will have to take a taxi or a state bus to reach Chamba. From Chamba, take a taxi (if you took a bus to Chamba) to Traila. Your trek starts from Traila.
It is a good idea to take a flight if you are trekking to Sach Pass as it can save you from travel fatigue.
By Rail: If, however, you are coming by train, the nearest railway station will be in Pathankot. From Pathankot, you will have to take either a bus or a taxi all the way to Traila. Commute as mentioned above – either Pathankot to Traila in a private taxi, or Pathankot to Chamba in bus and Chamba to Traila in a taxi (or hitchhike). Hitchhiking in India in these parts is totally safe. These places are even some of the safest Indian places for solo female travellers.
By Road: If you are coming from Delhi or Chandigarh, the best way to travel is on a bus. You can book a Volvo or an ordinary bus using the Himachal Road Transport Corporation website. There are regular buses to Dharamsala and Chamba, enabling you to travel to Sach Pass with much ease.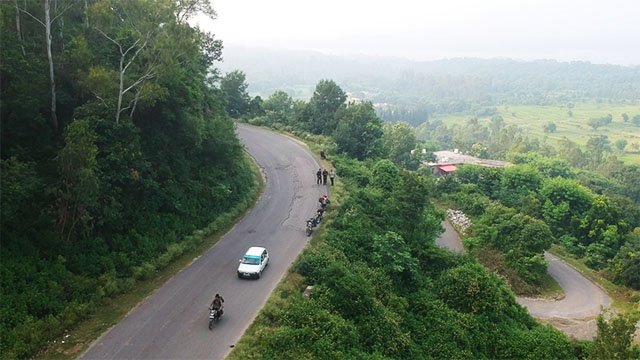 Shinkula Pass | Zanskar
Shinkula is one of the newest motorable passes in the Himalayas. In 2019 only BRO connected the pass with a motorable road. This was primarily done for the military. Where earlier the military trucks had to travel from Keylong to Leh to Kargil, now they travel Keylong to Kargil via Shinkula (or Shingola) and save almost 400km in each trip.
This is Zanskar Valley in Ladakh region. In winter, everything freezes and the same Zanskar river becomes your Chadar trek. I am sure you must have heard of Chadar trek.
Now, speaking of a motorcycle trip to Shinkula pass – from Keylong to Kargil – you can read all about it in a blog post here: Shinkula Pass.
If you found this travel blog useful, or have more tips about Sach Pass or Shinkula Pass – trek or motorcycle, please share a comment below!