"Unfortunately, you are not doing the Valley of Flowers trek at the right time of the season. The best time to visit Valley of Flowers is between 15th July to 15th August," provided the tour guide Shobhit, making me feel sorry for myself before the trip even begun.
On September 5th, the flowers had already started shedding, and with them, some of the leaves too. The monsoon was far from over too. In about one month from now, winter would hit the Himalayas turning the Valley of Flowers trek into yet another ordinary hike in the Himalayas.
Disheartened, I realized how I had been planning to visit this place for the previous three years. And when I finally made it there, I made it at the wrong time of the year — the abscission. It was certainly not the best time to visit Valley of Flowers. It reminded me of my failed attempt at the Deo Tibba trek.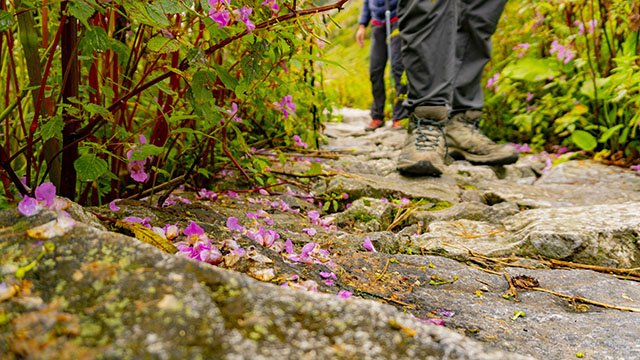 It was clear that September was certainly not the best time to visit the Valley of flowers treks. Though it was still looking gorgeous, with frequent waterfalls and water-crossings, the main reason to come here was somewhere lost.
If I had made it in July or August, I would have seen many more colours. The entire experience would have been far more rewarding. The valley would have offered more than a constant green.
Also, before or after your Valley of Flowers trek, I suggest you visit Badrinath temple located only 25 km from Govindghat. Badrinath is one of the four sacred sites of the Hindu people. Every year, hundreds of thousands of people visit Badrinath on Char Dham Yatra making it a must-not-miss when you are so close. The months of July and August, which make for the best time to visit the Valley of Flowers, are also a great time to visit Badrinath because of the low tourist crowd.
Valley of Flowers National Park
Located in North Chamoli, in Uttarakhand, Valley of Flowers National Park is known for its variety of flora. It is home to rare and endangered species like the Asiatic black bear and snow leopard. With Nanda Devi National Park to its east, the Valley of Flowers trek is located over 3000m above sea level.
It has gained such importance that in 1982 it was declared as a World Heritage Site and a national park. The place was discovered in 1931 by British Mountaineers who lost their way and ended up finding a place full of flowers.
In 1980, it was declared a National Park.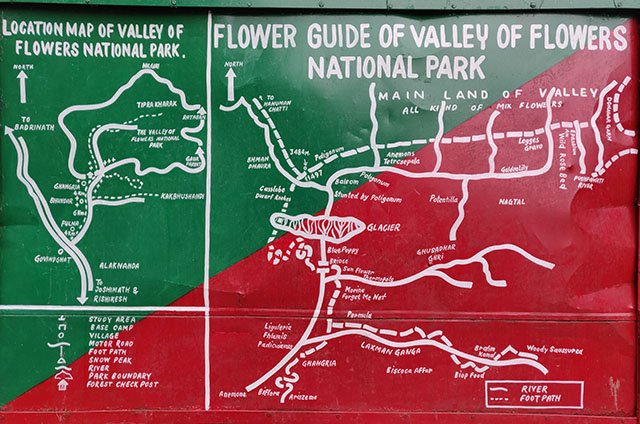 Valley of Flowers Trek
Now that we have discussed a bit about the National Park in Wikipedia-style detail, let's talk about what is the best time to visit the Valley of flowers treks.
If you are not interested in knowing this bit, scroll down to the next heading that says Itinerary. From there on I discussed the trek.
Best Time To Visit Valley of Flowers
As you might have guessed in the introduction, the best time to visit Valley of Flowers is when the flowers are in full bloom.
Between July and August, the Monsoon hit India. And it is during that time the flowers start blooming. The Valley of Flowers trek is, moreover, only possible to do during the Monsoon months. But there's a catch.
If you visit at the beginning of the Monsoon, most flowers are still not in their full-bloom stage. Similarly, coming during the end of Monsoon, as I happened to travel, will give you dead flowers.
Typically, 15th July to 15th August makes for the best time to visit the Valley of Flowers. But sometimes, the monsoon hits a little early or late. So make sure you do a little mathematics and come in the middle of the season.
On average, it takes about 2-3 weeks for flowers to come to a full-bloom stage. If you will visit after two weeks since the monsoon first hit the area, you should be able to make it at the best time to visit Valley of Flowers.
If you are looking for other trekking options in the Himalayas between March and June or between September and November, I suggest you go for Sach Pass (that you can also do on a motorcycle if you are not into hiking) or Panchachuli Base Camp Trek, that is located in Uttarakhand only in Dharma Valley.
If you are looking for more suggestions on treks and usual holiday destinations in Uttarakhand, I suggest you read my Uttarakhand travel guide.
3 Day Valley of Flowers Itinerary
Day 1: Rishikesh to Valley of Flowers
Joshimath is the nearest big town and the base of all transportation. There are frequent buses and shared cabs from Rishikesh to Joshimath. From Joshimath, take a shared taxi to Govindghat. It is also possible to find a direct shared taxi or bus from Rishikesh to Govindghat but availability can be an issue. So break the journey if needed.
The drive from Rishikesh to Govindhat will take an entire day. So spend the night in Govindghat (Also, check this Rishikesh travel guide if you are planning to stay or quickly explore Rishikesh on the way).
Govindghat, moreover, has a security checkpoint that only allows tourists to cross if they check in before 2 pm, making it almost impossible for anyone. So yea, the same day you travel from Rishikesh is not the best time to visit Valley of Flowers.
Since I was riding a motorbike, it took me nearly 10 hours to cover the 270km distance between Rishikesh and Govindghat. I arrived in Govindhat after 4 in the evening and decided to stay in Govindghat Gurudwara. The Gurudwara has a free dormitory or a private room for 1100 Rupees per night. Food, as it is in any Gurudwara around the world, was free.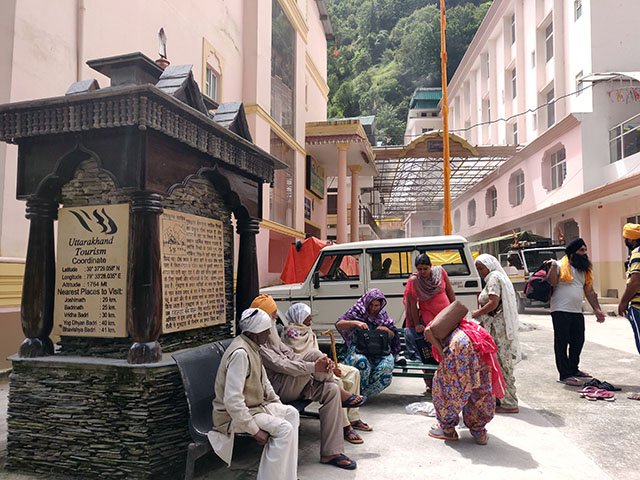 Day 2: Govindghat to Ghangaria
From Govindghat, the starting point of the Valley of Flowers trek (a town called Pulna) is a short drive away. Cross the bridge Alaknanda River take another shared cab and reach the starting point of the trek. The starting point is around 3 km from Govindghat Gurudwara.
The Govindghat to Ghangaria trek is about 8 km.
I won't actually call this trek a trek but a hike. Except for the last 4kms of it, the entire stretch is a well-drawn path, dotted with frequent tea shops to rest and eat.
There are pony operators and porters constantly luring trekkers for lifts. One can even pre-book a pony online and have it waiting at the starting point of the Valley of Flowers trek, putting the entire charm of the trek in vain. But for some reason, India has a fashion of hiring ponies for treks. From spiritual treks like Gangotri to Gomukh trek to something more touristy, you can find people riding ponies everywhere.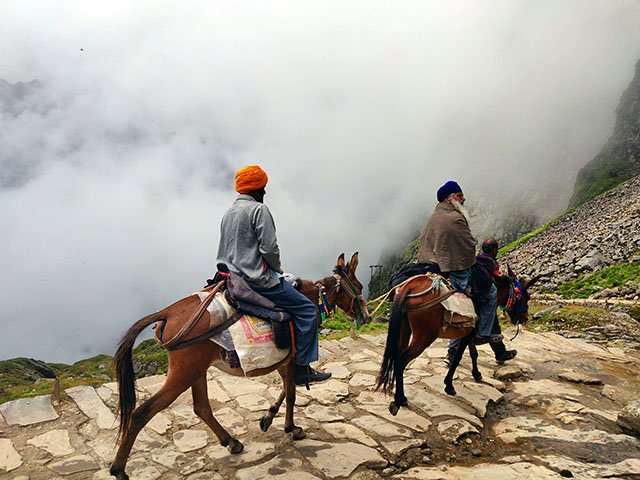 At times it was even sad to see porters (as old as 60 years in age) carrying people on their backs, as customers sat proudly and pitilessly.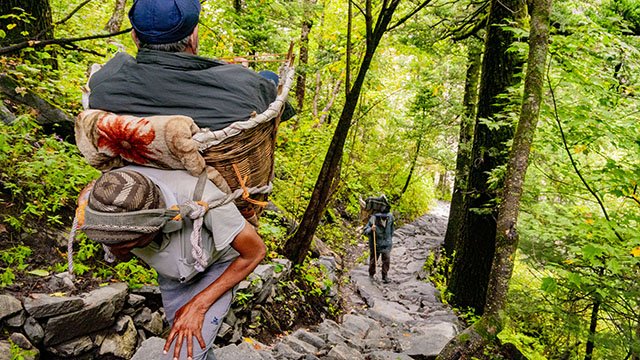 One thing that's worth noticing about the Valley of Flowers trek though is the effort it takes. In about 14 km of a trail (8 km for Pulna to Ghangaria and 6 km for Ghangaria to the Valley of Flowers National Park), you climb from an altitude of 1800m above sea level to a whopping 3500m above sea level. And that's what makes it challenging.
But fret not, the entire trail is covered with a conduit of tree canopies and benches to rest. The river Lakshman-Ganga flowing on the right also keeps you entertained.
It's moreover a pleasure to stop by and gaze at the river Lakshman-Ganga when you get exhausted.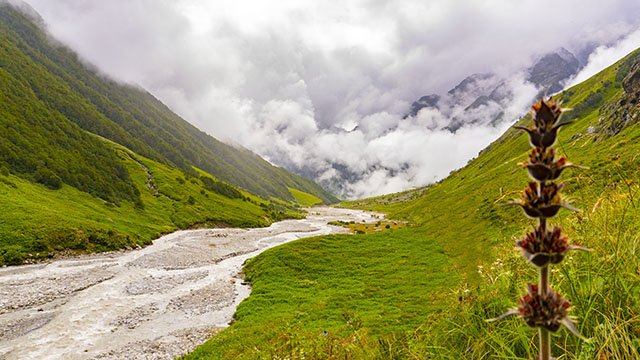 Useful Tips For Govindghat to Ghangaria Trek
The trek to Ghangaria can take up to 5 hours because of the steepness so keep the time checked. You don't want to trek in the Himalayas after dark.
Though some people attempt to do the second portion of the trek the same day, I don't advise it, as the walk is long and it takes a good portion of the day to explore it – I could not see it all even in one day! So start early from Ghangaria to have an entire day exploring the valley.
No matter what time of the monsoon you're doing the trek, carry good rain gear with you.
People who do this trek also go to the holy lake 'Hemkund Sahib' – an important pilgrimage for Sikhs. So trekkers and religious devotees share the path up to Ghangaria. Ghangaria is the base for both the Valley Of Flowers trek and Hemkund Sahib. I would strongly recommend that if you have gone that far, you do both.
Again, the best time to visit Valley of Flowers is between the 15th of July and to 15th of August.
Read more about it here: Hemkund Sahib Trek 
Day 3: Ghangaria to Valley of Flowers
The walk from Ghangaria to the end is the most amusing part of the journey with River Chandravati staying on your right for most of the time. Joining you on Day 3 are the many waterfalls too that will come and go. Some of the waterfalls will moreover come your way as river crossings.
Since there is no place to stay inside Valley of Flowers National Park, it's a day trip from Ghangaria and back. People usually start from Ghangaria early in the morning, spend more time in the valley and come back late evening.
It is advised to carry packed lunch inside the park as there is absolutely no place to get food anywhere. Also, remember to carry a water bottle and keep refilling it on the way.
For most people, the 6km trek can feel quite steep. But don't be discouraged as it's very much doable. It took me about 4 hours (with enough photo-breaks on the way) to walk the 6 km trail before I decided to delve deep into the valley towards the Tipra Glacier. Just be patient and keep walking.
I crossed the security checkpoint at 8 in the morning and spent almost 5 hours reaching Tipra Glacier before walking back.
Useful Tips For Ghangaria To Valley of Flowers Trek
The valley opens between 7 am and 5 pm with the booking counter (where you're required to register your details) closing at 12 noon.
The entry fee to the national park is 150 Rupees for Indians and 600 Rupees for foreigners per person per day. For the additional day, it's 50 Rupees for Indians and 250 Rupees for foreigners.
DSLR and video cameras for any non-commercial use are free to use.
Total time required to do the valley of Flowers treks 4 days (at least). Day1: Rishikesh to Govindghat: Day 3: Govindghat to Ghangaria. Day3: Ghangaria to the Valley of Flowers and back to Ghangaria/Govindghat. Day4: Ghangaria/Govindghat to Rishikesh. An additional day (or a bit of extra effort in walking fast and thus saving time) if you're visiting Hemkund Sahib too.
It's possible to save a lot of travel-budget here by eating most of your meals at the Gurudwaras in Govindhat, Ghangaria, and Hemkund Sahib (if you're visiting at all) but please don't abuse the idea and donate some money if you can. It's ideal to carry some ration and donate it instead of offering money donation(s) as transportation food to Ghangaria and Hemkund Sahib is a challenge.
In the end, I once again repeat, the best time to visit Valley of Flowers is between the 15th of July and to 15th of August.
Also, see travel videos on my Youtube Channel