Darma Valley was unlike any other place I've explored in Uttarakhand.
It was 1 in the afternoon, and I grabbed myself somewhere in the middle of Darma valley, under the rocky cliffs near the town of Nangling. The terrain looked quite walkable but the comfort of a motorcar was far more appealing, despite sitting on the roof.
The peaks of the Panchachuli glacier were still, at least, 24 hours away from me. But I could already feel their presence. The sun was unusually bright. This was definitely higher up. At about 13,000 feet above sea level, my ride in Darma Valley wound up quite a bit.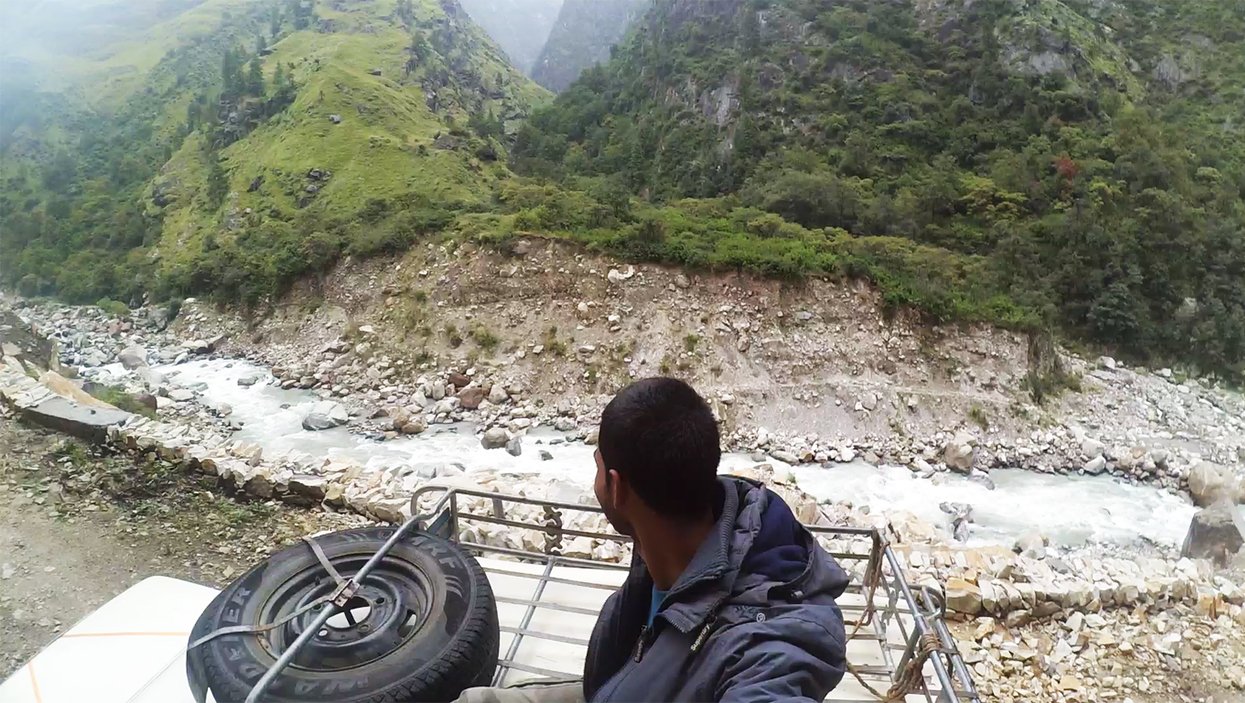 After a couple of hours of ride, we hit a rickety local shop for some food. I was ready to order another vegetarian meal – for I was in Uttarakhand, and well aware of its vegetarian culture – when all of a sudden, my eyes caught hold of a sheep who was freshly butchered. A man was busy taking off her coat. Few people surrounded him on the scene.
This is how Darma Valley surprised me. And as I remember, the surprise was rather shocking. I mean if we talk about Uttarakhand, we know how most places in Uttarakhand do not even serve garlic and onion with food (as considered Tamsik) and here in Darma Valley, people were butchering sheep in public.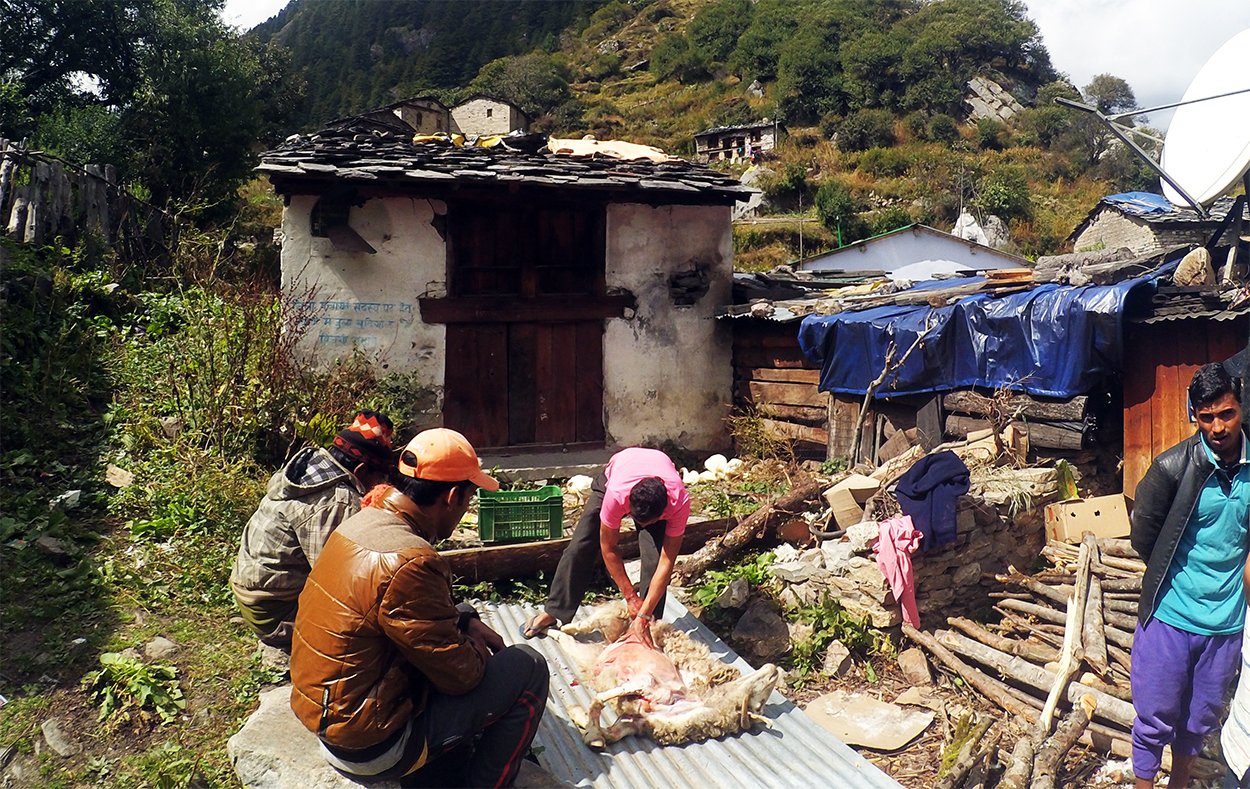 I enquired my taxi driver what was happening and his reply shocked me a little more, "it's a tradition to sacrifice an animal during Navratri season here in Darma Valley."
The lady serving food at the shop asked if I would fancy some mutton and rice or just dal and rice.
This was certainly turning out to be different than how I initially imagined. We are in Darma Valley, of course, this part of offbeat Uttarakhand had its own way to surprise tourists.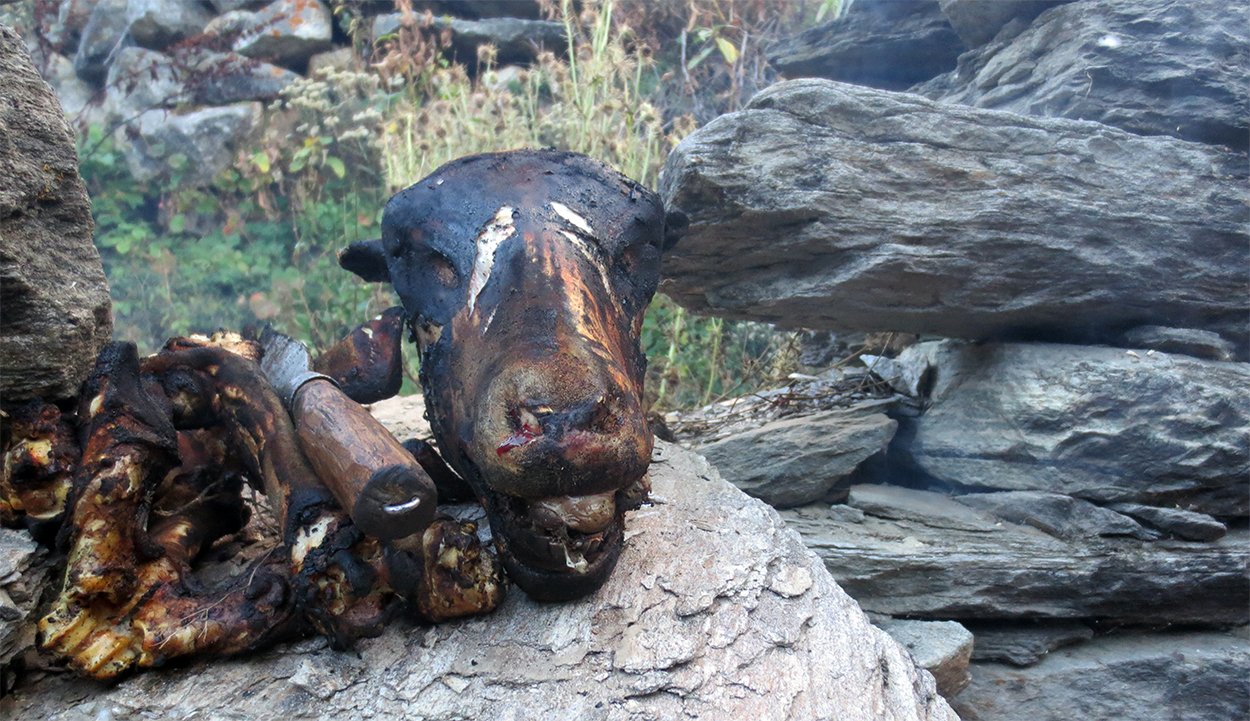 Darma Valley, Uttarakhand
Located in the Pithoragarh district in the Kumaon region, Darma Valley is formed by the Darma river. The valley starts near a village called Dave with the Sino-Indian border on one side.
The entire Darma Valley has 13 villages with a population of fewer than 1200 people. Most of the local people either make money out of cultivation or livestock. The younger generation mostly works in the nearby village of Dharchula and other areas in the Pithoragarh district. Buckwheat, potatoes and peas are a few major crops in the region.
My trip to Darma Valley took place during a solo attempt at the Panchachuli base camp.
The journey started with a short 5-hour drive from Dharchula to Nangling where the road ended and my trek to Panchachuli base camp began. But as I reached Nangling and started my trek towards Panchachuli in Darma Valley, I was stopped by locals. They asked to stay in Nangling despite me telling them that I am going to camp for the night and no one was going to make any money even if I stayed there. To my surprise, there we no guesthouses in Nangling anyway. They just wanted to have a new company.
Though the mountains were still much jagged and breathtaking, as they have always been, in the higher altitudes, in Uttarakhand, people in Darma Valley, and were slightly different. They were a little kinder and more welcoming. Uttarakhand had never fascinated me for its hospitality.
I was helped in setting up my camp, before being invited by a family for dinner. More meat was served, only some of which were cooked. The next few days followed a similar cuisine, and a few more invitations, as I journeyed towards Panchachuli and came back.
Throughout my Panchchuli base camp trek journey, I camped, saved money and enjoyed the bliss of Darma Valley. Whenever I went, local people came to either help me in setting up my tent or just check it out from inside and marvel at it. My journey to Darma Valley was certainly a highlighted trip throughout all my Uttarakhand travels.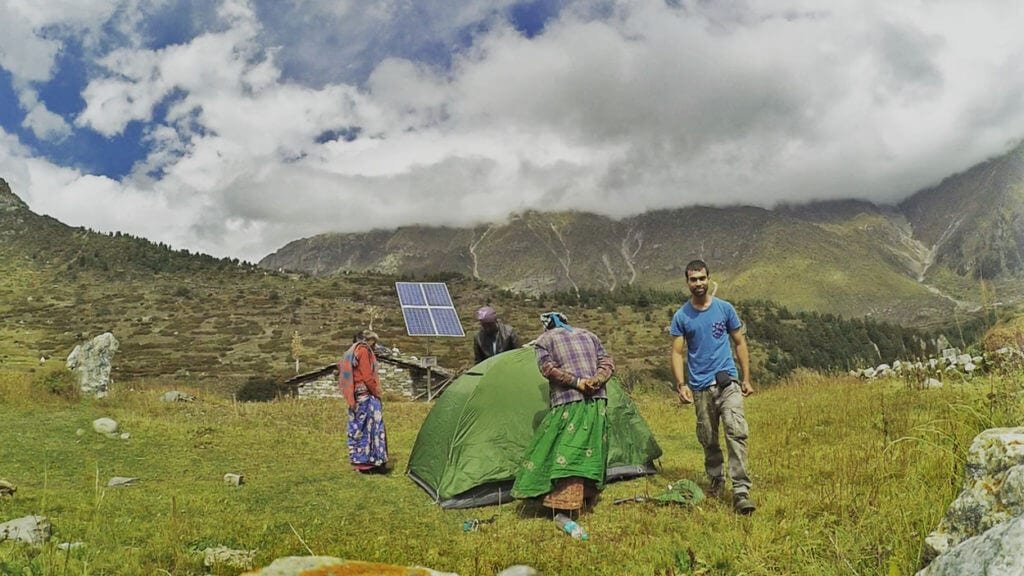 The entire Darma valley, by far, turned out to be my personal favorite in Uttarakhand. I liked its setting. Small towns were strategically placed, every few kilometres.
The valley was continuously green and occasionally colourful. The many waterfalls that came on my way, were also no less appealing. But the construction of the motorable road is changing quickly. Some locals have already lost their job. Porters are forced to sell their horses and drill the rocks. In a year or two, the road will connect most of the villages in the valley – making Panchachuli Base Camp an easy deal for tourists.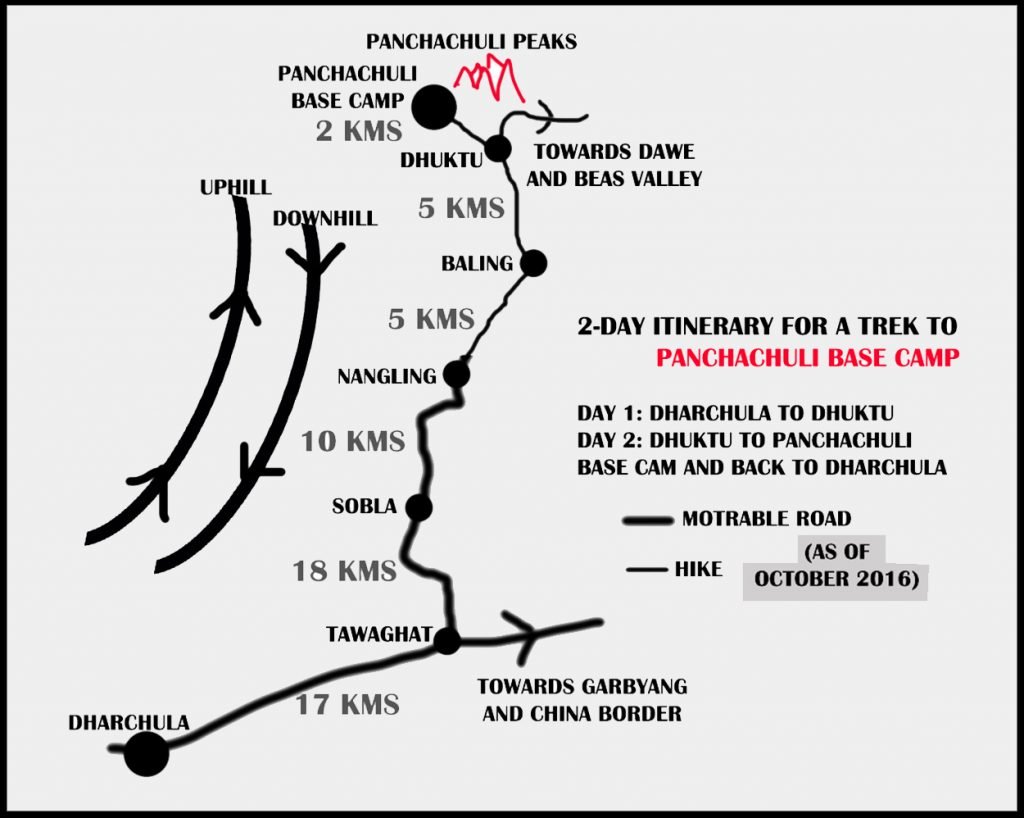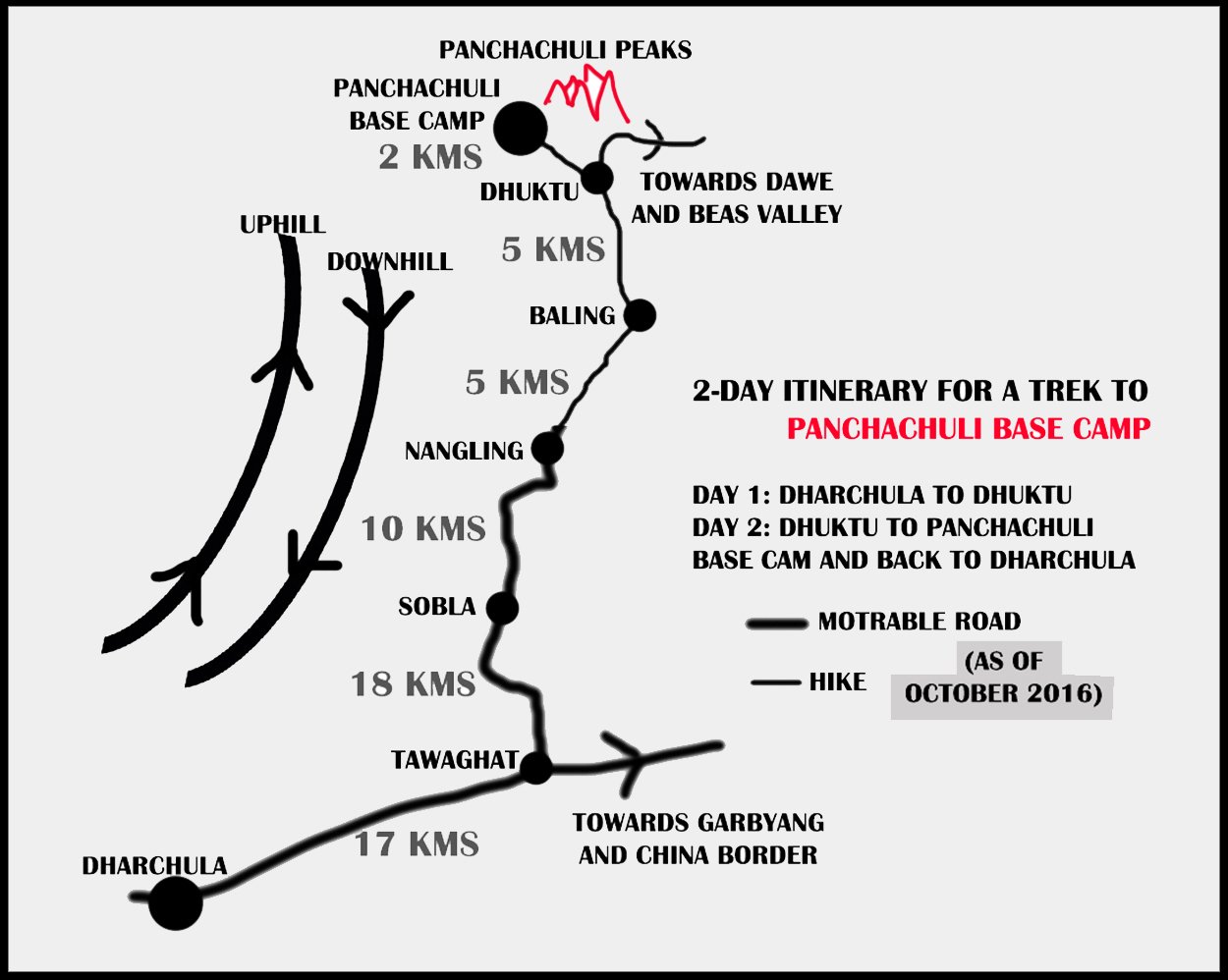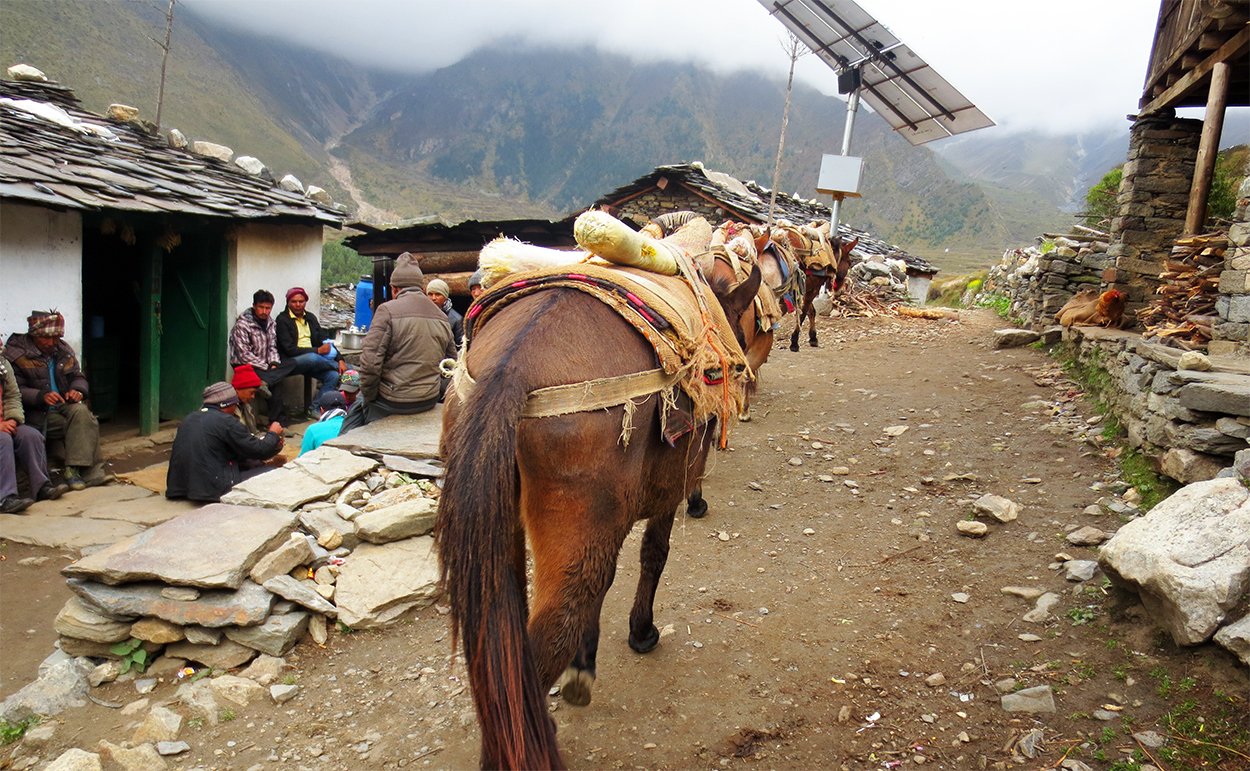 The Story of Panchachuli
According to mythology, it was in Darma valley that the Pandavas cooked their last meal on the five peaks of Panch Chuli before leaving for heaven. `Panch Chuli' literally means 'five peaks'. I was told that the peaks also follow an order. Starting from left to right, the five peaks represent Bhima, Nakul, Sehdev, Arjuna and Yudhistira.
Though I did not feel anything spiritually uplifting, when I looked at Panchachuli peaks, or when I was travelling in Dharma Valley, the fact that the surrounding mountains looked all dark and dead, was quite extraordinary. It marked an unusual landscape.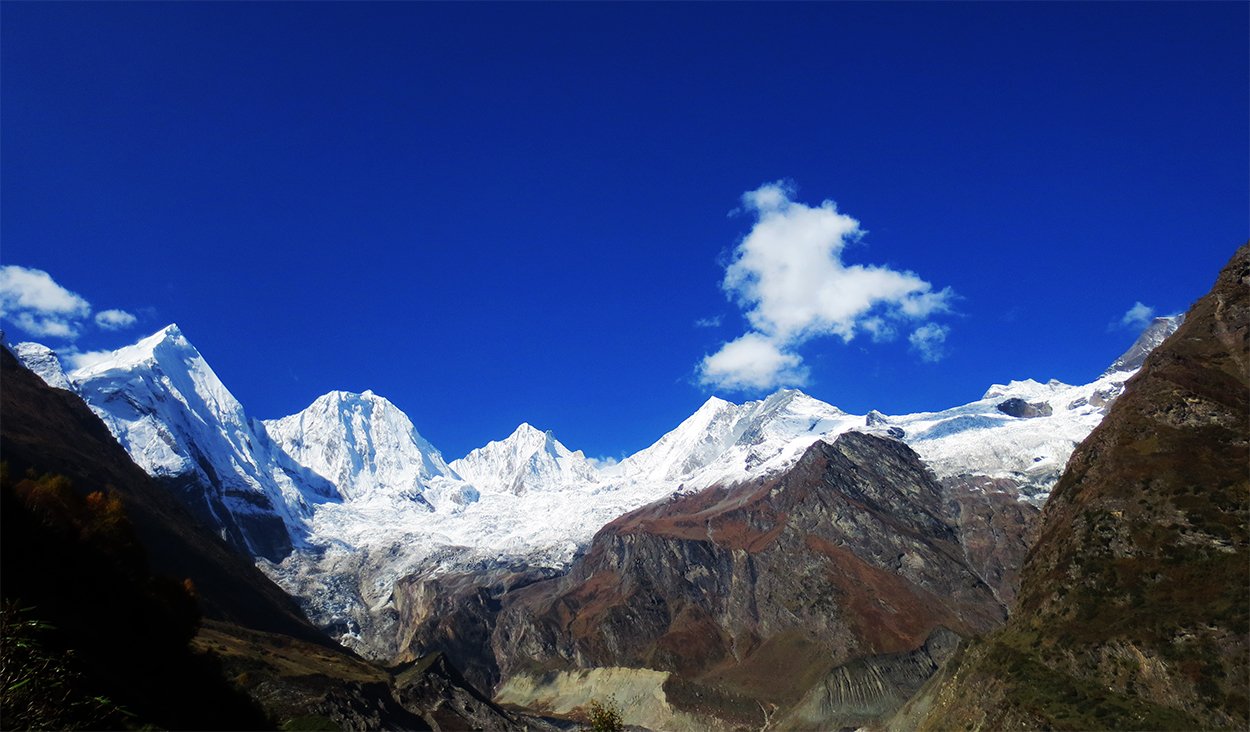 After Nangling, I camped in Dhuktu from where Panchachuli peaks were less than an hour's walk. It was a small town, comprising no more than 5 houses and just one homestay.
The nearest house was located about 10 feet from my campsite, and the family in the house was following the same cultural routine of butchering a sheep and offering it to local deities — for it was a Navratri celebration in Darma Valley. The meat was, of course, then eaten by the family members and invited guests. And I turned out to be one of the guests.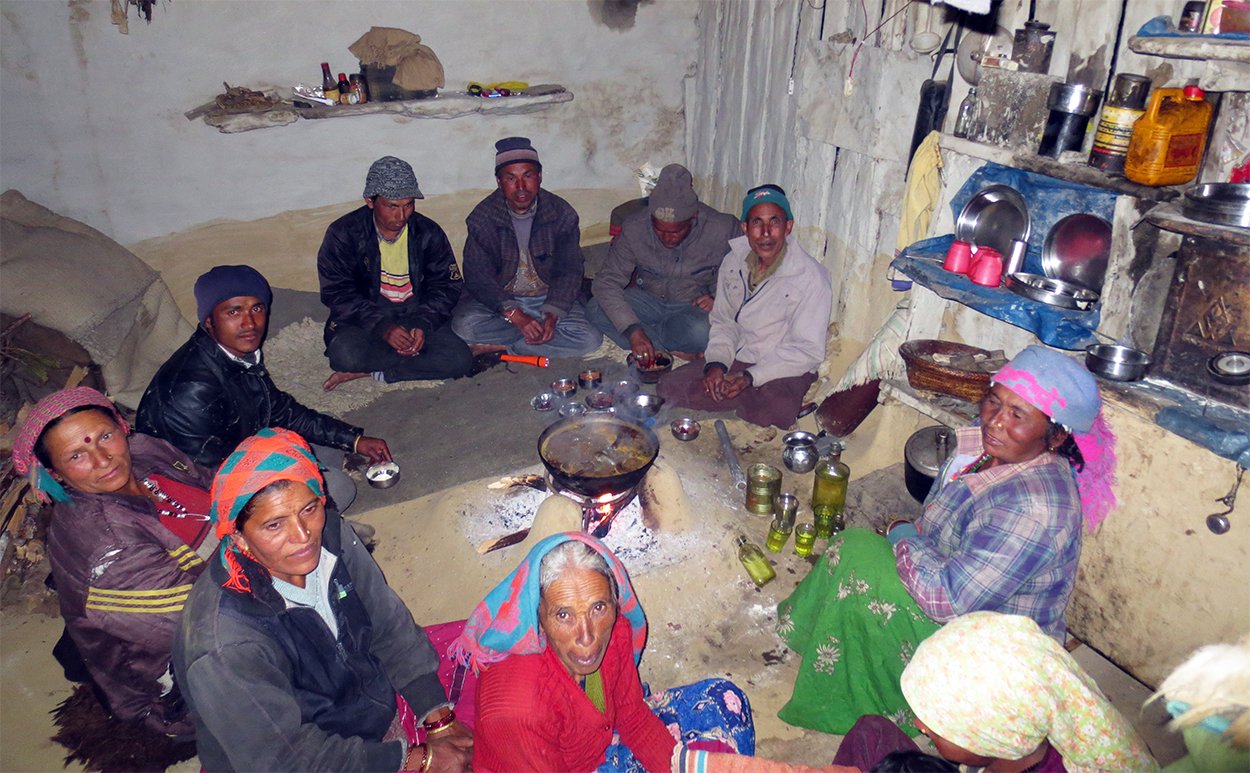 Later, as the night turned darker, I was also provided with a pillow and a duvet to use in my tent — for the locals did not believe that my sleeping bag can be comfortable in this weather. A sleeping bag on top of a duvet, however, turned out to be a perfect alibi for chilli nights in Darma Valley.
In less than 48 hours of my stay, I had almost become a part of little Dhuktu. Locals knew my name, for I knew much about their kind nature. Darma Valley started feeling like home.
After 48 hours of a happy life in Dhuktu, it was time to return to Nangling and leave Darma Valley. The walk from Dhuktu to Nangling seemed much more comfortable. Despite many refusals, Badri Dutt, a local porter had put my luggage on one of his ponies, as he kept repeating he won't charge me for this. A little less than 3 hours, and I was already in Nangling, waiting for the next taxi to depart for the town of DarchuLa – from where my journey to Dharma Valley all started.
Uttarakhand had never fascinated me for its hospitality, I recalled again. This part of Devbhoomi was surely a little different.
Delhi to Darma Valley
If you're coming from Delhi, the best way to travel to Darma Valley is by bus. There is a direct bus from Uttarakhand Roadways that leaves Delhi in the evening and reaches Dharchula the following morning. The route goes this way: Delhi-Tanakpur-Pithoragarh-Dharchula.
If you have missed the direct bus, you can find regular buses from Delhi to Pithoragarh. Take another bus from Pithoragarh to Dharchula.
From Dharchula, if you're going to do the Panchachuli base camp trek in Darma Valley, you need to obtain a permit from the SGM office as it's a restricted border area.
Ideally, a 4-day trip is needed at the least to visit Darma Valley, from Delhi, conveniently.
Also Read: Delhi to Munsiyari Uttarakhand Road Trip