This Delhi to Munsiyari trip was the best Uttarakhand Road trip I have ever had. If you will follow this itinerary too, it will take you across many highlights in Uttarakhand!
Since I bought a motorbike in April 2019, I have been planning road trips across the Himalayas. Where these road-trips surely fall under the category of a 'road-trip' the fact that I travel very slowly is what differentiates them from other similar road-trips or the road trip itineraries you find online.
These itineraries will take you across a place in a much detailed and orderly manner.
I also make sure that I convey only real feelings and do not promote a trip even if I don't like it. Eg, 4 years ago, Manali to Leh road was one of my favourites, but now, it's not. So I wrote a detailed guide condemning it.
Similarly, if you hear me talking too much about Delhi to Munsiyari route, there is a reason for it. And we will explore that reason as we will read this blog.
Delhi to Munsiyari
So, following the same 'slow-travel' approach, last month, in June of 2019, I did a 20-day trip from Delhi to the Munsiyari road trip.
During those 20 days, I stayed at 11 different locations and drove nearly 2000km. I rented guest houses, stayed in backpacker hostels and even camped on the way. Sometimes, I stayed on the main Delhi-Munsiyari connecting road, while at other times, I took a detour and stayed at someplace totally offbeat.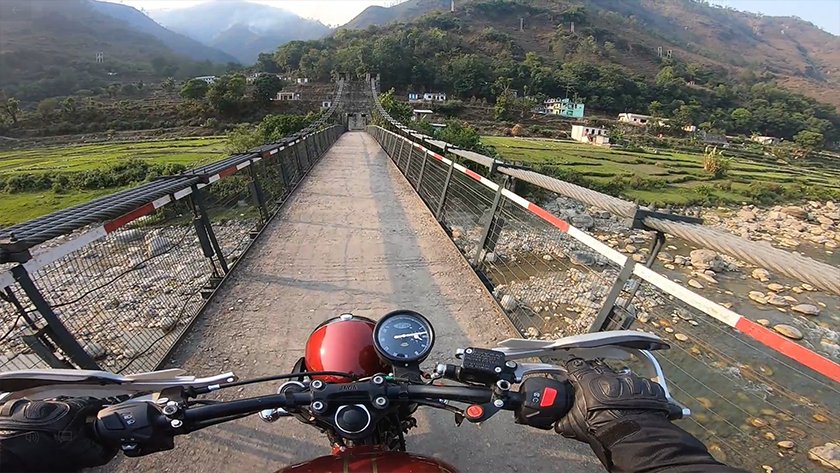 So out of my 20-day Delhi to Munsiyari road trip itinerary, if I were to suggest a quick 1-week trip that promises not only a picturesque drive but many different experiences to this is what I will recommend.
From exploring wildlife to temples to a local way of life, this journey had it all.
1 Week Delhi to Munisyari Road Trip Itinerary
If you wonder which motorcycle I ride, it is a Jawa 42. Now, let's get started…
Day 1: Delhi to Kalagarh | 230 Km
If you've never heard of Kalagarh, imagine it as an unpopular Jim-Corbett.
Located some 50km west of Ramnagar and Kotdwar (where most people visiting Jim Corbett stay) Kalagarh is one of the closest natural wildlife habitats from New Delhi and offers an offbeat and peaceful location – with villages to explore, other than some wildlife and migratory birds, of course.
The drive from Delhi to Kalagarh is moreover an enjoyable one, that, if nothing else, keeps you away from traffic (other than the frequented Delhi-Rishikesh or Delhi-Jaipur routes) and takes you from Delhi to Kalagarh in less than 6 hours.
Spend a night at one of Kalagarh's wildlife resorts watching the beautiful Himalayan range in the backdrop and prepare yourself for driving in the mountains from tomorrow.
I stayed at 'Upvan Wildlife Resort' and can recommend a stay there.
Further Reading: Kalagarh from Delhi
Day 2: Kalagarh to Almora | 200 Km
Kalagarh to Almora is again a 6-hour drive, but a rather picturesque one. You will bypass Nainital where the weather will start getting colder. As you will leave Nainital, the temperature will rise again before it starts dropping near Almora.
Now, remember that there are two parts of Almora: the crowded and bustling part, and the quieter and greener part.
The latter is located close to Mata Kesar Devi Temple. So, if you will ask me, I will suggest you stay near Mata Kesar Devi Temple. Visit Mata Kesar Devi Temple and Neemkaroli Baba temple (on the way from Nainital and Almora) to complete your temple experience on Delhi to Munsiyari road trip.
I stayed at 'The Himalayan Woods' in Almora and can recommend a stay there.
Here are more Travel Tips For Almora, and a video from my Youtube Channel for my Nainital to Almora ride…
Another offbeat destination between Kalagarh and Almora is Jangalia Gaon Ganja (located 15km from Bhimtal). If you appreciate a village-like setting and enjoy exceptionally peaceful and offbeat destinations, you will love Jangalia Gaon.
Day 3: Almora To Village Naikana | 50 Km
If you're one of those people who are into local experiences and want to see the local way of life – at least in the Kumaon region in Uttarakhand – Kot Naikana, in Village Naikana, Jageshwar, is the place to be, and that's why I suggest you stay there for a night during your one-week road trip to Munsiyari.
Kot Naikana is an old Kumaoni house furbished with new-age comfort, located in the middle of a small village. To make the experience more local, the daily activities at Kot Naikana include a village tour, a jungle trek, and lunch in one of the village houses.
To get there, just Google Map Navigate for 'Kot Naikana'. From Almora, it will take about 3 hours to get there.
Since Kot Naikana is not connected to the road, you can either park your vehicle at Jageshwar temple or trek from there. Or, you can go to the other side of the circle (imagine Kot Naikana as the center of a circle, and you're on the other side now) at Sankar Jaim Temple (which can also be Google navigated) and follow a more rural and smaller trail to Naikana Village (3-5km from Sankar Jaim temple). From this point, your stay is about a 3-minute walk.
Read more about the place here: Village Experience In Uttarakhand.
Or watch the video:
Day 4: Naikana to Munsiyari | 180 Km
From Naikana to Munsiyari will again be about a 6-7 hour ride, but it will be the highlight and the most eye-pleasing part of the journey.
The best part will start from Tejam village which is a 50km stretch to Munsiyari, with a couple of high mountain passes and hairpin bends.
Munsiyari, as a place, holds not have much charm but the drive to Munsiyari does. So take your time getting there, and stop at beautiful locations on the way – particularly the Birthi Waterfall.
For your stay, I suggest you do not go into the main town of Munsiyari but rather stay at Mayank Homestay which is located well outside of the crowded Munsiyari and gives beautiful views of Panchachuli Peaks from its backyard.
It is also possible to camp in Munsiyari if you're carrying a tent with you.
Note: There are two routes to explore Panchachuli Peaks, one is in Munsiyari and the second is from the other side of the Panchachuli in Darma Valley.
Day 5: Munsiyari to Golana | 140 Km
On day 5, your Delhi to Munsiyari ride officially comes to an end and the journey back to New Delhi begins. If you're carrying a tent, just Google Maps navigate to this town called Golana (located only 20km before Bageshwar) and camp there.
Watch the video below and see where I camped and how the location actually looks like:
The place is rather safe and the local villagers are very friendly. Camping in Golana will complete your dream of camping in the wilderness (not literally though but to some point). There are local shops nearby where you can eat.
Day 6: Golana to Nainital | 130 Km
From Golana, Nainital is about 6 hour's drive and less than 150 km.
It is possible to do Golana to Delhi in a day if you're driving a car. But those riding a motorbike, however, should split the journey into two halves and stay in Nainital. Nainital, moreover, remains a popular place for anyone doing the Delhi-Munisyari route so a stay in Nainital can be a good idea.
When it comes to accommodation, Nainital has no dearth of options. Stay on Mall Road if you want to experience Nainital closely, but be warned that Nainital can be quite crowded.
It is also a good idea to stay outside of the Nainital, do a day trip to Nainital, and leave the next morning without any risk of getting stuck in traffic. Nainital can be quite crowded sometimes.
Here's a quick video of my Golana to Nainital ride and where I stayed:
Day 7: Nainital to Delhi | 350 Km
Nainital to Delhi is again only a quick 6 to 7 hours drive that takes you to Ramnagar and Moradabad on the way, and gives you not much to marvel at!
Delhi to Munsiyari Is Offbeat
No wonder, road trips are the best way to travel, given they give you full control over your journey. Want to stop? Stop. In a hurry? Drive fast. Fancy taking a detour? Do it.
What's better is, road trips bring you closer to your family and friends. And if you're doing it solo, you will have the best time introspecting yourself and coming out of your comfort zone. So yea, everything about road trips is just perfect if only you drive to the right place. If, however, you ended up visiting a place that is rather crowded, your journey is going to feel less like a holiday and more like a tiresome job, where you're commissioned to drive and drive more.
So yea, for a road trip to be enjoyable it's important to have an itinerary that is rather offbeat, and that's what this Delhi to Munisyari road trip itinerary is going to offer – if only if you're not doing it as the usual hurried weekend drive.
So find yourself some time, follow this one-week Delhi to Munsiyari road trip itinerary and complete your Uttarakhand experience in a single journey!
Also Read: Spiti Valley Road Trip Itinerary