Looking for a weekend getaway Destinations from Delhi? Visit Kalagarh, near Jim Corbett!
As I left New Delhi, and with that, the imposing concrete buildings behind me, I could already smell the fresh air. The beautiful countryside of Uttar Pradesh was enough to keep me entertained. Periodic glimpses of green pastures and lush foliage had begun. It had been less than 4 hours since I left home and a part of me already wanted to go astray, ride aimlessly spot wildlife.
This was certainly one of the most picturesque drives I've ever experienced near New Delhi, making it one of the best weekend getaway destinations from Delhi – the kind that makes you introspect at each turn, as you listen to the tunes of rusting winds, connecting trees, and distant chirping birds!
I happened to visit Kalagarh during my 20 days Delhi to Munsiyari Road Trip. Out of all the places I travelled to during the trip, two of my favourite experiences are staying at village Naikana in Kuman Uttarakhand and exploring Mata Kesar Devi Temple in Almora. If you are planning for Almora, read my Delhi to Almora trip tips.
Now let's continue with discussing Kalagarh.
My Delhi To Kalagarh Journey
I remember when I was planning my 20-day motorbiking trip across Uttarakhand I didn't want to ride much on Day 1.
During a summer day, at 40-degree Celsius temperature, even a 6-hour ride can feel tiring. And when you're riding a motorcycle, with all the safety gear, every sense of TIREDNESS becomes even more TIRING. Naturally, I wanted to ride as little as possible – someplace that makes for one of the best weekend getaway destinations from Delhi.
This left me with a simple choice – ride nowhere beyond Jim Corbett. The only problem was, however, I never heard good things about the place. "Jim Corbett is a tourist trap bro, with almost no wildlife, and super-expensive resorts" I remember a friend once told me. So, one thing was clear, if I am staying in or around Jim Corbett, I am staying nowhere close to where tourists often frequent – the popular Ramnagar.
Though it was true that the place I finally ended up staying was equally disappointing when it came to 'spotting any wildlife' the fact that it was closest to New Delhi (even closer than Jim Corbett) peaceful, offbeat, and serene, made it up to me. Kalagarh was, indeed, one of the best weekend getaway destinations from Delhi for me.
Kalagarh or Jim Corbett: Which Is A Better Weekend Getaway Destination From Delhi?
Before anything, let's understand the geography of the two places: Kalagarh and Jim Corbett.
Kalagarh, or the Kalagarh Tiger Reserve, is located towards the western end (making it closest to New Delhi). It is located 80km from Ramnagar and Kotdwar (Ramnagar is Jim Corbett). But if you're coming from New Delhi, you do not need to go to Ramnagar – making it one of the best weekend getaway destinations from Delhi if you don't want to drive too much.
Additionally, Kalagarh remains open throughout the year, making it more suitable for the masses from New Delhi to flock to Kalagarh whenever they want.
Does that mean I am suggesting Kalagarh over Jim Corbett, given its easy location and year-long accessibility? Well, not really!
Speaking of wildlife, and as per the statistics, Jim Corbett is more popular and offers better chances of spotting wildlife. Wildlife zones in Corbett including Sitabani and Bijrani have always been considered better for spotting wildlife than any other place in the region. But if spotting wildlife isn't the only reason for you to be holidaying there, then Kalagarh can be a great option.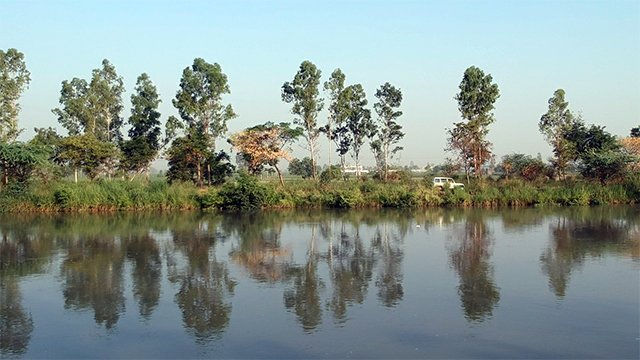 Kalagarh: For Its Beautiful Mornings and Sunsets
One thing I particularly loved about Kalagarh was the morning freshness. Home to more than 500 species of birds, including kingfishers, wagtails, forktails, pheasants, hornbills, eagles, and vultures, no matter where you stay in Kalagarh you're only going to wake to birds chirping.
Starting at 4 in the morning, birds would sing to the sunrise adding a dramatic freshness to the air.
Another interesting thing I loved about Kalagarh was the beautiful Himalayan range in the backdrop.
Where Kalagarh (and Jim Corbett, in fact) is located on the plains, the fact that they connect the mountains to the plainland makes its entire geography quite charming – on one side you find a flat horizon, while on the other side, the might Himalayas rising from the ground.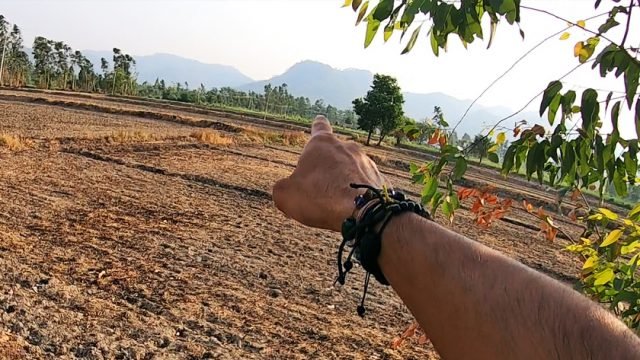 You can also visit the Ramganga River for sunset, or to watch local villagers taking a dip in it during hot summer days.
Kalagarh: For A Friendly Locale & Picturesque Villages
The entire Kalagarh region is home to many small villages – most of which reflect a very strong Punjabi culture. Just meander in the area connecting many alleyways and experience an intense village culture.
From where I stayed (V Resorts Upvan Corbett) I visited a few nearby villages, including Bhogpur, and Parbatpur and loved the friendliness of the locals.
Though it may not be a charming thing for most tourists visiting this area, I think exploring the village culture may just be an ideal thing to practically understand the idea of slowing down in life.
Where To Stay In Kalagarh
Unlike Jim Corbett, the Kalagarh region does not offer a rich accommodation scene. But it certainly doesn't mean that there is a dearth of hotels. After all, it is one of the most visited weekend getaway destinations from Delhi.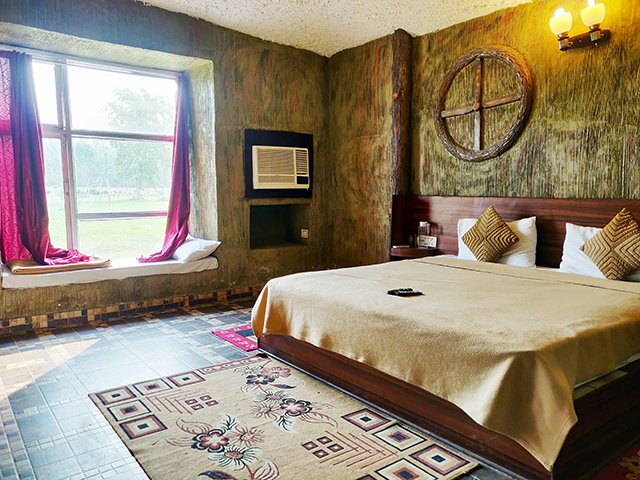 Speaking of my experience, I stayed at 'V Resorts Upvan' and particularly loved how it was located at only a 10-minute walk from the national park that you can access anytime (even on your own) for a quick stroll.
Just walk past the security gate, take a walk in the national park, and return. And if you're not much of a doer, just relax on the resort premises, enjoy the pool, some indoor games, or just eat and eat more.
Where most people would visit such a place for spotting wildlife, I found it equally charming for relaxing and unwinding, or just spending a good weekend with a bunch of friends, partying or otherwise.
And here's a quick video of my Delhi to Kalagarh trip…
Weekend Getaway Destinations From Delhi
Delhi to Barog is one of the best weekend getaway destinations from Delhi located less than 6 hours from Delhi.