If planning a trip from Delhi to Almora, read these useful travel tips & find out where to stay in Almora, what to see and more.
In first glance, as I travelled from Delhi to Almora, the town appeared as one of those bustling towns in the mountains that are becoming the next concrete jungle. There were hotels and shopping complexes on the narrow ridge. Neighbourhoods were buried under plastic waste. Local people were too busy to tell anyone any directions. It was nothing like my village experience in Kumao Uttarakhand I had stayed after my stay in Almora a day later on my Delhi to Munsiyari ride.
See this video of the village experience I am talking about. You can plan a similar trip too as it is only a 3-4 hours drive from Almora:
Honestly speaking, my first impression of my Delhi to Almora trip wasn't a pleasing one. It had been only 10 minutes since I had arrived there yet I wanted to leave. I knew my hotel was located some 5km outside of the main town – thankfully far enough from the maddening Lala Bazaar – yet I needed a stronger reason to console my heart.
To make it even worse, Google navigated me to a dead-end, forcing me to now ask for directions. "The Himalayan Woods" I enquired a few random faces, but no one had a clue.
Then a sudden realization and I recalled that my hotel was located near Mata Kesar Devi Temple – a popular landmark in Almora that even a 5-year-old can guide you to. To my frustration, it took me almost 30 minutes to find my way to the hotel and fight through the narrow bustling lanes. But at last, I ended up in the kind of Almora I was long hoping for!
Also, read my Uttarakhand travel guide for more tips on what to see and do around. While on the way to Almora, it is worth spending a day in this town called Jangalia Gaon, located 15 km from Bhimtal.
Where To Stay During Delhi To Almora Trip
To tell you the truth, Almora can vaguely be divided into two geographies – the crowded and bustling part, and the comparatively quiet and greener part.
The bustling part is where you will find Almora's main bus station, a few crowded markets and a handful of budget guesthouses (the kind that still sells offline in today's digital age). And then there is this other part that is located near Mata Kesar Devi Temple where you will find more green spaces and better hotels/resorts/backpack hostels. This part is located 5km away from the center.
So if you will ask me, the first travel tip for your Delhi to Almora trip would be… look for a place that is near Mata Kesar Devi Temple. If you're travelling in a bus, you can find regularly shared taxis running between the main town and the Mata Kesar Devi Temple area.
Speaking of my experience, however, I stayed at The Himalayan Woods and can recommend it to those looking for a medium-budget hotel.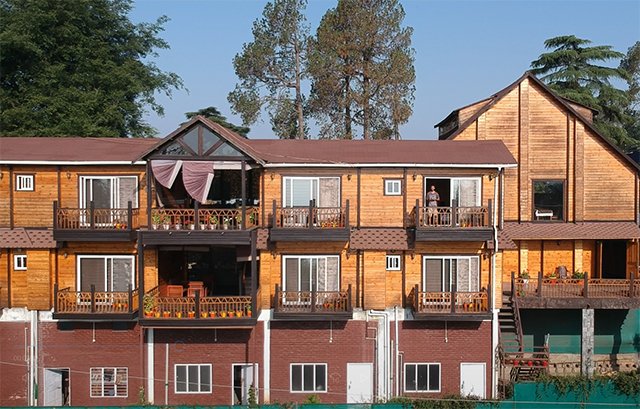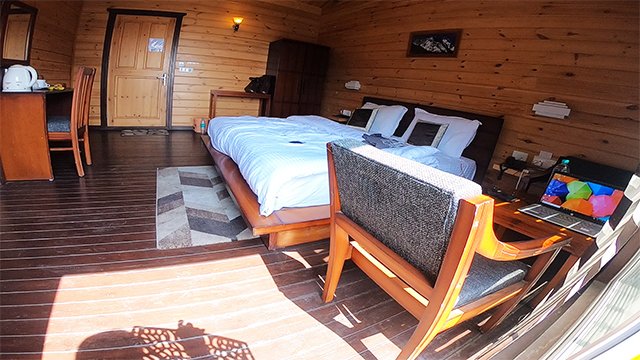 What To See & Do In Almora: Travel Guide
I understand Almora isn't the kind of place where a regular Indian tourist would want to spend more than a weekend. And to be honest, two days are actually enough to see some popular tourist highlights.
Mata Kesar Devi Temple
Mata Kesar Devi Temple remains a usual highlight for those visiting Almora. Many people come all the way from Delhi to Almora to only see Kesar Devi temple.
To be honest, I found Mata Kesar Devi Temple holding charm for not only those who fancy visiting temples but also those who appreciate beautiful sunsets and wide-open views.
Located on a hilltop, Mata Kesar Devi Temple offers a nearly 360-degree view of Almora and its surrounding. Spend a few hours meditating and soaking in the magnetic hill power or just relax in the area and appreciate the beautiful nature.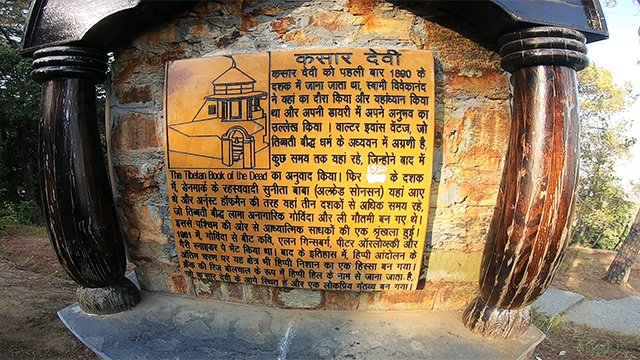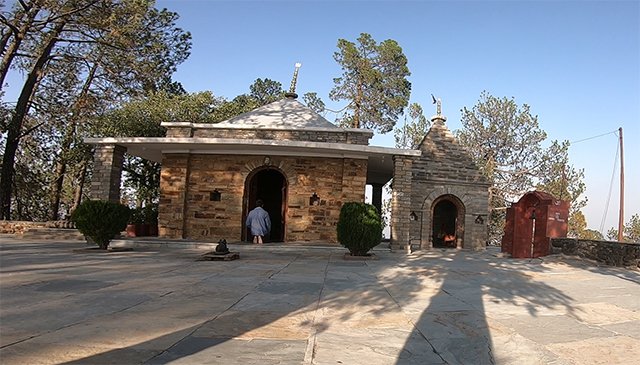 Binsar Wildlife Sanctuary
Another highlight, is, of course, Binsar Wildlife Sanctuary which is popular for its Zero Point. It is located around 25km from the Almora and costs 150 Rupees per person for Indians as an entry fee. A half-day trip to Binsar Wildlife century can be a fun solo or group activity. Remember, if you're driving, you will have to pay for your car (motorbikes get free entry though!).
On a fine day, you can catch glimpse of Himalayan peaks like Kedarnath Peak, Shivling, Trisul and Nanda Devi from Binsar's Zero Point. The Zero Point has located 2km from the nearest parking inside the Binsar Wildlife Century.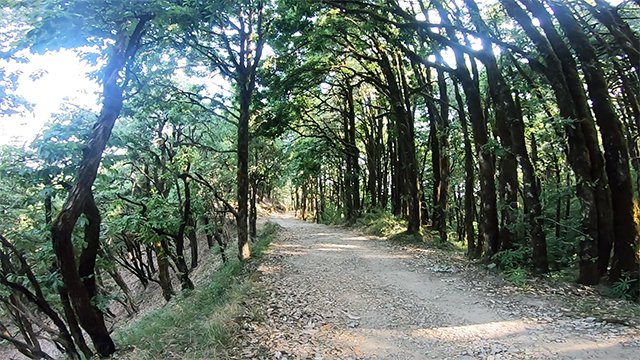 Eat Local Delicacies
Also, when in Almora, don't miss the unusual combination of Pakora, Cholley, and Raita. It may sound like completely weird combination of food ever, but it is will prove to be a treat.
Also, try some local season fruits.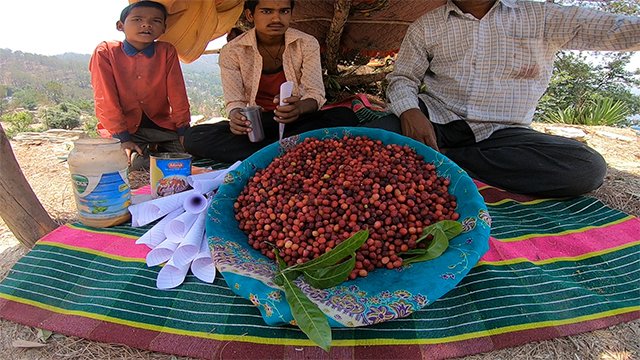 Is Delhi to Almora Worth It?
If you're more of a bucked-lister who enjoys doing too much in too little time, then these Almora travel tips may disappoint you. Because honestly speaking, there isn't much to do there, apart from visiting Mata Kesar Devi Temple and Binsar Wildlife Century. Additionally, if you compare Almora with places like Shimla and Nainital, the former has never been a very exciting choice for travellers.
But if you're looking for a place to spend a good time relaxing and not doing much, it may just be a great destination to travel to. The landscape near Kesar Devi Mata temple is quite beautiful.
So yea, if the idea of holidaying for you is to relax and unwind, and end up in a place that is rather offbeat, Almora may just be a perfect destination!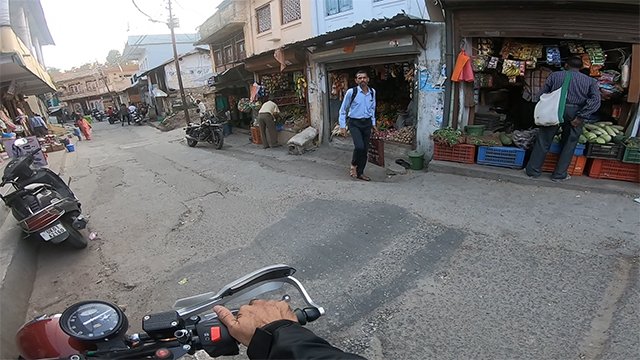 How To Travel Delhi To Almora
By Bus
Delhi to Almora can be travelled on a bus. The only problem is, however, you can find a few direct ordinary buses but no luxury push-back buses from Delhi to Almora.
The ordinary buses take around 500 Rupees and 10 hours. The buses drop you in the main town. If you're going to Mata Kesar Devi, take a shared taxi from the main town.
If you want to travel on a luxury bus you will have to break the journey from Delhi to Kathgodam (or Haldwani) and then to Almora. You will find luxury pushback from Delhi to Kathgodam or Delhi to Haldwani. From there, you will have to find local transport or take a taxi. From Kathgodam or Haldwani, Almora is an about a 3-hour drive.
By Self-Drive
Driving your own car is the best way to travel from Delhi to Almora. It takes less than 10 hours to get there. The route is pretty good in shape and there are no popular towns where you can find traffic. Since there are a few highlights around taking your own car helps you explore nearby.
And here's a quick video of my Almora Trip from my Youtube Channel:
Got more travel tips for Delhi to Almora? Please share in the comments below!