Perched high on a mountain, surrounded by a couple of village homes and the soothing fragrance of the jungle, my temporary abode in Jangalia Gaon, near Bhimtal, felt more than just a weekend plan. "I can spend a lifetime here," said a voice inside me.
Though there were no tourist highlights around — no waterfalls for Instagram selfies, no mall-road to shop for souvenirs — for a slow traveller like me, there was still a lot to see and experience. Walk-in any direction and call it a hike. Visit a local house, have a cup of tea, and call it a Kumaoni village experience. The opportunities were abounding.
Here's my Youtube video about the place:
I happened to visit Jangalia Gaon during my one-month motorcycle trip across the Kumaon region in Uttarakhand (with a plan to do the Pindari Glacier trek and the newly made Lipulekh Pass on Kailash Mansarovar Road).
I chose Jangalia Gaon Ganja as my first destination because of its close proximity to New Delhi. As always I did not want to ride a long distance on day 1 (hence chose Bhimtal) but didn't want to stay in a crowded town either (hence Jangalia Gaon, near Bhimtal).
The Story of Jangalia Gaon
The story has it that Jangalia Gaon won battles in the past and thus the name Jangalia Gaon. Though WHAT BATTLES, however, is something that no one knows — probably a long mythical story with most locals have no idea about.
But it is from this explanation only that the name Jangalia was derived. 'Jang' in Hindi literally translates to 'battle'. And 'Gaon' translates to 'a village'. 'Lia' means 'to take or win over something'.
Less than 15km from the popular tourist destination of Bhimtal, Jangalia Gaon defines the idea of an offbeat and relaxing tourist destination in a true and conscious form.
What to Do In Jangalia Gaon
As I wrote above, there isn't much to see and do around. Having said that, if you are one of those people who travel with a list of bucket list goals, then you may get disappointed with the place.
Located in the middle of nowhere, Jangalia Gaon (also spelt as Jungalia or Jangaliya) is meant to relax, unwind, and just be. There aren't many highlights to tick off an ambitious bucket list.
Expect nothing more than a village experience with fresh air, organic food, and seemingly happy (but equally shy) faces to greet throughout the day.
I spent a total of three days there and never did I feel a need to leave my place and explore someplace else. During one of the days, however, I had a short 45-minute ride to a nearby village called Budha-Dhura.
Alternatively, you can stay in Jangalia Gaon and do day trips to Bhimtal. Enjoy the attractions of Bhimtal to keep yourself busy during the days and spend peaceful nights in Jangalia Gaon.
Where To Stay In Jangalia Gaon
There aren't many places to choose from except for a couple of options.
Speaking of my experience, however, I stayed at a place called HushNest, glamping and enjoying the serenity of nature.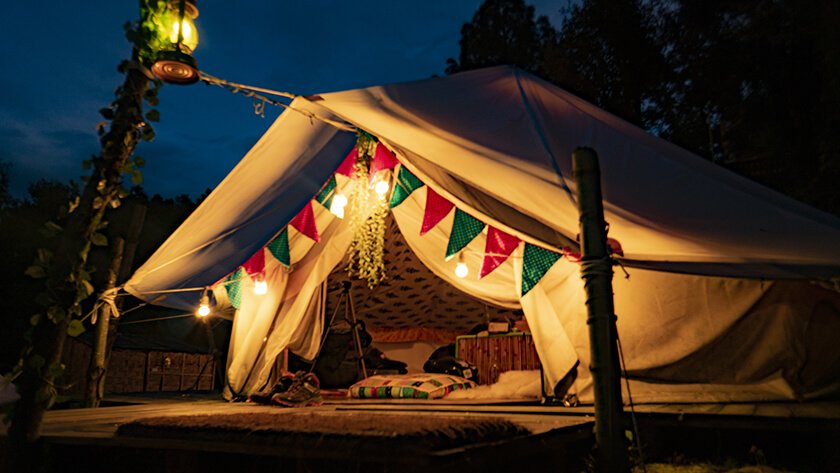 The place offers two big size tents with a double bed in each tent. And since it is a glamping experience, expect a lot of decoration and other necessities to make for a comfy stay. What comes with each tent is a dining area outside of the tent. Each tent also gets a separate external washroom.
Imagine the entire place as nearly 250 sq feet of fenced land perched high on a mountain top with two big-sized tents.
Right next to it is an old Kumaoni house where the host of the property stays looking after all your needs — from early-morning tea to late-night dinner.
An Offbeat Destination Near Bhimtal
Just like other popular places in the Himalayas, Bhimtal, over the years, has become too crowded to have a peaceful holiday experience. As a result, smaller towns (within 10-15 km from Bhimtal) have started developing tourism — offering a peaceful alternative to those wanting to visit Bhimtal but staying outside of its madness. Jangalia Gaon Ganja happens to be one of them.
It is a perfect offbeat tourist destination near Bhimtal.

It makes sense to stay in Jangalia Gaon if…
You want to visit Bhimtal but fancy staying at someplace peaceful nearby.
You are looking for a short (up to 8 hours drive away) weekend getaway from Delhi.
That's all in this blog. If you know about another offbeat destination near Bhimtal (within 10 or 20 km) please share in the comments below.
How To Travel To Jangalia Gaon
In Public Transport
If you are travelling on a bus, take any bus that goes to Haldwani. From Delhi, and most other popular towns, you will find quite a few connections to Haldwani. From Haldwani, you will have to find a taxi (shared taxis can be found too) or a bus to Bhimtal. Haldwani to Bhimtal is a short 1-hour journey.
It is from Bhimtal that the real struggle begins if you want to travel on a budget and not hire a private taxi.
Since Jangalia Gaon is not a popular tourist destination, there is no readily available public transport from Bhimtal — definitely no shared taxis. I was told that there are one or two daily buses but with no fixed time. You will, moreover, have to find the way to your guesthouse or homestay in Jangalia Gaon.
For those travelling on a train, the journey is going to be the same. Take a train to Haldwani and then follow the tips shared above. There is no railway line north of Haldwani.
Self Drive
The best way to travel to Jangalia Gaon is in your own vehicle. From Delhi, Bhimtal is an about 7-hour drive. The drive is moreover pleasant. I suggest you take Bazpur-Kaladhungi-Haldwani-Bhimtal road. Rudrapur-Haldwani road (in October 2020) is currently under construction.
Bhimtal to Jangalia Gaon is a short 15km or a half hour drive.
Also Read: Places To Visit Near Delhi Within 1000 Km