When it comes to a travel destination like Goa, writing a travel guide or a few backpacking tips become literally challenging. I mean there is so much to see and do in Goa that compiling it all in a list can be a tough task. And then, there are all those striking dissimilarities between different parts of Goa (yes, I am comparing North Goa and South Goa) to add to the struggle. So yea, writing a few travel tips for Goa, and claiming them to work throughout Goa is nearly impossible.
But attempting the impossible, here are a few useful Travel Tips for Goa that I carefully gathered during my one-month-long journey across north and south Goa. See if you agree…
When In Goa, Rent A Scooter
As I said in one of my previous articles on Goa where I have talked about Different Beaches Of Goa – Goa is massive. So, to make sure you don't miss out much and see most of Goa in the least possible time, you need to have your own vehicle. Hence, rent a scooter.
Renting a Scooter in Goa is neither expensive nor a challenging task. You can find one at nearly every corner of the city. Just ask any local around you and they will either direct you to a shop 100m away or hand over their own scooter to make a few quick bucks. Speaking of the cost, however, at most places in Goa you can find an automatic 150cc scooter for about 300 Rupees a day.
Having your own vehicle will give you more freedom than you can imagine. I remember when I stayed in South Goa, at Agonda beach, I rented a scooter for only 3 days, and I explored more places during those 3 days than my entire 2 weeks at Agona put together. Though my idea of holidaying in Goa was to only laze around and relax, I didn't need a scooter for most of the time, but if you're in Goa for just a few days, and want to explore more in less time, having your own rented scooter (or a rented car) is must.
If You Want Peace Avoid North Goa
Goa can vaguely be classified into two territories: the crowded North Goa and the peaceful South Goa. Though it doesn't mean that the entire northern Goa is crowded and bustling, most of it, in fact, is. Similarly, most of the southern Goa is peaceful.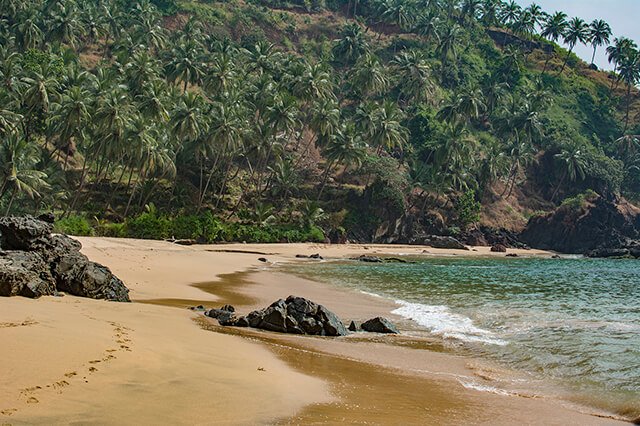 Having said that, if you're one of those people who are looking for a peaceful beach in Goa, head to South Goa, as that part of the town is more likely to offer you a peaceful holiday experience. I had personally spent most of my time staying at one of Southern Goa beaches or exploring more of it. I particularly loved Cola beach, Kakolem beach, and Agonda beach.
If you're, however, looking for an intense party scene and a vibrant and louder surrounding, Baga, Candolim, and Calangute would be my top three suggestions.
Preplan Your Stay In Goa
I know I rarely advise booking a hotel in advance, but Goa is an exception. Because Goa is so massive in size that booking a place in advance may help you decide which area you want to stay at, better. For example, if you're looking for an exceptionally quiet beach or a surrounding that is literally isolated, Kakolem beach in South Goa is your place. If, however, you want something more happening, head to Palolem Beach in South Goa. Similarly, if you will do a little research before you actually end up in Goa, it will help you find a locale best suiting your taste.
Out of my previous experience, I can particularly suggest hotel Sonho Do Mar located at Agonda beach and Baga River Villa that offers a luxury stay in Baga beach. Baga beach and Agonda beach are two real gems of North and South Goa.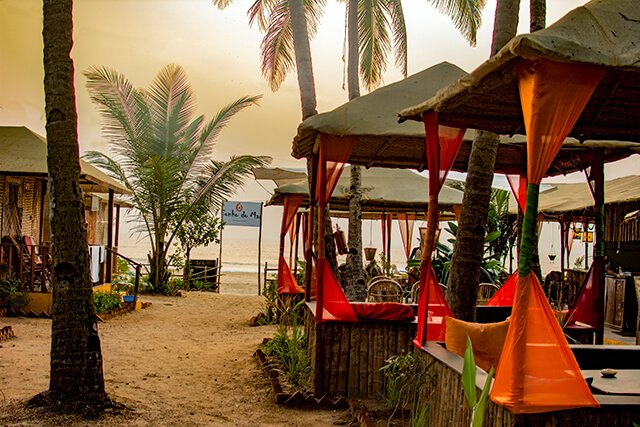 Visit During Monsoon To Save Money
Goa can be an expensive destination during the winter months of December, January, and February because of the peak tourist season. And perfect weather is the reason behind it.
Winter months invite waves upon waves of tourists wanting to experience Goa. Naturally, prices for everything – from food to accommodation to local taxis – surge. Summer months (when a 40-degree Celsius temperature, coupled with 80% humidity) on the other hand, are just too brutal to travel Goa. So, what is your best option for visiting Goa, when the weather is not too harsh and the prices are not too brutal – the time of monsoon.
The average high temperature in Goa's monsoon season is between 28.8°C and 30.3°C, while the average low is between 24°C and 24.7°C, making it ideal to step outside and enjoy the town. And because not many people visit Goa during monsoon, hotels and flights are also not at their peak price range.
Another reason to be visiting Goa during monsoon is the lushness. Goa is at its greenest during the monsoon. The rivers are all full, and so are the lakes and ponds. The waterfalls look all mighty and alive. Dudhsagar falls, a famous landmark is simply breath-taking during the monsoon.
So, if you will ask me, monsoon time remains my personal favorite for Goa.
Don't Keep Drinking Beer
Most people (particularly if I talk about North Indians) who visit Goa spend their entire holiday visiting the same beach-shack and drinking the same beer. I remember when I visited Goa a few years ago with a bunch of college friends we did the same. We spent almost a week in Goa and did not see anything beyond the beach we stayed at. We would go to the same place every evening, get super drunk, only to spend the following day sleeping and resting in our hostel. But during my previous solo-trip to Goa, I found that Goa has more to offer than what it is otherwise popular for.
Apart from exploring different beaches and a few historic forts, there are adventure activities like scuba diving, parasailing, jet-ski and more. I was surprised to know that one can even try Hot Air Ballooning in Goa.
I mean I understand that partying and experiencing nightlife is a thing to do in Goa but the fact that there is so much more to see and do there cannot be disregarded. So experience Goa beyond just getting drunk every evening, and you can thank me later!
So, these are the top tips I tell people out of my one-month trip to Goa. And for the rest, be known that Goa is an easy place to get to and to be in as long as you don't mess it up with overdrinking. There isn't a lot of "must do" things in Goa. It's a chilled out place. Just go with the flow!