Goa Hot Air Balloon – something more offbeat and romantic than most experiences you will know!
After groggily waking up at 5:15 in the morning – before even the birds woke up – I was ready for my Goa hot air balloon experience.
I could barely sleep the night before because of the excitement. The idea of flying in a basket, led by a 10-meter giant balloon, the first-ever method of flight created by man, was quite a celebration.
Flustered and windswept, I reached the Goa hot air balloon take-off location (after a 45 min scooter ride from my hotel at Agonda Beach, in South Goa).
It was a big empty ground, located in the middle of nowhere. I was too sleepy to enjoy the moment, and then my eyes fell on the balloon. I had never seen a Hot Air Balloon from so close, and as I remember, it looked massive. My sleepiness suddenly disappeared in thin air. I was ready for this!
Under the safe and knowledgeable direction of Rita, our flying pilot, who has been flying this thing for the past 16 years (out of which many years she has been flying the hot air balloon in Goa) we took to the skies, ooh-ing, and ah-ing at the amazing landscapes below us.
With bug eyes and my mouth wide open, I forgot to take photos for the first few minutes, absorbing it all in, carefully studying every moment. Then I quickly recalled I'm a blogger on a mission, and I started to take photos and videos like a machine.
Almost one and a half years later, I happened to have another similar experience in Australia. Read about it here: Hot Air Ballooning In Gold Coast.
It had been two weeks since I was exploring Goa beaches. I had experienced some amazing nightlife, ate some great food and even explored a World War II ship, during my first ever scuba diving experience – but the experience of a hot air balloon in Goa was something unusual.
It was, by far, the most unique and highlighted activity of my entire trip.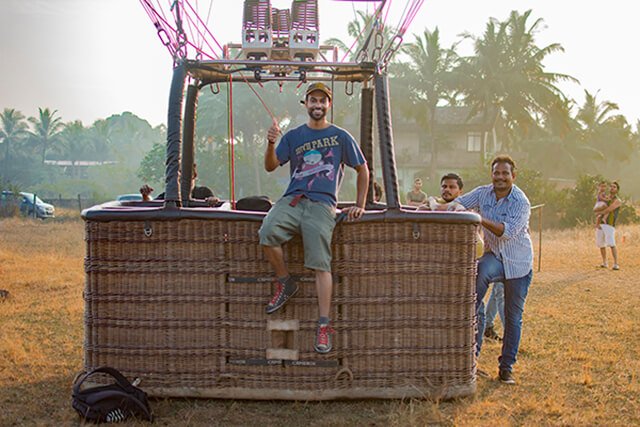 What makes a Hot Air Balloon experience wonderful is the uncertainty of the flight. Right from the taking-off to the landing, everything is ambiguous.
As flights are completely dependent upon weather, a decision to delay or even cancel them can come minutes before the actual take-off. You can moreover never guarantee which direction the balloon is going to proceed. Sure you have a little control over the elevation and the direction, one strong wind can apparently take you anywhere.
Similarly, our Goa hot air balloon ride was ambiguous too, until we actually reached the location and got a green light from our pilot Rita.
We flew for about 40 minutes, over traditional Goan houses, empty landscapes and palm trees. The ariel views of the city, from up to over 2000 feet, were surprisingly dramatic.
Despite being told that we might need to brace ourselves during landing because it can be rough, the landing was rather gentle, almost as if the basket kissed the ground.
Safely back, we finished our hot air balloon ride in Goa with a delicious breakfast and a glass of champagne.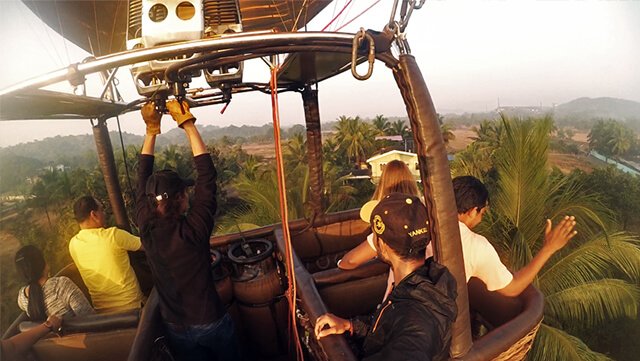 Goa Hot Air Balloon
… how much it costs?
You can book a tour by visiting Goa Tourism's official website, which costs INR 9,900 per person (rates as of when I visited, please check the updated price).
The flight generally takes place during the time of sunrise – when the weather is nearly perfect and the views are exceptionally great. The duration of the tour is 2 hours, including 12-20 minutes for balloon inflation.
Now if you're thinking that 9,900 Rupees, per person, is a bit too much, let's walk through some surprising figures…
Since the license of a hot air balloon in India requires one to qualify for the Indian Aircraft Rules & Civil Aviation Requirements, all of its parts need to be imported from abroad. Speaking of the costs, the basket that carries you costs about 11 Lakh Rupees, the burners cost some 9 Lakh Rupees and the Nylon parachute cloth, which makes the balloon, costs around 30 Lakh Rupees. In total, the entire setup goes over 55 Lakh Rupees. (US $80,000). And on top of that, you need to pay your staff and bear the cost of regular repairing. Now that is serious money.
But even if it costs a whopping 9,900 per person, the experience of flying in a Hot Air Balloon in Goa is out of the world. And I would totally recommend it — particularly to my newlywed readers (because of its romantic nature!)
So next time you visit Goa, experience something beyond just sipping beers by your favorite Beach Shack. Experience something unconventional. Something far romantic.
And if you are looking for more tips on what to see and do in Goa, read my Goa Travel Guide and this useful Goa Travel Tips guide.
Also, if offbeat things interest you, I have pulled this useful resource from the web for some quirky things in Goa beyond beaches.
Watch The Video for some visuals from the ride: