I remember when I first spoke to Sharath, asking if I can visit them and explore the coffee plantation and the nature around their homestay, in Kabbinakad, Coorg, he replied in the most candid manner. A part of his response also sounded a little customary – following the usual banalities of any hospitality business. He wrote, sounding ostentatious, that they would be happy to show me the best of nature and Coorgi hospitality. "What a polished statement," I thought. But it was until I actually visited his place that I realised it was indeed among the best, and most unspoilt nature, I have ever seen. And the hospitality Coorgis were always known for, was no less remarkable either.
I first visited Coorg, some 6 months ago, experiencing one of the many camping sites around the place – and the experience always stayed in my memory, quite afresh. But this time as I reached Kabbinakad, located around 30 km towards the east of Madikeri, I found it much different, and perhaps more surreal.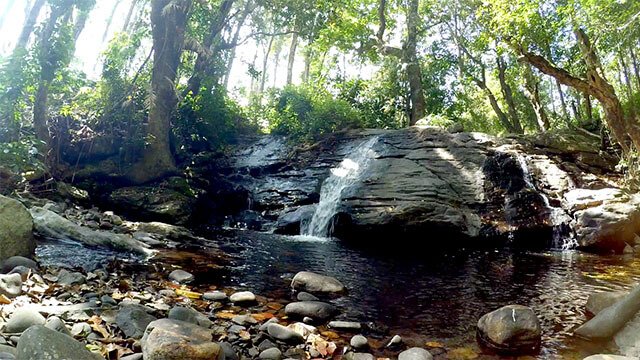 I remember losing myself in the jungle of red and green coffee plantation, as the sun went weary, and the waves upon waves of Glow Warms came in for my rescue. It seemed no less than a Life of Pie experience – a moment which would make anyone say, "this is why the environment has to be preserved."
Chingaara Estate home, the place where I stayed, is located in the midst of a large coffee estate. All around, and to a great length (some 12 acres if I'm not wrong) you will find green tropical forests with coffee, pepper, cardamom and other commercial crops being harvested. Opportunities abound for both the serious outdoor enthusiasts looking to conquer the nearby peak, Tadiyandamol, and the casual hiker who can enjoy a spectacular waterfall and gorgeous views, all within the estate grounds.
Tucked away from any tourist activity, my stay was no less than a solitude retreat.
I was happy that for the next few days this was going to be my home, I would greet the sun from the gazebo over my outhouse, walk to a serene waterfall just 40 steps away. There would be no sounds other than the musical chirping of birds – for all day long. The day would begin with the best brewed home-made coffee followed by a full-blown breakfast. Dinners were moreover always a few delightful local delicacies, served as a rich buffet.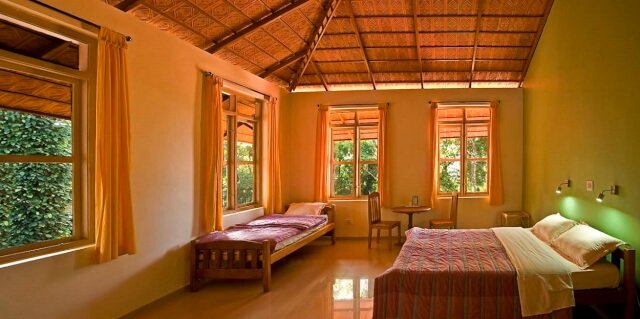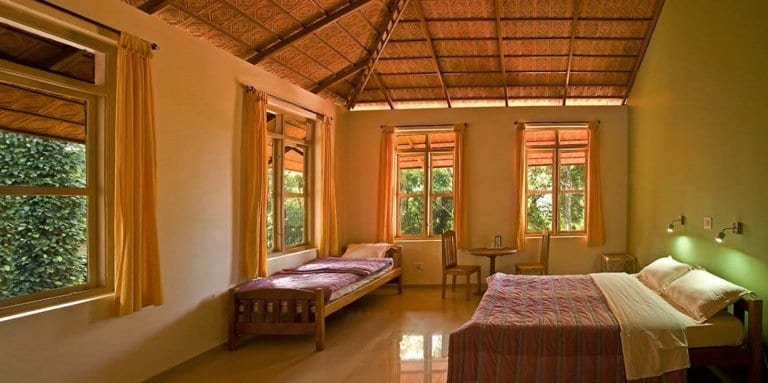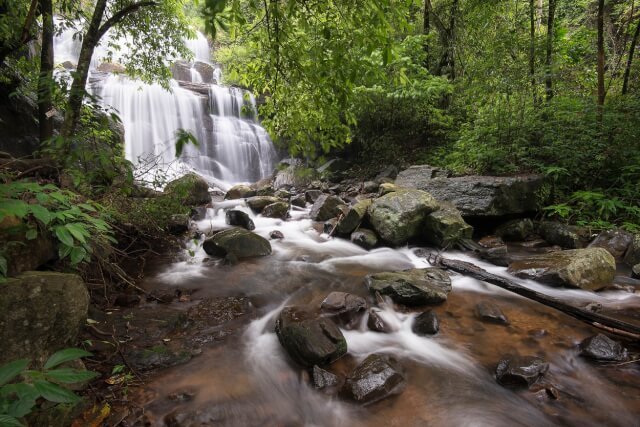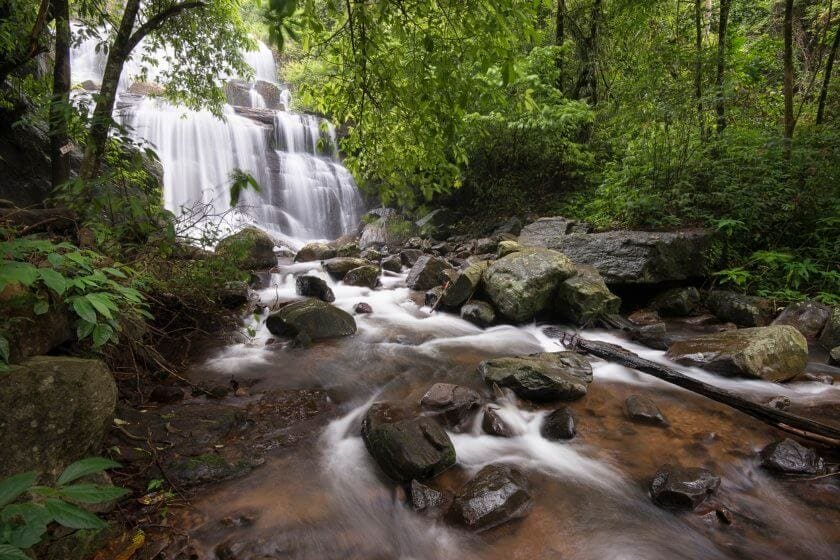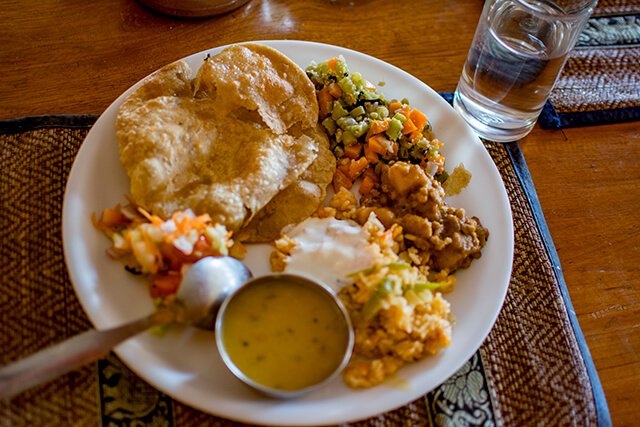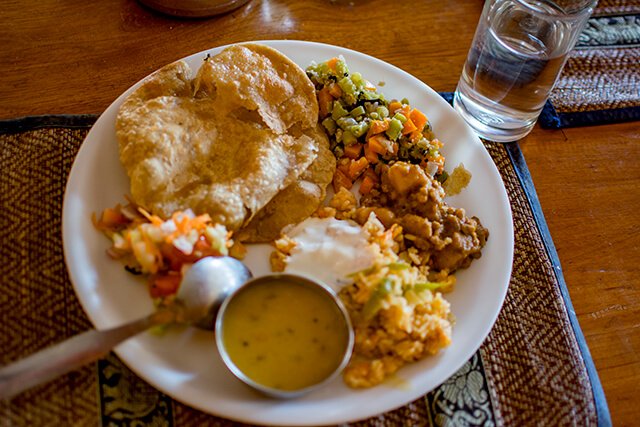 Things To Do In Kabbinakad
Though a major part of your holiday here, as was the case with mine, is about relaxing and enjoying the blissful nature, a few activities that one can enjoy, includes…
Birdwatching:  Whether you are an expert or just a plain novice who admires the beauty of his feathered friends, Kabbinakad is an ideal place to explore and get in touch with various creatures of flight. I remember there was not a single minute – except for a few dead hours in the night – when I couldn't hear their melodious chirping.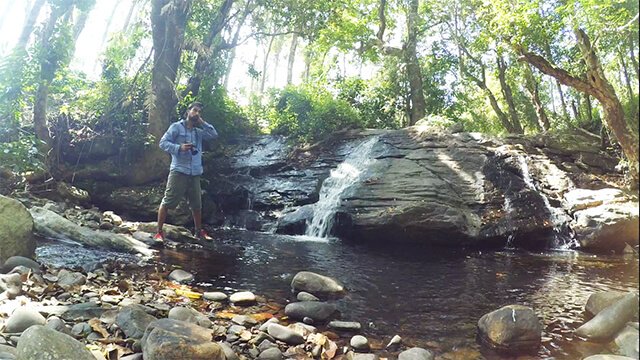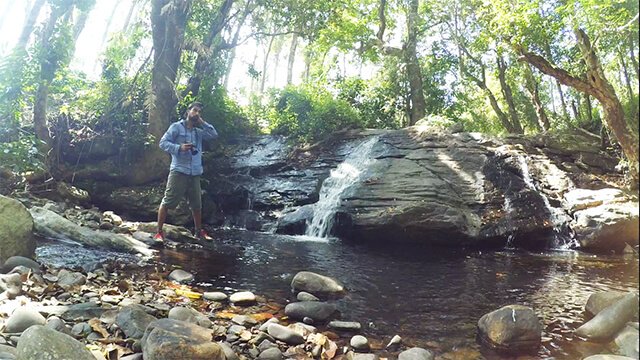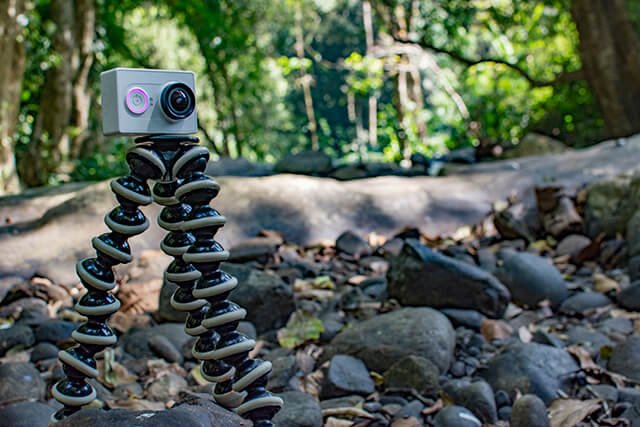 Trekking: If you fancy taking long and solo strolls in jungles, this can just be an ideal place. During my four day stay at Chingaara, I took it to jungles pretty much daily. I trekked to the highest peak in Coorg called Tadiyandamol, the popular Raja Seat viewpoint, and other unknown lose-yourself-in-the-jungle locations – but to speak of the experience, none of them felt like a demanding experience. And most of them were doable solo, and without a guide.
As per my host, there were at least 20 different long and short treks – that could be done between 2 to 8 hours' time.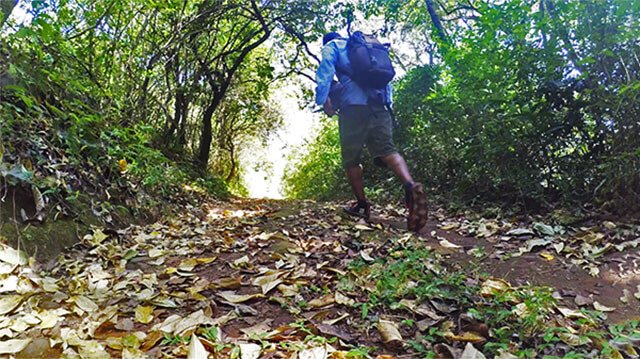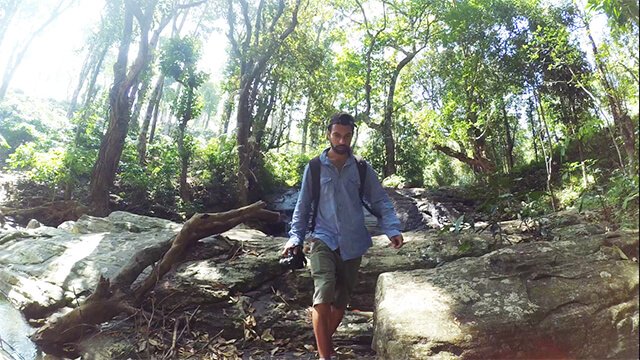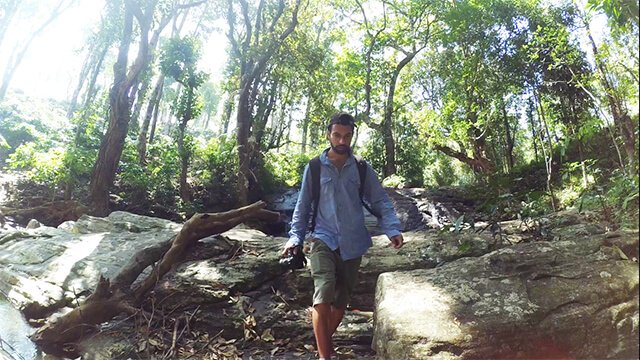 Exploring coffee plantation: No wonder, one of the prime highlights of tourism in Coorg is exploring a coffee plantation and understanding the various stages that coffee seeds go through before getting into our cups. I saw carpets of coffee seeds spread on the floor to get sun-dry outside. Chingara itself owned some 12 acres of coffee plantation, and as per Sharath, his father, who now runs a tourist home himself called 'The Honey Valley', was once one of the largest coffee producers in the entire Southeast Asia.
If you visit them during the berry-picking season, you can even help them in various activities.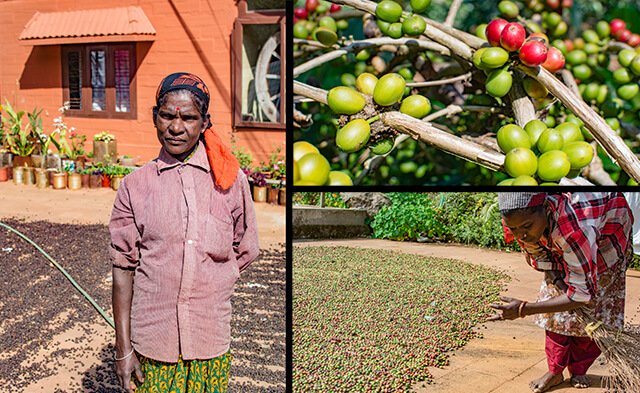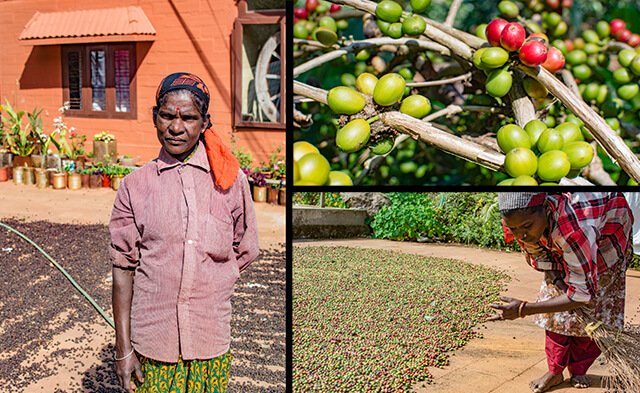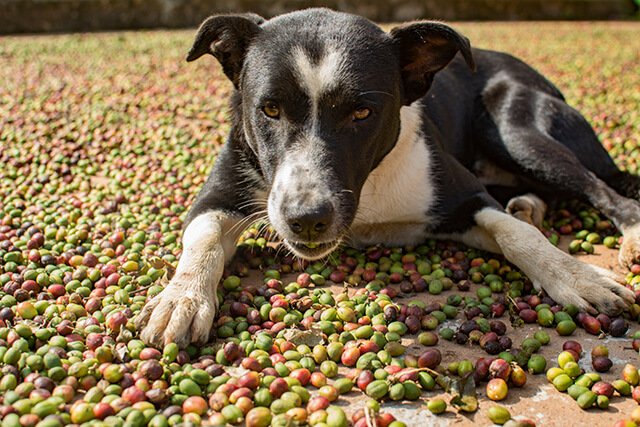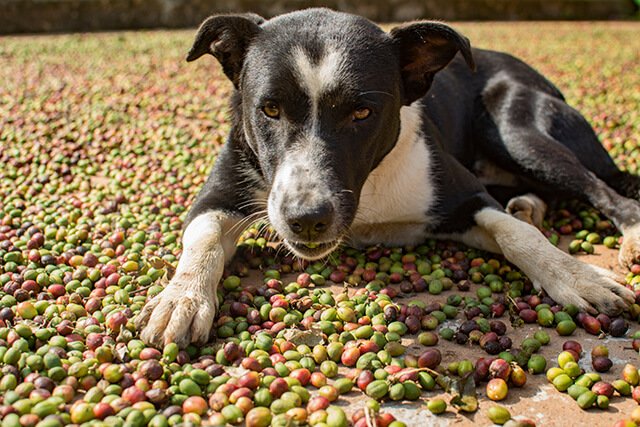 [Recommended: If you don't mind a 50 km drive, from Kabbinakad (or 40kms east of Madikeri), I'd particularly recommend you to visit Bylakuppe Namdroling Monastery – the largest Buddhist Monastery in South India, housing nearly 5000 monks, most of whom are Tibetan refugees living in India. Read more here: Bylakuppe in Karnataka]
About The Local Community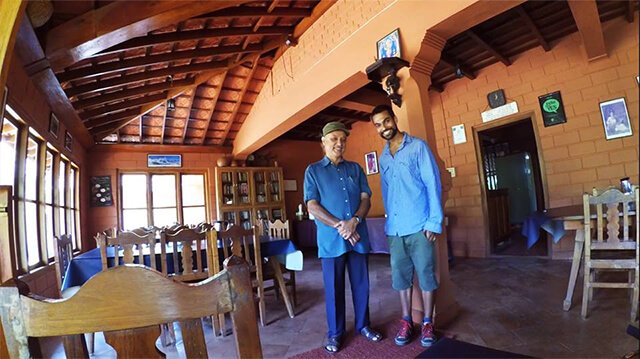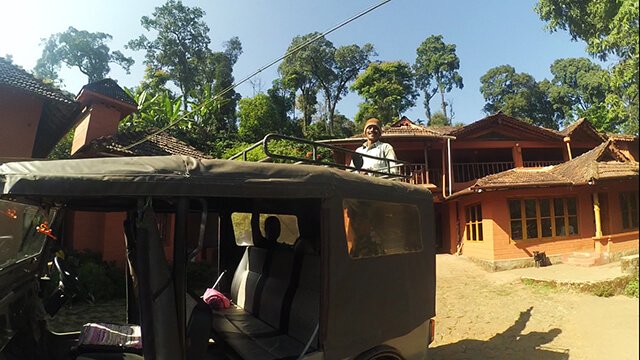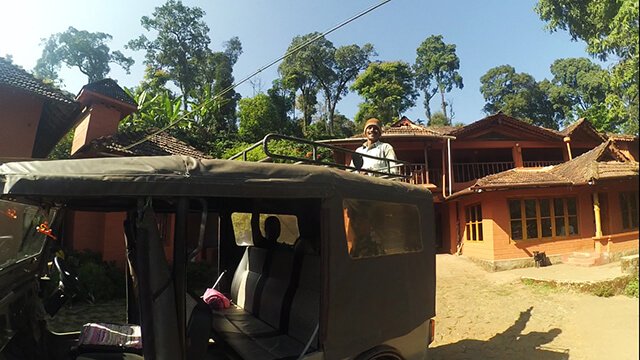 A large part of the community around Kabbinakad, including my host, is inhabited by the native Kodavas – renowned for their distinctive culture and hospitality. They're not similar to other South Indians either in their traditions as well as the physical aesthetics. Their tall and slim physique really stand them out from the Dravidians of the south. History also claims that they're the direct descendants of the soldiers of Alexander the Great, who, when invaded India, stayed back in the continent and got married to the local communities. Well, whatever's the case, I particularly loved these people, and the way they welcome their guests.
Any visit, no matter how small, and at what time of the day, involves an invitation for a cup of tea or coffee. "And a rejection of the offer, for whatever reason and no matter how politely done, can sometimes be considered an insult," I was told.
In olden days, a visitor was greeted by the woman of the house who offered a small pitcher of water to wash up in. Then the person was invited inside and offered a cup of tea. It is only after that, he would be asked the purpose of the visit. Of course, the time has changed now, as the many tourists who visit the place now often give an impression of their cultured hurried routine. I remember, when I arrived Chingara and was offered a cup of Tea/Coffee. I'd, myself, unknowingly denied the offer, demanding for a shower first, acting like a typical Punjabi, wanting to suit myself first.
Top Travel Tips For Kabbinakad, Coorg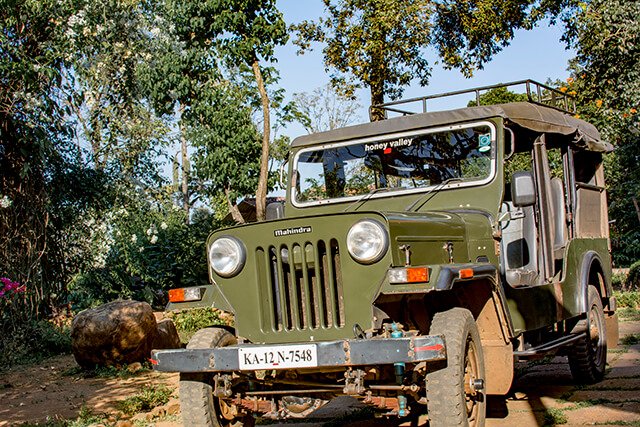 Coorg is spread over a massive 4,000+ square kilometer land. And Kabbinakad is a small locality located around 30 kilometers east of Madikeri. It is a relatively easy weekend getaway from Bangalore and Mysore, and getting here in public transport is fairly easy.
If you plan to travel in public transport, most of the homestays in Coorg, including Chingaara, offer a free pickup and drop service from Madikeri.
Your local host in Coorg should be able to guide you to some offbeat places around. They moreover generally also arrange for local guides and drivers.
Before returning, make sure you buy your own stash of coffee, or some organic spices, from Coorg. They're always the best quality and super cheap here. I remember buying 250gms of coffee for 90 Rupees. Imagine that!
I particularly thank 'Chingara Estate' for making my stay in Kabbinakad, Coorg, so much better. I am sure their homestay, the best brews they offer, and the many quick escapes to the jungle/coffee plantation around – can be a right fit for travellers of any taste.