Is Scuba Diving scary? I don't think so! What about other myths? Let's find out!
What's keeping you out of the ocean? Is it the fear of drowning or getting stung by a lionfish? Some of you might also be thinking that diving is expensive. Before my first experience, I had my own doubts (or better put, scuba diving myths!) too. But my biggest fear was running out of air while I was still underwater.
"Has any of the trainees ever run out of the air, in their cylinder, while diving with you," I remember asking my instructor, Jason, moments before our first dive. Though we were cautiously trained about how to share air and avoid other diving hazards, I was unsure of rescuing anyone (or even myself) if anything went wrong.
I think these doubts are only natural. But after my first experience, I have learned one thing: these doubts are nothing more than mere scuba diving myths!
After my first scuba diving experience and posting a few pictures about it on my Facebook page, a lot of people asked me about my experience followed by a question that seemed to be putting them off from trying it.
Now that I've done a few dives and have moreover qualified as an Over Water Diver, I thought, I'd do my best to banish a little misinformation that might be keeping you, my friends, out of the water.
Let's talk about some common Suba diving myths, which include…
Is scuba diving expensive?
Is scuba diving dangerous?
Do you need to know swimming for scuba diving?
Is snorkelling and scuba diving the same?
Women cannot do scuba diving.
Scuba Diving Myths
Is Scuba Diving Expensive?
Well, scuba diving is definitely not a cheap sport because of expensive scuba gear, but if your dream is to dive, or experience life underwater, at least once, then you can make it happen – no matter how small your budget is.
I did my Open Water Certification, in Goa, for INR 20,000 which included 2 days of pool sessions and 2 days of open water dives. Though an entry-level certification, it has now enabled me to dive with a buddy on my own. All I need is rent the equipment, find someone to dive with, and go!
But if 20,000 Rupees and 4 days of diving lessons still sound like a big deal, you can go for a fun dive for under 5,000 Rupees. This includes a short swimming-pool lesson, where you learn about breathing techniques for an hour or two, and then make it straight to the ocean – all in one day. 5000 Rupees for an out-of-the-world experience and all those underwater pictures and videos is no expensive deal.
If you are looking for more tips on certification, I have picked this great source from the internet on Scuba certification for you.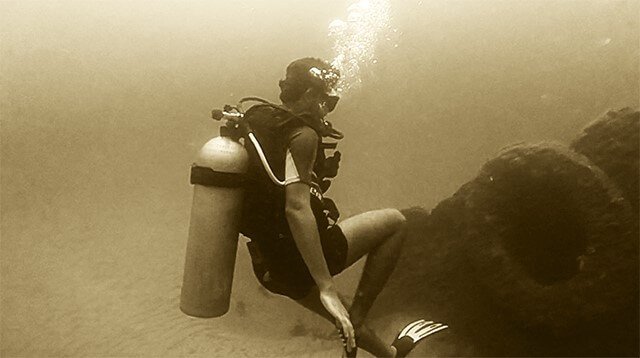 Is Scuba Diving Dangerous?
The potential risks of diving feel terrifying only before your first dive. I remember I'd almost called it off the first time we reached our diving site. The idea of anything going wrong as you lose yourself in the oblivion of the vast ocean can feel tormenting. But as you finish your first dive and appear back on the surface, you realize that you had only overestimated the risks.
And if you're worried about being attacked by a shark – please don't! Because the truth is, sharks are calm and very organized predators, and humans are just not on their menu. It is highly unlikely that you'll ever be able to spot a shark, particularly during your initial dives (because you're always taken to safe zones). Moreover, sharks prefer to feed at the surface, which means surfers, snorkelers, and swimmers are at a higher risk of being eaten by them, than you as a scuba diver.
So yea, whatever it is scuba diving is not dangerous.
Similar Read: Is skydiving scary?

Do you Need To Know Swimming For Scuba Diving?
Diving has very little to do with swimming. If you're one of those people who know how to float in the water, you can dive just as normally as a professional swimmer.
As for the requirements, to register for an open water course, you need to pass an endurance test which includes swimming about 200 yards nonstop, but there's no time limit and it's not a race. The only reason behind your knowledge to swim is to feel more confident about the dive, pedal stroke correctly, and be able to swim on the surface without your buoyancy jacket if required!
So yea, you do not need to know swimming for scuba diving.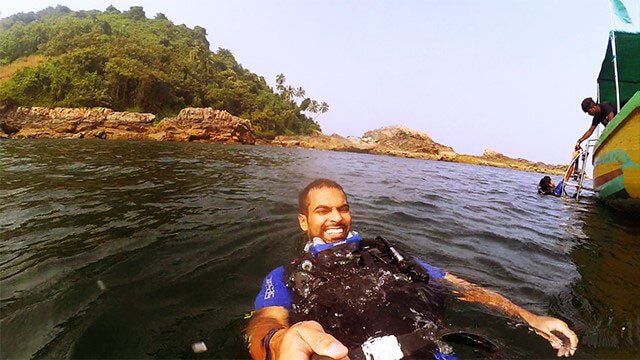 Is Snorkelling And Scuba Diving the Same?
Hell no! Though Snorkelling has its own charm, the experience of floating on the surface can, in no way, compete with going underwater. Comparing Snorkelling and Scuba Diving is like holding a helium-inflated balloon in your hand vs a read Hot Air Balloon experience (related read: my Gold Coast Hot Air Balloon experience).
Before you dive for the first time, your instructor asks you to snorkel in the open water for some time. The experience of peering down the great ocean – particularly if you're doing it for the first time – feels undoubtedly amazing. Then you take the next step, remove the snorkel, take your air source in the mouth, and submerge slowly into the deep Ocean. And the moment you do that, you realize that snorkelling was just child's play. Diving is a next-level adventure.
So yea, snorkelling and scuba diving are not the same.

Women Cannot Do Scuba Diving
Not true. Diving is just as female-friendly. The only part of it, which is true is that men have always participated more than women, but the gap has been closing steadily. There are also thousands of female instructors and divemasters out there to make you feel comfortable as a female diver. Moreover, everyone, from equipment manufacturers to tour operators, offers products for female divers.
So if you happen to be a girl, reading this article, there is no reason for you not to try scuba diving, because you think it doesn't suit your gender.
---
The bottom line? Diving is one of those epic adventures in which the ending is always great and full of heroic memories. Everyone's scuba story is different, and yours will be too. But if there's still something holding you, to take the plunge, let me know in the comments, and we can talk more about other similar scuba diving myths.
As I mentioned in the article above, I did Scuba diving in Goa and really recommend the experience given its price tag. If you too are going there and looking for more tips on what to see and do there, read my Goa Travel Guide. From top experiences to travel costs, it talks about everything.