Visiting Namdroling Monastery, in Bylakuppe? In this travel blog, I have shared all the useful information you need to know – from how to get there to where to stay to what is the best time to travel to Bylakuppe.
But before we get into the details, let's talk about my personal travel experience.
If you are not interested in reading about my experience of Namdroling Monastery, scroll down to the heading that says how to travel from Bangalore to Bylakuppe. From there, and further below to the end of this travel blog, you will find useful and practical travel tips.
Also, if you are visiting more places around Bangalore, other than Namdroling Monastery, read my places to visit near Bangalore blog. You may also be interested in reading my detailed Karnataka travel guide and this blog on top family tourist places in Karnataka.
Now, let's get started with the topic at hand, and discuss in this travel blog my experience of visiting…
Namdroling Monastery, Bylakuppe
From where I found myself sitting, inside the premises of Namdroling Monastery, everything appeared like a fairy tale. I was surrounded by the bright and cheerful company of a few thousand happy Buddhists, among which many were the first generation Tibetan refugees in India.
Speaking of the fairy-tale, one of the greatest miseries of the human condition is that we are not always keen to give up on fairy tales. We expect our lives to turn into something magical, something extraordinary.
"We are like dogs barking at the injustice of the universe when our keeper goes out, to buy us some more food" William James
Most of the people of the 21st century are found making false promises about their future. But people in Bylakuppe, as it seemed, were all dedicated to their present. They appeared to have no interest in the projections of romanticism or in the delusions of cynicism.
A Buddhist, if you speak to one, would talk not so much about good and evil as they do about ignorance and the knowledge of the self so that they don't waste time blaming people but look for ways about improving their own life. "Think big," I remember Rinpoche stating once.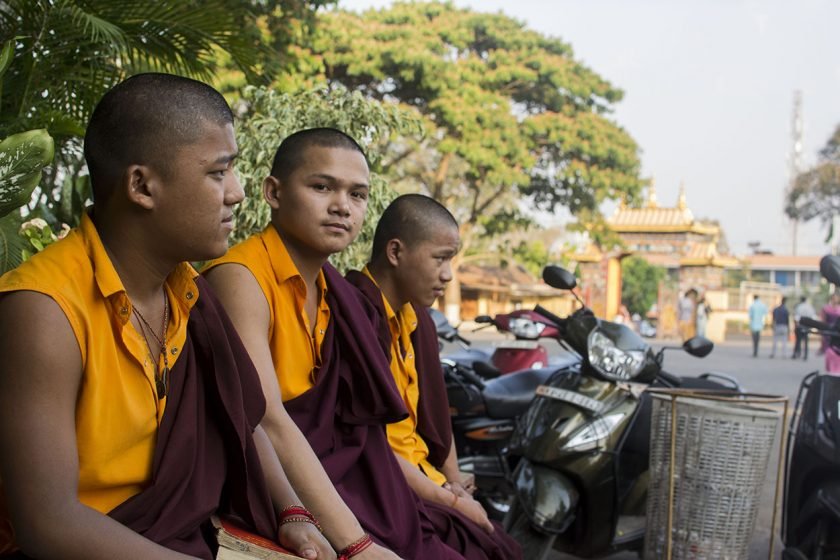 Also, read my visit to Bodhgaya and to Dharamshala for more related stories on how Buddhism in India is flourishing.
From the gardens of Namdrolong Monastery where I collected these perturbed thoughts, I could hear the sounds of chants and gongs from the temple. And right beside me, was my new friend, and yet another Tibetan loving his time in India.
I met Dorjee sitting in the gardens of Namdroling Monastery. He was born and brought up in India, but that's not the reason why he favoured and was so much in love with this county, and with Bylakuppe.
It was his parents' small narratives, I think, that let him decide, over time, that India is not a country he would want to misjudge.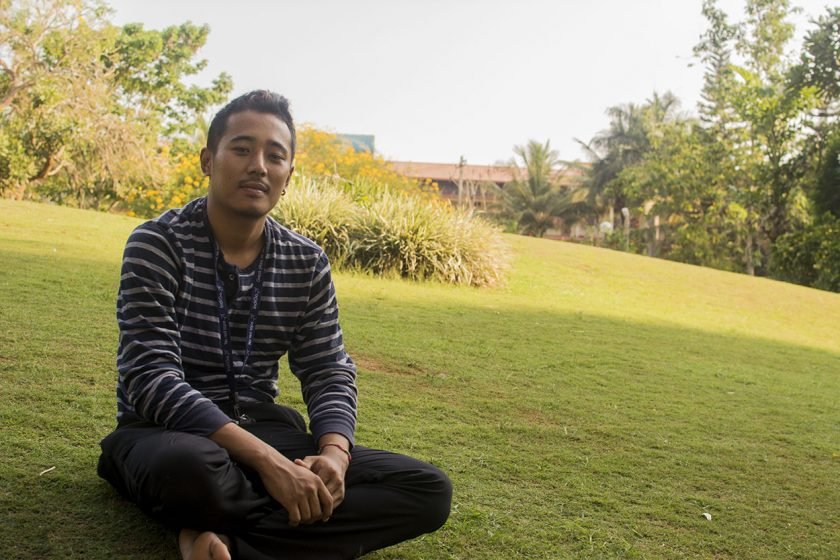 According to him, the town of Bylakuppe, and India at large, has given them everything — from work to recognition.
Our short, but detailed conversation, which started off with humble mentions of the Dalai Lama, soon found itself being derailed by the notorious descriptions of the time when China initiated its legendary cruelty in Tibet in 1949, and the people were forced to abandon their idyll.
He shared his parents' tough experiences about how they left everything behind and started a life where local customs were nothing but simply outlandish for them.
What he told me about his parents' experiences and their journey to India doesn't matter much, but how they accepted a new life in India — just like thousands of other Tibetans living in different parts of India, including those living in  Bylakuppe — sure do.
"The best way to change our life
is not by doing the best set of actions
but, by changing the way we look at it"
I had always wondered, what's in their culture that wherever these people settle they transform that place into a happy tourist destination. But now when I look at it, I understand that it's the charm of their presence, intensified by their culture is that holds the capacity or a transformative effect. Their presence can change a town into a friendly cosmopolitan, as so was the case with Namdroling Monastery, in Bylakuppe situated 90 kilometers from Mysore.
Bylakuppe comprises of two Tibetan refugee settlements, which, with time, has now grown into the largest Tibetan population outside of Dharamsala in India.
It's a small settlement, surrounded – from all directions – by the native people of Karnataka. But more than that, it is a symbol of how Tibet is being rebuilt, in its true, more conscious form, outside the borders of Tibet.
Everywhere, the scores of Tibetans, much friendly to each other, and to those who came for a short visit. And inside the Namdroling Monastery Bylakuppe, a few more smiling faces, chanting and chanting, telling their beads. Few, spinning large bronze prayer wheels and muttering chants or praying for the long life of their leader.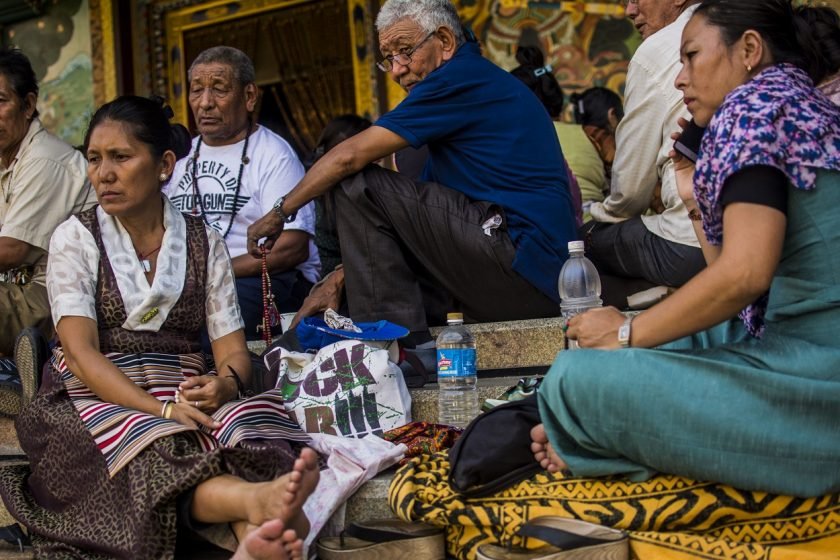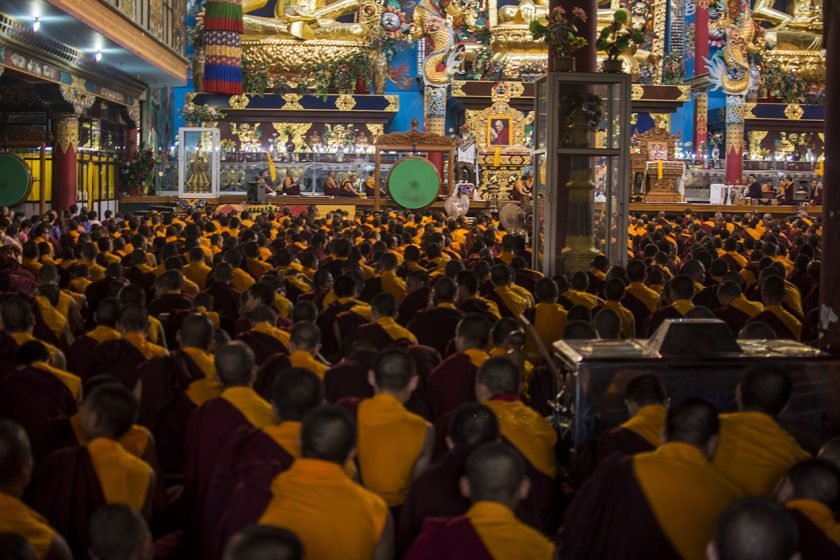 Many were old – women with healthy skin and pigtails, old men in cowboy hats, and the rest – in their flaming red robes.
Young kids, too, who had never seen Tibet but quite honest with their traditions, even in sunglasses and Nike Tshirts.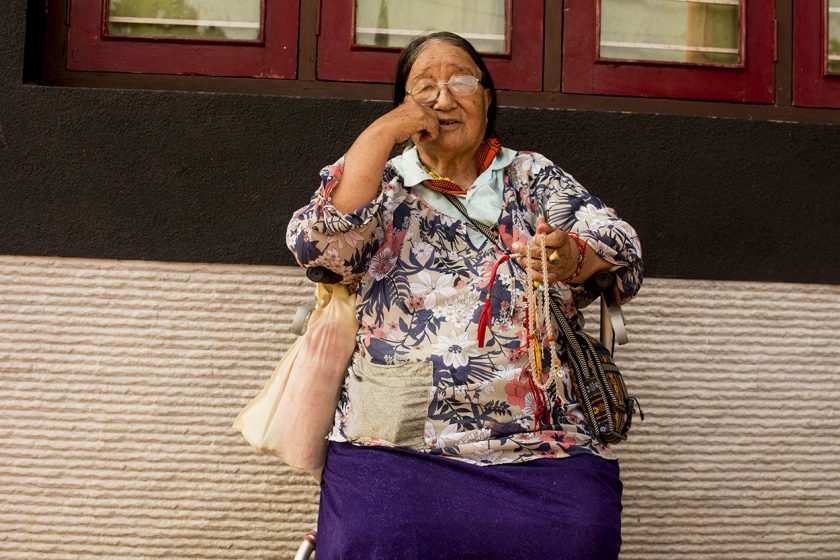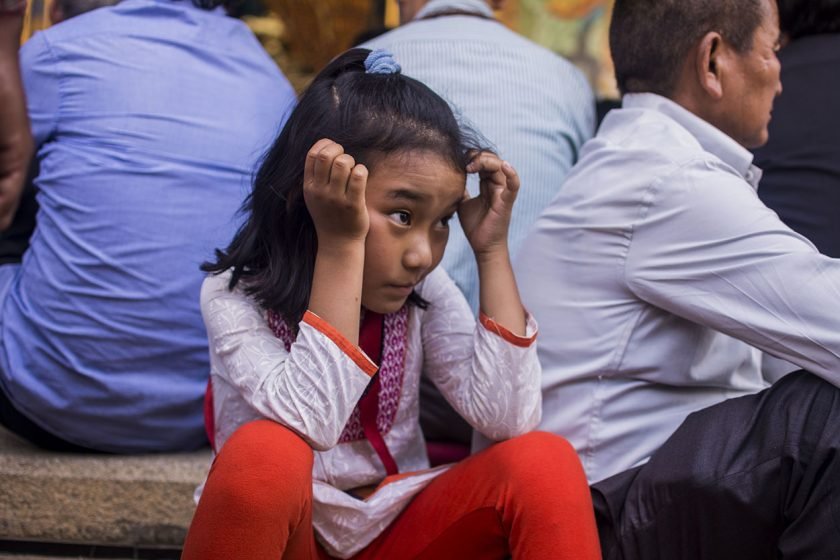 The entire scene inside the Namdroling monastery Bylakuppe made me feel as if I'm not in India anymore but are lost somewhere, in a monastery, much tranquil, situated deep inside the far ends of Tibet.
Dorjee told me how his people here (or perhaps mine too) come here almost every weekend, with their families and spend a few hours chanting prayers, while kids run about its boundaries. "It feels really calm when we're here, close to His Holiness and around the company of other Lamas," said Dorjee, with a humble voice.
Sure it felt relaxing being in the company of unusually good people, yet what surprised me, repeatedly, in the middle of all this was that people around here clearly saw things in a more spacious way than I ever could.
It was as if they were educating me every minute, and make me learn that everything in this world can be used for something good.
When we look at the big picture, we can't help putting China at fault. We feel devastated and sympathetic to the people of Tibet as China threatens the culture and sovereignty of Tibet every day.
But if there's one thing that we can learn from these people and from their great culture, it is as Hamlet once said: "there is nothing good or bad, but thinking makes it so."
Bangalore To Bylakuppe
There are no suitable train connections from Bengaluru and Namdroling Monastery. Taking a flight, given the short distance of only 200km between the two destinations, and the unavailability of an airport anywhere closer than Kannur airport (which is 1-hour drive from Bylakuppe Monastery) moreover makes no sense to fly from Bangalore. The distance between the two destinations is 210 km.
Having said that, the only way to travel from Bangalore to Bylakuppe is in a taxi or by self-driving. It takes between 3h 30m to 5h 30m to get from Bengaluru to Namdroling Monastery by road.
The cheapest way is by travelling in a bus which costs around 1000 Rupees on a luxury bus and takes 5h 34m. I suggest you check Redbus for prices and timing of buses.
The quickest way to travel from Bengaluru to Bylakuppe is in a taxi which costs around 6000 Rupees and takes 3h 33m. Driving between the two destinations will take same time.
Where To Stay In Bylakuppe
Please note that if you are not an Indian citizen, you need a permit to stay overnight in Bylakuppe, so it's best to stay in or around Kushalnagar. The distance from Kushalnagar to Namdroling Monastery is only 5 km and it's easy to walk or take a tuktuk.
If you are travelling on budget in India, there are plenty of cheap hotels near the bus station in Kushalnagar. It is possible to find a room for as low as 300 Rupees per night twin sharing. If you want something mid-range, you can find an affordable deal for around 1000 Rupees per night.
Some of the hotels/guest-houses I can recommend are Purple Palms Resort & Spa, The Casita, and Whistling Woods Farm Stay, among others.
Facts About Namdroling Monastery
Also known as the Golden Temple of the south, Namdroling Monastery is the largest teaching centre of the school of Tibetan Buddhism known as Nyingmapa.
Established by Drubwang Padma Norbu Rinpoche in 1963, the monastery holds some excellent examples of Tibetan architecture and artwork. The elaborately decorated temple tower and ornate outer walls, intricately adorned with beautiful murals are worth watching and studying if you are into architecture.
The monastery is spread over an area of 80 square feet and was built from Bamboo which was donated by the Indian Government to the Tibetans in exile.
The monastery houses educational institutions and a hospital, in addition to being home to about 5,000 members of the Sangha community including monks and nuns.
Best Time To Travel Namdroling Monastery
Since Karnataka has tropic weather, the heat makes it quite hard to enjoy outdoors pretty much throughout the year. Though Bylakuppe still has better weather than much of Karnataka, it is still too hot.
Having said that, if you hate to sweat and loathe hot weather, winter months of December to February will make for the best time to visit Bylakuppe and Namdroling Monastery. This is when the temperature remains around 15 degrees during the day time, making it easy to walk around in open.
But with pleasant weather comes the peak tourist season too, pushing hotel prices in Bylakuppe to the higher side.
If you are budget travelling looking for cheap accommodation, travel during monsoon. Monsoon is the second beast season when the heat is not unbearable.
If you want to make the most of your visit to Namdroling Monastery and the town of Bylakuppe, visit during Tibetan New Year (Losar). It is celebrated in February / March over a period of fifteen days. During that time, the monastery hosts traditional colourful lama dances and huge thangkas, a Tibetan silk painting with embroidery depicts Buddhist deity.
Also, keep in mind that the public opening hours for Namdroling Monastery are between 9 AM – 6 PM. Prayer takes place at 1 PM, which is certainly worth watching.
That's all in this travel blog about Namdroling Monastery, Bylakuppe. If you think I have missed any useful information that readers must know, please leave a comment below.