Soon Coronavirus will be history and people will be looking for places to visit near Bangalore.
Where some people will ask their friends for suggestions, and others will Google search for 'tourist places near me'.
Had you searched on Google too and ended up on this blog, this is my recommended list…
If you are new on this travel blog, let me quickly introduce myself and help you build trust in this list of places to visit near Bangalore. I am a full-time travel blogger who quit his corporate career in England to become a blogger. Since 2016, I've only been travelling and writing about my journeys.
Where I sometimes travel abroad, most of my travels happen in India. I have been to nearly 25 Indian states, all solo-travelled and self-planned. And since I have spent a lot of time travelling around in Bangalore if there's one thing I know it is all those popular, offbeat, unknown and famous places to visit near Bangalore.
I am also into motorbiking (I own a Jawa 42) and have recently been doing a lot of road trips in India. One of the recent rides I did was a 2 month all India road trip from Delhi to Bangalore to Kanyakumari. So, sharing it all, let's start with…
Places to Visit Near Bangalore
Before I explain every destination in detail, I want to share an infographic that I have made. Feel free to download and save it in your phone. This can be your bucket list of places you should not miss near Bangalore.
Now let's discuss them in detail…
Places To Visit Near Bangalore – Under 250 km
Mysore Palace
Over 6 million people visit Mysore Palace every year — making it one of the most popular holiday destinations in India after the Taj Mahal. It is the official residence of the Wadiyar dynasty and the seat of the Kingdom of Mysore.
The palace was originally built in the 14th century by Yaduraya Wodeyar.
The mere distance of less than 150km from Bangalore moreover makes it one of the top places to visit near Bangalore within 200 kms.
Other places to visit near Mysore Palace are Chamarajendra Zoological Gardens, Sri Chamundeshwari Ammanavara temple and Brindavan Gardens.
Hassan and Belur
Hassan District was the seat of the popular Hoysala Empire in South India, and this gave Hassan, and the nearby town of Belur, many ancient temples and cluster of temple-ruins.
I happened to visit Hassan and Belur during my blog trip with the Ministry of tourism in India while experiencing the Golden Chariot luxury train… and boy, nowhere had I seen such an impressive cluster of ancient temples in India before. The temples in both the towns, combined, reminded me of the temples of Angkor Wat in Cambodia.
Known as the temple-architecture capital of Karnataka, Hassan is located 187 km from Bangalore. Belur is about 30km from Hassan.
If you are into architecture, and ancient ruin temples, the heritage sites of Hassan and Belur are top recommended places to visit near Bangalore for you.
It is possible to do a one day trip from Bangalore to Hassan and Belur.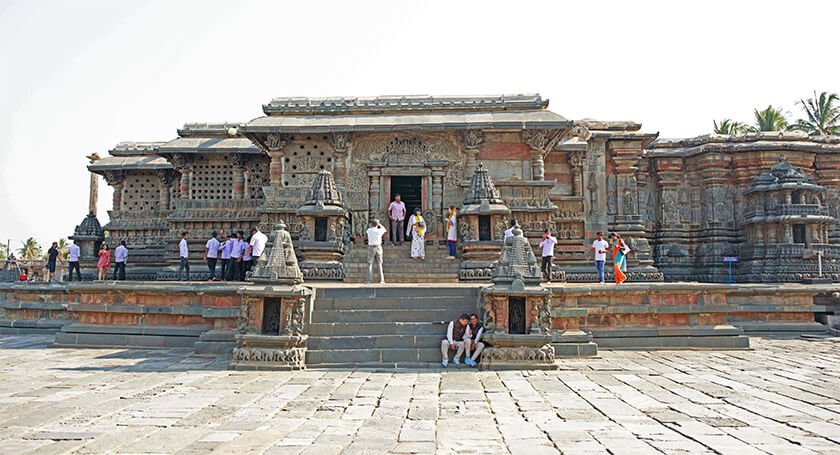 Bylakuppe
Located in Kodagu district, you can call Bylakuppe the Dharamshala of South India, minus the Himalayas. Most of the people living in Bylakuppe are original Tibetan migrants giving Bylakuppe South India's biggest Tibetan community.
Other than enjoying the Buddhist company, visiting Namdroling Monastery and enjoying Buddhist prayers there is another reason for visiting Bylakuppe. Namdroling happens to be South India's biggest Buddhist monastery.
Bylakuppe may not be one of the popular places to visit in Karnataka but in my experience, it is certainly one of the best hill stations near Bangalore.
Places To Visit Near Bangalore – Under 500 km
Marvanthe
Marvanthe is popular for its landscape and the unique experience of driving on a highway separated with Arabain sea on one side and the emerald green Souparnika River on the other side.
I happened to experience and spend a night in Marvanthe during my all India Delhi to Bangalore road trip. It is possible to visit Marvanthe between Bangalore and Goa.
Apart from enjoying Marvanthe beach, you can also visit Maraswamy Temple and a few nearby islands nearby. Other activities like scuba diving, fishing and snorkelling are also possible in Maravanthe.
Here's a video for more reasons why Marvanthe is one of the best places to visit near Bangalore within 500 kms.
Kodagu
Located in Coorg, Kodagu is popular for coffee and pepper plantation. Most of it is populated by the native speakers of Kodava language. Since it is a rainforest area, Kodagu has rich wildlife too. There are three wildlife sanctuaries in Kodagu and one national park: Nagarhole National park.
A vacation in Kodagu is all about staying at one of the coffee-estates and learning about coffee-plantation. Other things to do there include trekking, hiking and birdwatching, making it one of the best places to visit near Bangalore.
Read about my experience of staying at a coffee-estate in Kabbinakad — 30km from Madikeri (the headquarters of the district of Kodagu) — for more on how a holiday in Kabbinakad can feel like.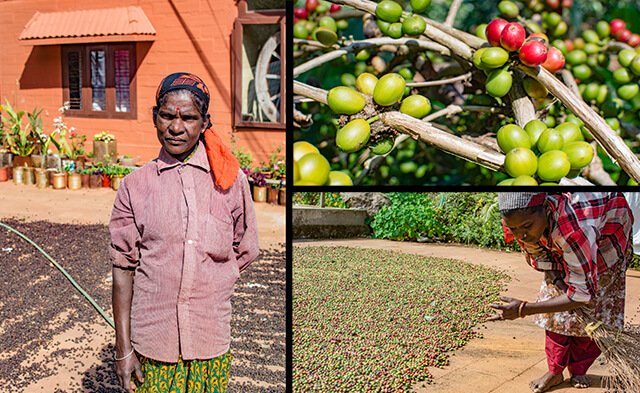 Hampi
Hampi is a UNESCO World Heritage Site, owing to ancient temples and forts. The many monuments in Hampi let travellers delve into history and experience the lost tales of India's one of the wealthiest and powerful kingdoms, of Vijayanagara Empire.
If you do not know, Hampi is ranked by the New York Times for best places to visit in the world. Here are some photos of Hampi for what to expect when you are there.
It is located at 350 km from Bangalore.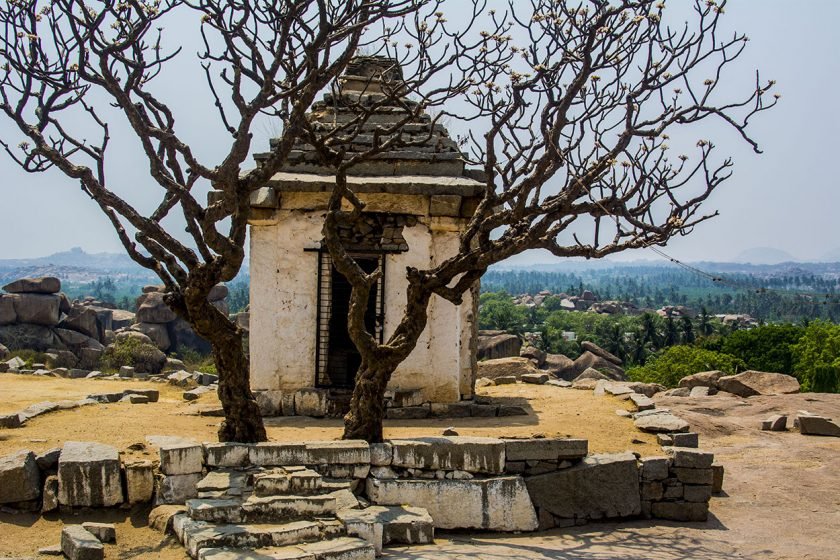 Munnar
Located in Idukki district of Kerala, in the Western Ghats, Munnar is one of the most famous places to visit near Bangalore. It is popular for tea-gardens, waterfalls, national parks and caves. Think of it as a hill-station with nice weather.
Munnar is also often referred to as the mini Kashmir of South India. It is a popular honeymoon destination too.
Since it is located at 1500m above sea level, many people also visit Munnar to enjoy pleasant weather — something that's hard to find in Kerala.
It is possible to explore Munnar over a weekend. Frequent overnight buses moreover make it easy to travel from Bangalore to Munnar. If you want to stay in Munnar, I can recommend The Hosteller. Their location is surreal.
Places To Visit Near Bangalore – Under 750 km
Fort Kochi
Known as the cultural capital of Kerala, Fort Kochi is popular for its colonial setting. The town got its port in 1341, and built strong trading relations between Arab, Chinese and European merchants in the past — and hence the colony.
If you will read any guidebook on Kerala, you will see the Jew Town and the Chinese fishing nets of Kochi claiming the cover-page.
The town has a rich cafe culture, beautiful boutique hotels, romantic seaside restaurants and a lot more to see and do. You can also find expats from across the world living in Fort Kochi.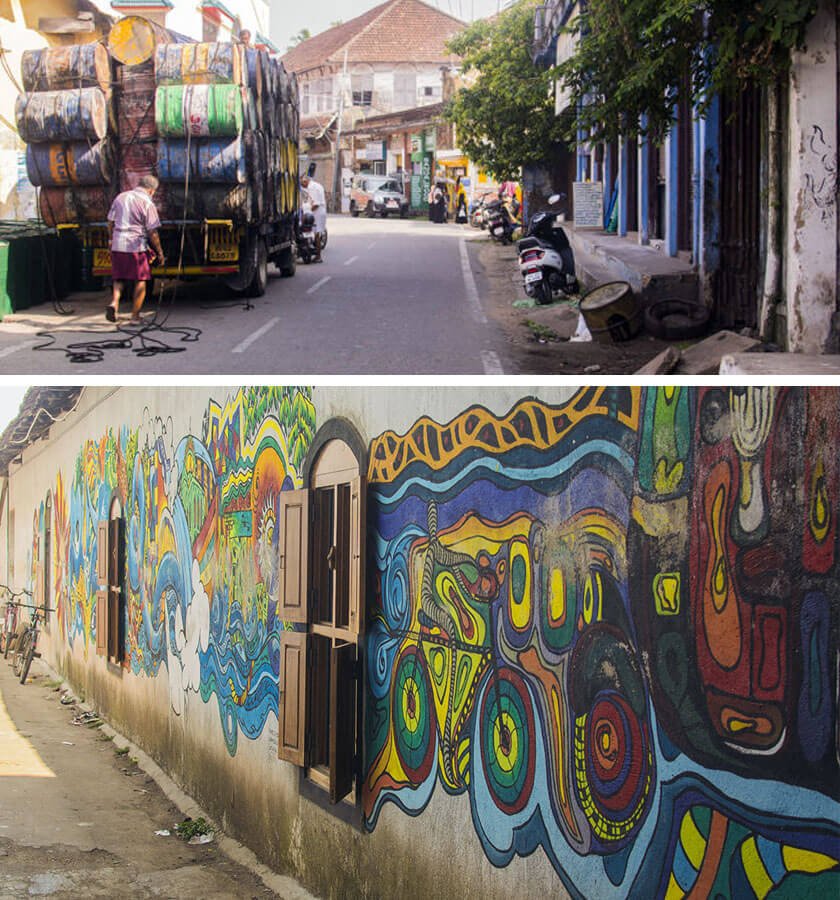 Here's a photoblog on Fort Kochi for more pictures
Varkala
With exquisite surroundings and a laidback vibe, Varkala is definitely one of the top tourist highlights in Kerala and one of the best places to visit near Bangalore.
Located in Thiruvananthapuram district in Kerala, Varkala was essentially a temple town. Until about a decade ago, tourists would come to Varkala to only visit its 2000-year-old Janardhana Temple. But over the years, the whole scene has changed. Now travellers from across the world have started coming here seeking a coastal feel, making Varkala a place to relax and unwind.
A few things to see and do in Varkala are: exploring the three beaches of North, South and Central beach, visiting Janardhana temple, trying yoga and ayurvedic massage, hiring a scooter and exploring around.
Out of all the beaches I have explored in Kerala, I found Varkala the most laid back.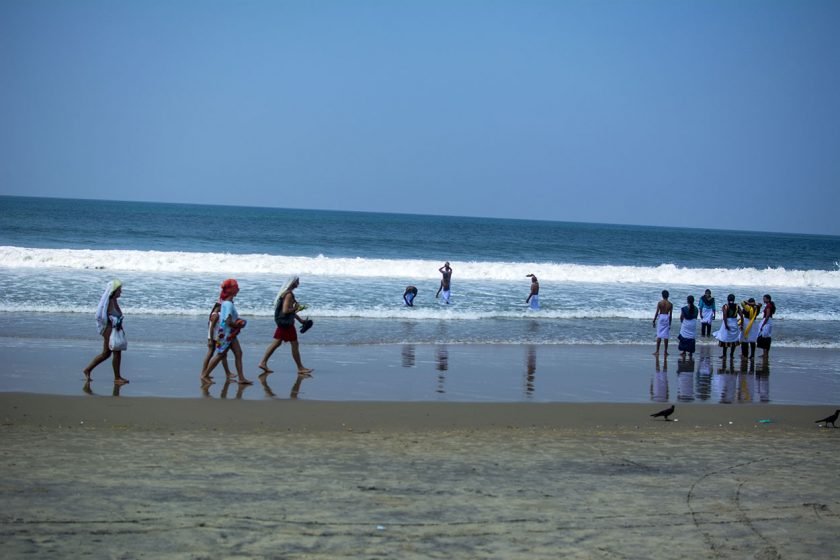 Alleppey
What's the first thing that comes to your mind when you think of Kerala? If it's renting a houseboat and exploring the backwaters, then Alleppey is a no miss.
Located at nearly 600km from Bangalore, Alleppey makes for one of the most beautiful places to visit near Bangalore.
Though you can find backwater in a few places in Kerala, including the town of Kollam, Kottayam Alumkadavu, Kumbalangi, and Alleppey, the backwaters of Alleppey is bigger and more popular.
Renting a houseboat in Alleppey can, however, cost over six or seven thousand Rupees per day. So if you are a solo traveller like me, rather than exploring the backwater in a houseboat you can drive around the place and enjoy.
Here's a youtube video from my recent trip to Alleppey in 2020…
Rameshwaram
My favourite destination in the state of Tamil Nadu, Rameshwaram can be best defined as the confluence of traditional legacy and natural adornments.
Though most people who visit Rameshwaram visit seeking spirituality and religion, if you're not into it, visit for picturesque beaches, unrivalled underwater natural wonders, a sanctuary for birds, and so much more.
Mentions of Rameshwaram can be found in Ramayana (a story-book depicting ancient India's stories from 7th century BCE to 3rd century CE). And it is because of this that Rameshwaram becomes one of the famous places to visit near Bangalore.
The many temples of Rameshwaram, including Ramanathaswamy temple and Dhanushkodi temple, are as old as the 12th century.
Kanyakumari
The southernmost point of India, Kanyakumari is surrounded by three water bodies. The Bay of Bengal towards the east, the Indian Ocean in the south and the Arabian Sea in the west.
Kanyakumari is named after the goddess Kanyakumari Amman, a popular deity of the area.
Though there are many tourist attractions in Kanyakumari, including a few temples, the most popular highlight is Swami Vivekananda Rock Memorial. If you don't know, the Swami Vivekananda Rock Memorial is a temple, a museum and a meditation centre built on a rocky island just off the coast, about 500 meters away from the mainland.
Other than that, sunsets and sunrises are of particular beauty and a thing to experience in Kanyakumari.
See my Kanyakumari travel blog for more on what to expect from a trip to Kanyakumari and what makes it one of the highlighted places to visit near Bangalore.
Goa
Goa needs no introduction. It is one of India's popular holiday destinations attracting travellers from across the world.
Just like most people, I have been to Goa a few times too. And every time I get there, my love for the town only intensifies. From trying snorkelling to enjoying a hot air balloon tour in Goa to drinking beer on beach shacks, there's a lot to see and do.
Out of all the big towns in India, it is easiest to travel to Goa from Bangalore and Mumbai. Catch an overnight bus, and voila — in less than 1000 Rupees you're there. Its close proximity, hence, makes it one of the popular places to visit near Bangalore.
If you haven't been to Goa before, you may want to read my Goa travel tips blog for there's a lot of plan for a perfect Goa holiday. The place is big, and the basis on where you stay in Goa, you pretty much decide your entire experience. I recommend staying at Agonda beach if you want to have a peaceful experience.
You may also want to read my quiet beaches in Goa blog for more relating details.
If you're a budget backpacker, you will be happy to know that there are over 50 hostels in Goa.
Here's a quick video on what to see and do there and expect from your Goa holiday:
Places To Visit Near Bangalore – Under 1000 km
Konkan Region, Maharashtra
I've done Coastal Maharastra Road Trip, otherwise known as Konkan Road Trip, twice: one in 2018, and one in 2020 (during my all India motorcycle trip).
If you are into road trips, particularly coastal road trips, you won't find a better place than this. Here, you will come across ferry crossings, historic forts, beaches running parallel to the road, coastal villages and whatnot.
Connecting Mumbai to Goa, the nearly 500km Konkan stretch is a must-do for all road-trip lovers. Other than road-trip lovers, what qualifies the Konkan region as the best places to visit near Bangalore is all other highlights, which includes food, forts, adventure sports and other things that you can try and see there.
Located nearly 900km away from Bangalore, Lonavala is one of the most travelled places from Mumbai (the distance between Mumbai is Lonavala is less than 90km). For Mumbaikars, Lonavala is what Rishikesh is for Delhites or Chikmangalur for Bangaloreans — an every weekend place.
With an elevation of over 2,000 feet, and a wide range of activities like camping, waterfall rappelling, rock climbing, and trekking — Lonavala has something for everyone.
When I first visited Lonavala, with a group of friends, two years ago, I had no idea what to expect. I thought even a weekend might feel too long there. But it turned out that the place had so much to offer that visiting the place for two days was a total injustice.
It may not be one of the most popular destinations for people living in Bangalore, but given its popularity, it deserves the last position in our list of places to visit near Bangalore.
If you're interested in a similar article with top holiday destinations in North India, read this list of places to visit near New Delhi.