While travelling in Varkala, Kerala, I realised that I often find myself discouraging the idea of frenzied, mass tourism. I've seen local cultures turning into commodities when religious rituals and traditional ethnic tires reduce and sanitize, to conform to tourist expectations.
Once a destination is sold as a tourism product, it starts losing its originality, which, with time, brings about nothing but yet another modern tourist destination, providing us with perfectly staged, not-so-authentic, experiences.
This is one of the prominent impacts of overtourism that we need to address before it's too late.
Varkala, Kerala
I happened to visit this calm and quiet hamlet, for the first time, back in 2016. I was on a one-month trip across Kerala and came here after spending a few days in the backwaters of Alleppey.
Varkala is one of those places, which has a perfect beach and a great crowd. The only thing, however, that differentiates it from other popular holiday destinations in Kerala is its rich cultural and religious history.
But that part, unfortunately, is slowly dying.
It was less than 20 years ago when this place could be seen full of Sadhus reciting religious rituals and mantras. But today, Varkala has become nothing more than a regular tourist destination in Kerala.
It is an ideal spot for tanned Westerners to amble.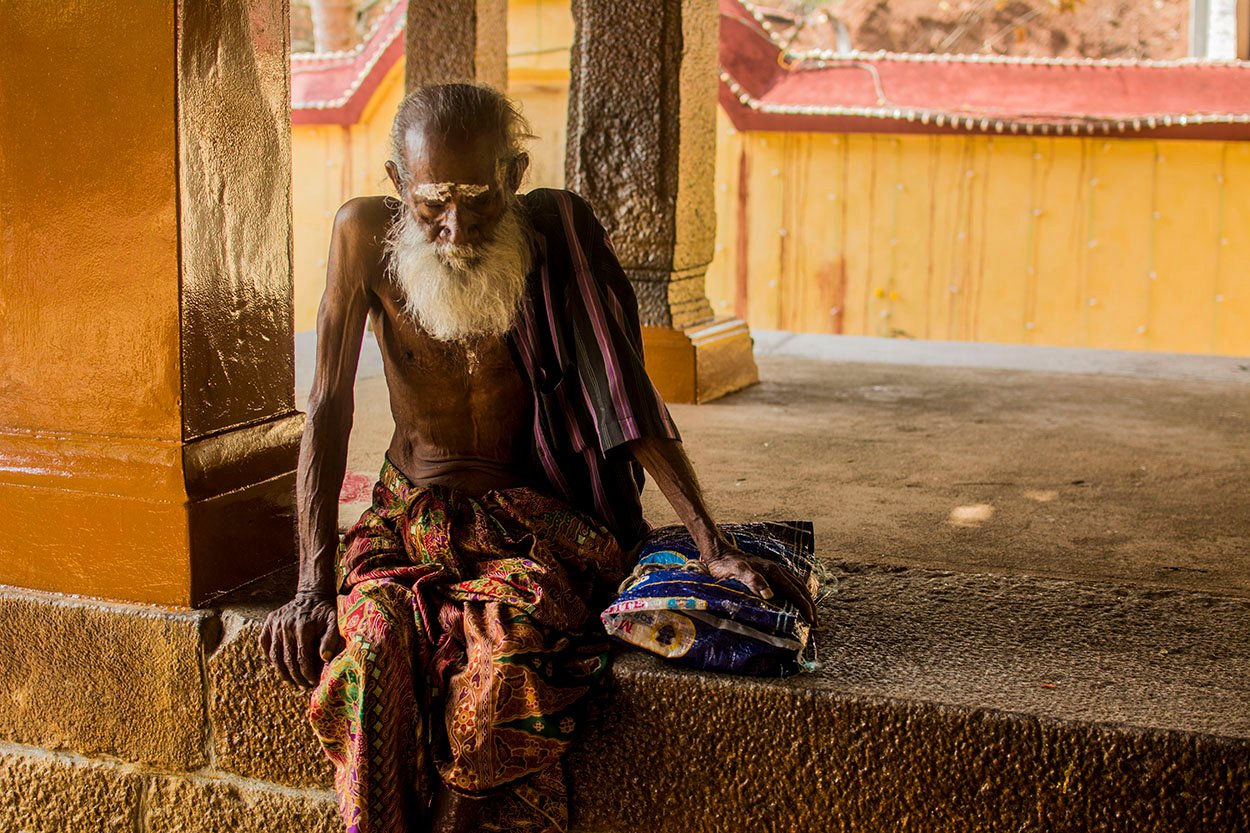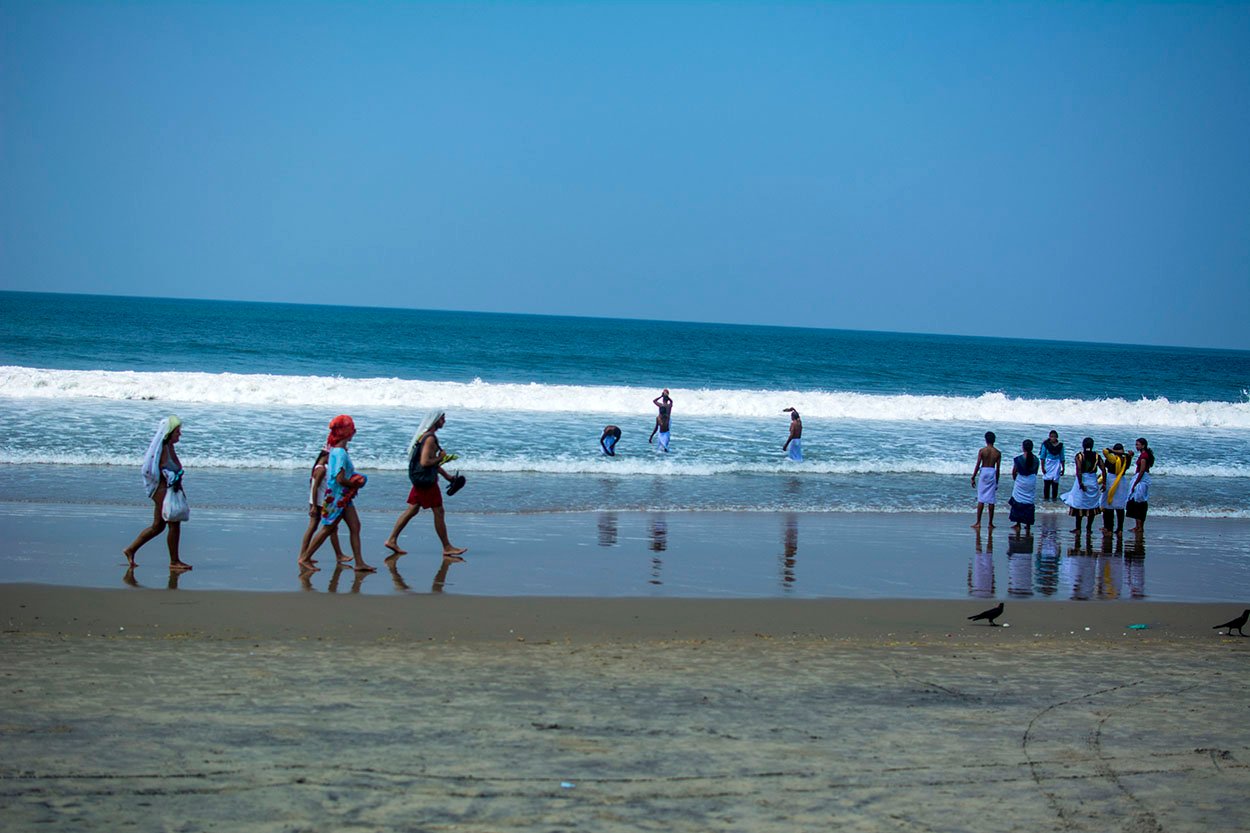 Varkala has been a popular pilgrimage destination in India (as popular as Char Dham Yatra in the Himalayas) since the 12th century.
Its two-thousand-year-old Janardhana temple stands on the cliffs overlooking the beach as if gripping the place in its purity. The Papnasham beach, which today is more popular as Varkala beach, was once known for its sacred water that was not just meant to clean the body but the mind and soul too.
"But the reality is," I remember Madhu describing it to me, calmly but with a lucid passion behind his words, "this place, it is not what it used to be, a couple of decades ago," owner of a thirty-year-old '94 Sunset' restaurant, in the main-town of Varkala, who claimed to have seen this town transforming from nothing to a hippy-oasis.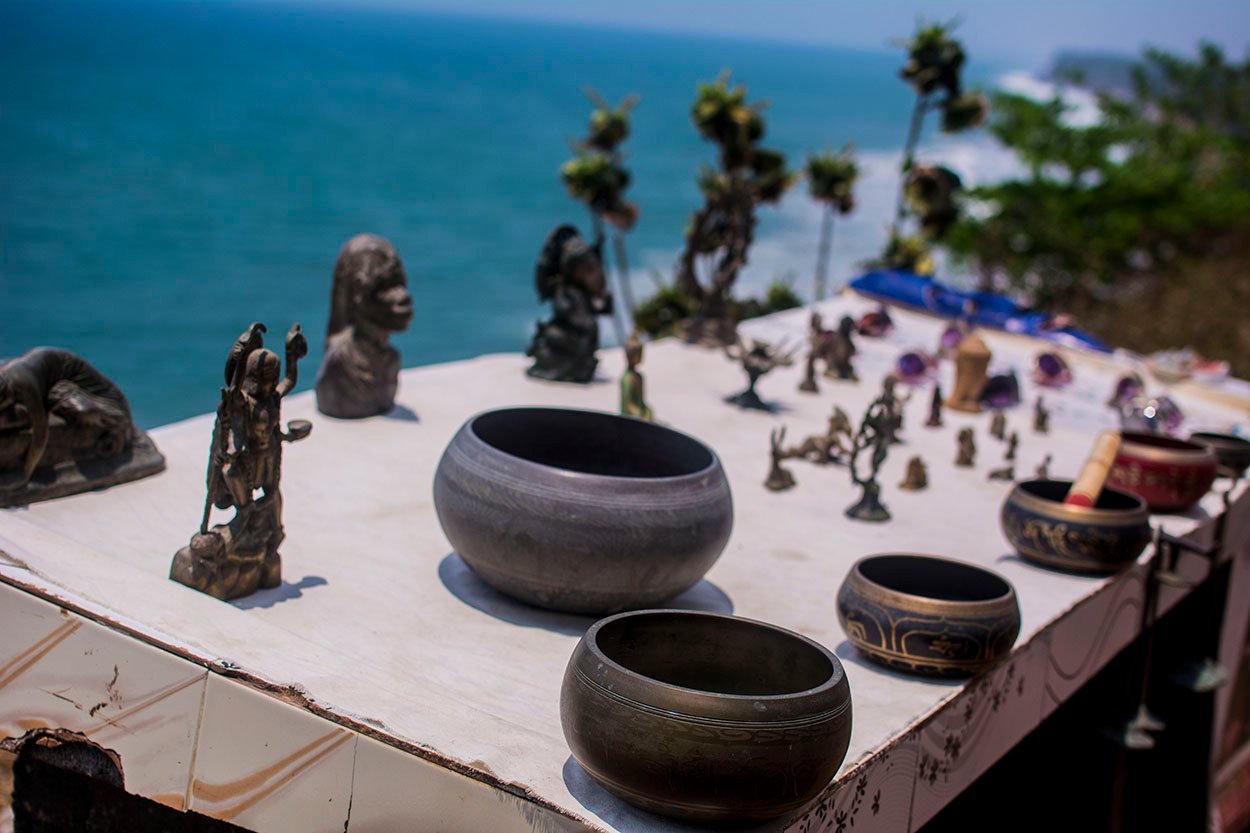 A half an hour conversation with him, and he shared how Varkala, which once was known as the 'Benares of the South is now moving faster than ever to meet the demands of prejudiced tourists. Keeping up with the trend, he himself was found obliged to give his restaurant a new-age makeover.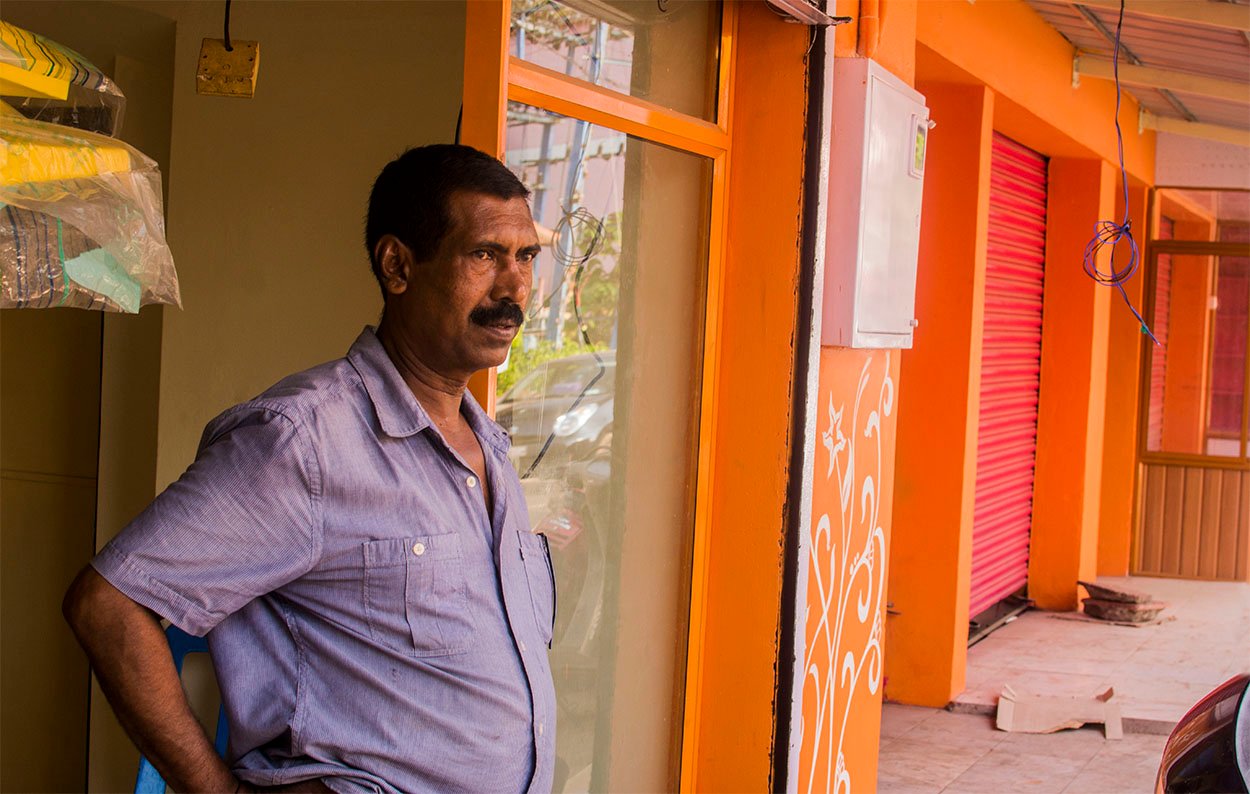 Unlike today where you find yourself eating the best seafood, under the candlelights, and among a lively company of favoured Western souls, Varkala, back in the days, was just home to ardent pilgrims.
Back then, you would discover nothing but thousands of pilgrims, or dedicated sadhus, doing their rituals. Whereas today, if you explore the place – stretching its boundaries from the North Cliff to the South Cliff – all you treasure is a bunch of fancy tourists dressed in backless tops and diaphanous scarves, showing off their tan.
All this is diminishing the cultural significance that Varkala once held.
Though that's a different thing a number of pilgrims still visit the place to perform Shraddha a ritual from the Hindu religion, performed to free the souls of lost loved ones from the cycle of rebirth and to give them eternal peace.
The Papanasam beach (also known as Varkala beach) is believed to be the most suited beach in the entire of Kerala to perform Shraddha, given its history. Having said that, most local Indians who visit this town, visit to perform Shraddha.
This beach is renowned for its natural spring. A dip in the holy waters at this beach is believed to purge the body of impurities and the soul of all sins; hence the name 'Papanasam beach'. So yea, the best beach in Varkala, for everyone, remains Papanasam.
But I wonder how many people, including those of Indian origin, are privy to that detail.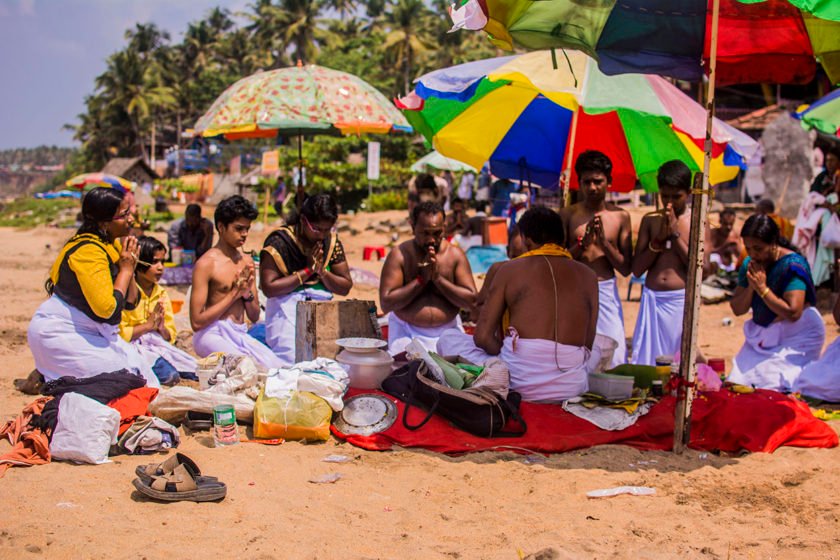 Where tourism indeed has brought money and a whole lot of opportunities for the region, the triggered greed of a small minority and the impetuous actions of the community at large has resulted in a slow death of this place that local people were once familiar with.
That's all about Varkala's history and the impacts of tourism in this travel blog. Next up, let's discuss a few practical details including how to travel there what to see to what is the best time to travel.
Places To Visit In Varkala
Now that you have decided to visit this place, let's talk about some useful tips.
From beaches to lakes to temples, these are the top 10 places to visit in Varkala…
Odayam Beach – a perfect beach for families
Balimandapam – popular beach among Indian tourists
Anchuthengu And Anjengo Fort – for history lovers
Varkala Beach – popular among Western tourists
Sivagiri Mutt – for meditation and mental detox
Kappil Beach – is slightly more offbeat than the rest
Varkala Aquarium – just an aquarium
Janardana Swami Temple – because it cannot be missed
Varkala Cliff – to go for a swim. Full of Western tourists
The Lighthouse – for photographers
Vishnu Temple – another popular temple in Varkala
The Tunnel – for boating
Kaduvayil Juma Masjid – for architecture lovers
Kappil Lake – for a perfect sunset selfie
Edava Vettakkada Beach – another best place for sunset in Varkala
Saint Sebastian's Pilgrim Church Moongode – just another church in Kerala
Janardhanaswamy Temple – one of the ancient temples in Varkala
Though there are more things to do, like enjoying a seaside dinner or trying a Kerala message, the spots mentioned above were a few top places to see in Varkala.
Also, please note that they are all free things to do. If you want to know more about them, you can Google them. This blog on Kerala Travel Guide also talks about Varkala and other travel destinations around it in brief.
Best Time To Travel Varkala
Since Kerala has tropical weather, it stays hot and humid pretty much the entire year. In the winter months, however, the weather is comparatively still okay. Having said that, the months of December, January and February is the best time to travel to Varkala.
But please note that better weather also triggers peak tourist season. Having said that it becomes a little hard to find cheap accommodation. So if you don't want to spend heaps and are looking for budget travel tips for your holiday in this part of Kerala, I suggest you visit during the monsoon.
Though winter is the best time to travel to Varkala and monsoon is not as best, it saves you from paying the peak-season price for commodities. The greenery during monsoon season is moreover an added plus.
How To Travel
By Flight
If you are coming from one of the major towns in India, and wondering how to travel to Varkala, take a flight. The nearest airport will be in Trivandrum which is less than 50km. Flights from most domestic airports to Trivandrum cost about 3 to 7 thousand Rupees throughout the season.
Trivandrum to Varkala is less than 50 km and can be easily travelled on a bus or a taxi. It is less than an hour.
By Train
If you don't want to fly, you can also travel on a train. The Varkala Sivalgiri Railway Station, station code VAK, is a major railway station in Kerala with good connectivity from across India. Most trains that go to Trivandrum (coming from North India) stop there.
If, however, you are coming from a nearby town like Trivandrum or Kochi, then the best way to travel to Varkala will be on a state bus. Travelling on a bus is less of a hassle than on a train for such a short journey.
If you want to read a similar story where another cultural town is being destructed because of tourism, read my Rishikesh travel blog.