Located at about 12 km outside of the north end of Ahmedabad, Adalaj ni Vav acts as one of the prominent historic establishments and many tourists' first choice to see a stepwell, in Ahmedabad.
Other than its impressive ancient structures, what sets it apart from the other stepwells in Gujarat is its spectacular mix of Indo-Islamic architecture and design. And that's not it. Its completion speaks of a story that goes in the usual Bollywood style of the bygone days – containing the bits of love, war and hatred!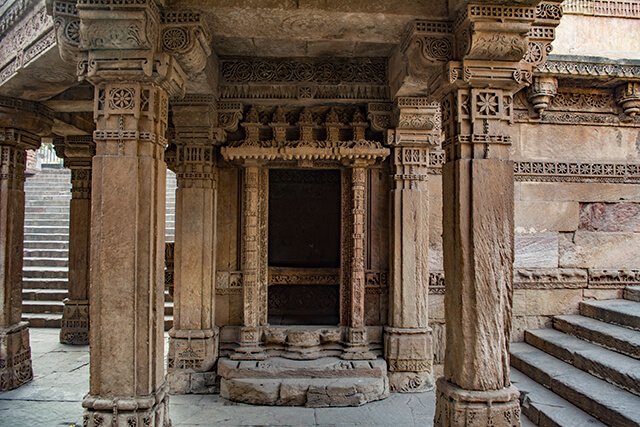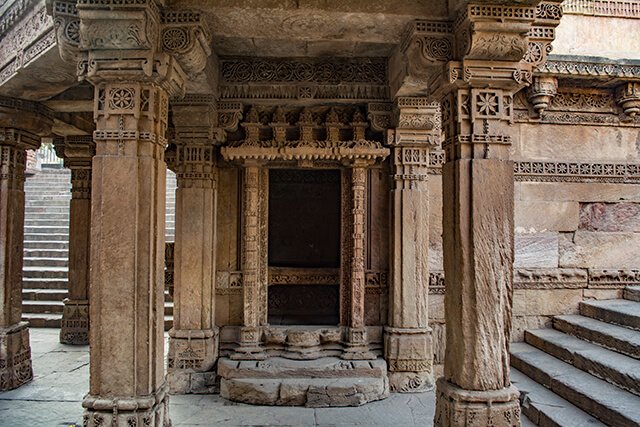 The Story Of Adalaj Ni Vav
The legend has it that Adalaj ni Vav was originally commissioned by King Veersinh, sometime during the early 15th century, who was ruling the town of Adalaj at that time. But before its completion, King Veersinh got into a fight with a neighbouring King Mehmud Begada, and lost his life. As a result, the construction work for Adalaj ni Vav stopped.
When King Veersinh's wife Rani Roopba got the news, she vowed to complete her husband's work and schemed to trap King Mehmud Begada fall head over heels in love with her. When King Mehmud proposed her, she agreed to get married to him, but on a condition that he would finish the pending work on the stepwell.
Soon after, the work on Adalaj ni vav continued, keeping the original style unchanged. However, King Mehmud added a bit of Islamic influence on the architecture.
As the stepwell got completed in 1499, and King Mehmud asked her to finally get married, Rani Roopba jumped into the vav and committed suicide, resulting into Adalaj ni Vav gaining a prominent spiritual position among the people in the area, because of the story behind its foundation and the many intricate gods and goddess on its walls.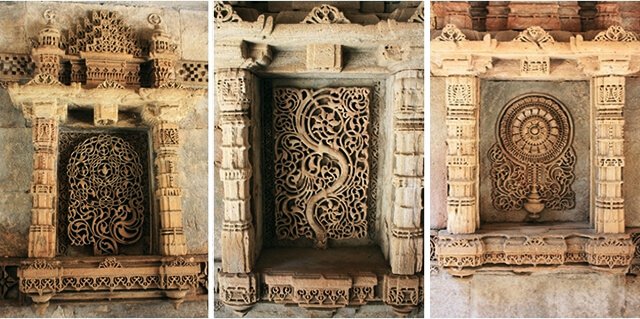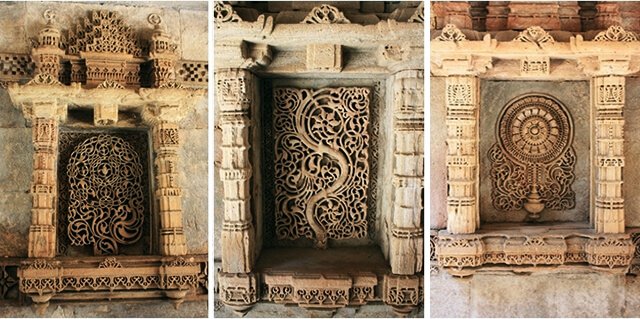 No wonder Adalaj ni vav is a spectacular example of Indo-Islamic architecture. Its walls depict Islamic floral patterns seamlessly fusing into Hindu symbolism embodying the culture and ethos of those times.
Another remarkable feature of this stepwell, which sets it apart from the many other stepwells in Gujarat, is the three entrance stairs. All three stairs meet at the first level, underground a huge square platform, which has an octagonal opening on top.
There is an opening in the ceilings above the landing which allows the light and air to enter the octagonal well. However, direct sunlight does not touch either its well or any of the five stories, except for a brief period at noon. Hence some researchers say that the atmosphere inside the well is six degrees cooler than the outside.
It was because of this smart architectural design, it also acted as a place to socialize, for locals for centuries, would come here to interact with each other in its cool shade. And it turned out that my visit, during the hot hours of the noon was no different.
Please note that the visiting hours for Adalaj ni Vav is between 8am to 7pm only. However, the best time for a visit would be early morning, as it often get pretty much very crowded later in the day.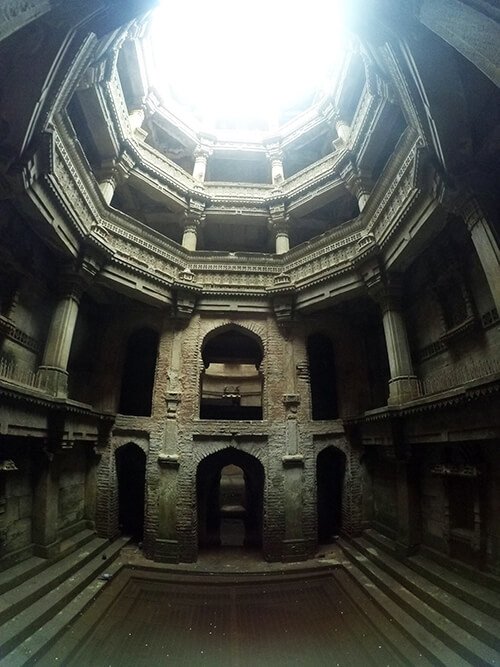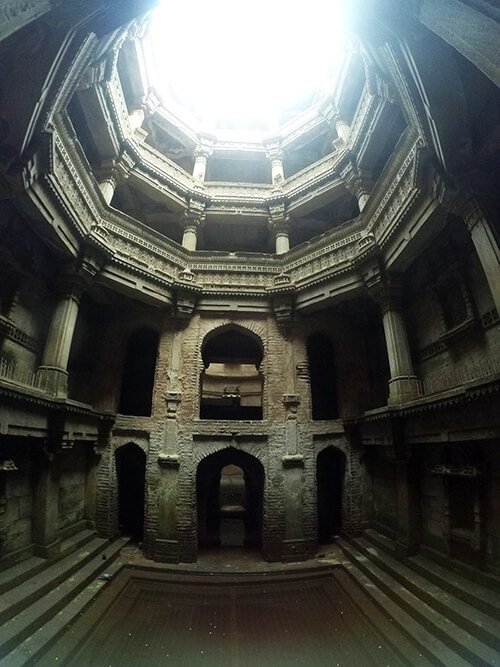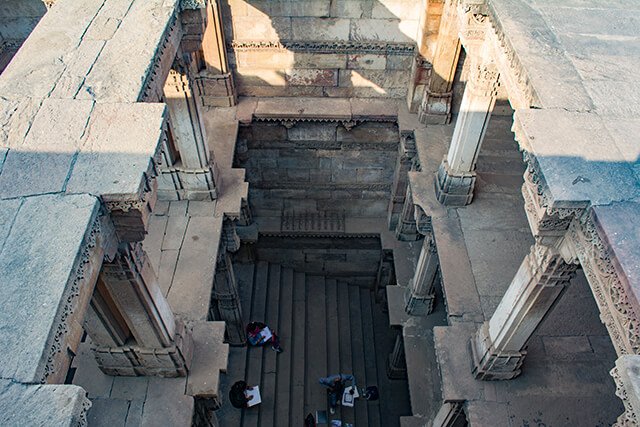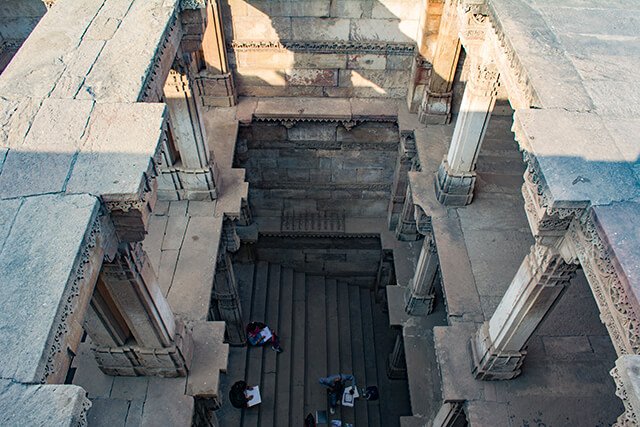 Stepwells can be found in the entire western India, starting from Karnataka, to Maharasthra, to Gujarat, to Rajasthan. Even Madhya Pradesh and Delhi have a few. Other than acting as a stored drinking water, they provided a resting place to travellers and prevailed as a place for socializing. It is believed that more than 200 stepwells can be found alone in Gujarat today – making it easy to imagine their numbers in the bygone era.
Although they were secular in nature – meaning anyone could use them – the sanctity of water drove the benefactors to incorporate religious icons into the structures, making some of the vavs an extraordinary heritage sights.
Read about other Stepwells (vavs) in and around Ahmedabad that I visited: Dada Hari ni Vav and Mata Bhawani ni Vav.