Planning a trip to explore Lakhpat Fort, in Gujarat? Read this travel guide and plan your trip better. From how to travel from Bhuj to Lakhpat to where to stay there to top tourist highlights (other than the fort), I have covered all details in this blog here.
So let's get started, with a bit about my personal travel experience!
View this post on Instagram
My Visit To Lakhpat
Lakhpat, in Gujarat, was introduced to me by someone whom I met in Bhuj. Liakatali, a local guide and a journalist with BhujMitr newspaper, was born and brought up there, before finally moving to Bhuj to pursue his higher studies.
"It used to be the biggest and richest settlement in all of Gujarat" he provided, still sounding hopeful. "There were more than 15,000 people residing inside the walls of Lakhpat Fort back then. Now only 566 have left. You must the town now that you're in Gujarat already. I'm sure you'll like it."
Hopelessly driven by his curiosity, I decided to give it a visit.
We all have heard of Ghost Towns – towns that have been deserted owing to natural calamities, some buried under the empty grounds and others, left behind with their undying tales of wonder. Lakhpat for me was one such story – a bustling town emptied owing to an incident, a town that does exists but still not!
If you are interested in exploring local Kutchi art forms while in Bhuj, read this other travel blog I've written on Rogan Art of Nirona Village (located about 100km from Lakhpat village). Also, check this Ahmedabad travel blog if you are starting or finishing your journey from Ahmedabad, as most travellers do. In Ahmedabad, I also recommend you to not miss some of the famous Ahmedabad stepwells, particularly Adalaj Stepwell. They make for some of the most popular historic destinations not just in Ahmedabad but the entire of Gujarat.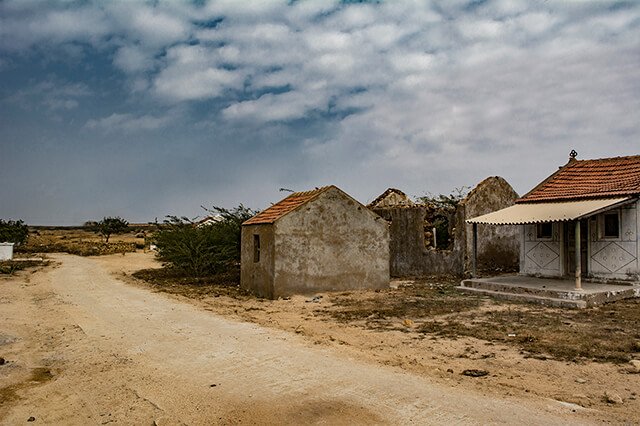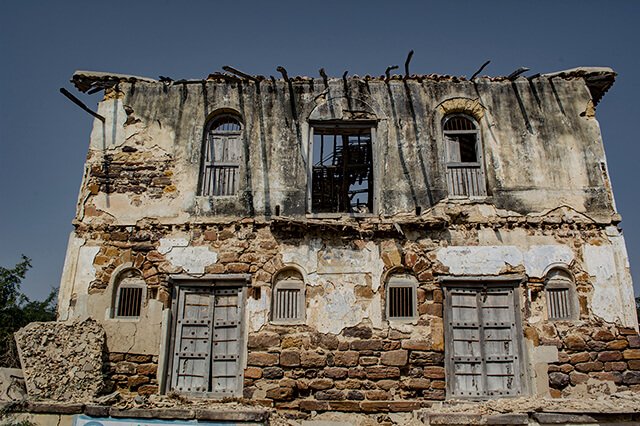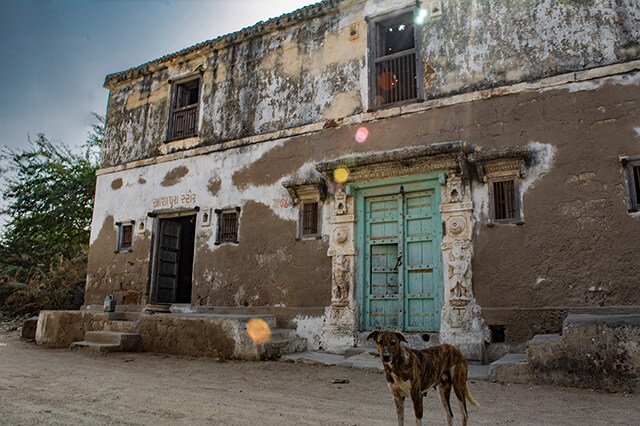 What To Do In Lakhpat
Though it requires a long journey even if you are travelling only from Bhuj to Lakhpat, you won't return home unsatisfied with all that this place has to offer. And speaking of what to do there and top tourist highlights, here are some:
Lakhpat Fort
The 7 km Lakhpat Fort walls that were erected in 1801 by Jamadar Fateh Muhammed, are still nearly intact and offer spectacular views over the expansive Great Rann.
So yea, if you are wondering what to do when you're there, the first thing you should be doing is exploring whatever is left of the Lakhpat Fort. It is possible to walk over the fort walls (whatever little of them are left) and have a look at the Great Rann. If you have a pair of binoculars, you can look into the Arabian Sea at a distance, and spot some migratory birds around.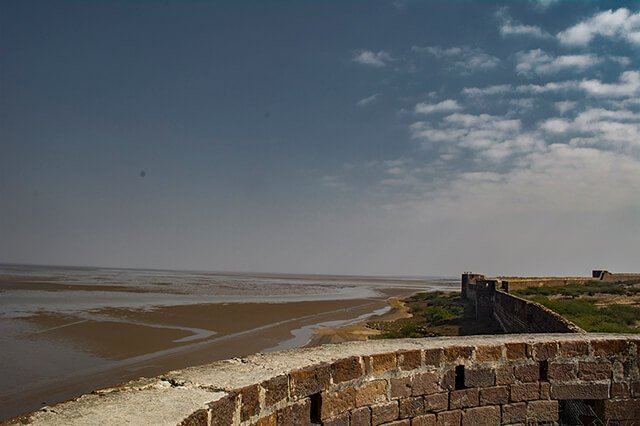 So yea, Lakhpat Fort certainly remains a popular highlight for travellers. Those who are into architecture and history will appreciate it even more.
Lakhpat Gurdwara
The town also has a high religious significance for India's three biggest religions: Islam, Sikhism, and Hinduism. It is here that Guru Nanak, the founder of Sikhism, made his last stop before finally moving to Mecca. The site of Lakhpat Gurudwara is where he camped during his visit.
The Lakhpat Gurudwara also holds some of Guru Nanak's original possessions.
Many Sikh people still visit Lakhpat Fort today to visit the Guru Nanak shrine in the gurudwara. They do seva, meditate and spend a few peaceful days inside Lakhpat Gurudwara.
Tourists are also welcome to visit and pay tribute. It is moreover possible to stay inside the gurudwara if one wants to.
The Sufi Dome
Pir Ghaus Muhammad, a Sufi mystic, who practised half as a Hindu and half as a Muslim, is also buried here inside the Lakhpat Fort.
His tomb is a stone construction with very complex carvings and a water tank that is said to have healing properties for skin problems. Sayyed Pir Shah's nine-domed mausoleum can also be found here.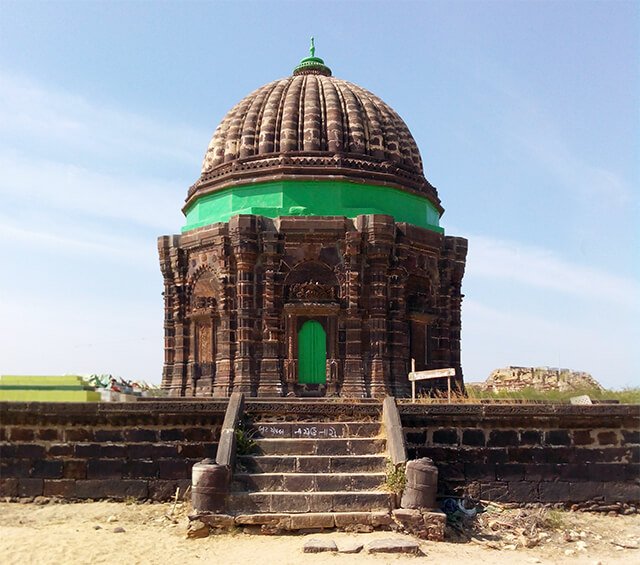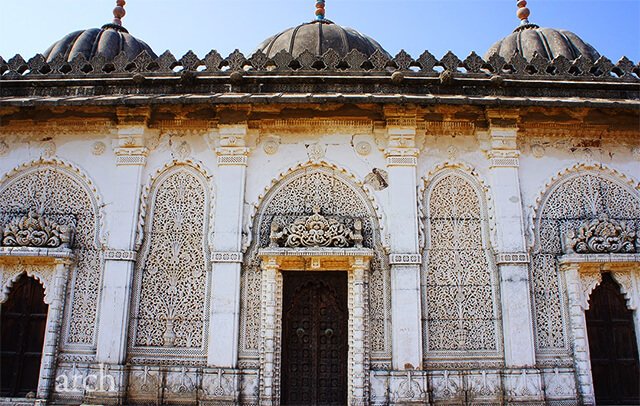 A Bit About The History
Once a thriving summer settlement on the old trade route on the western end of Gujarat, Lakhpat was abandoned overnight, in the wake of the 1819 Gujarat earthquake.
History suggests that before the earthquake, the Indus River used to flow right next to the town and connected it to the nearby sea. But as the earthquake hit, the river changed its course, triggering the town's descent into oblivion.
From a major trading point when the river was around, the town slowly withered away, for it couldn't develop any other source of livelihood for its people. Most of the families, living inside the Lakhpat Fort walls moved to other cities including Liakat Ali's (whom I spoke of at the beginning of this travel blog). And those who were left behind are now living a life of hardship, unemployment, and adversity.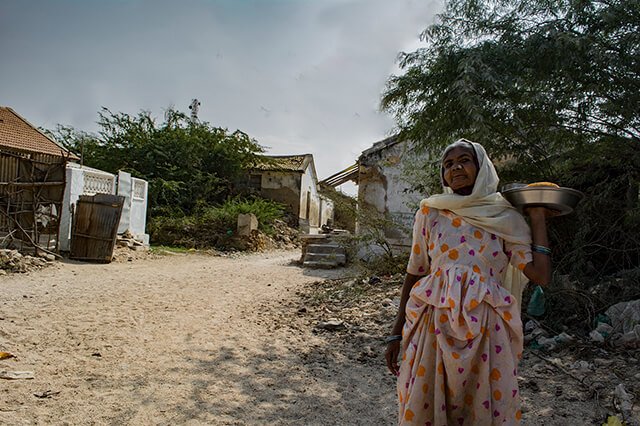 A Bit More About The History before the earthquake…
History claims that it was once a town of millionaires. The word Lakhpat is moreover derived from Lakhpati, which literally translates to the word 'millionaire'.
Some people suggest that the walls of Lakhpat Fort that still surrounds the town can be the very reason behind its destruction, and why the earthquake happened in the first place.
It all started in the 18th century when, with the town's dwindling prosperity and a constant threat of being robbed, Fateh Muhammad, the then administrator of Lakhpat proposed to the then-ruling Raja Rayadhan III about building a gated wall around the city. But when Raja Rayadhan rejected the idea, claiming that the council has insufficient funds, Fateh Muhammad schemed of looting the neighbouring town of Pir, reigned under the respected king Mosopir.
Though Fateh Muhammad and Raja Rayadhan successfully looted the town of Pir and built a wall around their city with the money (what's known as the gated Lakhpat Fort today) Mosopir couldn't take the pain of getting robbed and died right soon after. He was on a pilgrimage to Hajj, during the time his empire was robbed, hence the town got cursed. The construction of Lakhpat Fort was completed in 1801. 18 years later, the earthquake hit and took it all from the rulers.
There's even a local proverb about the entire incident, which goes something like "Moso Vayo Hajj, Ne Fateh Muhammad Ke Aayo Sajj."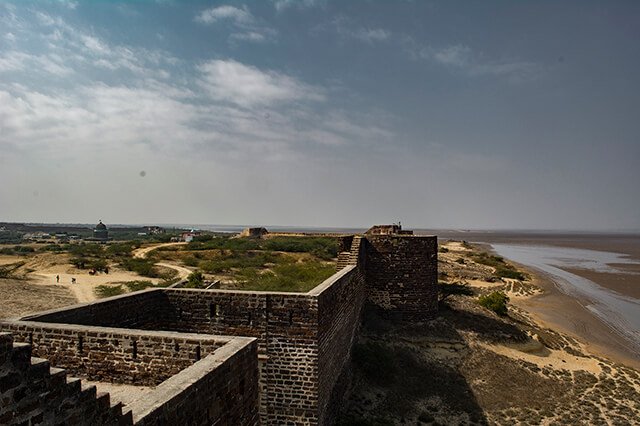 Where To Stay In Lakhpat Fort
Though there is a Gujarat Tourism guesthouse, I found it pretty much as deserted and abandoned as many other houses in the city. So staying there might not be a very good idea, particularly if the dark nights haunt you.
But speaking of where to stay in Lakhpat, there are a few guesthouses though that you can search about online.
Other than that, you can also stay inside Lakhpat Gurudwara. I was told by the gurudwara management that many travellers stay there from time to time. Just spare a little donation if you can, or even if not, those in charge would be happy to host you for a night or two.
How To Travel from Bhuj To Lakhpat Fort
Before anything, I want to tell you that travelling inside Kutch using public buses is a nightmare (read more about my experiences in my Kutch Travel Guide) because public transport in Kutch is very rare to find. Most of the buses are private with no schedule.
So yea, if you can, it's best advised to take a private taxi or hire a motorcycle from Bhuj to make your Bhuj to Lakhpat Fort journey easy.
If, however, you still want to travel by bus, you can find one from the Bhuj bus station. During my time, there were no direct Bhuj to Lakhpat buses. All buses were to Mata No Madh (a popular pilgrim destination). From Mata No Madh, I had to take another bus to Lakhpat. The total time the journey took was almost 5 hours. Now imagine doing a 130km journey in 5 hours. Not cool, yea? That's why I suggest you hire a taxi.
Also, read Gujarat Travel Guide for more tips on what to see and do during your Gujarat Holiday. You can also find a lot of useful and reliable suggestions on the Gujarat tourism website.
Would you like to add anything to the information provided above and help others to plan their Bhuj to Lakhpat visit? Any tips for exploring Lakhpat Fort? Please share in the comments below!