I happened to visit and write this Ahmedabad travel guide out of my nearly 1-week stay there. I explored some of the popular stepwells in Ahmedabad, including the most famous Adalaj stepwell, among others. 
Other than that, I also luckily ended up there during Uttarayan which is considered to be the best time to visit Ahmedabad.
So out of my 1-week stay – while enjoying the 150-year-old French Haveli – this is all you need to know. From where to stay in Ahmedabad to how to best enjoy it on a heritage walk, you will get all the necessary tips here.
Ahmedabad Travel Guide
I headed to Ahmedabad, not because it was a logical destination for an Indian backpacker like me. The French haveli I was going to stay in was, in fact, the fascination. I mean the idea of staying in a 150-year-old Gujarati haveli, would tempt anyone, and I was no different. Then later I found that the Haveli was moreover located in a 400-year-old walled community of Dhal ni Pol.
As I got off the auto-rickshaw at Raipur Darwaza and slowly walked inside the gated community of Dhal ni Pol, the Kites, a few dozen of them, suddenly appeared in the sky.
I happened to be in Ahmedabad a few days before the kite festival Uttarayan, a holiday also known as Makar Sankranti in North India. Evidently, this was the best time to visit Ahmedabad. More colourful street scenes and many lively conversations were only waiting for me in the days to come.
As I walked a little deeper, I found the many happy locals sitting outside their tiny homes, as if only waiting to welcome me. Some were even peering from their ancient-looking window, sharing a confused look with me, before pointing to their neighbour my 60 ltr rucksack.
As I struggled through a few intermingled by-lanes of Dhal ni Pol, and before I could even reach my place, I was stopped by a curiously looking family, asking for my whereabouts. The youngest of all, probably in his late teens, spun an immediate invitation to join them for kite flying.
At this time of the year, people from across the world might just be busy with their usual life, but not so in Ahmedabad. Here, the streets were preparing for action. People were in the mood to celebrate.
The Best Time To Visit Ahmedabad – Uttarayan
Unlike other Hindu festivals, Makar Sankranti, or Uttarayan, is the only festival that falls on a fixed date every year – January 14th – and is celebrated across the country, in different forms.  This is the day when winter officially ends and spring begins, making a transition period symbolizing harmony and growth.
I have grown to celebrate it as Lohri – a Punjabi tradition celebrated with an incredibly massive bonfire (the bigger the better) and family gathering. In Gujarat however, Makar Sankranti is known as Uttarayan, synonym with kite flying, and is celebrated across the state, with a total bang.
For days, preceding the festival, the markets in Ahmedabad fill with colourful kites waiting to be bought by the heaps. Pretty much every street, particularly inside the old town, starts preparing for the big day.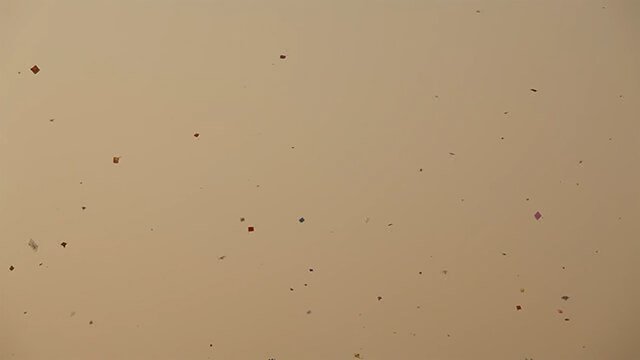 As I reached Ahmedabad, a couple of days before Uttarayan, I found almost every local vendor busy coating the glass powder for the kites' flying and fighting string – with their hands painted in red and yellow and green. From mobile kite vendors to big shop sellers – everyone was dwindling with their own share of the ration.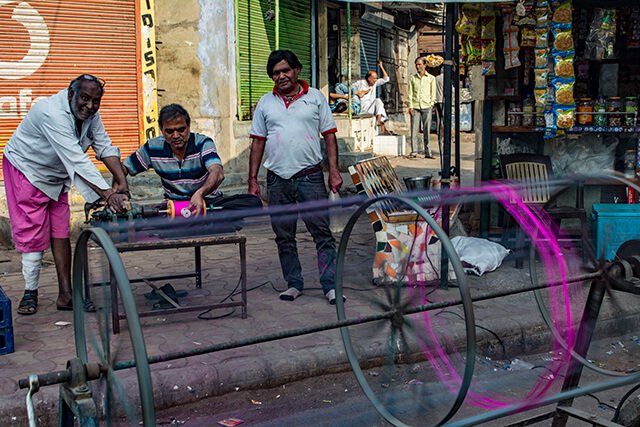 The day of Uttarayan only provided what was expected, perhaps to the next level. The entire town could be seen on their terrace eating and celebrating. A few thousand kites (creating confusion about which one belonged to whom) claimed the skies. They were everywhere — in the sky, on treetops, on cables. The atmosphere was not short of a carnival. Festivities were in the air!
Later in the evening, after the sunset, the night festivities began. People released paper lamps. The sky was now filled with floating lights. The entire sight was phenomenal — something that I had never experienced anywhere else in India before.
No wonder, Uttarayan is the best time to visit Ahmedabad.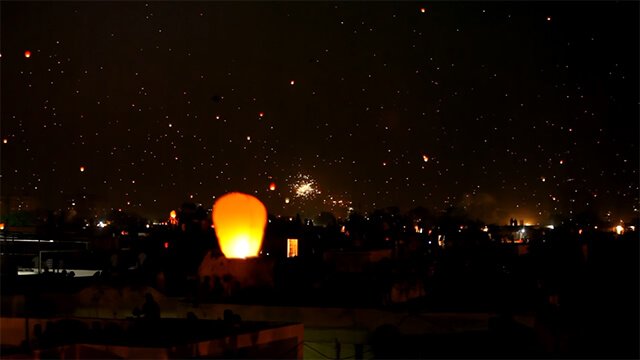 Ahmedabad Pols
Pols, or the neighbourhoods, is yet another exclusivity of old Ahmedabad. Exploring the pols during your time in Ahmedabad is definitely a no-miss.
Each pol is a housing cluster which comprises many families of a particular group linked by caste, or religion. It is believed that they were originally made as a protection measure during the communal riots in the city. Today, they act as the city's tourism highlight, laden with stories that go down generations.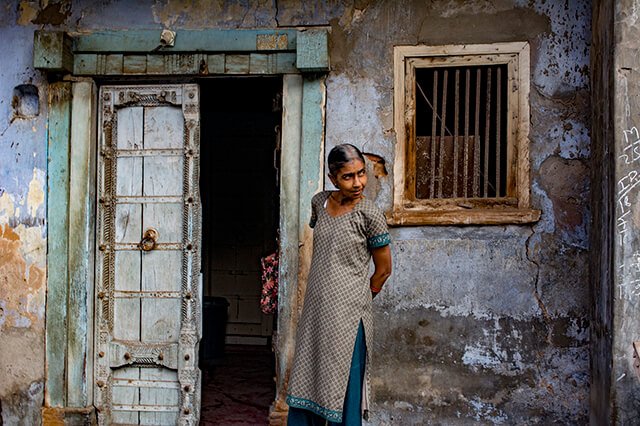 Many pols are now part of the cottage industry, thereby creating a lively atmosphere inside them. The heritage of these pols has helped Ahmedabad gain a place in UNESCO's world heritage list. No wonder, they are an interesting evolution in the urban lifestyle and the testimonies of Ahmedabad's rich history and heritage.
To best experience, the pols, just walk down a few narrowest streets in the town (the narrower the better) and watch happy locals busy in their daily life and soak up the amazing architecture — representing Mughal, British, Maratha and Persian colonies.
In my experience, these pols will give you a better travel experience in Gujarat than the popular Rann Utsav. Here, you will see life in its more real and conscious form. So yea, if anything, I suggest you visit pols in this Ahmedabad travel guide.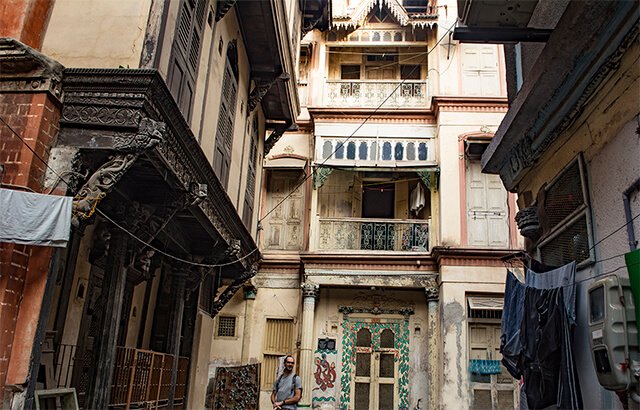 Ahmedabad Heritage Walk Travel Guide
The Heritage Walk organised by Ahmedabad's Municipal Corporation is the best way to understand the city's rich history. It starts at 8 am daily at the Swaminarayan Temple and ends in nearly two and a half hours at Jama Masjid. No pre-booking is required. Just show up at the temple a few minutes before 8 am and you can buy your pass on the spot.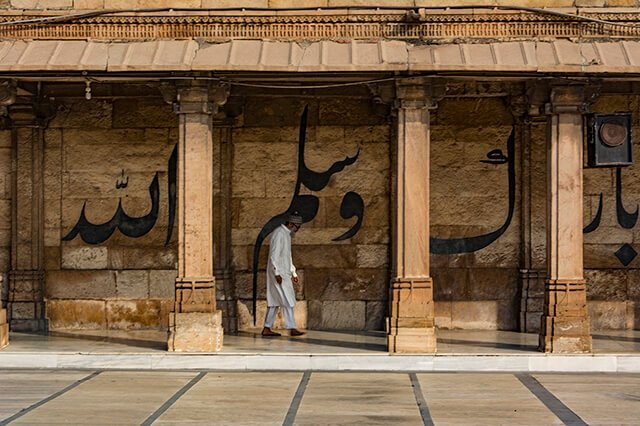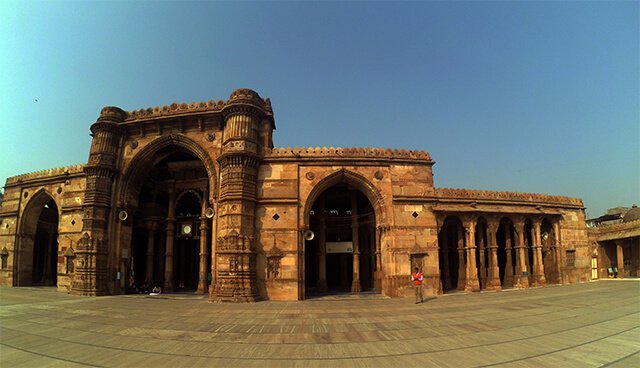 I would have walked through the same parts of the city, as I did during the heritage walk, and not carried a mindset to remark, as I rather did after the walk. After meandering through the many historic alleys and a few pol communities, I could see the old town of Ahmedabad much more clearly.
The amazing part was that I could amble in the old city without ploughing my way through a milling crowd. Early mornings are wonderful, silent and uncrowded to walk around old Ahmedabad.
We even entered a couple of houses to see the architectural heritage, amidst the owners of houses busy with their routines, and not the slightest sign of antipathy on their faces for us intruding on their privacy. Perhaps that is the essence of Indian culture. Guests are always welcome.
Use this website to book an Ahmedabad heritage walk tour. You can also do so by visiting the Heritage walk office at Swaminarayan Temple if you don't want to book online.

Where To Stay In Ahmedabad
Inside the city of old Ahmedabad, you can find a cluster of 300+ pols. And among them, nearly 2000 traditional Gujarati Havelis (as the number stands today). They share the standard architecture, with a central internal court, an ancient rainwater harvesting system and many intricate wooden carved facades.
And since there are many places (just like my French Haveli) for a tourist to say, these pols are the best place to stay in Ahmedabad.
Of these 2000 traditional Havelis, many have recently been restored as tourist homes. In my experience, staying in one such traditional home is the best way to experience old Ahmedabad – even if for just a day, as most of them charge a big price, which often exceeds many backpackers' travel budgets.
I stayed in French Haveli, a 150-year-old artistically restored haveli, which has been restored by Rajiv Patel and his organisation, City Heritage Centre. It was located in the heart of Dhal ni Pol. A few minute's walk from the haveli took me to the famous and always busy Manek Chowk market, the nearby Muslim tombs of Ahmedabad's first King and Queen and the beautiful Jama Masjid.
That's all in this Ahmedabad Travel Guide. If you have more questions, please feel free to write me a comment below.
Also, read this Gujarat travel guide for more tips on what to see and do in Gujarat, or this Kutch travel guide, if you are only travelling to the Kutch region.